This post may contain affiliate links, which means we may receive a commission if you purchase through our links. Please
read our full disclosure here
.
School is just around the corner, and many of us have a little extra cash from our summer jobs to spend on some groovy back-to-college threads. As an economics major, I certainly understand the concept of unlimited desires vs. limited resources — as much as we want to buy out H&M, our hard earned cash will only take us so far.
This is where CF comes to the rescue — we've compiled a list of the hottest fall 2011 trends to look out for next season – grab a couple of these pieces, and your wardrobe will look perfectly up-to-date for the new school year. Happy shopping!
Trend 1: Jade, Mustard, and Rust Hues
Every season has its hottest colors, and this year it's all about jade green, mustard yellow, and rusty orange. Expect to see these colors splashed across everything from handbags to dresses, and flats to shorts. Unsure about these shades? Consider purchasing a few accessories in these hues for an inexpensive way to try the trend. Here's a few of our favorite picks: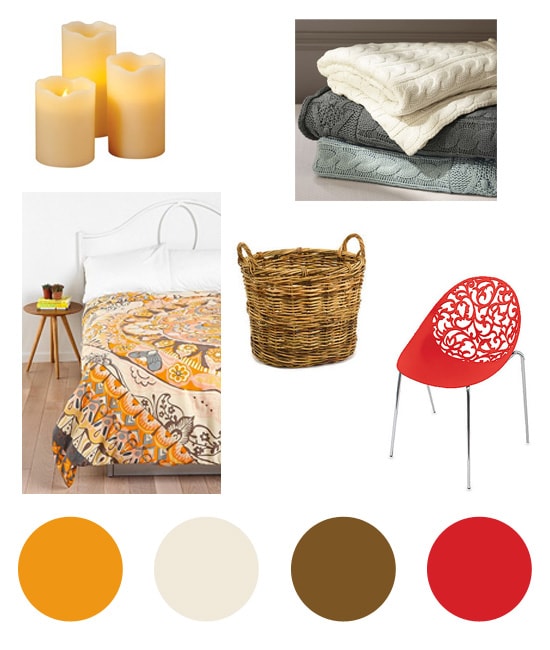 From the top left: Jade Top, Mustard Purse, Rust Dress, Mustard Cropped Top, Rust Shorts, Jade Flower, Rust Headband, Jade Ring, Mustard Shoes, Jade Dress
Trend 2: Camo Print
Piggybacking off of last year's skinny cargo pants and military jackets, camouflage prints are in for the fall. The trick to wearing this trend is finding the right balance between couture and costume: Look for pieces that incorporate other stylish elements, like a modern shape or a sheer fabric, or girl-up a piece from the army surplus for a modern aesthetic. And it's usually best to stick to one camo piece per outfit. Here's some pieces that strike the right balance: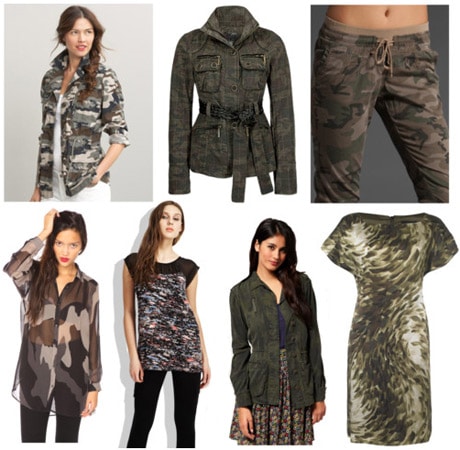 From the top left: Light Camo Jacket, Dark Camo Jacket, Camo Pants, Sheer Camo Blouse, Camo Top, Camo Jacket, Camo Dress
Trend 3: Peplum Silouettes
A peplum silhouette fans out at your waist, giving your body an hourglass shape. You can find lots of dresses, skirts, and tops tailored this way right now, since peplum is a hot trend for fall. This trend may not have a long lifespan, so we recommend picking up a few less expensive items unless you really think you'll love this look for multiple seasons. Here are some cute pieces to get you started: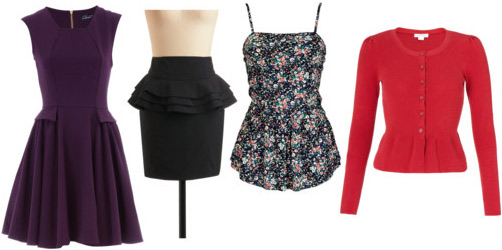 From the left: Dress, Skirt, Top, Cardigan
Trend 4: Plaids and Polka Dots
These prints are practically seasonal classics — every fall, we see an influx of colorful plaids and girly polka dots. Add a few pieces to your collection this season, or just dig up your tried and true favorites from last year. Here are some pieces we love: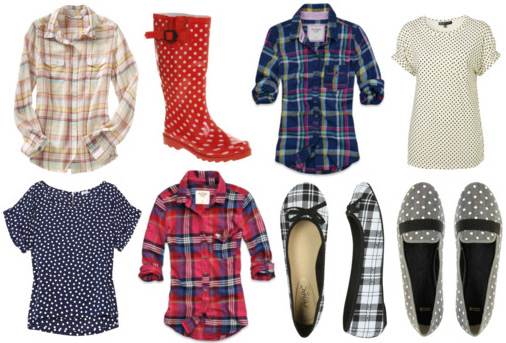 From the top left: Tan Plaid Shirt, Red Polka Dot Rainboots, Blue Plaid Shirt, White Polka Dot Shirt, Blue Polka Dot Shirt, Red Plaid Shirt, Plaid Shoes, Polka Dot Shoes
Trend 5: Colored Pants
Rainbow-hued pants popped up last year and are back again this season. They're a great way to add interest to an outfit, and they're the perfect way to get out of the blue jean rut. Wear a neutral top to tone down the eccentric look of a bright pair of pants, or go bold and pair yours with a complementary hued top for a colorblock look. Here are a few pairs we liked: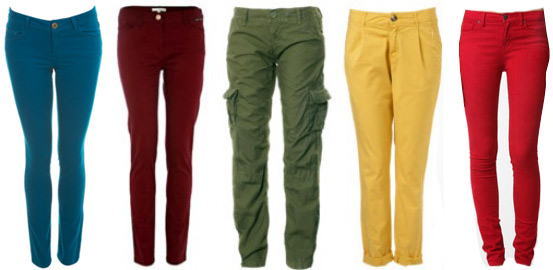 From the left: Turquoise Pants, Burgundy Pants, Olive Pants, Yellow Pants, Red Pants
Trend 6: Chunky Sweaters
Back for another season are our favorite chunky sweaters. These knits look especially on-trend when paired with summer dresses or maxi skirts. Having trouble shopping for sweaters in this summer's heat wave? Look for wide knit styles that are perfect for layering over tanks tops and gauzy dresses. Here are some hot picks: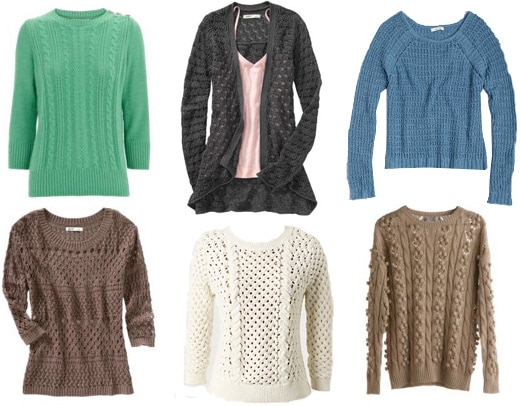 From the top left: Mint Sweater, Charcoal Cardigan, Blue Sweater, Tan Sweater, Creme Sweater, Textured Sweater
What Do You Think?
How do you feel about fall's new and returning trends? Which ones are you going to try, and which one do you think you'll skip? How do you feel about peplum, or mustard? Do you already own a chunky sweater? Leave us a comment and let us know your thoughts!