This post may contain affiliate links, which means we may receive a commission if you purchase through our links. Please
read our full disclosure here
.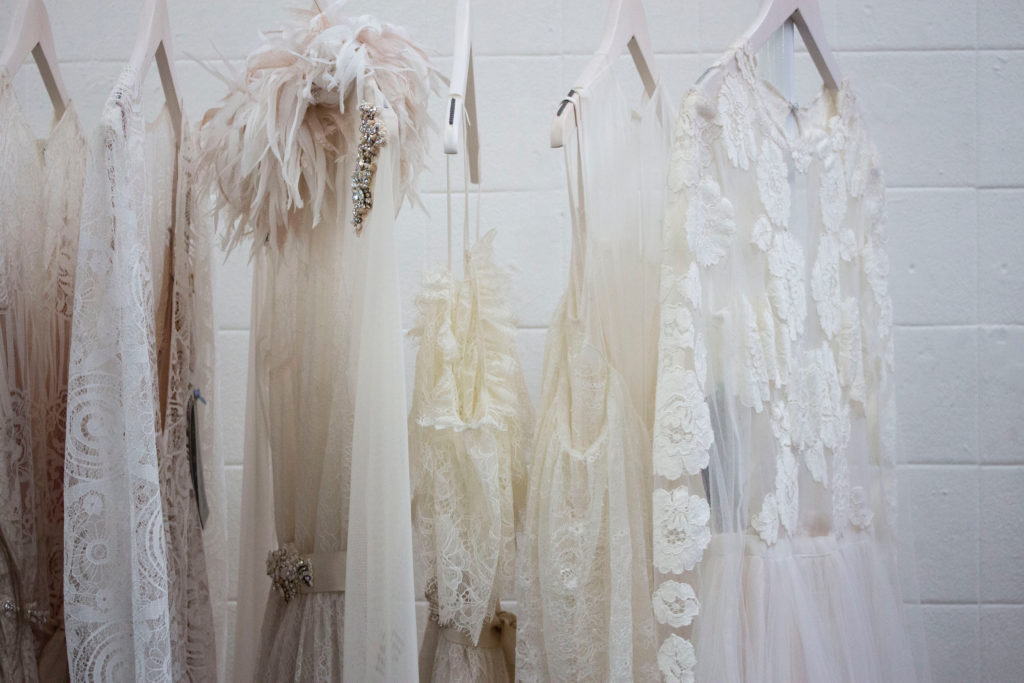 When the weather is transitioning and you're not sure what the day will bring, from rain to heat, to even snow and wind, dressing can be a challenge.
When you don't want to confusingly switch from wearing jeans and boots one day to a dress the next, these key pieces can help you seamlessly transition into your spring wardrobe without making a drastic switch.
You can dress with the weather and stay comfortable but also look fashionable while dealing with what mother nature is literally throwing at us. (Seriously, what is her problem?)
Here are the 4 pieces you need to transition your winter wardrobe to spring:
Wardrobe Piece #1: Floral Print Top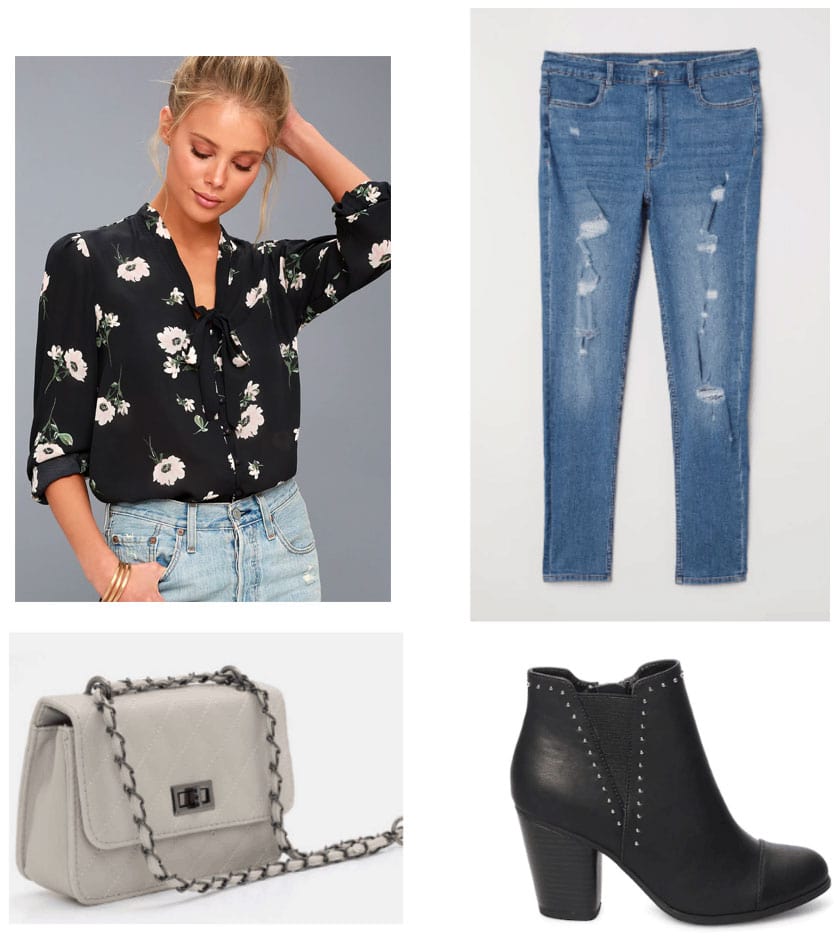 Products: Floral Blouse – Lulu's, High Waist Jeans – H&M, Ankle Boots – Kohl's, Purse – Ardene

Spring means florals! So transitioning your tops or dresses to floral ones is a no-brainer. Just pick up a cool floral top and you'll feel seasonally appropriate from now until June.

The outfit above is perfect a perfect example of a springtime outfit that will also look great on a cold day. Just mix a dark floral top with high waist jeans and ankle boots, then add a neutral purse. You'll still be warm but everyone who sees you will know that you have Spring Fever.

Wardrobe Piece #2: Lightweight Cardigan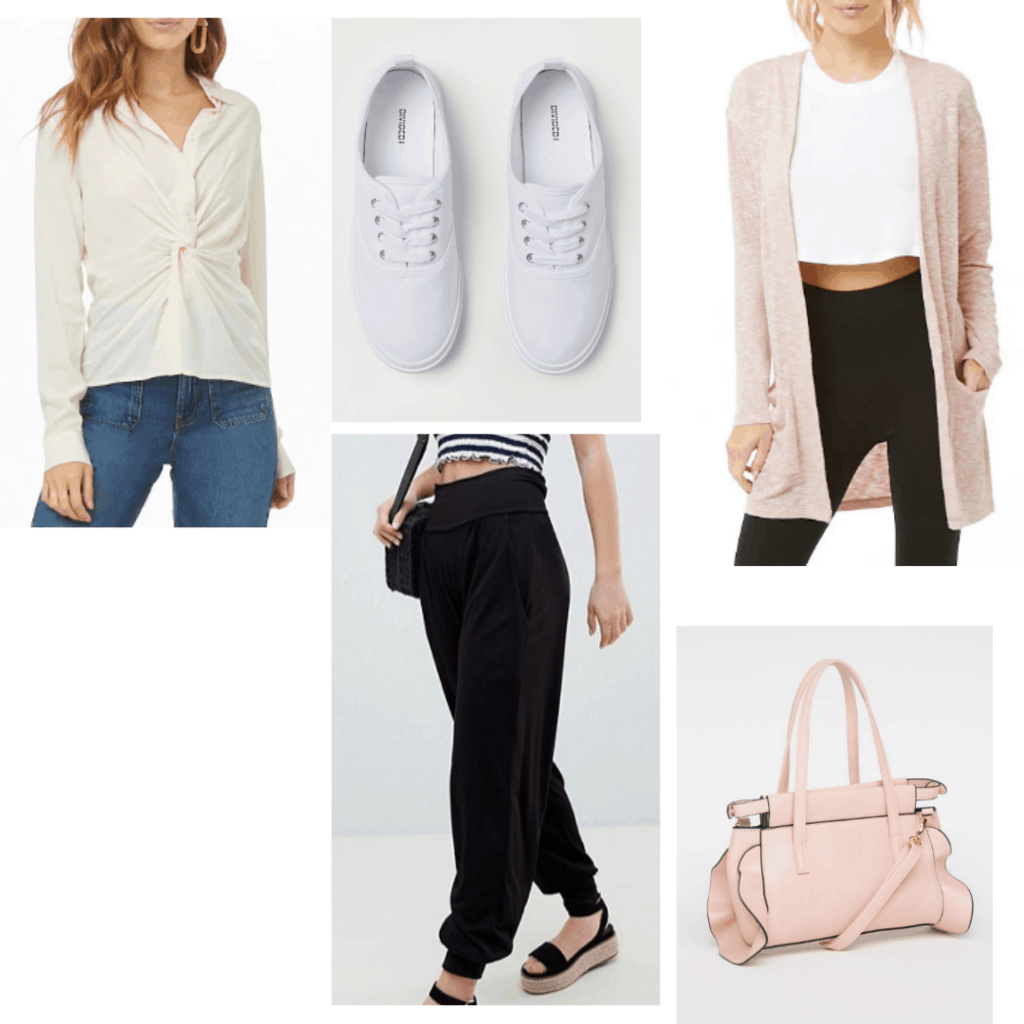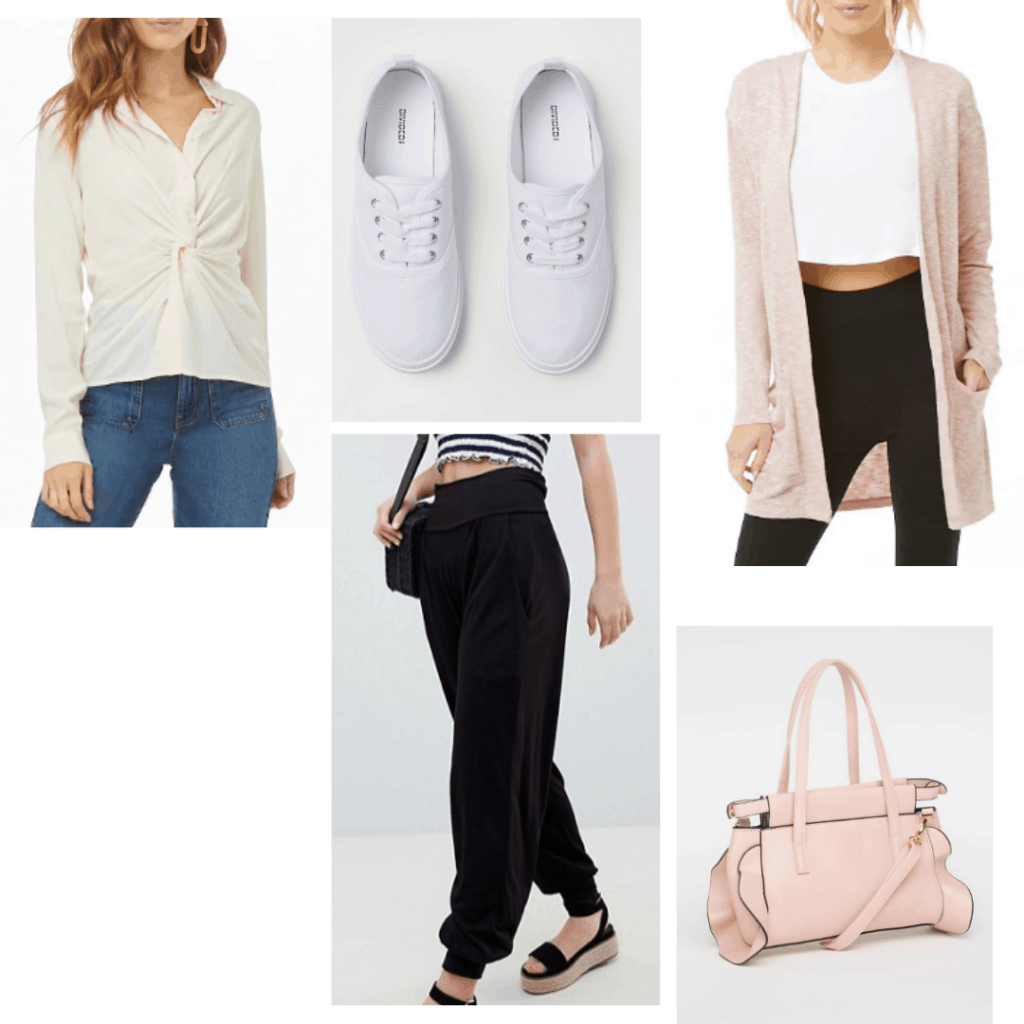 Products: Light Cardigan – Forever 21, Harem Pants – ASOS, Button Up Shirt – Forever 21, Canvas Shoes – H&M, Purse – Ardene

Spring means no more thick or oversized sweaters. It's time to bring out the light, breezy outer layers. Personally, I love a good lightweight cardigan — it's versatile, classic, and comfy!

In the example outfit above, we mix harem pants, a light button-up shirt, and a cardigan on top. The cardigan is perfect for when those slight winds make you feel chilly or when it's not hot enough to walk around in a sleeveless top.

Wardrobe Piece #3: Neutral Flat Shoes or Sandals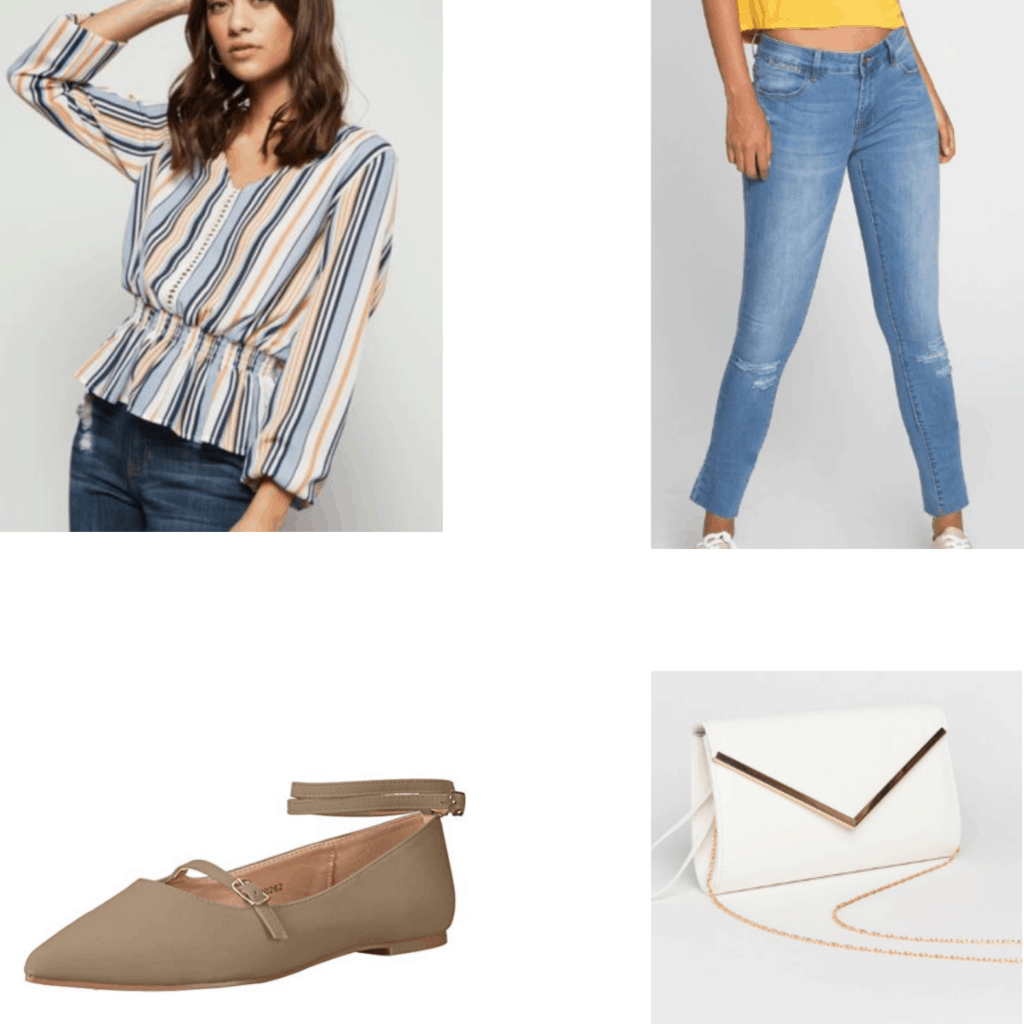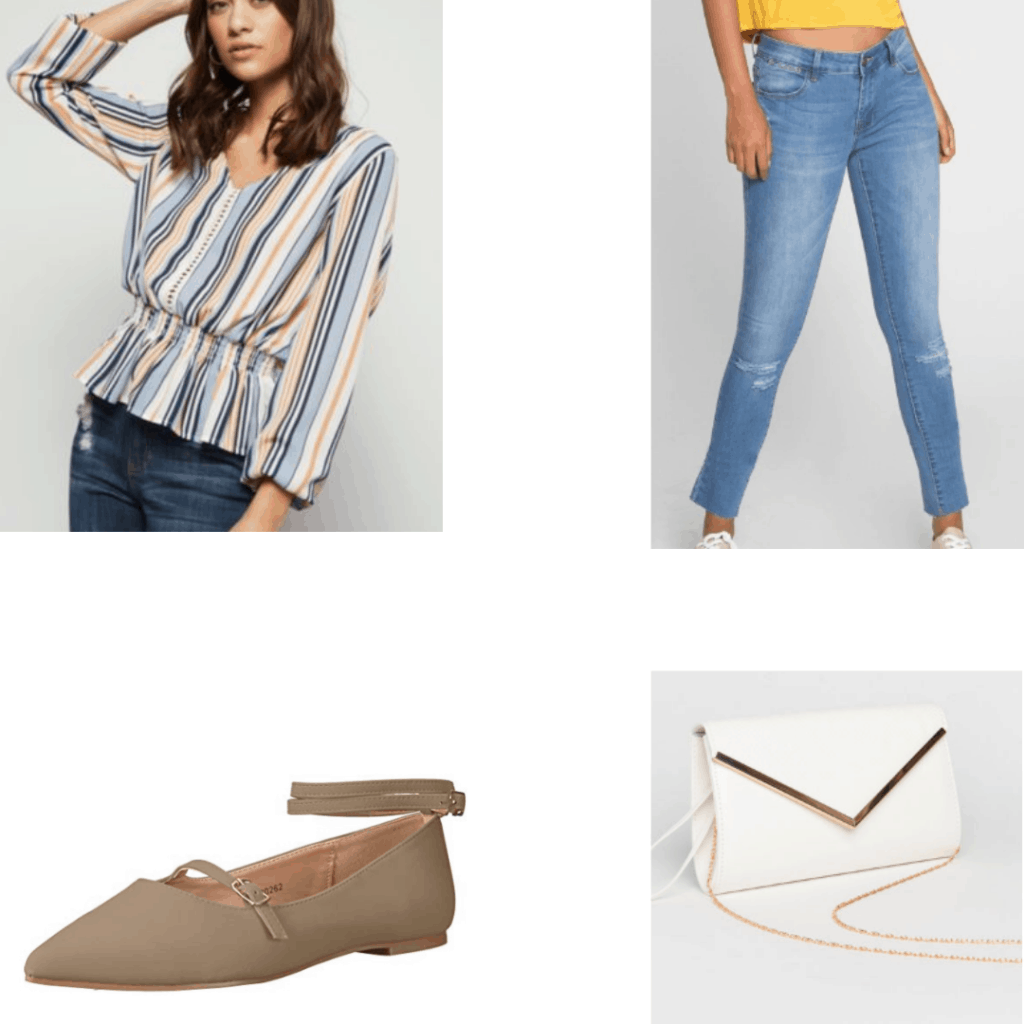 Products: Flats – Amazon, Blouse – Rue 21, Casual Jeans – Wet Seal, Purse – Ardene

Spring is the time to break out your cute flats, whether they're backless loafers, ballet flats like these, or flat sandals. I love these neutral Mary Jane-style flats for a girly feel, but feel free to substitute your faves.

It doesn't get more springtime ready than a blouse with shades of pastels, some pretty light to medium wash jeans, and a chain strap bag. Wear this to class, brunch, shopping — you pick.

Wardrobe Piece #4: Denim Jacket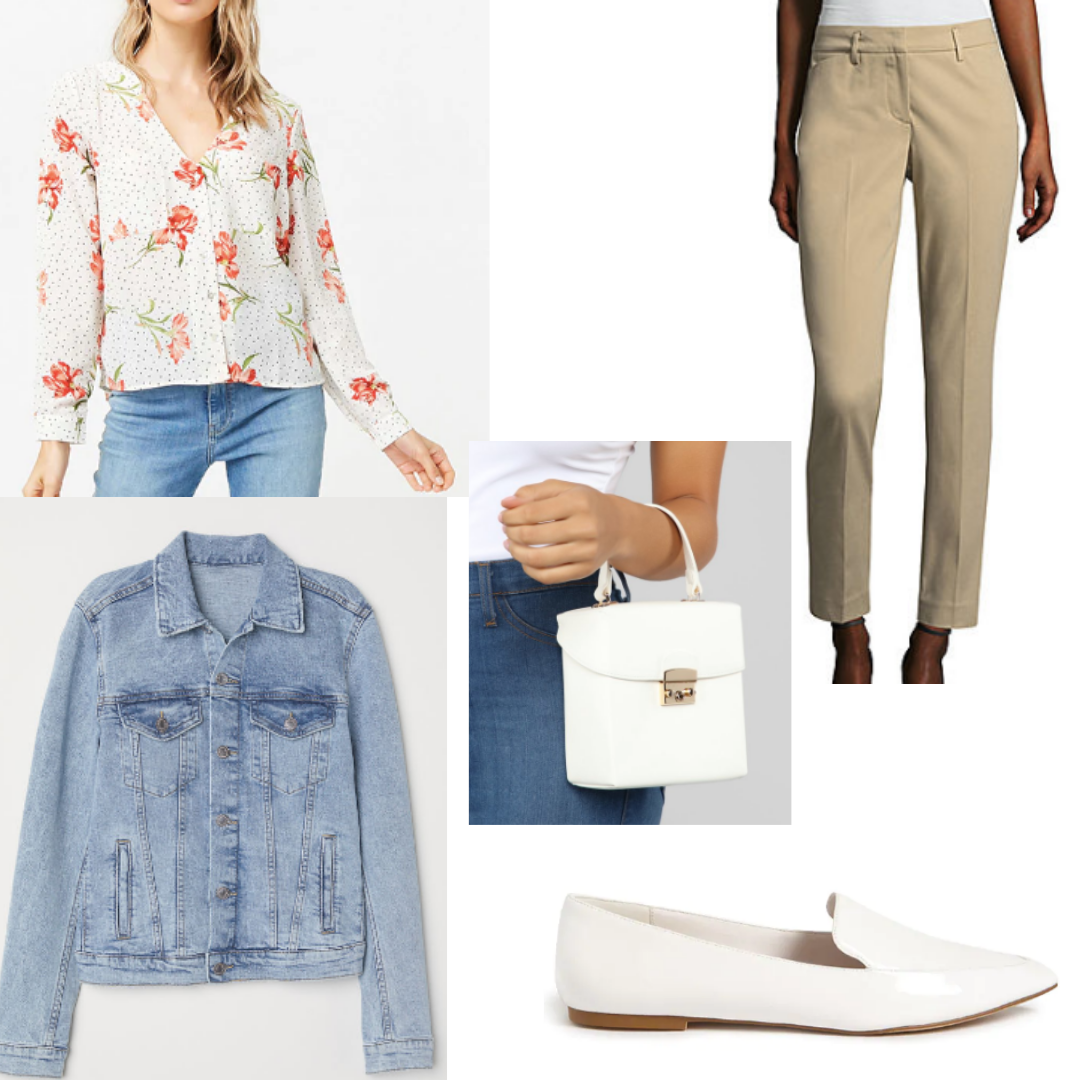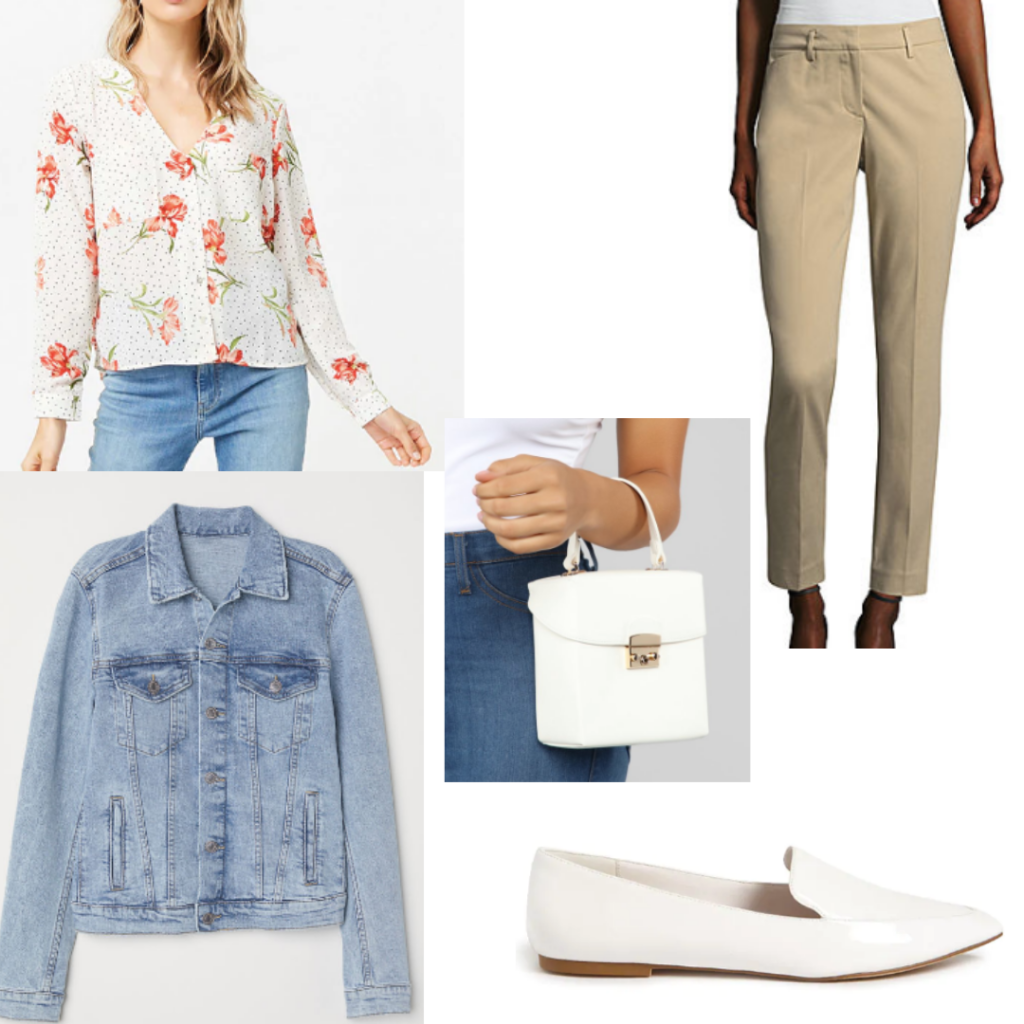 Products: Denim Jacket – H&M, Floral Top – Forever 21, Pants – JC Penney, Flats – Forever 21, Purse – Fashion Nova

I don't have to tell you that a denim jacket is a springtime staple. It's the perfect choice for a sunny day and it practically screams spring weather. Denim jackets are ideal for temperatures that drop down to 50 degrees in the evening. Plus, they're super stylish!

This outfit above showcases how to wear a classic denim jacket while also incorporating florals. You have a floral top, denim jacket on top, pants that show your ankle and flats. Your outfit screams spring.

And finally, remember: LAYERS!!!
Mixing one spring-y item with one winter-y item is an easy formula for transitional dressing.
For example, pair a sweater (winter item) and a flowy skirt (spring item), or a tank (spring) and a cool pair of jeans (winter). And this is definitely your main key to dressing for the weird weather while staying somewhat consistent throughout the week. Depending on the day, you can organize these items in ways that will keep you comfy, cute and consistent.
Remember fabric weight and textures when combining. A chunky sweater and a light flowy skirt would be perfect for a cooler day. Or, for instance, a pair of denim culottes and an off-the-shoulder crop top would be better for a warmer day.
What are your essential transition fashion pieces?
These four wardrobe pieces are perfect to help you transition your winter wardrobe to your spring wardrobe. Having a "spring" statement piece is always the best way to go from winter to spring.
What are your favorite wardrobe pieces to help you transition your wardrobe to spring? Let us know in the comments below!