This post will show you what to wear when it's cold in the morning and hot in the afternoon, with cute outfit ideas to try.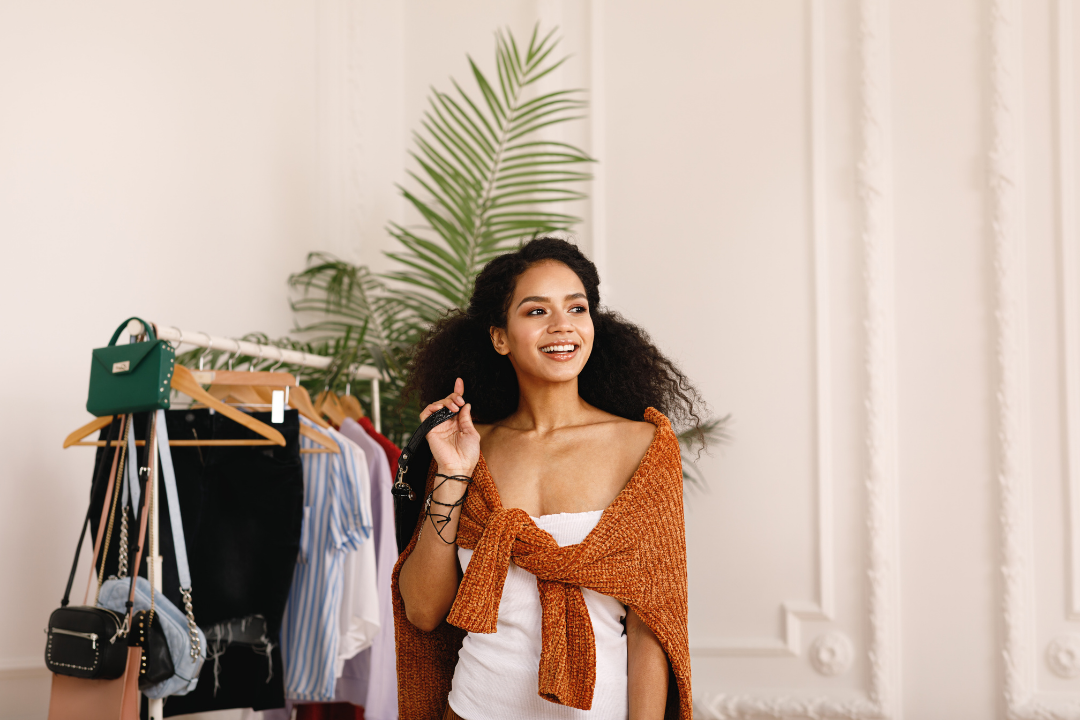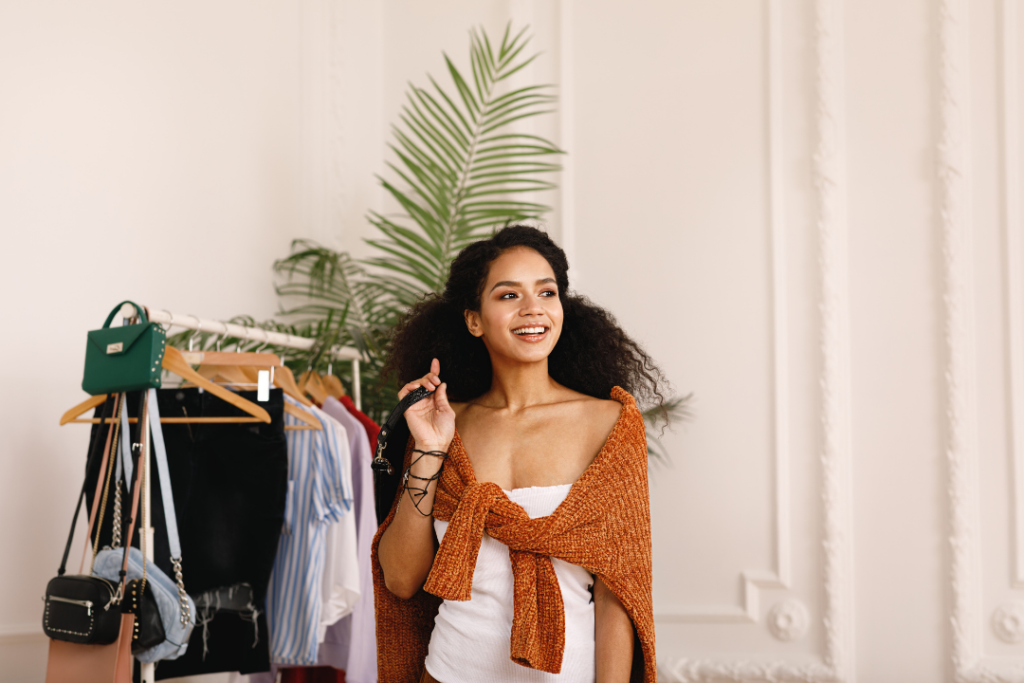 With the change in seasons comes a host of weird, often extreme, weather patterns.
It seems like we're all in that weird seasonal transition period where it's cold in the mornings and warm in the afternoons, and it's definitely a struggle to stay temperature-appropriate. This weather is confusing – when I leave the house I never know if I should dress for the arctic tundra or a bright and sunny spring day.
This can make it extremely hard to decide on an outfit. You may be thinking that you should bundle up in the mornings if it is chillier, but then you'll end up being incredibly hot as the weather warms up later on in the day.
To make your life much easier, the best way to tackle this kind of change in weather is to strategically plan your wardrobe around clothes that can work for warm or cold weather. Usually, this means also incorporating light layers into your outfits.
If you are looking for some outfits that will work for these changes in temperatures, this post will show you six super cute outfits that solve the problem of what to wear when it's cold in the morning and hot in the afternoon.
1. Outfit #1
If you have been following the fashion trends lately, you have probably noticed that '90s wide leg jeans are extremely popular right now. These jeans have replaced skinny jeans as the trendiest jeans that every college woman needs in her closet.
These college wardrobe essentials are a great option to wear to keep you warm in the mornings. And if you need to be a bit cooler in the afternoons, you can wear a crop top with them!
This outfit is perfect if you love wearing jeans because it combines the trendy '90s jeans with a cute pink fuzzy crop top and cardigan set.
This means that if you are a bit cold in the morning, just add the cardigan to your outfit, or you can easily take it off later if you start to warm up.
Also, to make the outfit even trendier you can pair the look with these white chunky boots, black baguette bag, and silver chunky hoop earrings.
2. Outfit #2
Another super cute example of what to wear when it's cold in the morning and hot in the afternoon is a sweater set!
This set is perfect because it has a long-sleeve sweater that will keep you warm and cute shorts to go with it to make sure you don't get too hot later.
I also love this sweater set because of the pretty sand color that it comes in! This also makes it super easy to pair with shoes and accessories. (You could also layer something like a boyfriend denim jacket over top if you need extra warmth.)
To add to this warm/cool outfit, you can throw on some trendy white dad sneakers and some accessories like these chunky gold earrings and rings.
Also, if you need something to carry your belongings in, you can use this adorable faux fur leopard bag.
3. Outfit #3
If you want something a little bit more girly to keep you warm in the mornings, but cool in the afternoons, you could opt for a cute dress and add some layers to it by wearing a cardigan!
I absolutely adore this dress because it is y2k inspired and it comes in this really cute pink color. What's great about this dress is it is not only trendy but also if you need a bit of extra warmth in the mornings a simple cardigan like this white one will go perfectly with it.
If you also want to look trendy in this outfit pair it with white Nike air force 1s because wearing sneakers with cute dresses are very in style right now.
Also, if you want to include a cute hairstyle with this look, add a bear claw hair clip like this one into your hair. Then just bring this cute pink baguette purse with you and you will have a great outfit for mornings and afternoons.
4. Outfit #4
Another great option if you are looking for an outfit for changing weather temperatures is leggings! You may be thinking of wearing your usual skinny pant leggings, but if you have noticed recent fashion trends, the flared legging (or yoga pant) style is back in.
Yoga leggings are perfect to wear in the mornings if it is a bit chillier because not only will they keep you warm, but you can also pair them with almost anything. You can even add a bit of extra warmth to your outfit in the mornings with this trendy oversized hoodie in black to match.
For the afternoons, you will also be prepared with this outfit because you can wear a crop top like this cute orange crop top vest just in case you get a bit warm later on. And yoga pants are perfect for warmer temps because they are breathable and comfy.
Then, just pair the outfit with some trendy Chuck Taylors like these and a matching headband, and you will be good to go.
5. Outfit #5
If you want something a bit more casual, you could definitely go for some joggers. The joggers will definitely keep you warm especially if you add on an extra layer like this cropped white jacket. Also, why not add some color to your outfit by wearing some light blue joggers like these?
For the afternoons, if it is a little warmer, just take off the jacket to cool off and show off a cute white racerback tank top like this one.
For shoes, Nike air force 1s would again look great with this outfit. If you want to spice the outfit up a bit more with accessories, I would go for this trendy silver chain choker necklace with this matching ring set.
6. Outfit #6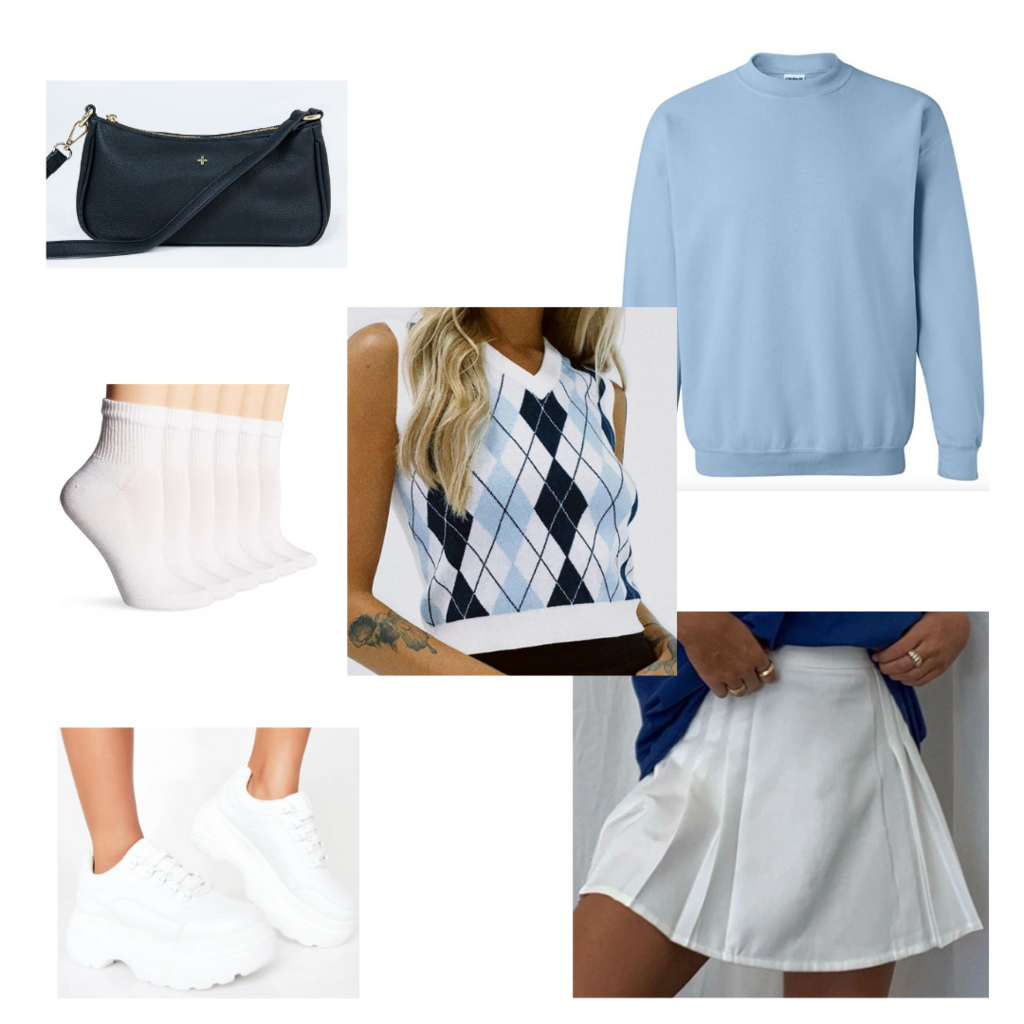 Products: Vest, Sweatshirt, Skirt, Shoes, Socks, Purse
If you want another girly option for this kind of weather, you could also wear a cute skirt. If you are worried about staying warm in the mornings with a mini skirt, I recommend wearing a long-sleeve top for some extra warmth.
If this is the kind of outfit you want to go for, start with a trendy skirt like this one in white, then pair it with a cute cropped sweater vest like this one.
What's great about this outfit is you can totally wear a long-sleeve top or even a sweatshirt like this blue one underneath the vest (or over top) if you are a bit chillier in the mornings.
Later on in the day, you can wear just the vest without the sweatshirt and your outfit will still look great!
To finish this outfit, I would pair the combo with these trendy platform sneakers in white to match with white ankle socks. Top it off with a cute baguette purse like this one.
Which of these outfits is your favorite?
What do you wear when it's cold in the morning and hot in the afternoon? What outfit do you think will work the best for you? Which outfit will you wear the most?