This post may contain affiliate links, which means we may receive a commission if you purchase through our links. Please
read our full disclosure here
.
Welcome to the latest edition of Ask CF! Every two weeks, we select a reader fashion question and answer it here on the site. Do you have a specific fashion question for us? Scroll to the bottom of this post to learn how to send it our way!
Ask CF Question
Dear CF,

I live in the Silicon Valley, which is nice because we get warm(ish) weather pretty much all year round. But one thing I can't stand is the crazy change in temperature from the mornings and afternoons. I go to a community college, so I'm away from home all day and have no place to put extra layers as I don't have a car. And as I am petite and weak, I can't carry extra layers with me: I'm already suffering enough, due to the crazy number of books I keep with me.

This leaves me either freezing in the mornings (30-40 degrees F) or roasting in the afternoon (70s). Can I get some tips on what to wear to stay warm in the mornings and cool in the afternoons- without having to carry around extra stuff?

Thanks,

Angie
Our Response
Dear Angie,
In the battle between snowpocalypse and the coming spring, I think extreme temperature fluctuations are something that almost everyone can relate to right now. It seems like we're all in that weird seasonal transition period, and it's definitely a struggle to stay temperature-appropriate. This weather is confusing – when I leave the house I never know if I should dress for the arctic tundra or a bright and sunny spring day.
Honestly, I think the most helpful solution is key layering. I know you said you can't carry much else, but even light layers, like tights or scarves, can make the chilly mornings more bearable, and both of those items are incredibly versatile and relatively easy to remove during the day if you get too hot.
Below, I've created three transitional winter-to-spring outfits that should hopefully inspire you a little more, but of course keep in mind that you may have to tweak some things to make sure that you stay comfortable. Hope this helps!
Sincerely,
AnnaMarie
Outfit #1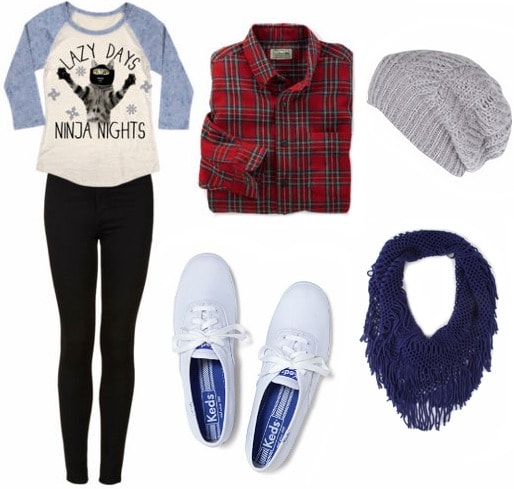 Product Information: Top, Jeans, Flannel, Scarf, Hat, Shoes
In the morning, it's going to be chilly, so a scarf and hat will keep you toasty. Since they're both small accessories, they'd be easy to stash away (even in a bag full of books).
The flannel shirt is an awesome and versatile piece since you can button it up if it's cooler outside, then unbutton once it gets warmer in the afternoon. Better yet, if it's really hot by the end of the day, you can just take it off altogether because this tee is cute enough to wear by itself.
Outfit #2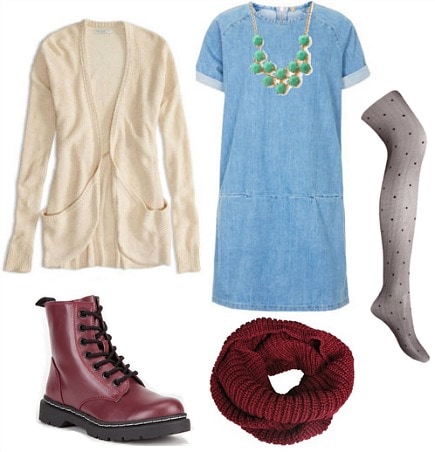 Product Information: Sweater, Dress,Necklace, Tights, Boots, Scarf
The next ensemble has a retro-meets-quirky vibe, featuring a chambray dress, Docs, and polka dot tights. The patterned tights will keep your legs warm and also add a special pop to the outfit. If you think you'll be too cold in just one pair of sheer tights, you can always add another pair of pantyhose underneath!
The cardigan and scarf will be sure to keep you comfortable in the cooler mornings, and by the end of the day you can tuck the scarf away in your bag and tie the sweater around your waist for a real '90s look.
Outfit #3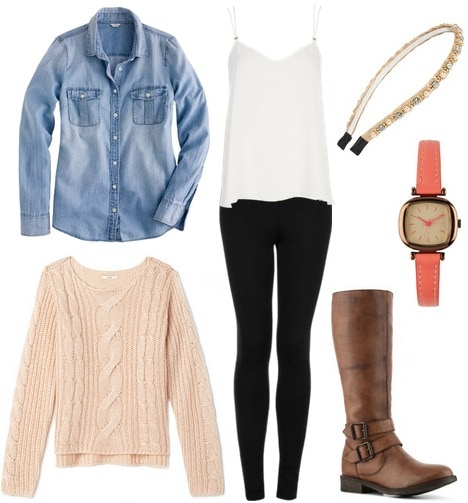 Product Information: White Blouse, Chambray Top, Sweater, Watch, Leggings, Boots, Headband
This last outfit is for those days when you want to stay warm on your way to class since it's uncomfortably cold outside, but you also know it's going to be 77 degrees by the end of the day. First, start with a cute but cool base layer of a white top and leggings.
Now it's time to layer up: The chambray shirt goes over the white shirt and the sweater can be layered over that for a preppy yet cozy look. Once it gets hotter, I'd lose the sweater and let the chambray shirt hang open over the blouse.
Do you have a pressing fashion question? Ask away!
Is there a piece in your closet that you never know how to style? Do you have an important event coming up? Is there a certain trend that is completely lost on you?
If you have a question you want to see answered in this column, just send it on over via email to askcf @ collegefashion.net and one day you might see your question answered right here on the site!
Please note: We get A LOT of email and unfortunately we will not be able to respond to every single question. However, we will read through each question and then decide which ones will be most helpful to the most readers. Thank you for your understanding.
What do you think?
Do you think these outfits could withstand random weather fluctuations? Which of these outfits would you wear? Which outfit is your favorite? Let us know in the comments below!