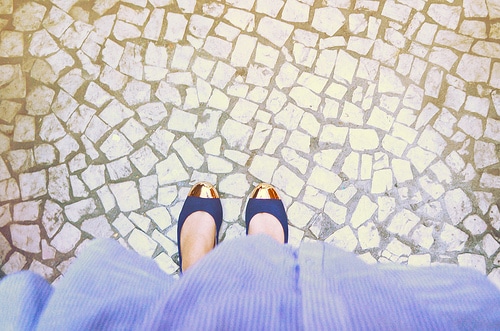 Photo by stephmcg
Over the past few weeks, I've been breaking down the latest fall fashion trends and going over some of the best footwear options for fall.
The last time I talked about shoes for college, I showed you some cute boots that will be great for fall. In case you missed that article, here it is: Shoes For College Girls – Casual Boots.
If boots aren't your thing, or you just want to add some more variety to your casual shoe collection, a pair of cute ballet flats might be just what you need for fall!
Why You Should Own Flats
If you don't own a pair of flats yet, you don't know what you're missing!
Flats are perfect for college girls because they are comfortable, affordable, and versatile.
They're completely ideal for walking to class in a hurry, or wearing to a party instead of heels. They're also cheap enough that you can usually afford to own a bunch of different pairs, if you have a case of fashion indecision.
My favorite thing about flats is that they're sostylish. Unlike a pair of athletic sneakers or UGG boots, ballet flats are great looking, and add an instant chicness to any outfit. Because of this, they're appropriate for both dressy and casual situations, which is so nice to have in a shoe.
Cute Flats For Fall 2008
Here are some of my picks for cute and trendy flats that are perfect for fall.
Some of the hot trends in footwear this year include metallics, sparkly accents, and jewel tones, so I tried to incorporate those, while staying within a college student's budget.
Metallic Ballet Flats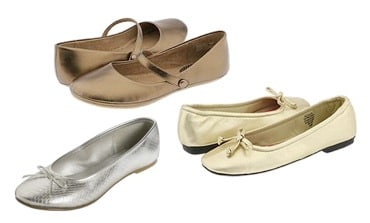 Clockwise from top: White Mt. "Grace" Flats ($45), Sam & Libby "Zalis" Flats ($45), Xhilaration Sable Flats ($10.49)
Jewel Tone Ballet Flats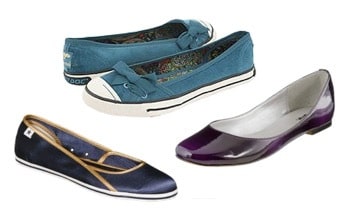 Clockwise from top: Rocket Dog "Kandy-Kane" Flats ($45), Mossimo "Deann" Ombre Flats ($13.99), Converse One Star Dance Flats ($29.99)
Patterned Ballet Flats

From Left: Jessica Simpson "Leve" Flats ($63), Gabriella Rocha "Lela" Flats ($47), Merona "Meadow" Ballet Flats ($24.99)
Sparkly Ballet Flats

From Left: Gabriella Rocha "Lynne" Flats ($55), Annie "Keepsake" Flats ($51)
Basic Flats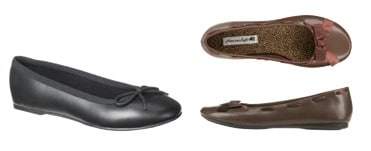 From Left: Xhilaration Sable Ballerina Flats ($12.99), American Eagle "Mille" Flats ($19.99)
Your Thoughts?
If you don't own a pair of flats already, I hope you'll think about picking some up for fall – they're one of the cutest types of footwear out there right now!
What do you think? Do you practically live in your ballet flats? Which are your favorite kind for fall – sparkly, metallic, or patterned? Let me know your opinions in the comments.