This post may contain affiliate links, which means we may receive a commission if you purchase through our links. Please
read our full disclosure here
.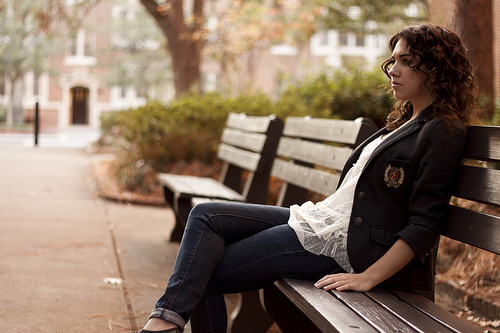 If your thoughts are filled with what to pack and you're counting the number of lazy days you have left before you head back to school, you're not alone. In fact, it's almost time to bid adieu to sweet summer nights and get ready for the transition to fall.
Whether you're in the doldrums about seeing summer go or enthusiastic about being on campus again, we'll help you get dressed once you're there. Below, we've created five outfits forback-to-school scenarios, all under $100 total.
End of the Summer Party – $97.93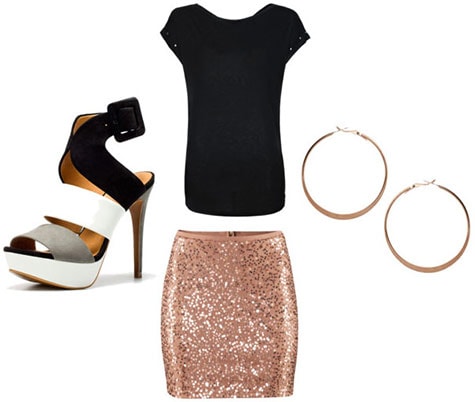 Product Information: Top – Mango, Skirt – H&M, Shoes – Zara, Earrings- Topshop
It's two nights before you're set to go to college and your high school friends have planned one last get together for old time's sake. No doubt it will be amazing, as it has to be fabulous enough to get you through until you see everyone again at the holidays. If you need an outfit to match, we suggest an eye-catching sequined skirt, a slouchy black tee, big earrings and sleek heels.
Sorority Rush – $99.26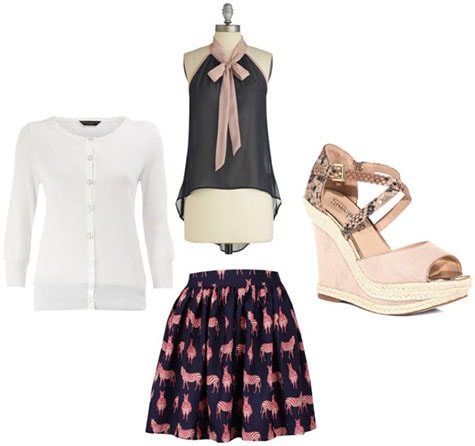 Product Information: Blouse – Modcloth, Skirt – Lavish Alice, Cardigan – Dorothy Perkins, Shoes – Dorothy Perkins
If you're planning on rushing a sorority this fall, we understand the difficult decisions that must be made about what to wear for the event. After all, the first impressions you make during sorority recruitment have the potential to completely affect your entire college experience. For one of the mid-week semi-formal events, we love the idea of a fun patterned skirt, a bow blouse, a cardigan for modesty, and comfortable wedges. Remember, now is not the time to shy away from color!
Back to the Campus Gym – $83.21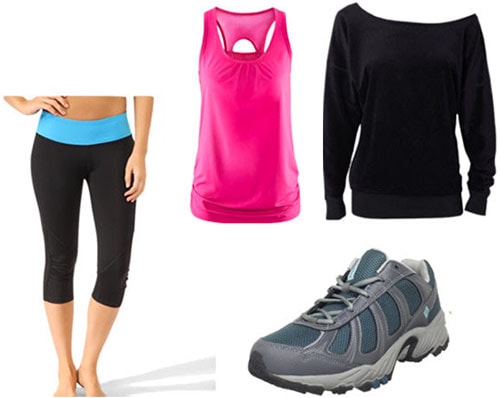 Product Information: Top – H&M, Pants – Forever 21, Sweater – Alloy, Shoes – Endless
Whether you've kept up an exercise routine all summer or you're a little out of shape, there's nothing better than hitting the campus gym or going for a run to get yourself feeling great before your classes start. It's also good to establish an exercise routine as soon as possible once you're back at school to make it stick. For the gym or an outdoor workout, stick with comfortable but cute exercise wear and layers, as it may be cooler in the morning but hot by noon.
Orientation – $85.11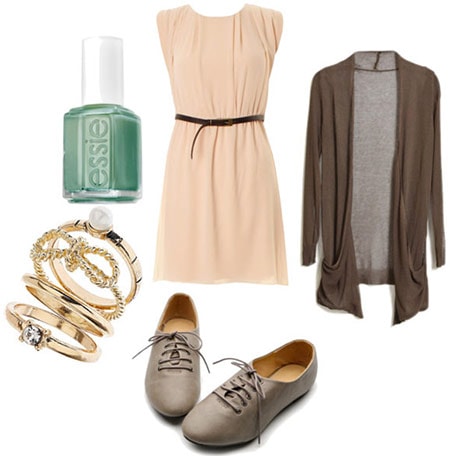 Product Information: Dress – Lavish Alice, Sweater – Romwe, Shoes – Amazon, Nail Polish – Essie, Ring Stack – Dorothy Perkins
College orientation will set the tone for your college career. First, it gives you the chance to mix and mingle with potential new friends and peers. But more importantly, a great outfit for orientation will set the tone for how you choose to dress in college; are you going to be the girl in pajamas or the girl who looks put-together every day? Start the year off right in a cute dress, sweater, oxfords, and some fun jewelry.
First Day of Class – $93.73 with sandals / $95.74 with flats
Product Information: Top – H&M, Jeans – Forever 21, Jacket – H&M, Sandals – Aldo, Flats – Modcloth
In my experience, I have found that making an excellent impression on teachers can help you leaps and bounds when you're searching for jobs. By dressing in a put-together way for class, you're not only going to feel more awake and ready to learn, but you'll also make a positive impression. We love this motorcycle jacket from H&M paired with a simple peplum top and skinny jeans. For the fashion-forward, we love these sandals from Aldo – they're very Lauren Conrad and perfect for daytime. However, if you're not a heels girl, stick with comfortable flats for the trek across campus.
What are you planning on wearing back to school?
Do any of the looks above inspire your outfits? How do you keep your outfits budget-friendly when you head back to school? What will you be wearing to orientation and the first day of school? Do you have any tips for dressing for these situations? Leave a comment below and let us know!