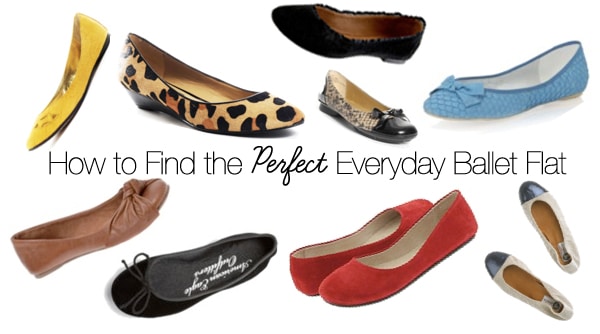 Everyone has that pair of "everyday fallback ballet flats", you know: the ones you wear so often that people wonder if you have any other shoes. Mine used to be a pair of black crochet ones from Urban Outfitters.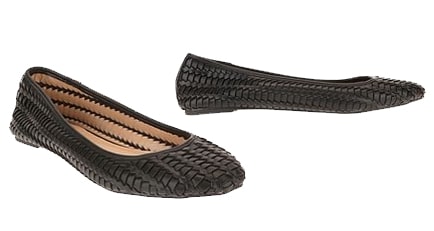 (The closest replica of my old flats on UO's website- mine were a lot cuter,though. | UO)
I would wear them 75% of the week: through rain, sleet, and snow (not that it snows in LA very much). Every time they would start to wear out, I would replace them with another pair, dropping $40 dollars at least twice a year. And while I loved those shoes, I couldn't help wondering, was there something better out there?
Time has come and gone, and I recently learned that Urban Outfitters no longer sells my trusty fallback flats-just as my last pair was on its way to the dumpster (RIP). So, it's time for a change of pace, and a new pair of homegirl flats. The question is, when it comes to finding a pair of flats, what does one need to consider?
While I may not be THE expert, I think I have garnered enough life experience to say that I know what to look for when it comes to finding a reasonably priced and COMFORTABLE pair of ballet flats. Interested? Read on to get my advice on finding that perfect pair of flats.
Things to Consider
1. Price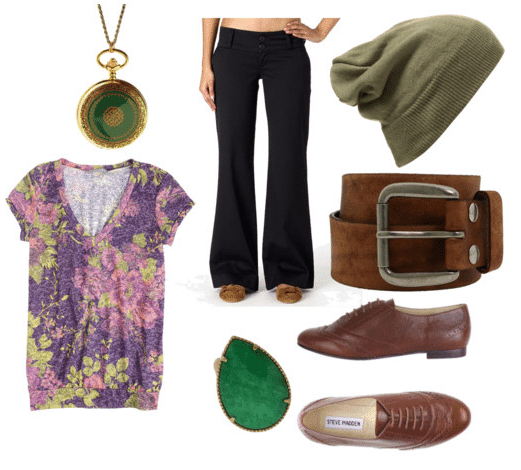 (Source: Flickr)
I'm just gonna come out and say it: if you want a good pair of long-lasting flats, you're gonna need to drop some money. I know, I know, we're poor college students. But buying those $20 dollar flats from Forever 21 just isn't gonna cut it anymore. While they may be a steal, they just aren't worth those squashed toes, sore ankles, and throbbing arches. (Trust me, I've been there, and my aching feet can prove it.)
If you want any sort of comfort and durability, you're going to need to spend AT LEAST $25-30 dollars, and that's the minimum. Some of the more comfortable flats run around $60-$100+ dollars. If you're reluctant to spend that much, consider this: would you rather have a pair of $20 dollar flats that you need to replace around 4 times a year, or a pair of $80 dollar flats that will last all year long? Either way you're still wearing the same flats (more or less) Wouldn't you rather not have to bother with replacing them? Exactly.
2. Practicality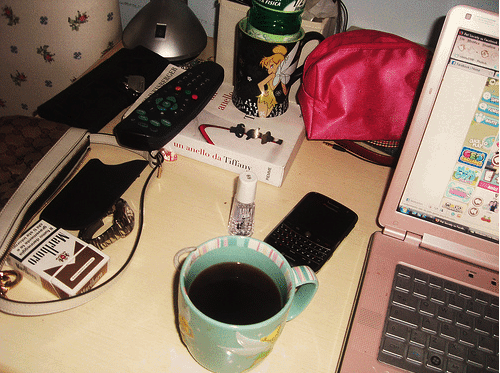 (Source: Flickr)
Before you buy a pair, ask yourself: can you see yourself wearing these flats every day? Or do these only go with that cute top you bought last weekend? If your answer is the latter, then these aren't your "everyday flats".
Everyday flats should go with anything you wear, which means you should try and stick to a neutral color (meaning they are one solid color, not some "rainbow bright bedazzler flats", although those sound pretty epic). Before you purchase your shoes, you need to be able to envision yourself wearing those flats with anything, and to anywhere. If you can visualize that, you've got a winner.
3. Comfort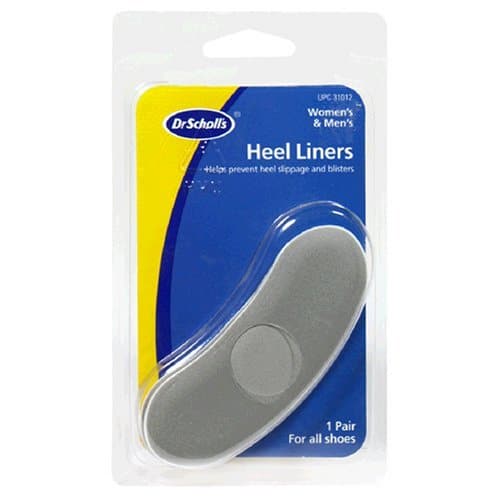 (Heel Liner- Dr. Scholl's)
When you slip on a pair of candidate flats, you want to think "Wow, these are super comfy!" and not "Hm, kind of tight… but they're so cute!". Sure, those tight flats may be cute, but they're not gonna be so cute when you're limping across campuswishing you hadn't thrown away your receipt. The bottom line is: style aside, COMFORT should be the first thing you consider when it comes to a looking for a ballet flat to wear often. They need to fit perfectly, feel good, and not rub your feet the wrong way (literally).
And since we're on the subject of comfort, I thought I'd suggest one very important investment to further enrich your ballet flat experience. Whenever I buy a new pair of flats, I hate when the back of the flats starts digging into my heel: it hurts and sometimes even leaves a scar or bruise. Well, in order to stop that bothersome issue, all you need to do is invest in a pair of Heel Liners. These babies are the best – just stick them onto the backs of your flats, and bam, all the hassle of wearing in your flats is gone. Goodbye discomfort!
4. Research
The last thing I want to suggest before you go out there in search of your ballet flats, is have a set idea of what you want. As flats are very popular nowadays, there are thousands of them on the market – some good, some not so good. And with so many styles, the search may get overwhelming.
One good thing about the internet is that you can do research way ahead of time to narrow down your search. Check out reviews on flats you are interested in because they are often helpful and can save you precious time later on.
Here are some good websites to get ideas for shoes you may like (or even to purchase shoes online):
Save vs. Splurge
Now that we've gone over things to consider when looking for the perfect pair of flats, we can get to the fun part, finding them. I've separated the flats I've found into two categories, the "save" category (meaning they cost less $25-$50 dollars), and the "spend" category (meaning they cost $60+ dollars). While I haven't tested each shoe personally, I did research on the most comfortable flats on the market, and these are the gems I came up with.
Save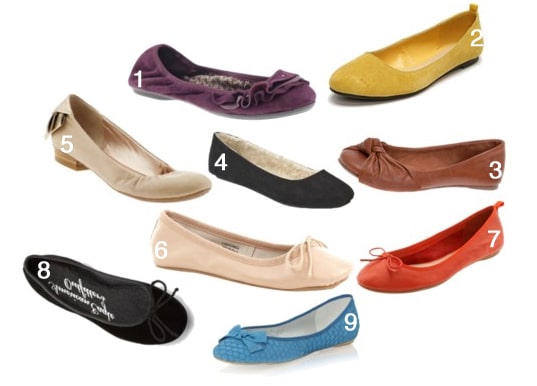 (1- Piperlime, 2- UO, 3- Aldo, 4- Target, 5- Piperlime, 6- Topshop, 7- Gap, 8- AE, 9- Asos)
The shoes in this section are priced from $30- $50 dollars, which is a reasonable price for a good quality ballet flat.
When it comes to choosing a pair of durable flats at a lower price, it's important to keep in mind where or who you are buying your shoes from. Are they a brand or retailer that is known for good quality, or have you never heard of them before? If it is a store or brand that you know well and often buy from, you can probably trust the quality of the product. There are lots of cheap nameless ballet flats out there that can fall apart easily, and I don't recommend buying from a no-name brand for this reason. In general, no-name flats are less durable and less comfortable (if they're comfortable at all).
My best advice is to stick to shoes from stores like Macys, Nordstrom, Urban Outfitters, Gap, J.Crew, Aldo, Zappos, and the like. That way, you know that quality is consistent (at least most of the time).
Splurge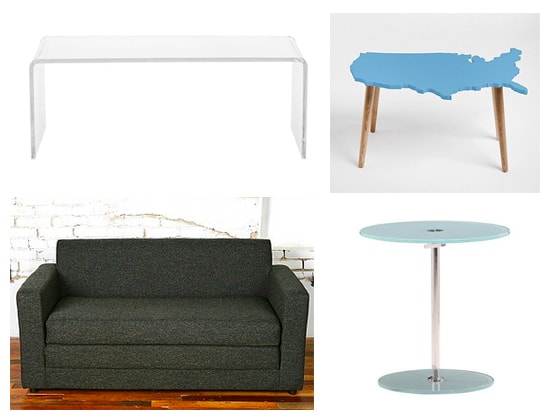 (1- French Sole, 2- Steve Madden, 3- Sam, 4- Me Too, 5- Steve Madden, 6- Me Too, 7- Steve Madden, 8- Lanvin, 9- Bloch)
The shoes in this section are priced from $60 dollars and up. But keep in mind that although these shoes may cost more money, they are also better quality and probably longer lasting than their bargain equivalents.
When I was doing research for this post, I googled "Best Ballet Flats" and "Most Comfortable Ballet Flats", and while some of the results led me nowhere, some of them gave me promising reviews from happy consumers.
According to my research (and a suggestion from a reader), the brand "Me Too" (4 & 6 in the above image) has a wide variety of comfy yet chic flats perfect for everyday. I myself have never tried them, but one brand I can vouch for is Steve Madden (2, 5, & 7 in the above image). I myself own pair number 2, and I can say with confidence that they are very comfortable- and since they are black, they go with everything.
Finally, just for kicks, I thought I'd include a pair of flats I have heard great things about (but probably will never own). French Fashion House Lanvin (8 in above image) is rumored to have some of the most comfortable ballet flats known to man – supposedly they last forever and are very, very comfortable. I've never tried these flats, but with such a high price tag ($425 dollars?!), if they don't make me feel like I'm walking on air, I'm not interested.
Final Thoughts
When a shoe is more expensive, does that mean it's going to be more comfortable? For me I really think it depends – an expensive shoe can look gorgeous but feel awful, and the same goes for cheap shoes- they can be cheap but feel great! When it comes down to it, it really depends on you- if the shoe fits, wear it (but only if you want to).
Whatever your price range, I hope this article was helpful in at least some way, I tried to keep things organized and easy to understand because I know how hard it is to find a good pair of flats; especially with so many on the market nowadays.
What are your experience with ballet flats? Do you have a pair that you absolutely love? Have you tried on any of the flats I chose to feature? How much would you be willing to spend on a pair of flats? What's your idea of the perfect everyday ballet flat? Whatever your thoughts, let me know in the comments!