As I've mentioned in previous articles, hats are the definition of a win-win fashion item. You might want the floppy hat outfit I've laid below.
First and foremost, they protect you from the sun. During the summer we all know that skincare is a top priority and while beach days are great, nobody wants sun damage. Hats, especially larger ones like floppy hats, do an excellent job at protecting your face. The second perk of hats are that they're simply gorgeous and add an extra touch to all your summer looks.
So now that I've convinced you that you need this super cute hat, here are a bunch of ways to style a floppy sun hat this summer: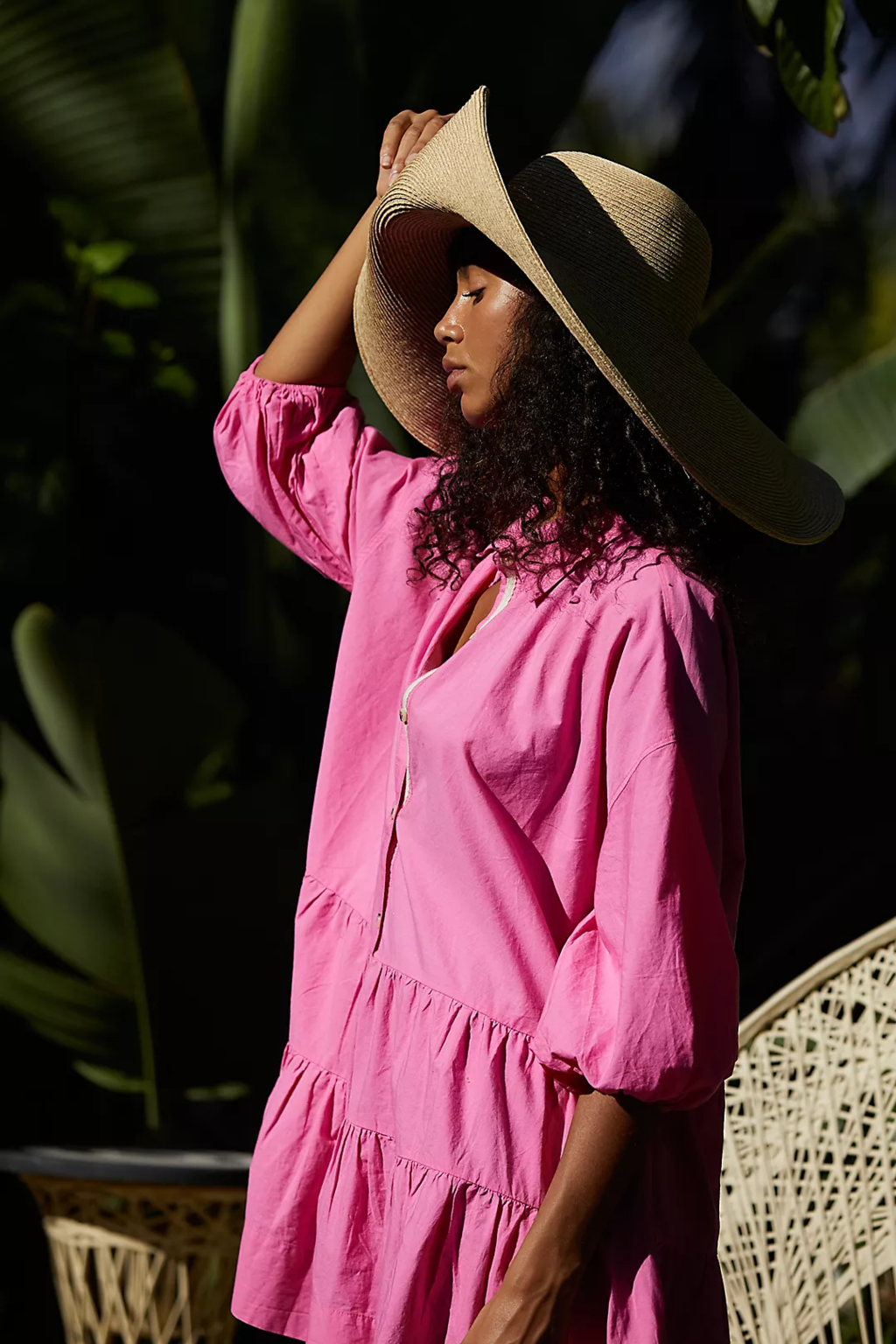 The floppy hat outfit is the perfect summer accessory. The wide brim shields you from direct sunlight and provides maximum protection, which means it will be a staple for years to come in every beach day outfit! 
Pair this classic style with any number of outfits from jeans or shorts all the way up through dresses. In fact, a mini dress is our favorite pick for a floppy sun hat — so effortless and cute.
Blue and Coral Beach Babe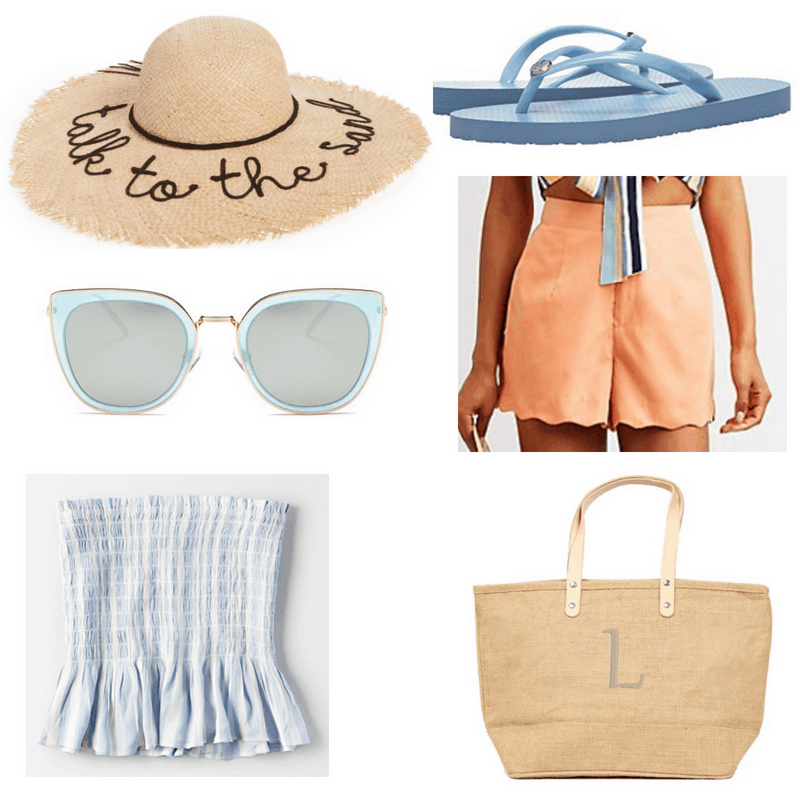 Products:
This outfit is perfect for a casual day at the beach! To start, the shorts combine two details I love: They're high-waisted and scalloped. They're definitely a summer must! The top is also gorgeous: It's strapless (a big trend this summer) so you can easily wear a bikini or bathing suit under it while going to the beach!
The beach tote is such a great piece. It's made of 100% natural jute and comes monogrammed. As someone who lives for preppy things, I love all things monogrammed, and I think the monogram adds the perfect personal and elegant touch to the tote.
Tropical Forest Beauty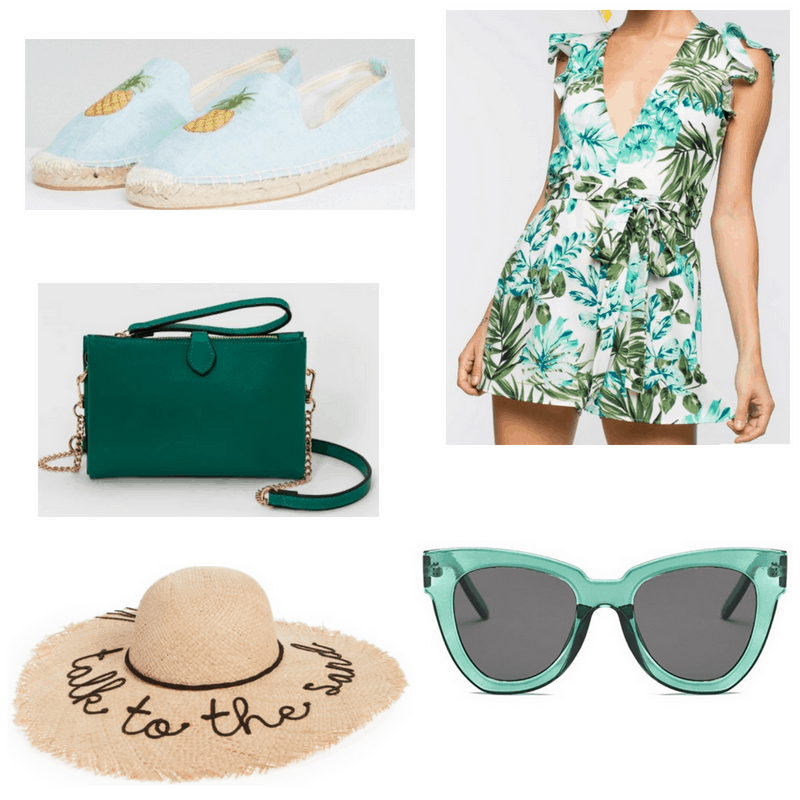 Products:
This look is perfect for lunch out with friends! My favorite piece in this floppy hat outfit has to be the romper. The print is absolutely stunning and I love the v-neck cut and ruffles. It defines elegance but is also incredibly playful and tropical! To continue with the tropical theme, I paired the romper with blue espadrilles that are accented with a pineapple.
I have been really impressed with the bags from A New Day from Target. What I especially enjoy about this one is that it's both a wristlet and a crossbody bag! Not only is it a great price, but you can use it for a variety of occasions!
Pink and Green Floral Garden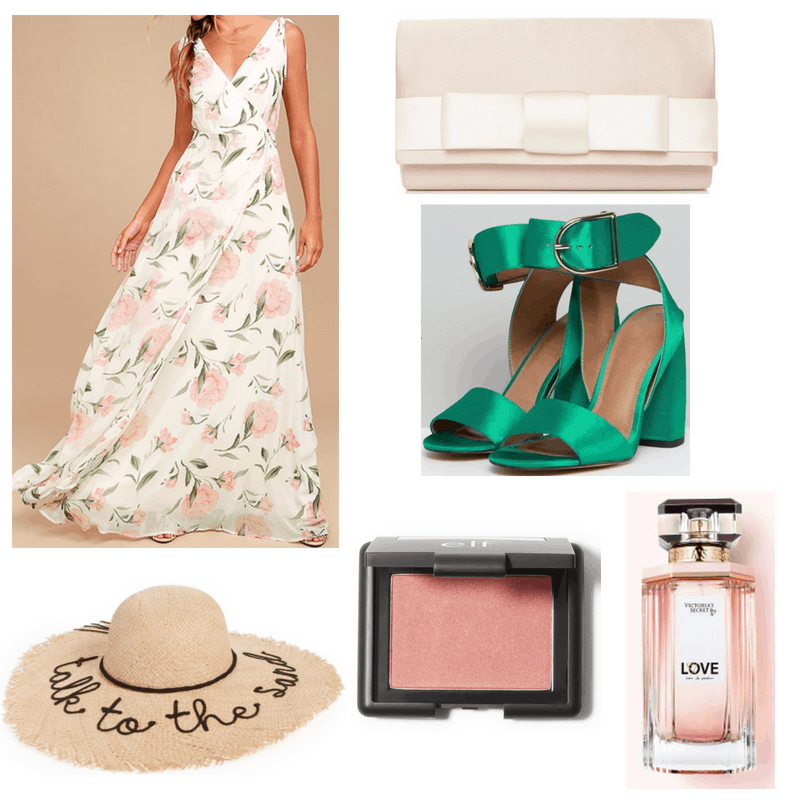 Products:
This floppy hat outfit is perfect for an elegant early dinner or garden party. Upon glancing at this look, the piece that really stands out is the dress. It is drop dead gorgeous. Despite being a maxi dress, it's so light and airy and will ensure you stay cool throughout the day or evening. I adore the delicate floral print that is perfect for an event at anytime of day!
I can't get enough of this clutch. I'm a big fan of bows, I think they're so feminine and look great with anything! The clutch is dainty and pairs perfectly with any summer or look. Not to mention it's on sale now for under $20 so it's a deal you'll for sure want to check out!
How do you style floppy sun hats?
Do you like this hat? Are you a fan of Nordstrom? What kinds of hats are your favorite? What are your favorite summer trends? Start the convo below!
If this article gives value to your summer outfit ideas, you might want to consider the related posts below: