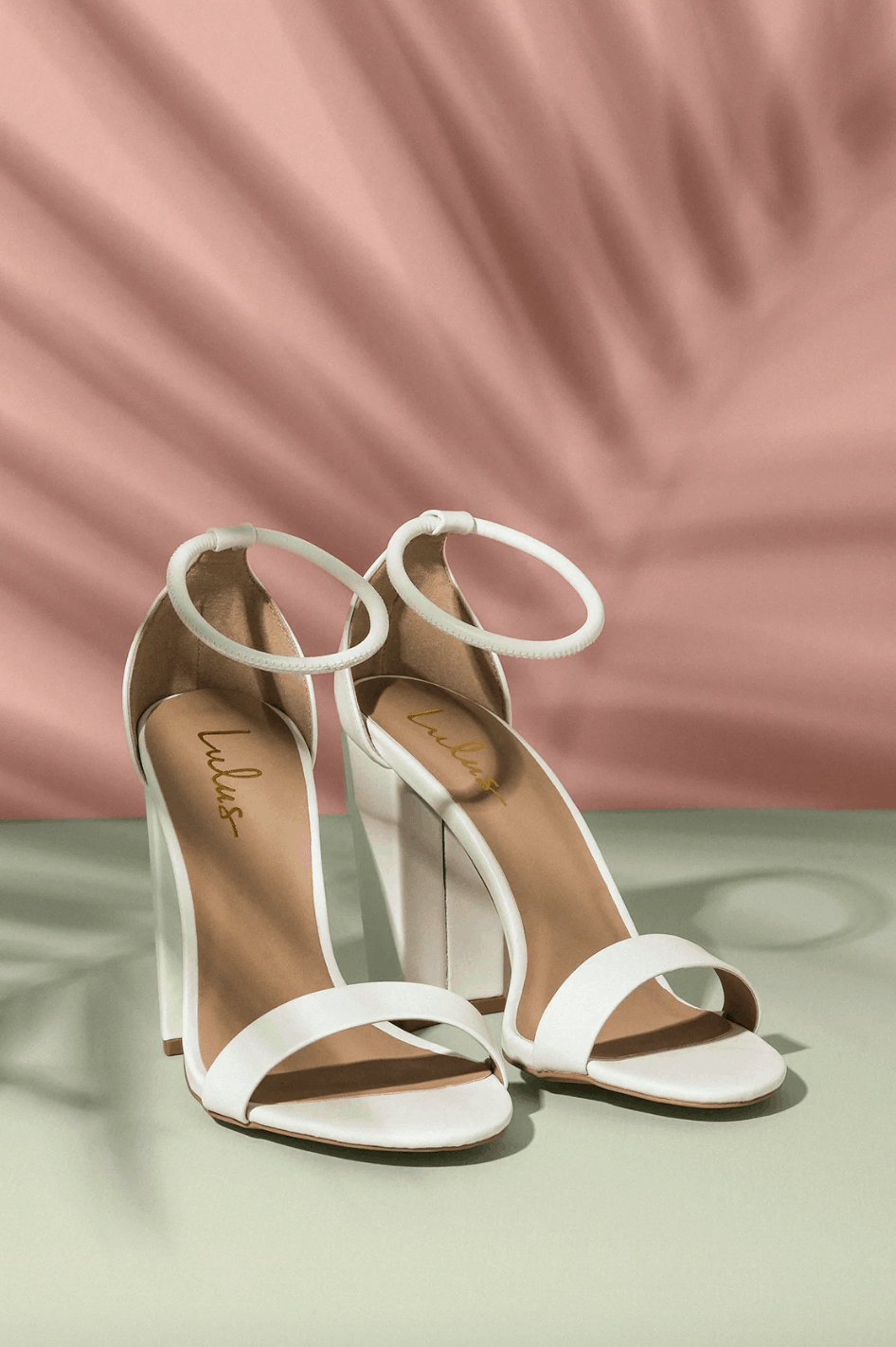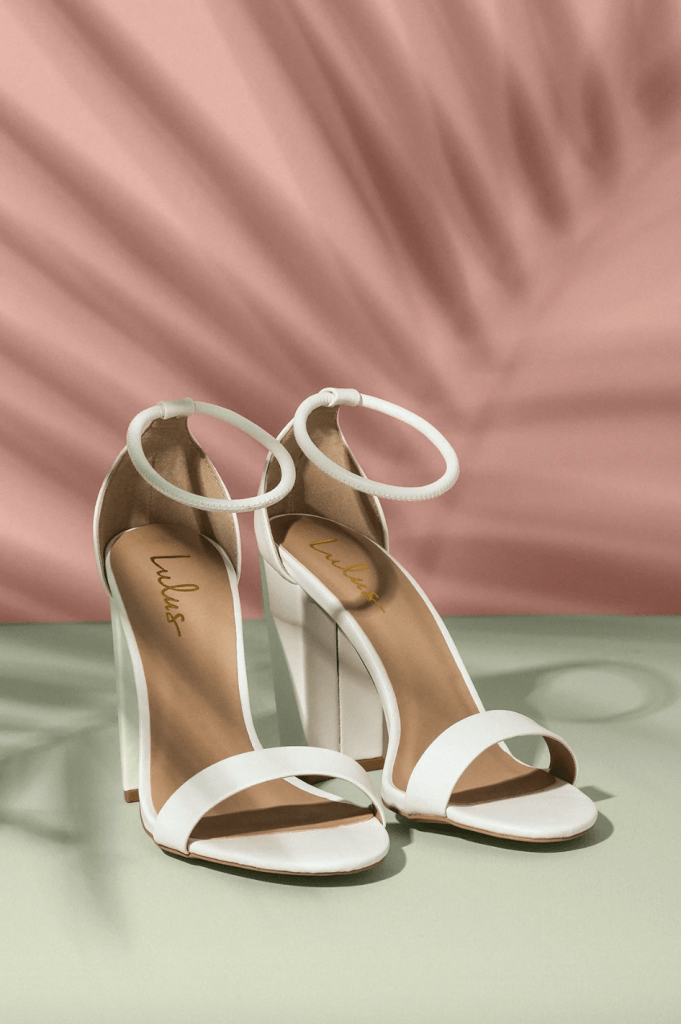 Summer is here and white heels are hot! White shoes have been gaining popularity for the last couple of years but they're a major trend this season and we couldn't be more excited.
Whether you're into a chunky heel, a stiletto, or you want to rock a heeled boot, you're bound to find your perfect pair of white heels this summer. Yes, they might be a little harder to maintain than other shoes, but they are definitely worth it.
Just like your typical black pump, white heels are extremely versatile and actually go with anything! So, you shouldn't stress over what you can wear them with because the possibilities are endless. When wearing white heels, be prepared to stand out and look fabulous.
If you still need some help, I have tons of ideas for how to wear white heels below:
Let's take a look at how white heels can be styled!
Above, Hailee Steinfeld paired her white closed-toe heels with a coral colored, cargo two-piece set.
Kendall Jenner recently rocked a neon orange mini dress with some tall, white, heeled boots.
Nina Dobrev traveled in a pair of white, pointed, sling back heels.
How to Wear White Heels & Dresses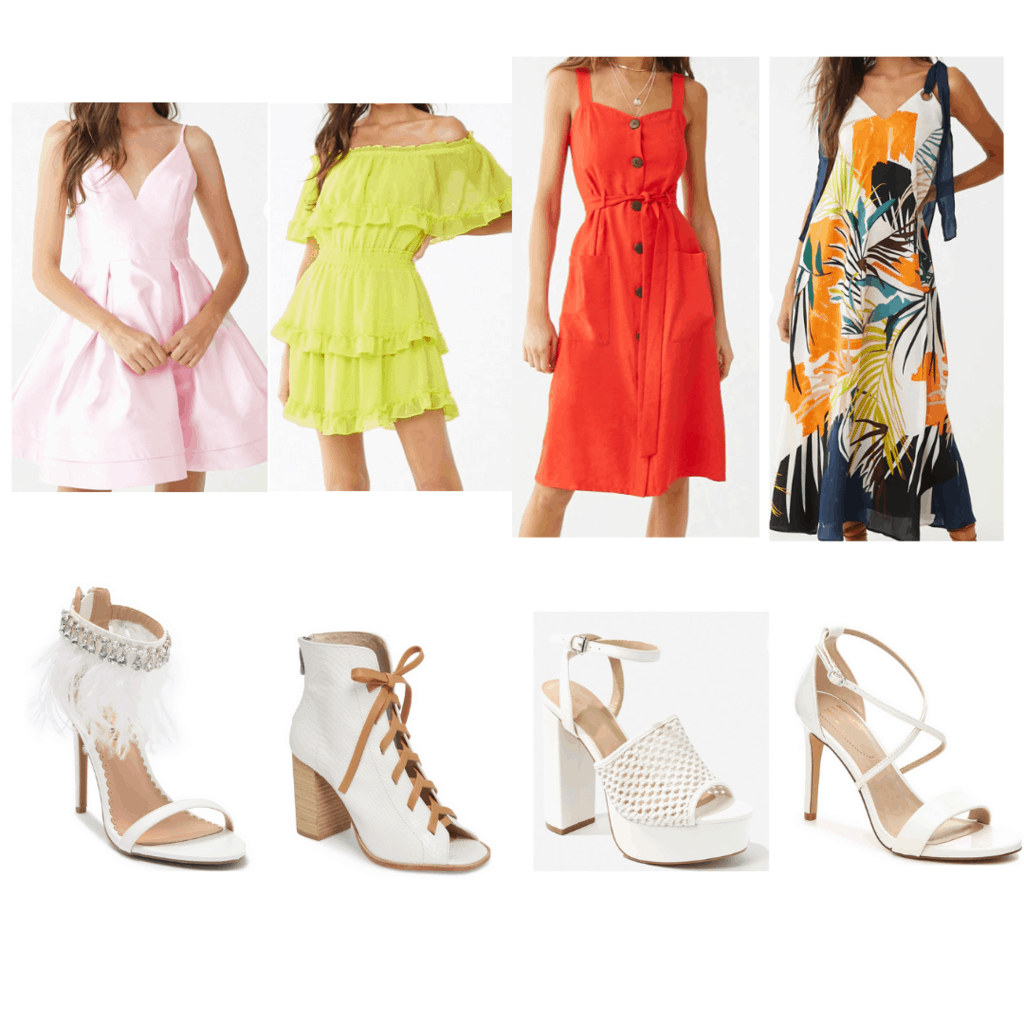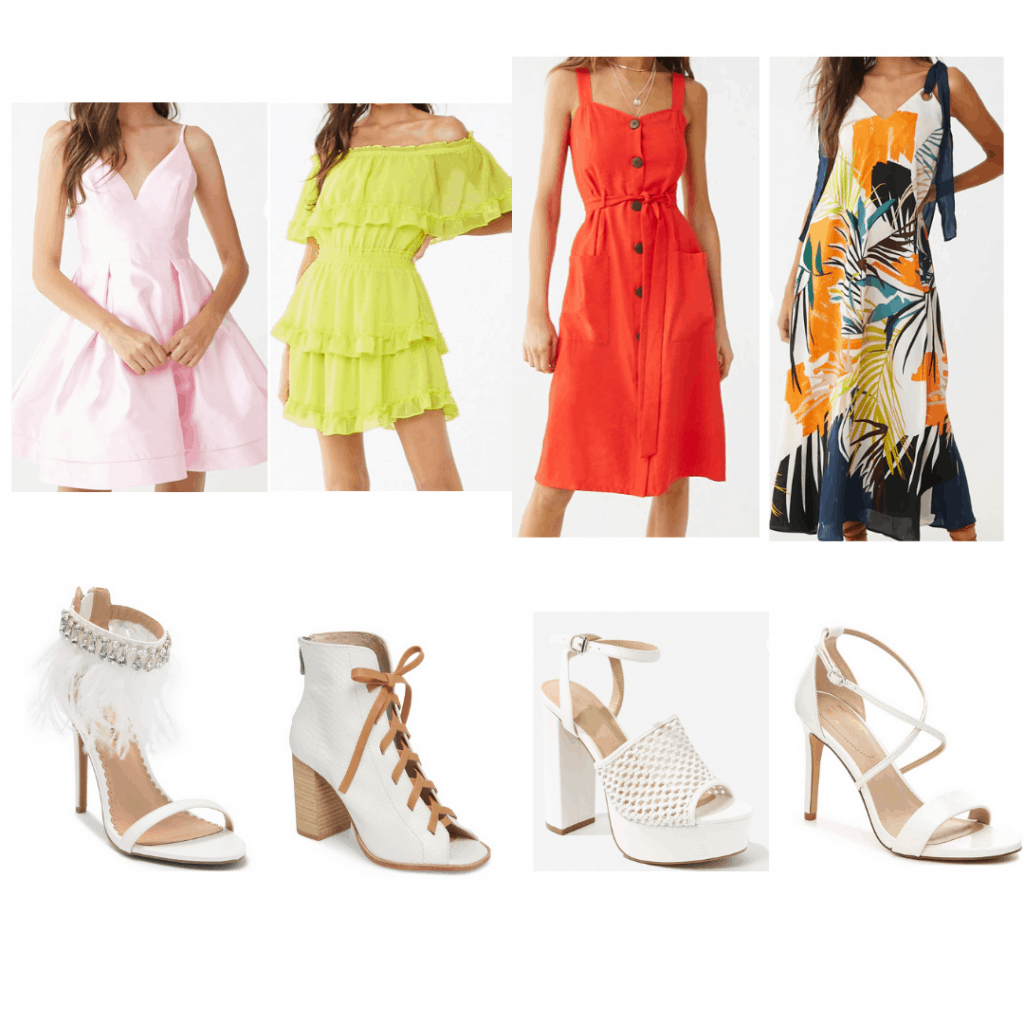 From left to right: Pink Satin Fit and Flare Dress – Forever 21, Green Off -the – Shoulder Dress – Forever 21, Belted Midi Dress – Forever 21, Leaf Print Maxi Dress – Forever 21, Feather Embellished Heels – Nordstrom Rack, Lace Up Boots – Nordstrom Rack, Leather Cutout Platform Heels – Forever 21, Criss Cross Heels – DSW
Summer is the time to wear fun, bright colors and white heels will only brighten up your look!
Feeling like making a statement? Try wearing some white boots with a short dress. Or, take a chance on different patterns or textures by incorporating feathers or woven details into your shoes, à la the heels above.
How to Wear White Heels & Pants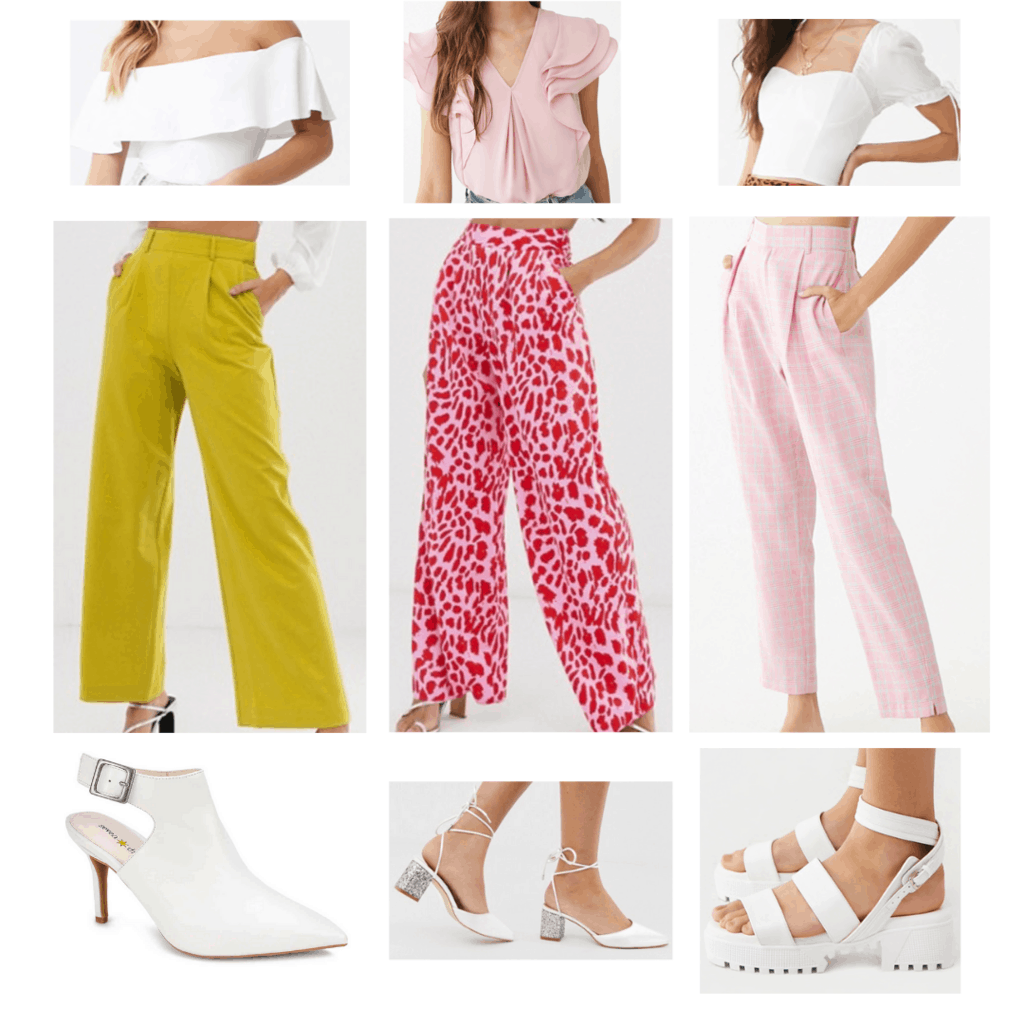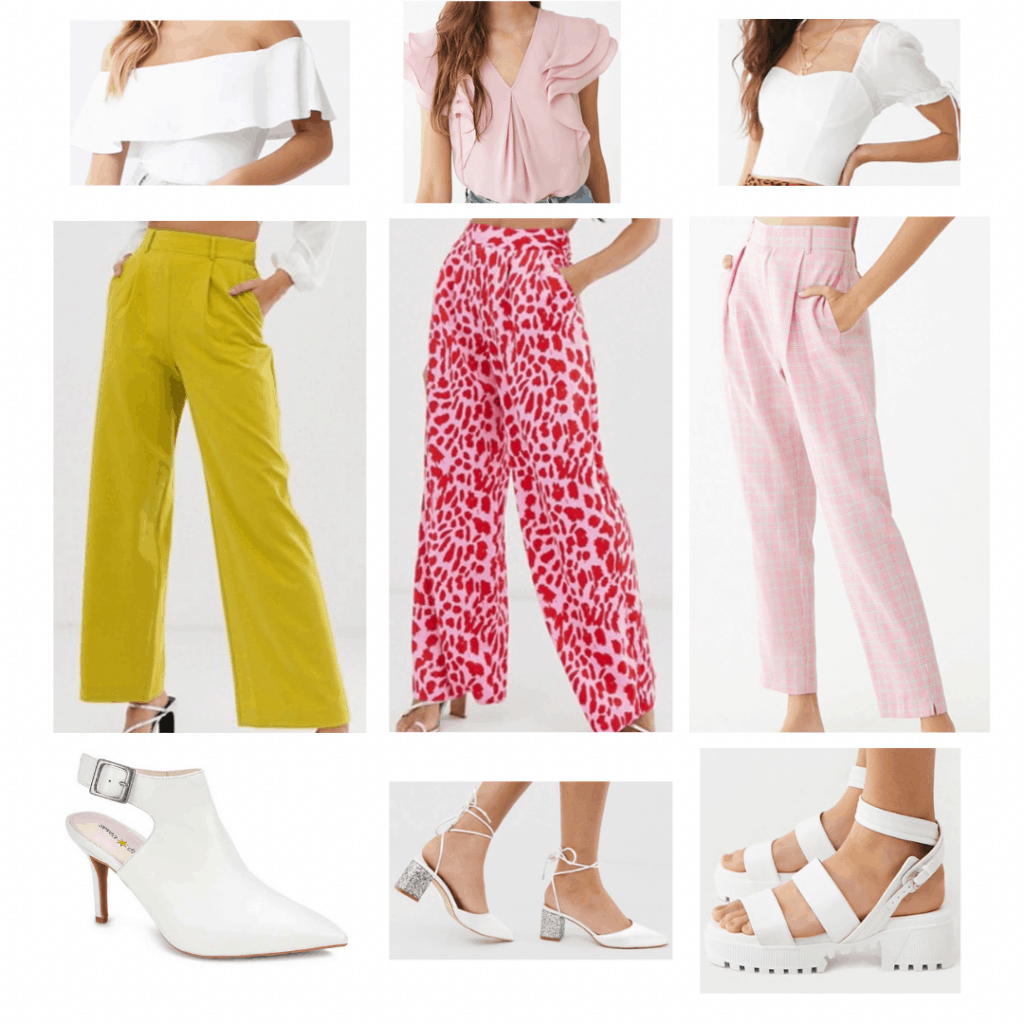 From left to right: Flounce Off-the-Shoulder Top – Forever 21, Tiered Ruffle Top – Forever 21, Bustier Top – Forever 21, Wide Leg Pleated Pants – Asos, Wide Leg Animal Print Pants – Asos, High Waisted Plaid Pants – Forever 21, Pointed Toe Pumps – DSW, Satin Glitter Mid Heels – Asos, Textured Flatform Sandals – Forever 21
Pairing your favorite pants (or skirt) with some bright white heels will take your outfit to the next level!
Instead of letting your shoes blend in, make them the star of your look with some heels like the ones above. Pro tip: Try matching your pants with some pointed heels; they will only make your legs look longer.
How to Wear White Heels & Jumpsuits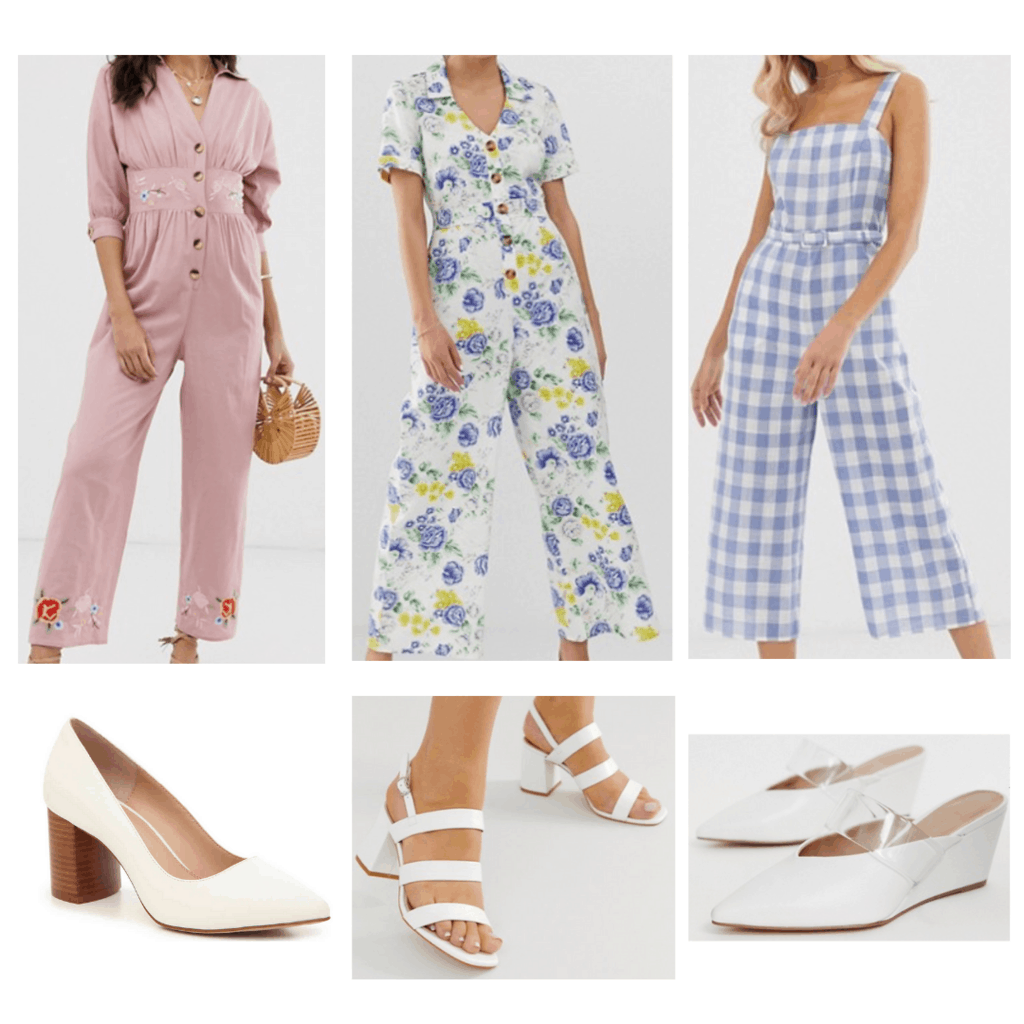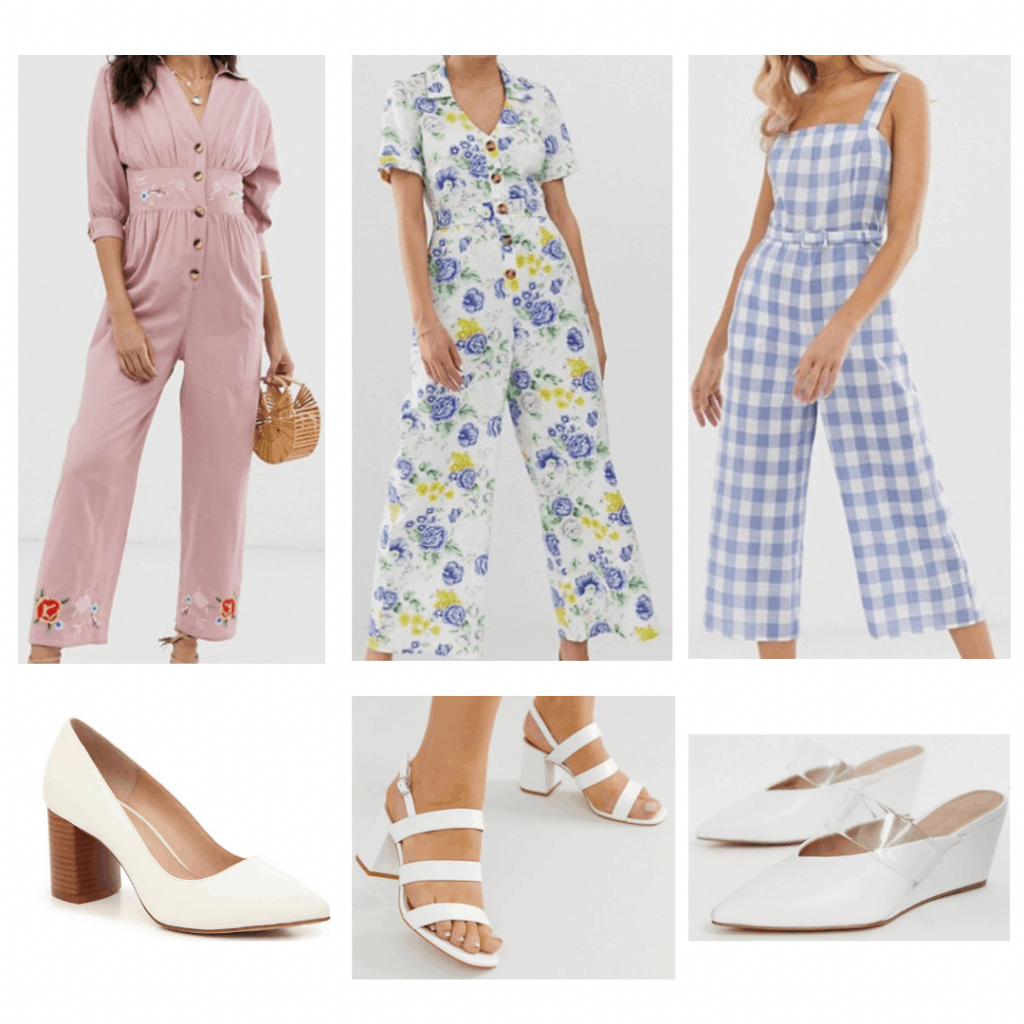 From left to right: Pink Embroidered Jumpsuit – Asos, Floral Button Front Jumpsuit – Asos, Gingham Belted Jumpsuit – Asos, Pointed Toe Wooden Heels – DSW, Strappy Mid Heels – Asos, Pointed Toe Wedge Mules – Asos
We are seeing jumpsuits in a variety of colors and patterns this year. If you look, most patterned jumpsuits actually contain white detailing that easily matches with a fun pair of white heels!
Heels can be used to dress up a jumpsuit, for a more formal event, or something like a heeled sandal can make for a more casual look. Next time you want to wear a jumpsuit, try adding some white heels and enjoy all the compliments you'll receive.
I want to hear from you!
What kind of white heels are your favorite? How are you going to wear them this Summer? Leave a comment below!