Bodysuits are everywhere! It's even become a trend to show that you are wearing a bodysuit either by wearing low rise pants or a sheer skirt. This seemingly funky piece is back from the good old days of 1980s exercise videos and making quite a statement in the fashion world.
They might seem uncomfortable to wear, but you'll be surprised at how flattering they can be. Whether you've never owned one before or if you own a million, this week's Fabulous Find, an under $10 Forever 21 bodysuit, is perfect for you. It's simple and comfortable for the newbies, but a classic must-have for the experts.
The Bodysuit
Ribbed Knit Bodysuit – $9.90 at Forever 21
If you're still not convinced that you need this bodysuit, keep reading to see three ways to wear it.
Outfit #1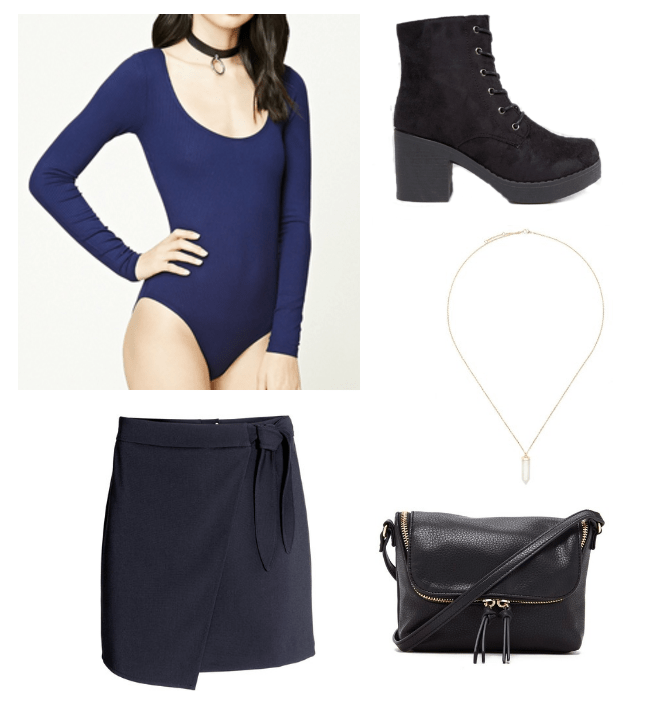 Bodysuit – Forever 21, Skirt – H&M, Shoes – ASOS, Necklace – Forever 21, Bag – Forever 21
This look is a chic option for a nice meal with your girlfriends or night out on the town. Pair the bodysuit with your favorite black skirt. This H&M wrap skirt is the perfect mix of basic but not boring; the tie side is so cute and adds a little something to the outfit.
Chunky boots are everything right now – they're comfortable, give you some height, and are easy to wear. Accessorize with your favorite long necklace, preferably in gold or rose gold. Gold and pink go so well with dark colors like black and blue. Add your favorite going-out purse, like one from Forever 21, and you're all set!
Outfit #2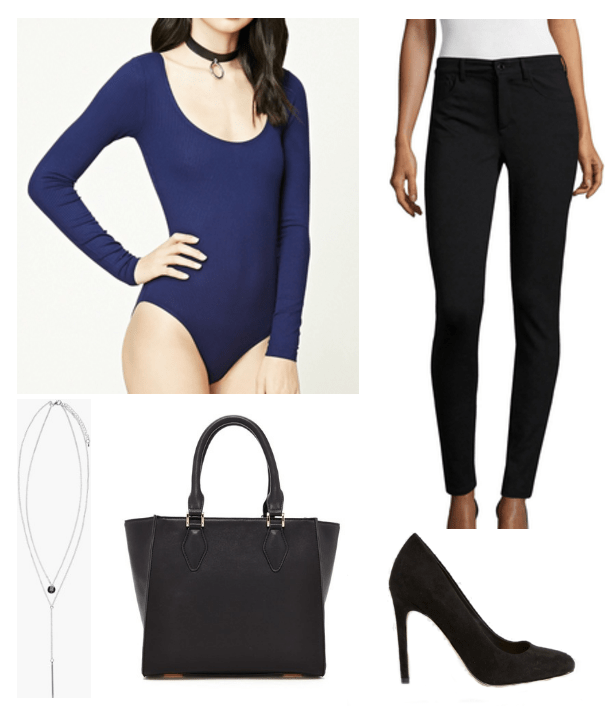 Bodysuit – Forever 21, Necklace – Boohoo, Bag – Forever 21, Pants – JCPenney, Shoes – ASOS
This super-affordable one piece is perfect for a night out, but its simplicity and dark blue color also make it ideal to wear around the office.
Wear the bodysuit with your favorite pair of black work pants and classic pumps. If you don't have any, this pair from ASOS is sleek, comfortable, and stylish. Don't forget a professional black handbag and a piece of chic silver jewelry.
Outfit #3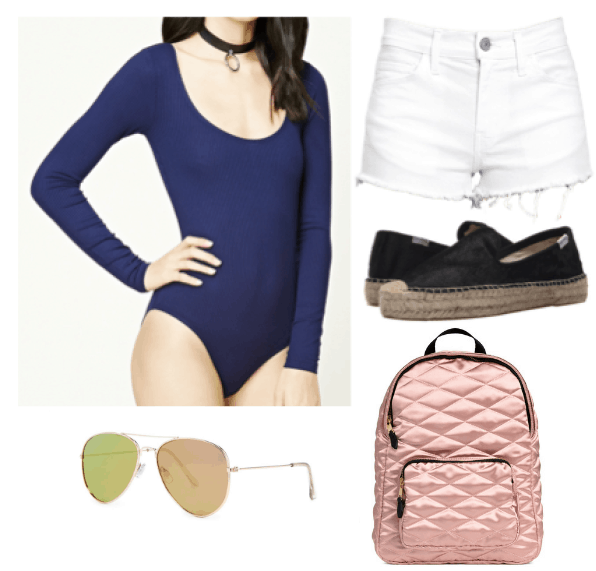 Bodysuit – Forever 21, Shorts – Lulus, Shoes – 6pm.com, Sunglasses – Forever 21, Backpack – H&M
If you're a student like me, then you want an article of clothing that you can wear out AND in the classroom. Enter this bodysuit. The above outfit is appropriate for school, but also stylish enough that you'll actually want to wear it.
Wear this Fab Find with your go-to shorts for a casual yet cute look. Style it down with your favorite sneakers, platforms, or flat shoes, then add a little pop of color with these multicolored mirrored aviator sunglasses. (Under $6 at Forever 21!) Top everything off with a backpack. This cool quilted version is perfect for school or weekends.
What do you think?
What do you think of this week's Fab Find? Are you already on-board with the bodysuit trend? How would you style it? Tell us in the comments below.