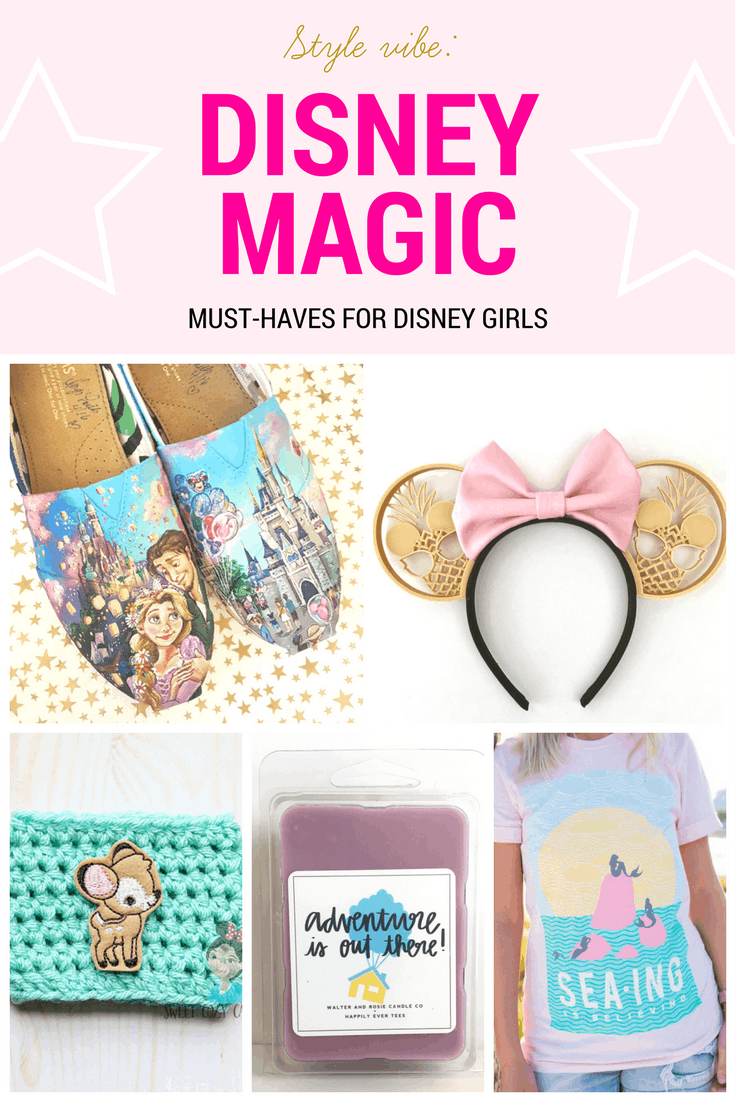 Do you ever start searching for something and then find yourself immersed in the internet realm and five hours have gone by and you don't know what happened? Yeah, that's basically my life story. Instagram is my best friend and worst enemy at the same time, especially for all things Disney shopping.
Disney Instagram shops are like a vertex of swirly, sparkly, magical goodness. There are so many good ones to meet your every Disney shopping need!
So this week we're bringing you the very last in our short series of our Top 5 Disney-Inspired Small Shops… (In case you missed them, see our Disney shopping guide part 1 and part 2.)
1. The Enchanted Brush
Offering custom painted Disney shoes, MagicBands, backpacks, treasure boxes, pendants and clutches, The Enchanted Brush is the place to go!
Owner Angi started painting shoes after her best friend Kristen mentioned that she would like a pair of Peter Pan shoes but couldn't find any she liked. After trying her hand at shoe art, Angi surprised Kristen with a custom hand painted pair of Vans for Christmas. Needless to say Kristen loved them and Angi discovered a wonderful new artistic outlet. The rest, as they say, is history.
Angi's Disney art is truly breathtaking, whether it's a movie scene replica or a cluster of your favorite characters. The Enchanted Brush takes pride in the details, ensuring your order is just as magical as the inspiration behind it.
Check out Angi's Instagram! Trust me: You'll be in the 'internet realm' for hours!
2. Aloha Ears Design
A girl can never have too many sets of Disney ears, right? I mean, this wouldn't be a Disney shopping guide without the ears.
Aloha Ears Design offers something a little different than the usual custom ears seen online, though.
If I could give Disney craft awards, AED would win for Most Innovative. These 3D printed custom ears are everything! Durable, fun, and unique – these ears don't disappoint. Plus, did I say lightweight? That's right Disney Divas, the era of the headache dilemma is over!
3. Oh Yeah Apparel
https://www.instagram.com/p/BTrMKbmARsf
In the Disney community, Scott and Emily of Oh Yeah! Apparel are the equivalent of celebrities!
Their love for all things Disney goes beyond just vacationing, enjoying showing their 'Disney side' in their everyday lives as well. Their store should be your go-to for any Disney shopping you need to do.
Oh Yeah Apparel's Disney shirts are subtle, fun ways to show off your favorite characters, attractions and sweet treats. How cute is the "live your dream" shirt above?
Can't get enough? They also make Minnie ears and they even have a YouTube channel where you can watch all their Disney park adventures!
4. Walter & Rosie Candle Co.
When you get home from a vacation in Disney, well quite frankly, it's time to start planning another one.
Walter & Rosie Candles will help make that time period away from Disney even shorter, by bringing your favorite Disney scents to your apartment. You wanna be back at the Polynesian? They've got you covered!
They've also collaborated with Oh Yeah Apparel to create a truly unique set of candles — check out their collab section for more details.
5. Sweet Cozy Cafe
Hands up if you love coffee! And you love Disney, too? Well, we've found the perfect Disney Instagram shop for you!
Sweet Cozy Cafe carefully knits Disney coffee cozies to show off your Disney style even further! Fit for your latte, Frappuccino, or iced tea, these products are of the highest quality and super super cute!
Hub grass and Starbucks Instagram pic, anyone?
BONUS: My Fantasy Bands Decals
Naked MagicBands not for you? Then you must check out My Fantasy Bands, which offers inexpensive Magic Band stickers to dress up your MagicBand.
Erin is a professionally trained graphic artist and several hours of thought and effort go into every decal design. You can definitely tell!
The decals are stickers that essentially turn your MagicBand into a work of art with vibrant colors and infinite details that are sure to make your wrist stand out from the crowd. Designs include Belle, Princess Jasmine, Cinderella, Pirates of the Caribbean, and many more!
What do you think?
Where is your fav place to shop for unofficial Disney merch? What are your Disney shopping go-tos? Which Disney Instagram shops do you follow? Let us know in the comments below…