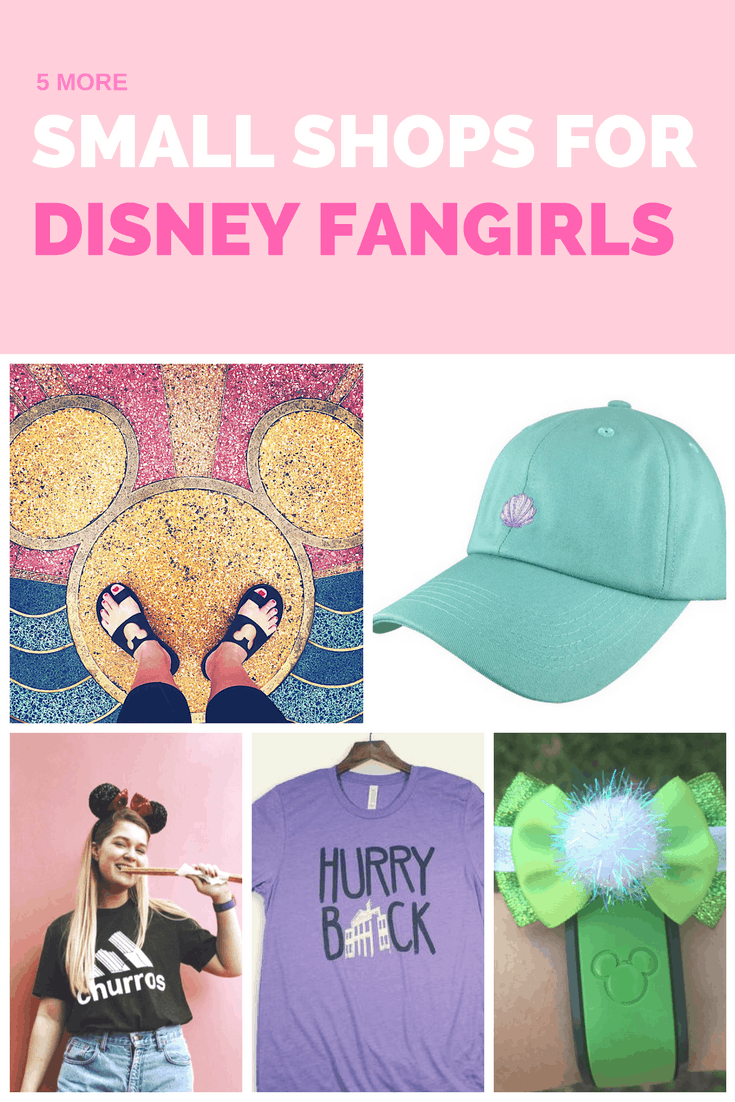 Last week we covered some Disney-inspired small shops to satisfy your Disney fashion desires, but to be honest with you, there is too much good merch out there and we really didn't want you to miss out!
So we complied yet another list of our Top 5 Disney-inspired small shops that you absolutely must check out. Need some unofficial Disney merch? Here are the best places to go:
1. Great Adventure Supply Co.
Pins are a big deal in Disney. Us Disney girls love trading, accessorizing and just getting them for fun.
The walls within Disney offer the best Instagram photos. Anybody who's anybody has a pic in front of the purple wall of Magic Kingdom and the bubblegum wall in Epcot.
Mix these together and you get the penultimate magic-tone pin collection from Great Adventure Supply Co. With Purple and Bubblegum wall pins already in store, the Hub Grass pin is on the way next! Be sure to keep your eyes peeled, they announce re-stocks on their Instagram page!
2. Whosits & Whatsits
Whosits & Whatsits galore! You want thingamabobs? They've got (way more than) twenty!
Whosits & Whatsits is more than just a Disney apparel shop, they are here for those who refuse to grow up. "We strive to add whimsy to your closet and keep a little magic in your day to day style. After all.. what's life without a little pixie dust?"
Let's just take a minute to talk about their 'Princess Dad Caps'… I mean, are they not just total perfection? These caps would add an extra magical, princess-y element to any Disney outfit!
I do own 3 items of their apparel, but who cares? No big deal. I want mmmooorrreee!
3. Spray On The Glitter Boutique
If you're staying in a Disney Resort, are an Annual Passholder, or have visited WDW before, the chances are you own a MagicBand. This all-in-one device allows you to travel super light. It's your park ticket, Disney Resort hotel room key, and FastPass+ access.
In short, you're going to be wearing this all day, so why not personalize it to your style?
Spray On The Glitter Boutique offers beautiful MagicBand bows in just about every character and color you can think of! No matter your Disney Park outfit, you can guarantee that these bows will add a little extra sparkle to it.
4. Lucky Rabbit Supply Co.
Now, I know we covered t-shirts in my last Disney stores article – but I told you there was A LOT to choose from!
Lucky Rabbit Supply Co. creates fresh and original Disney t-shirt designs which are to die for! Owners Gillian and Mike met through "painting custom Vinylmation," and "when they were looking for a creative outlet to show their Disney side it seemed natural to make shirts."
These shirts look perfect paired with denim and matching Minnie ears!
5. Main Street Sandals
And finally, to complement your Disney outfit you need cute shoes, right?
Main Street Sandals have got your feet covered! With handmade leather sandals that have an extra Mickey touch, these shoes are a subtle way to show off your Disney style without going too O.T.T!
What do you think?
Have you ordered from any of the small shops above? Where do you guys shop for all your Disney outfits? Let us know in the comments below…