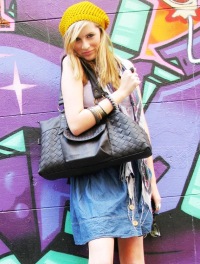 Photo by Herwordskill
If you're starting college for the first time in the fall, or are just returning for another year at your current university, you're probably going to need a new book bag for the year.
But what kind of bag is the right choice for you?
College girls face different challenges than most people when it comes to shopping for a bag – you want something that's strong, can hold all of your books, doesn't hurt your shoulder, and still looks cute! That's a lot of criteria to meet!
Also, there are so many different types of bags!
From the typical backpack to the designer tote bag, which should you choose? Is a messenger bag right for you, or do you just need something cute to carry a few notebooks in?
There are many pro's and con's to each of the types of bags, and I'm here to help you decide which one is right for you. I'll also show you some inexpensive college bags to make sure you score a fabulous bag without spending too much!
Tote Bags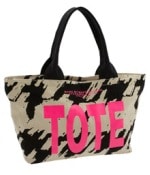 Tote Bag by Marc Jacobs
Tote bags are probably the most popular type of school bag among college girls, because they're both cute and functional.
While tote bags are undeniably popular and adorable, they aren't the right choice for everyone. I'm talking in particular about those who ride their bikes to class or lead active lifestyles.
Pro's of tote bags:
Tote bags are your cutest & most fashionable option in college bags (at least in my opinion). I personally carry a huge tote bag to class, and I can't see myself carrying anything else. Granted, I am a big advocate of form over function, and don't ride a bike or carry tons of stuff around.
There are lots of colors and styles to choose from. With tote bags, your possibilities are endless. You can go basic black leather, funky hot pink patent, glittering metallic, and everything in between!
You don't just have to use them for school. Tote bags are great because you can wear them for many different occasions. You can bring a large, classic tote to class, work, and out at night, and can wear it with almost any outfit. Try doing that with a backpack!
Con's of tote bags:
They may not be roomy enough. Totes can be problematic if you need to carry lots of stuff to class, or if you have one of those teachers that requires you to bring your textbook to every lecture. The fabric can sometimes rip with too much weight, and your shoulders can also get strained. No fun!
Tote bags are impractical if you ride your bike to class or walk a long distance. Your shoulder is going to hurt if you have too much stuff with you, and forget trying to make a tote bag work while riding a bike. It's just not going to happen.
Most totes aren't waterproof, and many don't close at the top. This means that your stuff can get wet if you encounter a sudden rainstorm, which is obviously not a good thing. Of course, carrying an umbrella will solve this problem.
Cute Tote Bags For Any Budget
Now that you know the good and bad sides of carrying a tote bag to class, here are some of my picks for cute college totes that won't break the bank.
For even more cute & classy tote bags, don't forget to check out the College Fashion article 27 Cute College Bags For Any Budget!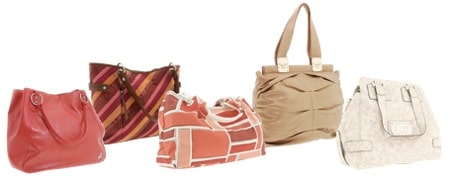 From Left:Roxy Jenny Bag ($42), Liz Claiborne Astor Place Striped Leather Tote ($118.80), Fossil Geneva Tote ($128), Steven Simplicity Tote ($158), GUESS Tribal Shopper Tote ($114)

From Left:American West Hippie Chic Tote ($202), O'Neill V.I.P. Bag ($52), The Sak Berkley Large Tote ($93), DC Erin W. Bag ($54), Roxy Sideways Tote ($44)

From Left:Betseyville Sporty Girl Tote ($122), Jessica Simpson Pacha Quilt Large Tote ($122), Lucky Brand Bags Patchwork Tote ($145.80), Liz Claiborne Rocklin Patent Tote ($74), Nine West Ruched Hours Tote ($99)
Backpacks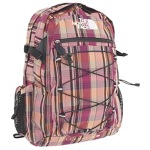 A backpack is probably the first thing that comes to mind when you think of carrying books, pens, and papers around for school.
I'm sure it was probably your high school staple, and for good reason – backpacks are a really easy way to carry everything you need with you all day. At the same time, once you get to college, it might be time for something a little more sophisticated.
Here are the pro's and con's of buying a backpack for college. Depending on your situation, it might still be the best choice for you.
Pro's of backpacks:
They're really spacious. Backpacks are the best possible way to carry everything you could ever need to class. If you're the kind of girl who needs her books, laptop, 10 different types of pens, cell phone, water bottle, snacks, money, makeup, and more, definitely consider a backpack to fit it all.
Backpacks are usually waterproof, which comes in really handy when you have important things in your bag & encounter a sudden rain storm. A cloth tote bag won't protect you in that case.
They can do double duty as luggage and/or a gym and laptop bag. This is great if you're really active or travel a lot on weekends.
Backpacks are great for heavy items. It's always easier to distribute the weight of three textbooks and a laptop on both arms and shoulders than to have it all on one arm. If you're carrying a lot of heavy stuff, backpacks are the way to go.
Con's of backpacks:
Backpacks are way less cute than tote bags. It's just true, and it will always be the case. The purpose of a backpack is function, not fashion. Don't get me wrong, you can find backpacks that are cute, but a backpack itself isn't about making a fashion statement.
There are fewer fabric and color options to choose from. Most backpacks that are the right size & price don't come in many styles. If you're looking for something really unique in terms of style, I recommend a tote bag.
They're a little too high school. Okay, I'll admit it – I had an L.L. Bean backpack in HS (hey, at least it was metallic). I thought it was great back then… But once I got to college, there was no way in hell you could pay me to carry it again. There's just something about a backpack that's so junior-high in a very bad way.
Cute Backpacks For Any Budget
If you're looking for a cute backpack, here are some of my picks for the nicest ones for college girls. Plaid and argyle are hot prints for fall, so go for a printed backpack to make a statement.
Also, most of these are very affordable, so they should fit with pretty much any budget!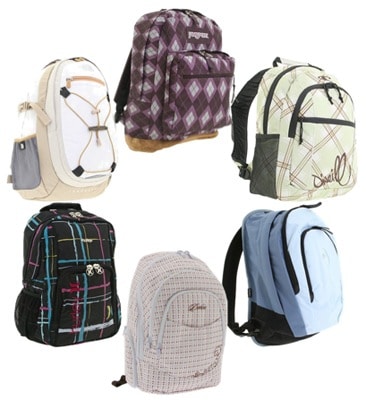 Clockwise from top:JanSport Right Pack ($52), O'Neill Caliber Backpack ($41), Nike Core Large Backpack ($46), Dakine Prom Backpack ($46), Hurley Grad School Backpack ($38), The North Face Isabella Backpack ($73)
Messenger / Shoulder Bags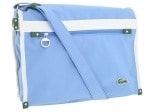 Messenger Bag by Lacoste
Messenger bags and shoulder bags are a decent compromise between a backpack and a tote bag.
If you're undecided between the two, and looking for some function with a bit of style, a messenger bag might be the perfect college bag for you!
Of course, there are good and bad sides to messenger bags as well:
Pro's of messenger bags:
Organizer pockets. If you're always losing your cell phone or scrambling for a pen in your cluttered handbag, you might want to consider a messenger bag for some extra organization. Most good ones have pockets for absolutely everything, a definite plus.
Messenger bags usually have sturdier material than a standard tote bag. They're designed to carry lots of stuff, so you don't have to worry about one too many textbooks ripping the material.
They look cuter than backpacks most of the time. This alone makes me like them. It's a fashion site, so enough said.
They are made of waterproof material (sometimes). See the above discussion of tote bags for more on this. Sudden rainstorm, and no umbrella? You want your bag to keep water out.
Con's of messenger bags:
They're not as cute as a tote bag, not as functional as a backpack. If you're going with something over-the-shoulder & you don't need to carry all your books every day, you should probably just get a tote bag.
For carrying heavy stuff, you're going to be better off with a backpack. Carrying all the weight on one shoulder can cause posture problems, which is never something you want to inflict on yourself.
Cute Messenger Bags For Any Budget:
Messenger bags can also fit with any price limit, and you can get some really cute ones for not too much money! Some of the options below are a little pricey, but most of them are inexpensive.
As a bonus, a few of the choices below also include special laptop holders and mini-bags to keep you extra-organized.

From Left:Lucky Brand Bags "Abbey Road" ($182), Columbia Graphic TG Bag ($41), OGIO Road Trip Messenger Bag ($56)

From Left:Vera Bradley Messenger Bag ($56), Split Senior Messenger Bag ($45), Dakine Station Messenger Bag ($56)
Your Thoughts?
Now that you've had the chance to check out the three most popular types of college bags, what do you think? Which one is your favorite, and which are you going to be carrying this semester?
Take the poll below & be sure to leave a comment to tell everyone your opinion!
[poll id="20″]