This post may contain affiliate links, which means we may receive a commission if you purchase through our links. Please
read our full disclosure here
.
Welcome to College Fashion's biweekly column, Fashionably Informed. As a CF reader, it's clear that you love fashion. But have you ever wondered about the drama that goes on behind the scenes? To keep you up to speed, this column aims to inform you about important issues and controversies in the fashion industry.
In case you missed them, see past posts on Retouching & Photoshopping, Tanning Promotion in the Media, Hypocrisy in Beauty Marketing, Racism in the Modeling Industry, "White-Washing" & Skin Lightening, Homosexuality in the Fashion Industry, Cultural Appropriation & Stereotyping in Retail Fashion, and Underage Models on the Runway and in Editorials.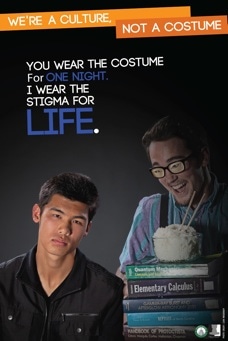 Poster from STARS 2012 Campaign | Photo Credit
On a recent Fashionably Informed article about Cultural Appropriation & Stereotyping in Retail Fashion, many of you asked why Halloween costumes were not mentioned. So today, we are going to focus on the cultural issues to consider when choosing your costume.  
Although not directly related to fashion, Halloween is among the most exciting days of the year for us college students. As you read this, you are probably making your plans and deciding which costume you are going to wear (or maybe you've had your costume planned for weeks).
However, this holiday isn't filled with fun for everyone. Many people find certain Halloween costumes offensive because they portray a race or culture in a negative and/or stereotypical way. Some of these costumes are sold by popular retailers, while others may be handmade.
With the first "Halloweekend" upon us, now is the perfect time to raise awareness about racially and culturally insensitive costumes. This post aims to do just that.
Recent Examples of Offensive Halloween Costumes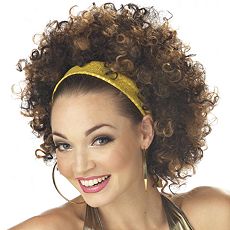 Kohl's "Ghetto Fab" Wig | Photo Credit
Over the past few years, a number of retailers, from Kohl's to Walgreens,have been accused of selling racially and culturally insensitive costumes.
In response these offensive costumes, news outlet The Root produced a slideshow of offensive costumes and accessories. The first slide features Kohl's "Ghetto Fab" Wig (pictured above). The Root criticizes the wig, saying,
Oh, thank you for calling it fabulous! Since you threw in that compliment, it's now totally fine to call what appears to be a natural head of curly hair "ghetto." To the Kohl's costume buyer who chose this one: Your "Ignorant Awesome" costume is on its way.
The slideshow also includes a costume that depicts the stereotypical representation of a Hispanic man. The "Hey Amigo" costume consists of a poncho, sombrero, and mustache, and is finished off with a donkey around the wearer's waist.
Another costume named in the slideshow is "Adult Beer Belly Men's White Trash," which is meant to portray a man who is considered "White Trash," a stereotype of low-income Caucasians.This costume consists of a beer belly and overalls.
Popular blog Racialicious has also addressed insensitive costumes. In their "Halloween Round-up," the blog provides a few examples. The list includes Walgreens' "Illegal Alien" costume, which is a costume made up of an alien mask, an orange jumpsuit, and a fake green card.
Also on Racialicious, Adrienne Keene provides a personal perspective on the situation in heropen letter to "[People] that decided to dress up as an Indian for Halloween." The writer gives examples of Halloween costumes that portray Native American culturein a stereotypical way. She also offers her personal feelings on these costumes, saying:
The most frustrating part to me is, there are so many other things you can dress up as for Halloween. You can be a freaking sexy scrabble board for goodness sake. But why does your fun have to come at the expense of my well-being? Is your night of drunken revelry really worth subjugating an entire group of people? I just can't understand, how after hearing, first-hand, that your choice is hurtful to another human being, you're able to continue to celebrate with your braids and plastic tomahawk.
Campaign Against Offensive Halloween Costumes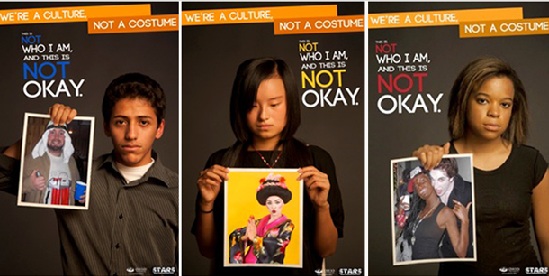 STARS 2011 Poster Campaign | Photo Credit
In response to the popularity of offensive costumes on campus, students at Ohio University started a campaign against racially insensitive Halloween costumes.
The organization, called Students Teaching About Racism in Society (STARS), began a poster campaign in 2011 (pictured above). On their website, the organization shares their mission statement:
The purpose of S.T.A.R.S. is to facilitate discussion about diversity and all isms (sexism, classism, heterosexism, ethnocentrism etc.) with an emphasis on racial issues. We aim to raise awareness about social justice, and promote racial harmony. Our job is to create a safe, non-threatening environment to allow participants to feel comfortable to express their feelings.
As part of their mission to promote racial harmony and cultural awareness, STARS created the poster campaign, "We are a Culture, Not a Costume." These posters featured young adults of different racial and cultural backgrounds holding up photographs of people wearing costumes that stereotyped their respective cultures and races. Each poster includes the statement "This is not who I am, and this is not okay."
A CBC article on the STARS campaign quoted Alison Chasteen, a professor who studies stereotyping, prejudice, and discrimination. She describes the effects that these costumes can have, saying,
We know from past research that exposure to stereotypical images can activate stereotypes in people's minds and influence their subsequent behaviour. That is why efforts such as this one in Ohio are needed to educate people about racist images in an attempt to reduce stereotypical portrayals of minority groups.
Recently, STARS releasedtheir 2012 poster campaign. (One 2012 poster is featured at top of this article.) These posters follow a similar format to the 2011 campaign, however, instead of being depicted in photographs, wearers of culturally insensitive costumes stand behind the people they negatively "represent." This year, the text on the posters says, "You wear the costume for one night. I wear the stigma for life."
Counter-Responses to the STARS Campaign
Although the "We are a Culture, Not a Costume" campaign received strong support from the media and individuals across the nation, some people believed that the campaign was taking Halloween too seriously.
The Stir posted an article about the campaign, which was titled "Students Against Racist Halloween Costumes Are Ruining the Holiday." In response to the students' campaign, the author writes,
While the students are making an important point about the need to be culturally sensitive — and not just on Halloween but on the other 364 days of the year — they're doing it in such a way that spoils the spirit of the holiday. In most instances, people dressing up for Halloween are doing it for fun and laughs. Of course, I can't speak for everyone involved, but rarely do people choose Halloween costumes with a malicious intention. This poster campaign suggests otherwise.
This author was not alone in feeling at that the campaign "spoils the spirit of the holiday." After the posters were published on Tumblr and 4chan, parody posters were created and circulated online, turning into a bona fide internet meme, according to Know Your Meme.
These parodies mock the STARS campaign by photoshopping Halloween costumes and alter-egos they supposedly "represent" into the STARS poster format.  One example, posted on Know Your Meme, depicts a golden retriever holding up a picture of a person dressed in a dog costume. Other parodies include the Daleks from Doctor Who and Dracula.
In response, Racialicious blogged about the criticism of the STARS campaign. At the end of their article, the author writes,
But see, here's the thing, People Who Defend Racist Costumes: you all are proving STARS'—and Racialicious'—point…and quite well.
Easy Alternatives
While the debate rages on about costumes that represent a certain race or culture, we think it's important to remember that there are millions of costumes out there that won't offend anyone! Here are some CF articles to help you find the perfect costume that everyone will love:
Also, be sure to see our post onHow College Women Can Stand Up for Racial Justice, all year round.
What do you think?
Do you find these examples of costumes offensive? Have you noticed costumes on your campus that negatively stereotype a race or culture? How do you feel about STARS' "We are a culture, Not a Costume" Campaign? Tell us your thoughts in the comments below.