Over the past few months, we've been interviewing some of our favorite fashion bloggers and finding inspiration in their styles. In case you missed them, see our past interviews with Maria of Lulu Letty, Elizabeth of Delightfully Tacky, Georgina of Cupcake's Clothes, Tieka of Selective Potential, Rebecca of The Clothes Horse, Keiko Lynn, Kendi of Kendi Everyday and Sally of Already Pretty.
Today, we'll be meeting Mel of Idee Geniale.
About Mel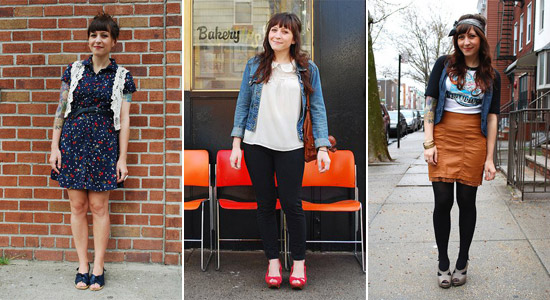 Mel's blog is a lot of fun to read because her outfits are always so fun and creative. You can count on her to be a constant source of inspiration – by using a scarf as a belt or a dress as a skirt, she shows readers how to remix every piece in their wardrobes. Originally from Canada (she's French Canadian, hence the title of her blog), she now lives in New York where she works as a buyer and merchandiser for Kensie. Let's meet her!
Our Interview with Mel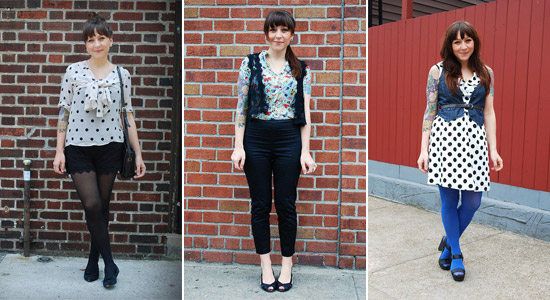 1. Tell us a little bit about yourself (who you are/what you do/where you're from, etc.)
My name is Melanie, and I am originally from Canada. I currently live in Brooklyn, NY with my boyfriend. I work for a clothing company called Kensie, where I'm a merchandiser.
2. How would you define your style?
It's a little quirky and romantic but fun and definitely vintage-inspired.
3. How did you find your style?
I always had a "unique" style and it's just slowly evolved into what it is today. I've just worn whatever I felt like at the time, no matter where I was going.
4. What inspired you to start a style blog? What motivates you?
I was reading Teen Vogue and they had an article mentioning Chictopia, so I checked it out. I quickly became a member and starting posting outfit pictures. Once I got started on there, I wanted to create my own place and share my voice, so that's how my blog got started.
5. Did you go to college? What was your college experience like?
I attended college right after high school and took the Business Marketing program. I wasn't sure what I wanted to do so this seemed like a little bit of everything business-related. The program incorporated advertising, sales, marketing, entrepreneurship, and public speaking. It was a well-rounded program for those entering the business world.
6. Where do you like to shop?
I shop mostly online as I don't have that much time to make it to actual stores during their store hours. I like browsing etsy.com, Urban Outfitters, ModCloth, and ASOS.
7. What advice do you have for being stylish on a college budget?
There are definitely cheap/affordable options out there! Start at your local thrift stores, like Goodwill or Savers. Take your time going through the racks as there are amazing gems hiding in there. Keep your closet fresh by frequenting resell shops like Buffalo Exchange or Crossroads Trading – these stores will buy your gently used clothing, and either give you back a percentage of the retail price or store credit. It's great to go for credit as you then have "free" money to spend on clothes!
8. What are your favorite pieces in your wardrobe?
Most of my favorite pieces are thrifted items that mostly cost me less than $10. You can't beat that unique piece that no one else will have.
9. Who/what inspires you?
I browse blogs, and just like to people watch here in Brooklyn. I also like to watch classic old movies.
10.What are the pieces you couldn't live without?
I couldn't live without my Worishofer sandals as comfortable shoes are crucial in New York.
11. What advice do you have for new bloggers or people considering starting a blog?
If you are thinking of starting a blog, make sure you have a clear idea of what you are blogging about. You can blog about a lot of things but just make sure that you are writing in a clear voice as to not confuse your readers. Oh, and a little HTML knowledge wouldn't hurt either – I'm still learning the ins and outs.
12. You work in the fashion industry. How did you get to where you are today?
Yes, I've been in the fashion industry going on 6 years now. I actually started at the bottom as a customer service rep, taking calls from wholesale customers wanting to return something from their store or place orders. From there, I moved into Merchandising, which I really love as I get to see the line develop right from the start.
13. What advice do you have for girls who want to work in the fashion industry?
No position is too small. Starting at the bottom as an intern at a company that you are interested in is a very good way to get your foot in the door. Also, not being afraid of putting yourself out there is also a great way to meet people in the industry. Networking is something that I've never been good at but keep trying just to keep contacts and recommendations open.
14. You are great at remixing – what are your favorite wardrobe remixing tips?
When you remix an item, you feel like you have a lot more in your closet than you actually do. What I try to do is think outside the box. I try to look at an item and what I like about it and use that to its full potential. For example, if I like the top part of a dress, I can throw on a skirt over it and wear it as a top. Or use a scarf as a belt. Clothing is fun once you play around with it.
How to Dress Like Mel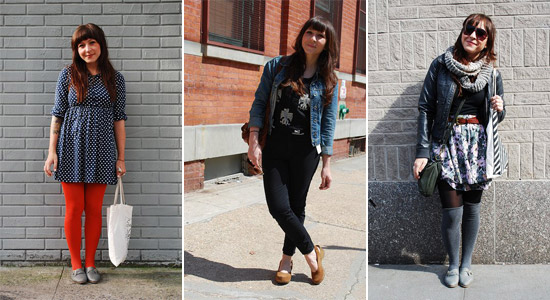 Mel has a wonderful, multi-faceted, almost punky style and her outfits always looks effortlessly thrown-together but work perfectly. Here are a few tips on how to channel her style yourself…
1. Be creative with layers.
Mel says on her blog, "When I have no idea what to wear, I just keep adding on layers of clothing to make up one outfit." Her outfits often have a mix of colors and textures which add depth. Mixing and layering is also a really cheap, simple way to get more from your closet on a college budget. Add a belt if you want some extra definition.
2. Maintain a simple color palette that you can build from.
Mel wears a lot of red, blue, and white, and because these colors go together, she can reach into her closet and intstantly mix different pieces together in many ways. Of course, you shouldn't limit your wardrobe to just three colors, but know which colors suit you and then find pieces in those hues that can easily slot into your preexisting wardrobe.
3. Utilize jackets and vests.
Mel loves her denim jacket, and it adds a casual vibe to her outfits. She is also a huge fan of vests. A cute jacket or vest can add a great touch to an otherwise simple outfit, so invest in these staples when you see them around!
4. Mix girly and masculine elements.
I love the way Mel pairs oxford shoes with a girly dress, or back pants with a feminine blouse – this juxtaposition of masculine and feminine creates an interesting contrast in any ensemble. Masculine elements have been a huge trend for many seasons now, so invest in some menswear-inspired shoes or a boyfriend blazer and mix them with more feminine pieces.
5. Have fun with color.
Mel likes to add a splash of color to her outfits, whether it's in the form of a colorblock dress, a vibrant print, or just some brightly-colored tights.
Outfit Inspired by Mel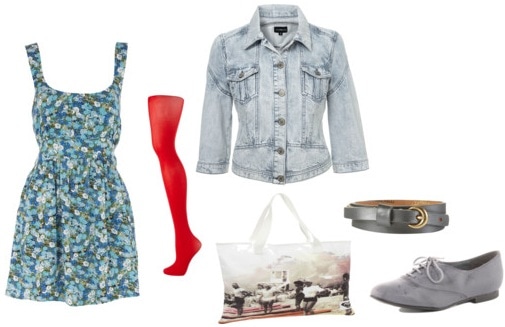 dress / denim jacket / tights / shoes / bag/belt
To create a look inspired by Mel's style, I decided to go with Mel's red/white/blue color palette. To start, I showed her love of florals with this blue dress. I then added red tights for a splash of extra color, and found a similar version of her trademark denim jacket. I then added a belt for waist definition. For a hint of masculine edge, I grabbed these cute little gray oxfords. I also added a pretty white bag, as Mel often shows her bag on her blog and tends to favor white shopping totes.
Your Thoughts?
What do you think of Mel's style – do you find it inspiring? What about her thoughts on fashion – did she inspire you to remix your wardrobe? What other bloggers would you like to see featured here in the future? Let us know with a comment!