With the rise of the internet and fashion blogging, today, many of us are more inspired by what we see on the pages of a blog than by fashion magazines. We are inspired by real girls, with real bodies, who look like us. These girls don't have the budget of a magazine editor or the wardrobe of a fashion department – they shop in thrift stores and malls just like us, and create inspiring, achievable ensembles we can all emulate.
To celebrate the many fabulous fashion bloggers out there, in this series, I will be interviewing some of my favorites and finding inspiration in their styles, giving you tips and creating affordable outfits based on their looks. Last week we met Maria of Lulu Letty, and this week we have Elizabeth of Delightfully Tacky.
About Elizabeth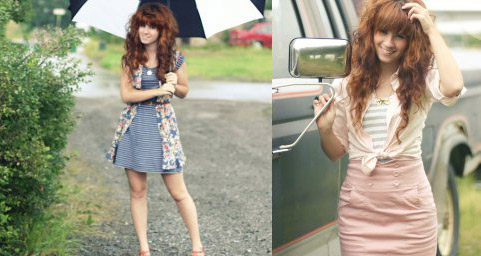 Elizabeth is more than just a fashion blogger – she is a free spirit with a real sense of adventure. Just a few months ago, she traveled from her home in Alaska all the way across the country in a 1973 Winnebago Brave and blogged all the way through! She describes her blog as "a place where I share my thoughts, ideas, travels, life and personal style" and herself as "a not-so-reformed tomboy with a love for vintage, art, music and the charm of tacky, kitschy things most often found lingering in the '70s." Elizabeth's style definitely embodies this; it's fresh, fun, exciting and feminine without being too girly.
Funny enough, I was first introduced to Elizabeth thanks to an edition of College Fashion's Hautelinks, back in 2009. I immediately loved how Elizabeth seemed like a regular girl. Her blog isn't full of expensive, designer pieces and she isn't a blogger-slash-model. She is just a normal girl with an impeccable sense of style.
I love her ability to mix and match patterns and prints and her constant slew of beautiful dresses; I don't think I've ever really seen her show an outfit that was based on trousers or jeans. Her look has that effortless, thrown-together quality that always seems to work.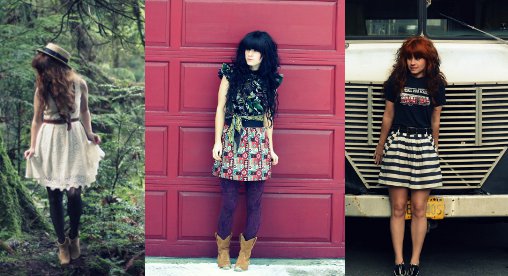 Our Interview with Elizabeth
1. Tell us a little bit about yourself (who you are, what you do, where you're from, etc.).
"Well, my name is Elizabeth. I'm from Alaska, and just made the move to Tacoma, Washington, which I adore. I have an enormous affinity for vintage Winnebagos and kitschy things from times before 1980. I'm an artist/web-designer/barista/blogger/adventurer."
2. How would you define your style?
"I would say it's a little bit feminine, a little bit tomboy, and very vintage-inspired. I was never taught any fashion do's or don'ts, so I often find myself mixing prints or colors."
3. How did you find your sense of style?
"Like I said, I was never taught anything about what I should or shouldn't wear. My mom always let me wear whatever I wanted, which meant that I went through some pretty gross phases along the way to where I am now. I didn't have the confidence to wear anything too out of the box when I was in high school. I typically wore flare/bootcut jeans, thrifted little boy t-shirts, and skater shoes. When I got to college, I stopped caring if people were staring or if they were saying anything about me. Dressing up started becoming something fun and a way to express myself."
4. What inspired you to start a style blog? What motivates you?
"I discovered style blogs in 2008 and was really intrigued by them. The bloggers I found seemed to have very similar interests to my own, and there was this community of cool girls online that I couldn't find in real life. I decided that I wanted to try and be a part of that community, so I started my own blog to interact with them and explore my own style."
5. Did you go to college? What was your college experience like?
"I did go to college. I graduated in 2009 with a degree in Art with a focus on Printmaking. I loved it. I met so many wonderful friends and incredible people who stretched my worldview and truly shaped who I am today. I learned so much, not only from the amazing professors I was privileged to learn from, but from the countless late night conversations and relationships with people during those four years."
6. Where do you like to shop?
"Right now I can't shop because I'm broke, but I love thrifting and buying vintage. I like that I can buy pieces that I likely won't find being worn by anyone else, and the fact that most have a history behind them. I always wonder about the girls who wore those dresses – what were they like? What made them laugh? Did they fall in love while wearing that dress? It's really cool to feel like your clothes have a story. But other than that, when I can afford to, I like shopping at places like ModCloth and Forever 21. They always have fun pieces and, especially in the case of Forever 21, are pretty inexpensive."
7. What advice do you have for students looking to be stylish on a college budget?
"Thrift. I'm actually more broke now than I ever was in college, so it's even more so the case for me now! I never buy something new that I know I can find thrifting. And it's all about remixing the things you already own. I think people have this idea that bloggers are constantly buying new clothes and never wear something more than once, but for me that is absolutely not the case. I remix everything in my closet and wear it all in as many ways as I can. That said, sometimes it's nice to buy something new, or to have fun with a current trend – this ensures your wardrobe won't start to feel stale."
8. Who or what inspires you?
"I'm just inspired by creative people. I love seeing how creativity manifests itself in others. I feel like it pushes me to be more creative. When I see great art, music, or style I always want to glean ideas from it, which is what inspiration is all about."
9. What are the pieces you couldn't live without?
"Right now I'm addicted to my polka dot tights and boots – they're perfect for Tacoma weather. I think a good pair of jeans is a necessity, ones that you can put on and feel awesome in every time. And I'll never lose my love for my Minnetonka moccasins."
10. What advice do you have for new bloggers or people considering starting a blog?
"Do it! It's a great way to have a creative outlet and to be inspired/share inspiration. Also, don't blog to get followers and always be yourself. I think people see huge bloggers like The Clothes Horse or Fashion Toast and they think that they can start a blog and it will just 'get big' on its own without effort, but the truth is that those bloggers spent years honing their blogs and bringing great content to their readers. And I think first and foremost they started blogging because it was fun and they loved it – they didn't do it to become famous. Blogging to get followers or comments is missing the point."
11. You wear so many amazing thrifted pieces – do you have any tips on thrifting?
"Go often. They're getting new stuff in on a daily basis, so check frequently. If you're smaller like me, don't be afraid to check in the little kids sections. I can wear little girls dresses and they are super cheap. Some thrift stores also have a vintage section which is often a goldmine. One important thing to keep in mind when thrifting is to almost completely ignore sizes – I'm pretty sure I've bought things in a size 1 all the way to a size 8, maybe more. And if you love a dress or skirt but it's too long or doesn't fit exactly right, don't be afraid to alter it – I've chopped off a lot of long dresses to be fun, short minidresses."
12. You're originally from Alaska – what advice do you have for looking stylish in chilly climates?
"Layer, and don't be afraid of the cold. Unless you're going to actually be standing outside for long periods of time, you don't necessarily need to dress for the weather. You're frequently just going to be in the cold for a few minutes while you walk from here to there, or from your warm car to a warm building. I wear tights or leggings alone, which I find are pretty much as warm as jeans, or you can layer tights and leggings for more warmth. Wear cardigans, scarves, boots, socks. I wear dresses all winter and I hate feeling cold, so if I can do it, anyone can."
13. How do you keep your look fresh and exciting? How do you use layers and remixing to keep your wardrobe fun?
"I'll often try to look at my closet in a broader way – I'll wear a dress with a skirt so the dress becomes a top, or I'll wear a top over a dress so the dress becomes a skirt. Belt dresses, wear different tights, change your hairstyle, or wear tops under dresses to add sleeves to a sleeveless sundress. Once you start to see your wardrobe like that, the options seem to just start popping up all over the place!"
How to Dress Like Elizabeth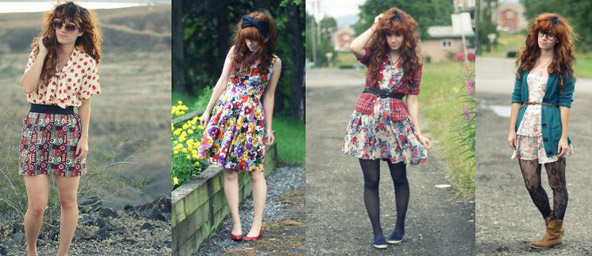 1. Break the "fashion rules".
Elizabeth keeps her look fresh and fun by mixing colors, prints and textures. So take a hint from her and don't be afraid to have a little fun with your clothes. Put unexpected pieces together and see what happens – Elizabeth does an amazing job of mixing florals with plaid or stripes. Need a little extra help? Check out our guide to mixing prints!
2. Don't think florals are only for girly-girls.
Elizabeth says herself that she is a bit of a tomboy and yet she's not afraid of a floral dress. The key? She makes girly pieces look fresh and fun by mixing different prints and styles. She can do super-girly, as seen in the second picture from the left above, but she can also dress down the florals, as seen in the third picture.
3. Layer, layer, layer!
Even Elizabeth's warm weather looks are beautifully layered. She might throw a cardigan over the top of a dress, or wear a blouse or long sleeved top underneath. She also adds unexpected touches through her layers – so take a tip from her and don't worry about your cardigan matching your dress exactly.
4. Choose vintage-inspired pieces.
For an interesting, eclectic look, don't be afraid of unusual pieces. Elizabeth frequently wears longer skirts or quirky retro dresses that wouldn't be found in Forever 21. So take the time to search your local thrift stores for unique, fun pieces that no one else will have, and don't be afraid to think outside the box and buy something outside your comfort zone.
5. Don't forget the accessories!
Elizabeth never overloads on jewelry but often adds a cute straw hat, necktie or hair bow to complete her outfit. These are always great ways to incorporate more colors and patterns into your ensemble and add an extra layer of warmth.
Outfit Inspired by Elizabeth
To help you achieve Elizabeth's look, I've created an outfit inspired by her more feminine ensembles that you can recreate yourself!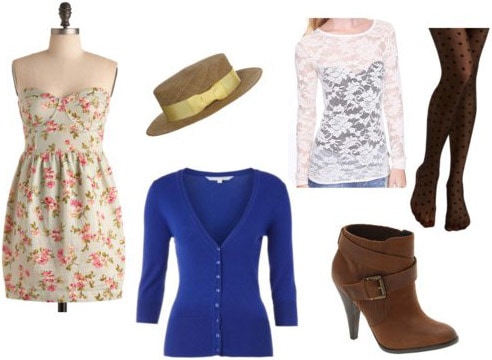 dress/cardigan/tights/lace top/ankle boots
This outfit demonstrates Elizabeth's feminine style and is inspired by her layering techniques. The gorgeous strapless would be great in spring, but I've layered it over a sheer, lace top and added a blue cardigan to make it winter-appropriate. Elizabeth mentioned her love of polka dot tights and boots so I added those in and finished it all off with a great little boater hat.
What do you think?
Are you looking forward to the rest of this series? Which other bloggers would you like to see featured in this series? Are you inspired by Elizabeth's style? Let us know in the comments!