Have you thought about mixing old Hollywood glamour with a chic, girly style? In this week's Weekly Crossover, we're going to use the vibes of Chanel Oberlin from Scream Queens and Jessica Rabbit from Who Framed Roger Rabbit to do just that.
Chanel's style is feminine and sophisticated with vintage and trendy touches. It's common to see her wearing pearls, pastel colors, and feminine embellishments, such as feathers and sequins. She tends to wear pieces inspired by the Chanel brand. She even has minions called "the Chanels" who have a similar style to her.
Jessica is usually seen in a sparkly red dress that shows some leg, cleavage, and back, as well as purple gloves and red stilettos. Her sexy look and sultry personality give off a vintage Hollywood glamour vibe.
While it seems like Chanel and Jessica have similar styles, Jessica tends to dress much sexier than Chanel and Chanel's style is trendier, and she wears more pastel colors than Jessica. So let's mix them and see what we get!
Here are three inspired outfits that are sophisticated and glamorous, but not over-the-top.
Style Inspiration 1: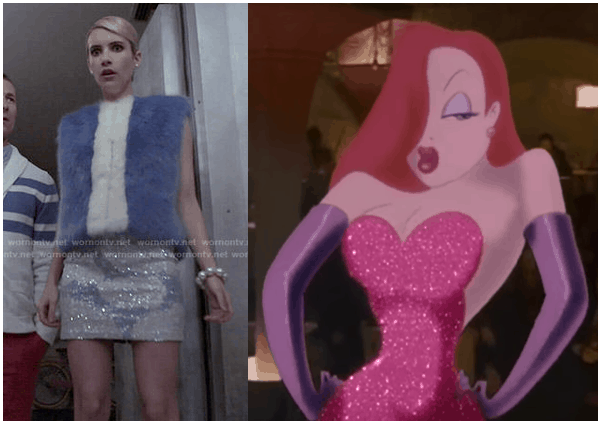 Chanel looks so stylish and polished in a fur vest and sequin skirt. She mixes textures so well. On the other side, just look at Jessica's dress; it's so sparkly that it's enviable. These girls are both getting their sparkle on.
Sequins on the Weekend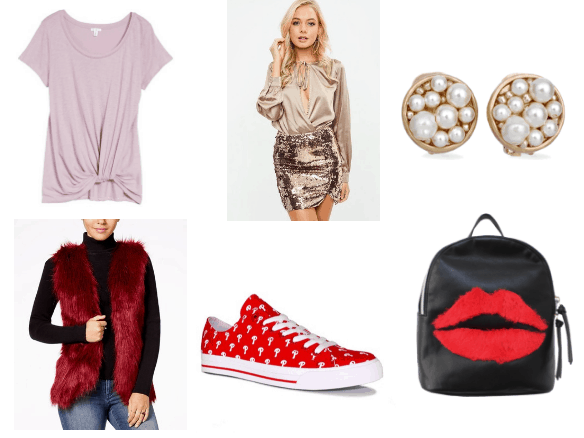 Products: Tee – Nordstrom, Skirt- Missguided, Vest – Macy's, Earrings – Chico's, Sneakers – Macy's, Backpack – Nordstrom Rack
This outfit is bold, risk-taking, and allows you to mix textures. This outfit also shows that you can absolutely wear sequins after New Year's Eve; wearing sequins for casual purposes is big in 2018. The skirt, which Chanel and Jessica would love, can be dressed down with a pastel pink tee that's very Chanel.
Jessica and Chanel often wear heels, but sneakers are a much more practical choice for walking around campus or hitting up a fancy brunch. These sneakers match the color of Jessica's shoes and are bold like the shoes Chanel wears, for the shoes include a print.
As for the accessories, a faux fur vest is so Chanel, but its color is Jessica-approved. The vest and skirt combo don't look overdone because of the t-shirt. The earrings from Chico's include pearls, which Chanel loves, and have gold plates, which match Jessica's earrings. These earrings add another dash of glamour to the look.
The backpack with the cool faux fur lips graphic adds a more casual vibe to the outfit while referencing Mrs. Rabbit's lips. The brightness of the lips pops against the subdued red hue in the vest.
Style Inspiration 2: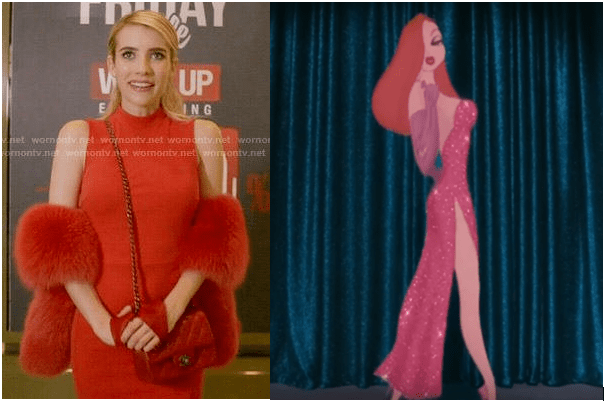 As you can see, Chanel and Jessica are both wearing red dresses in these photos, but Chanel has a red fur stole or jacket and a bag. Chanel is attending something similar to a red carpet event and Jessica can be seen singing "Why Don't You Do Right." These two looks would be great inspiration for a classy night out.
Glitz and Glamour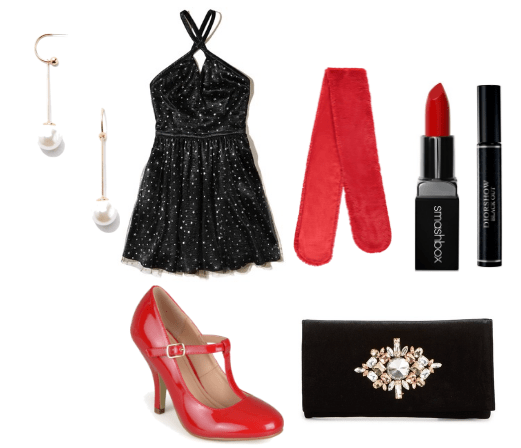 Products: Dress – Hollister, Fur Stole – Forever 21, Shoes – DSW, Lipstick – Macy's, Mascara – Macy's, Earrings – Forever 21, Clutch – Nordstrom
This is a great outfit for a dinner date or semi-formal event — it's glam but a little quirky and definitely fashion girl-approved.
This satin little black dress is sexy and classy like Jessica (Chanel would like the satin on this, for it's an on-trend fabric). Red Mary Jane pumps, a fur faux stole, and red lipstick add bright pops of both color and Mrs. Rabbit. Chanel would love the stole, which is red like most of Jessica's outfit. (Add the tights only if you're feeling extra bold — they're optional.)
Chanel wears statement shoes, so she would wear shoes like these Mary Jane pumps, and the shoes are red like Jessica's. Mascara adds more Jessica-esque glamour to the sophisticated, vintage Hollywood glamour-inspired look, while these pretty statement earrings with pearls are very Chanel.
When a clutch with a sparkly embellishment is added to the look, you get a final pop of Jessica-inspired Glam and Chanel-inspired sophistication.
Style Inspiration 3: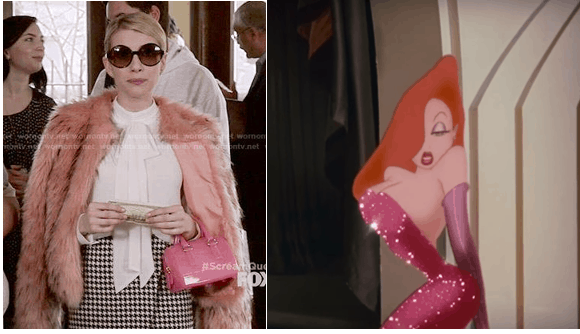 This outfit Chanel is wearing looks like it came out of a fashion ad; she always looks so chic and sophisticated. She can mix textures easily. On the right, Jessica's dress is really sparkling. The girl knows her look and rocks it, alright?
Glam and Trendy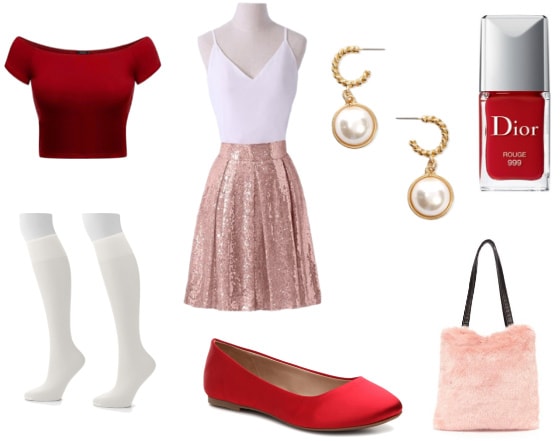 Products: Top – Amazon, Skirt – Amazon, Socks – Kohl's, Flats – DSW, Earrings – Forever 21, Nail Polish – Macy's, Bag – Nasty Gal
The sparkly sequin skirt came from the sparkle of Jessica's dress, and the skirt is pastel pink, which Chanel would love. Jessica would approve of a red off-the-shoulder top because it's classy and sexy.
Chanel likes to wear white socks, so I would recommend socks like these from Kohl's. If you want to wear Jessica-inspired shoes, I would recommend red flats because they're comfier than heels.
Chanel-approved pearl earrings from Forever 21 add more Jessica-esque sophistication to the look. The faux fur purse is inspired by Chanel's jacket and adds a dash of fun. For a dash of Jessica, I recommend red nail polish.
Did you enjoy the crossover?
Did you like the idea of mixing vintage glamour with chic trendiness? Were you into my example outfits? Would you wear any of them? What crossovers would you like to see next? I'd like to hear your thoughts in the comments.