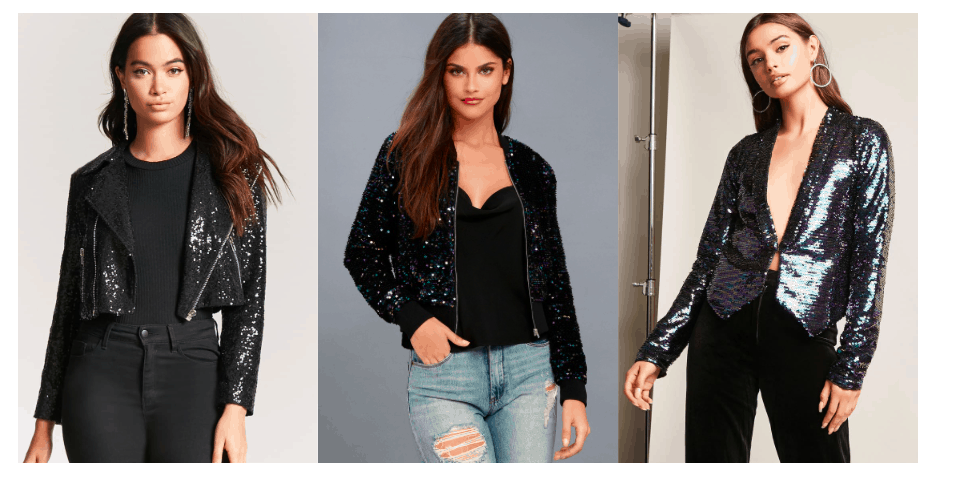 Products L-R: Forever 21, Lulus, Forever 21
A sequin jacket is the ultimate statement piece – it's cool, glamorous, and oh-so chic. It's also easier to pull off than you would think. However, it is pretty easy to overdo it with too many accessories when styling one of these.
My advice, when styling this trend, is to keep it simple. Here are two different ways to style a sequin jacket this season:
How to Style a Sequin Jacket for Class: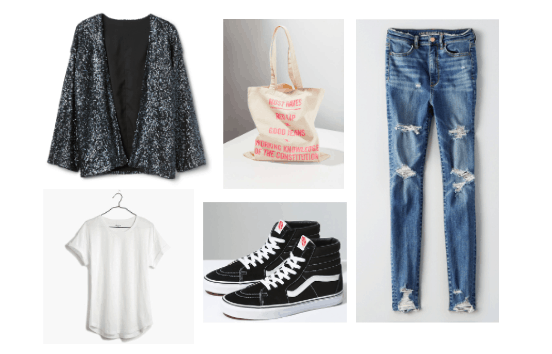 Products: Jacket – Gap, Bag – Urban Outfitters, T-Shirt – Madewell, Jeans – American Eagle, Sneakers – Vans
This jacket will have you standing out for all the good reasons as you make your way through campus. A sequin jacket is far from the norm for a day of classes, so it's a great way to stand out from all those traditional bomber jackets on campus.
To make this luxe item a bit more class-friendly, we're going to dress it down a bit. The base of our outfit includes a couple of wardrobe staples: a pair of distressed jeans and a plain white T-shirt. Further dress this look down with fashion sneakers and a canvas bag. This canvas bag from Urban Outfitters is amazing — not only is its slogan super cute, but it's also part of their new collection in partnership with Teen Vogue. With today's look, you're not only going to turn heads but set trends.
How to Style a Sequin Jacket for a Night Out: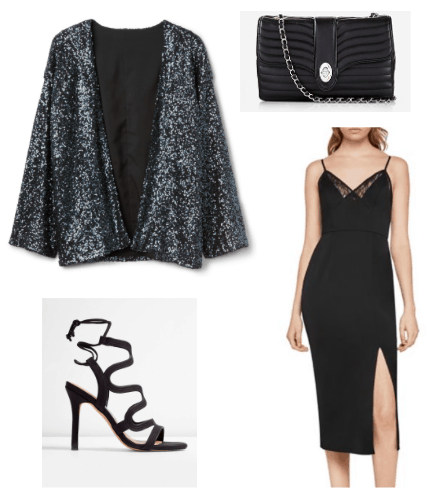 Products: Jacket – Gap, Bag – Express, Dress – Lord & Taylor, Shoes – Express
It's time to be the life of the party and this is the jacket that will make that happen. We're going to keep the look super simple here, allowing the jacket to do its work. So let's pair our sequin jacket with a chic slip dress.
With all this sequining, you're basically covered in the jewelry department — as in, you don't need any. The must-have accessory for this look is an ultra chic makeup look. For one final extra, go for a purse that's super light and not too bulky. This one from Express is the perfect choice as it can double as a crossbody, allowing you to dance the night away with your hands free.
Do you have a sequin jacket?
If so, how do you style it? Would you give this trend a try? Tell us in the comments section below.