Do you like beautiful animation? Wonderfully complex, incredibly, strong, relatable female protagonists? Fantastical plots with beautiful messages? Far off places, daring sword fights, magic spells, a prince in disguise?
If you do, and you haven't seen the movies in Studio Ghibli's repertoire, you, my friend have some watching to do.
Often called the "Walt Disney of Japan", Studio Ghibli's Hayao Miyazaki has directed and written the scripts for most of the incredible masterpieces that have come out of this studio since the 1980s. The twenty movies in his repertoire range from the lighthearted and whimsical (like My Neighbor Totoro) to the intense and dark (like Princess Mononoke). All, however, utilize brilliant plots and fantastically written characters to express Miyazaki's understanding of human complexity.
One of the best parts about Studio Ghibli films, however, is the breathtaking animation, which is why I could think of no better subject for this week's fashion inspiration.
I'll be starting off with my personal three favorite Ghibli films: Howl's Moving Castle, Castle in the Sky, and Kiki's Delivery Service. Let's get started!
Howl's Moving Castle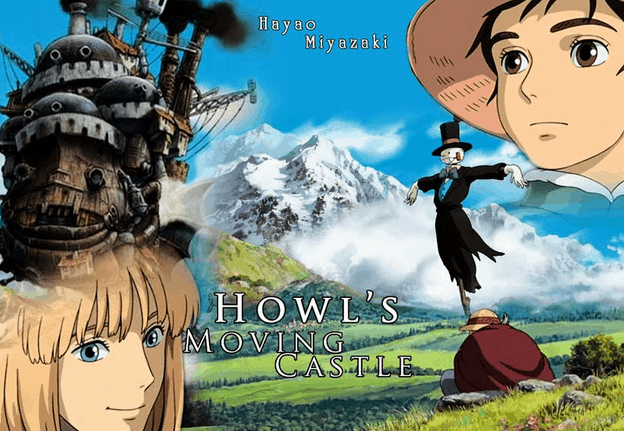 First up is Howl's Moving Castle, originally released in 2004. (See our full post on fashion inspired by the film here!)
The movie is based on the book of the same name by Diana Wynne Jones and follows the story of Sophie Hatter, a young girl who is turned into an old woman after being cursed by a witch. Sophie then embarks on an adventure that explores the destructive effects of war and the incredible power of human compassion.
If this sounds like a reverse "Beauty and the Beast" to you, you're not wrong, but Hayao Miyazaki films are famous for having powerful feminist messages, and this one is no different. Instead of relying on the love of someone else to turn Sophie young again, Sophie must learn to love herself and be confident in who she is to break the curse.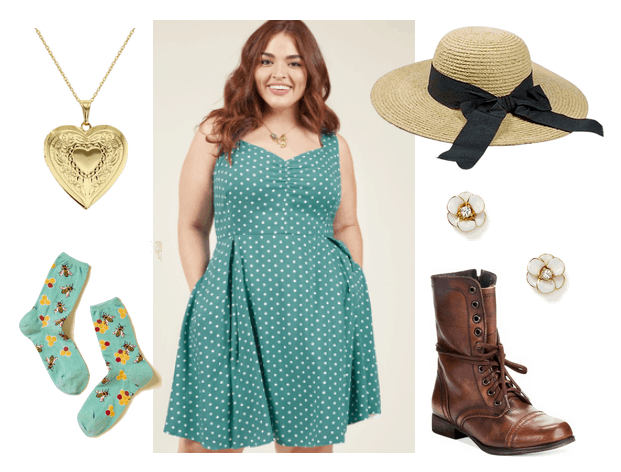 Locket – Walmart, Socks – ModCloth, Dress – ModCloth, Hat – Hats Unlimited, Earrings – Kate Spade, Boots – Amazon
This look is inspired by Sophie's sweet but understated style! Sophie wears dresses in varying shades of teal and blue throughout the movie, so I thought this light teal, polka-dotted sundress was both cinematically and seasonally appropriate.
Try some brown boots to replicate Sophie's sturdy pair, then pair them with some whimsical socks that complement the shade of the dress. Accessorize with sweet white flower earrings and a heart locket to represent the heart that Sophie literally holds safe for Howl.
Finally, finish the look with a wide straw hat (bonus points if it's decorated with ribbon, lace, or flowers!) to represent Sophie's job as a hatter.
Castle in the Sky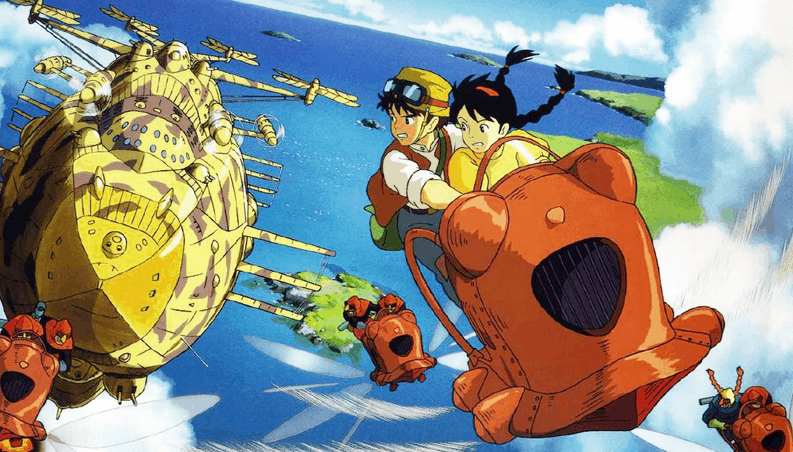 Castle in the Sky is not only my favorite Ghibli movie, it's also the first film the studio released!
This story has a delightfully steampunk vibe and follows Pazu, a brave young mine worker, and Sheeta, a mysterious girl with an even more mysterious amulet, who he rescues when she falls from the sky. The two set off on an adventure to find the lost floating city of Laputa while being pursued by both the military and air pirates, who hope to steal the amulet in order to find Laputa themselves.
The story is fast-paced and compelling, driven at its heart by the wonderful friendship between Pazu and Sheeta.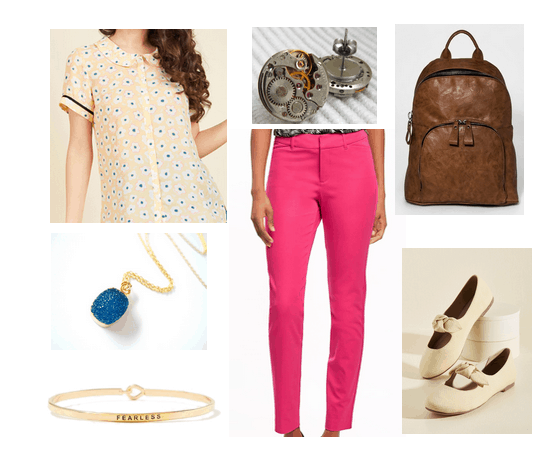 Shirt – ModCloth, Necklace – Etsy, Bracelet – Charming Charlie, Earrings – Etsy, Pants – Old Navy, Backpack – Target, Shoes – ModCloth
Sheeta goes through quite a few costume changes for an animated character, but her most iconic look is a puffed-sleeved yellow blouse and bright pinkish-orange pants, borrowed from the leader of the air pirates.
To make this look a little less cartoonish and more wearable for everyday life, pair a light yellow daisy-patterned blouse with bright pink pants and some matching yellow flats.
Accessorize with pieces that are direct allusions to the film: steampunk earrings for the film's environment, a blue stone necklace for Sheeta's amulet, and a "fearless' bangle for Sheeta's trademark bravery. Tote a sturdy brown faux-leather backpack and you're all set!
Kiki's Delivery Service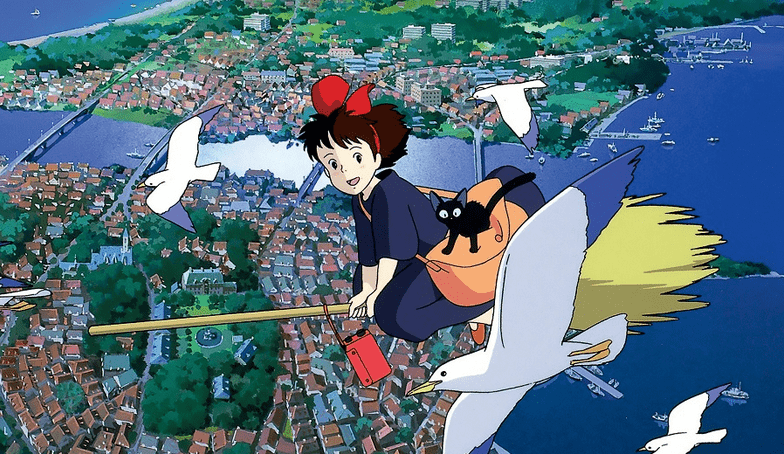 Rounding out my top three favorite Studio Ghibli films is Kiki's Delivery Service! Is anyone's character design cuter than Kiki's?
Released in 1989, this film (which we've used as Halloween costume inspo before!) is a coming-of-age story about a young witch who leaves her home for the city in order to practice her skills and learn where she fits into the world.
Like many other Hayao Miyazaki protagonists, Kiki is brave and independent but is also very relatable due to her susceptibility to frustration and vulnerability.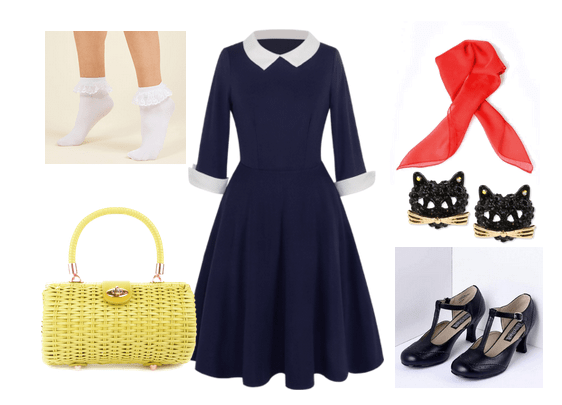 Socks – ModCloth, Purse – Pinup Girl Clothing, Dress – DressLily, Head Scarf – Unique Vintage, Earrings – Macy's, Shoes – Unique Vintage
Like I said, I love Kiki's character design, so this look has a bit of a vintage touch in order to combine the design with my favorite style aesthetic.
Start with a navy blue A-line dress, then slip on some lacy white socks and black T-strap shoes with the slightest heel.
Kiki quickly finds a place for herself in the city as a flying delivery girl, so this basket-shaped wicker purse is a must. Wear these black cat earrings as a subtle nod to Kiki's best friend, Jiji, then tie your hair up with a red hair scarf to mirror Kiki's iconic red bow.
What do you think?
Which Studio Ghibli movie is your favorite? Will you be trying any of these looks out? Let me know in the comments!