From the costumes to the set, from the words of the script to the movements of the actors, everything on stage tells a story. Stage-Inspired Fashion adds a little drama to everyday style.

We've covered Shakespeare a few times here at CF, but this time, we're looking at a romance.
Behind the Scenes
Many critics consider The Tempest to the last play that Shakespeare wrote on his own, and see Shakespeare himself in the character of Prospero, a deposed duke living in exile with his daughter Miranda. At the beginning of the play, Prospero uses his magic powers to conjure up the titular tempest, which strands his usurper brother Antonio and a party of men on the island.
Prospero, aided by his servant-spirit Ariel and slave Caliban, manipulates the men through magic in an attempt to restore everything to its rightful place. When everyone is finally under his control, he decides to forgive the people who wronged him, give up his magic, and return from exile.
We've covered The Tempest before in an article about Will in the World, a biography of Shakespeare. In this article, I'm focusing more specifically on the characters, and I've created three outfits to represent three of the major players. Keep reading to see them all!
Prospero
Me, poor man, my library
Was dukedom large enough.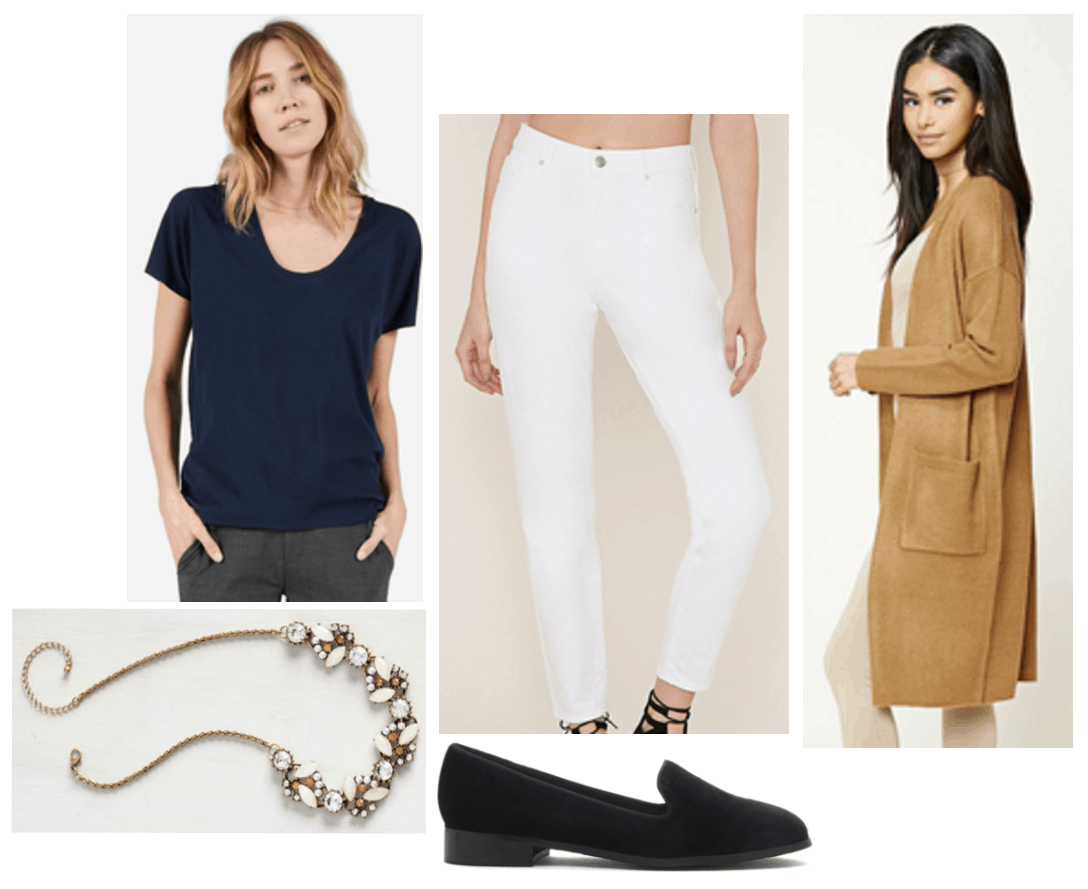 Products: Shirt – Forever 21, Jeans – Forever 21, Cardigan – Forever 21, Loafers – Forever 21, Necklace – ModCloth
Prospero did not appreciate his dukedom when he had it, and now he can never forget that he lost it. For a Prospero-inspired outfit, dress plainly but elegantly by mixing neutrals. Tuck a navy u-neck shirt into white mom jeans, and layer a camel-brown cardigan on top. Complete the outfit with square-toed loafers and a sparkling necklace that represents Prospero's power over the natural world.
Miranda
How beauteous mankind is! O brave new world,
That has such people in't!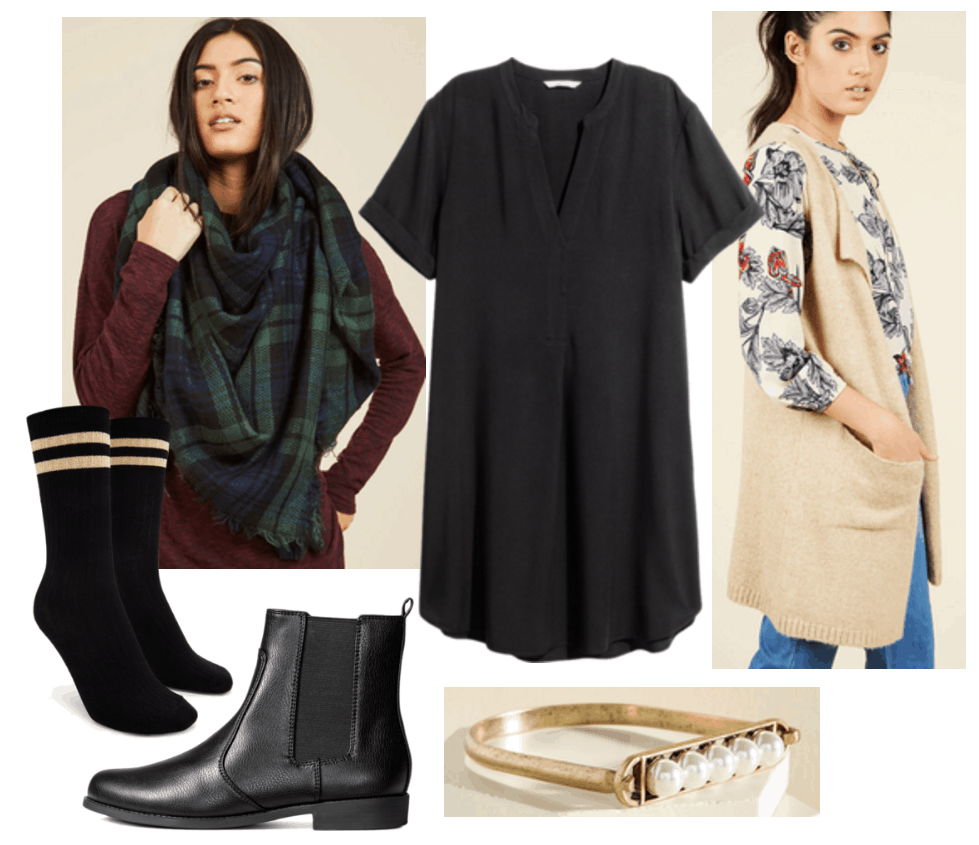 Products: Dress – H&M, Vest – ModCloth, Scarf – ModCloth, Socks – Forever 21, Boots – H&M, Bracelet – ModCloth
Miranda has spent nearly her entire life on the island. Represent her simple, secluded upbringing with a relaxed v-neck shift dress, a beige knit dress, and a warm plaid scarf. To hint at the beauty she is discovering in the world, add a pearl-encrusted bracelet and glittery socks. Finish the look with sturdy black Chelsea boots.
Ariel
I will be correspondent to command
And do my spiriting gently.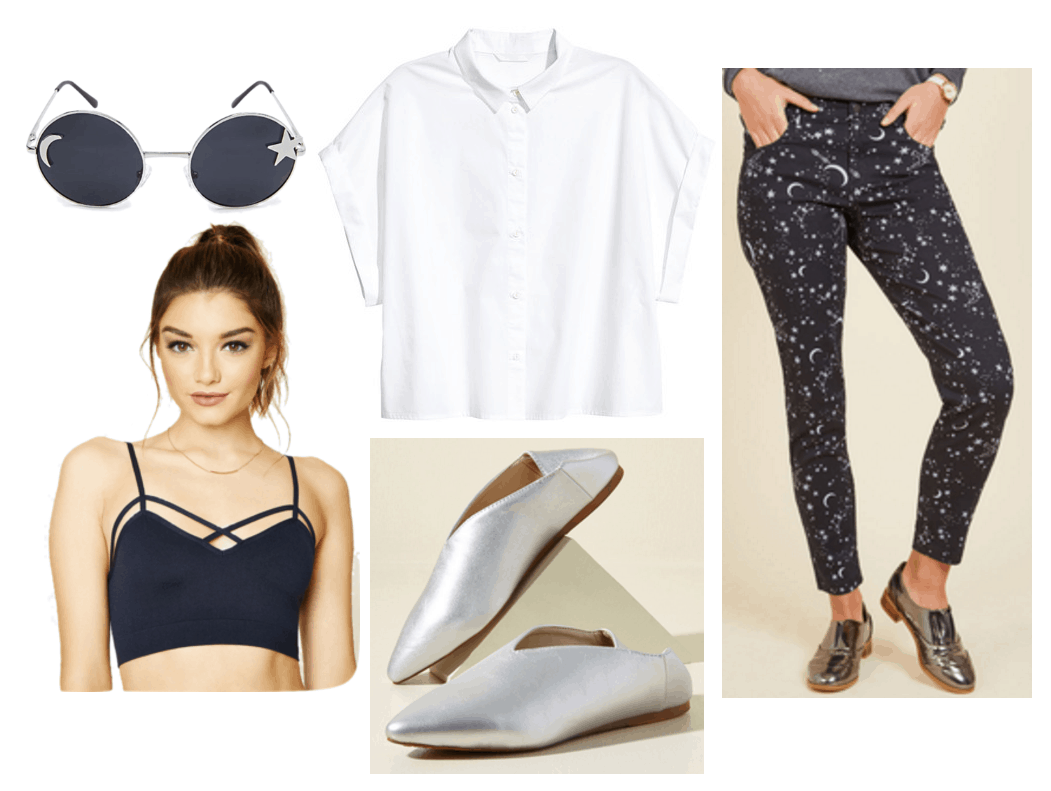 Products: Bralette – Forever 21, Blouse – H&M, Pants – ModCloth, Shoes – ModCloth, Sunglasses – Forever 21
Ariel is a spirit that Prospero rescued and then bound in servitude. Often portrayed as gender-neutral or genderfluid, this character is one of my all-time favorites of Shakespeare's because there are so many different and interesting portrayals. For a modern take on Ariel, pair a navy caged-cutout bralette with constellation-patterned pants that emphasize the spirit's otherworldly nature. Throw an unbuttoned boxy blouse on top, put on pointed silver shoes, and accessorize with moon-and-star sunglasses.
Epilogue
The Tempest seems like an appropriate play for the end of the fall semester and the end of 2016. It represents both the end of a tumultuous time and a hopeful beginning of a new era. Here's to spring and to 2017!
Your Thoughts?
Do you have a favorite Shakespeare play or character? Have you seen a production of The Tempest? (I loved the one at the A.R.T. in Boston!) Are there any plays or musicals you would love to see covered in this column? Let us know what you think in the comments below!