From the costumes to the set, from the words of the script to the movements of the actors, everything on stage tells a story. Stage-Inspired Fashion explores ways to add a little dramatic flair to your style.

In this week's installment of Stage-Inspired Fashion, we're taking it back several hundred years and revisiting a sophomore year reading list staple. The tragedy of Macbeth may seem like an odd source of fashion inspiration, but it's full of strong characters and rich language. Summer outfits don't always need to be bright– they could use a little darkness and drama.
We've covered Macbeth before in Looks from Books: Fashion Inspired by Will in the World, but this article looks at the characters rather than Shakespeare himself.
Behind the Scenes
Macbeth, Shakespeare's shortest tragedy, is about the corrupting nature of power and ambition. A trio of witches prophesize that Macbeth, a general and nobleman, will become King of Scotland. Encouraged by his bloodthirsty wife, Lady Macbeth, he murders King Duncan and takes the throne. Although their guilty consciences nag at them, they commit murder after murder to cover up their deeds. Scotland spirals into a civil war as the Macbeths spiral into tyranny and madness.
In the theatre world, it's considered bad luck to say the name "Macbeth" inside a theater– people refer to it as "the Scottish Play" instead. If you do say the name, you might have to perform a ritual to dispel the curse, such as walking around in a circle three times, saying a curse word, and spitting over your shoulder. Even if you're not superstitious, it's fun to participate in this old tradition.
I've created outfits based on three of the play's major characters. Scroll down to see them all.
Macbeth
"Now does he feel his title
Hang loose about him, like a giant's robe
Upon a dwarfish thief."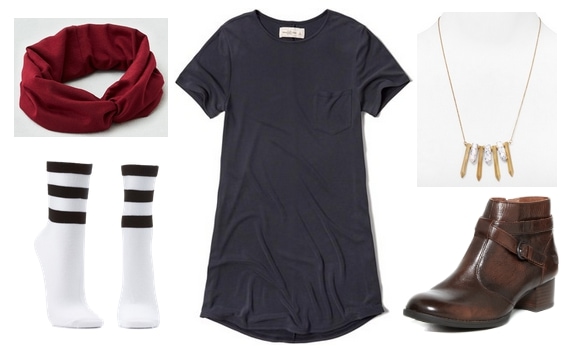 Dress, Socks, Shoes, Necklace, Headband
Macbeth's clothes and accessories are very symbolic. Characters often discuss Macbeth in clothing metaphors– his clothes are either too big or too small. Although he is the king, he doesn't quite fit the role.
You don't want to wear clothes that don't fit, but you can represent this motif with a loose-fitting t-shirt dress. Accessorize with a long gold necklace that looks like the dagger Macbeth sees before him. Add a bright red headband in place of a crown; the pop of color alludes to the blood shed in Macbeth's quest for power. Striped socks and brown leather ankle boots give this outfit a rugged quality– you'll be ready for telling ghost stories over the campfire or walking in Birnam Wood.
Lady Macbeth
"Unsex me here,
And fill me from the crown to the toe topful
Of direst cruelty!"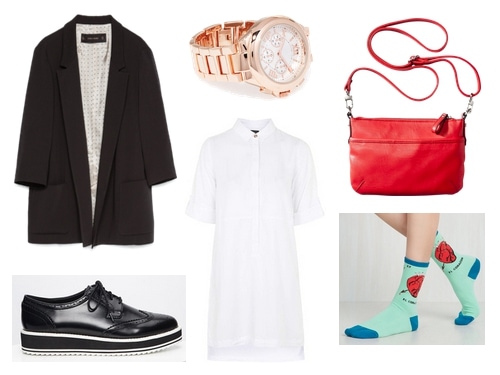 Dress, Blazer, Socks, Shoes, Watch, Purse
Lady Macbeth essentially tells Macbeth to man up so he can murder Duncan. She relates violence with masculinity, but she herself is one of the most violent characters. If anything, the play presents a disturbing gender equality: all genders are capable of violence.
To capture Lady Macbeth's character, play around with stereotypically gendered pieces. The white shirt dress, reminiscent of her nightgown in the famous "Out, damned spot!" scene, is not the traditional men's dress shirt. The unstructured black blazer is not the traditional blazer, and the black platform shoes are not traditional oxfords. Add pops of interest with a chunky rose-gold chronograph watch and a bold purse– you won't be able to wash the red out of this one.
The socks printed with pierced hearts represent Macbeth and Lady Macbeth's relationship. Although they are terrible for each other, they care about one other deeply. One of my favorite parts of the play happens in Act III Scene 2, when Macbeth refers to Lady Macbeth by the pet name "dearest chuck" in the midst of discussing Banquo's murder. It's such a strange moment.
Macduff
"I must also feel it as a man."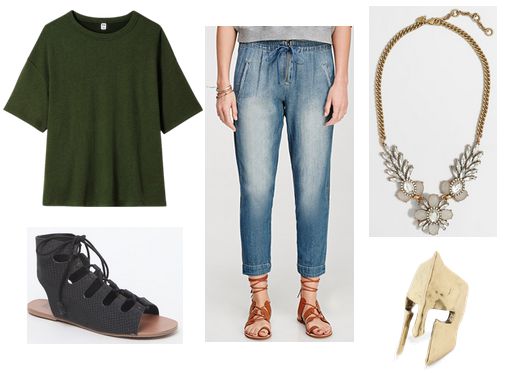 Shirt, Joggers, Sandals, Necklace, Ring
A foil to Macbeth, Macduff represents morality, order, and justice. He comes to Scotland's aid when she needs him most, fighting Macbeth in order to avenge the deaths of his wife and children and restore Duncan's line to the throne.
Channel Macduff in this no-nonsense look. Start with drawstring denim joggers that represent his practical nature, and capture his military style with a boxy, olive green shirt and a gold ring in the shape of a helmet. Finally, add black gladiator sandals and a statement necklace that references Birnam Forest moving to Dunsinane Castle in the final battle.
Epilogue
This classic tragedy provides plenty of food for thought and plenty of inspiration for modern fashion. Some may argue that Macbeth is merely "sound and fury, signifying nothing," but, in the tradition of high school English teachers, I believe that Shakespeare is still relevant.
Your Thoughts?
Did you have to read Macbeth in school? Do you have a favorite Shakespeare play? Are there any plays or musicals that you would love to see covered in this column? Let us know what you think in the comments below!