From the costumes to the set, from the words of the script to the movements of the actors, everything on stage tells a story. Stage-Inspired Fashion explores ways to add a little dramatic flair to your style.

The play's the thing! Once again, Stage-Inspired Fashion returns to the Bard for inspiration.
Behind the Scenes
The Tragedy of Hamlet, Prince of Denmark is about one messed-up royal court. After Claudius kills his brother, King Hamlet, takes his throne, and marries his wife, King Hamlet's ghost calls on his son, Hamlet, to avenge him. Hamlet fakes madness in order to find proof of Claudius's crime, but even with that proof, he struggles to kill his uncle. However, when he does spur himself to action, he ends up making fatal mistakes. The play ends with Hamlet and almost all of the other major characters dead and Norway seizing Denmark.
Much of the play focuses on the workings of Hamlet's mind. He delivers many of its most famous lines and speeches as he ponders the meaning of life and death. Hamlet is Shakespeare's longest play, and is one of the most-studied works of English literature.
I've created three outfits based on three of the major characters. Keep reading to see them all!
King Hamlet
Murder most foul, as in the best it is;
But this most foul, strange, and unnatural.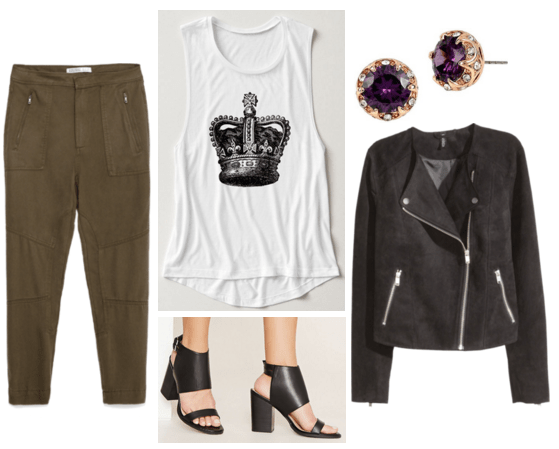 Products: Tank, Pants, Jacket, Heels, Earrings
King Hamlet's death starts the action of the play. His ghost appears multiple times, urging Hamlet to avenge his death and kill his uncle.
The focal point of King Hamlet's outfit is his crown — the crown that Claudius killed him to obtain. For a modern take on his knightly armor, put on khaki green cargo pants and a faux-suede biker jacket. Accessorize with black block-heeled sandals and poison-purple earrings that reference the manner of his death.
Hamlet
To die, to sleep;
To sleep: perchance to dream: ay, there's the rub…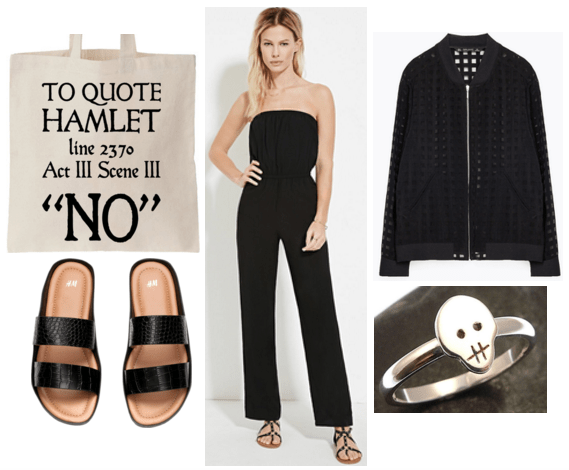 Products: Jumpsuit, Jacket, Sandals, Ring, Tote
Onstage, Hamlet often spends the entire play dressed in black, in mourning for his father. For a modern take on his monochrome look, start with a black strapless jumpsuit and add textured black sandals. The pattern of this black mesh jacket symbolizes his feeling of being trapped in Elsinore Castle, and the silver skull ring represents his fascination with death and his famous speech about Yorick.
I couldn't decide which of Hamlet's speeches to quote directly, so I settled on this tote bag. Although he is famous for his wordplay, this bag captures his pointed sense of humor.
Ophelia
O, woe is me
T' have seen what I have seen, see what I see!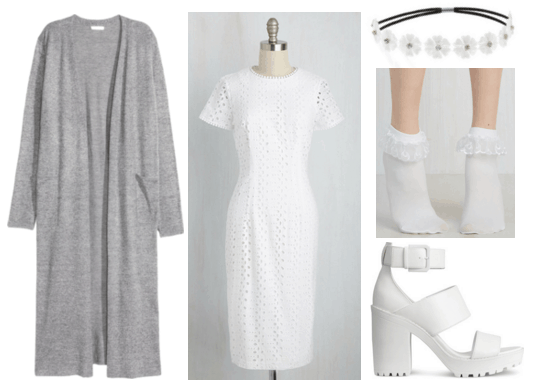 Products: Dress, Sweater, Socks, Sandals, Headband
Ophelia, Hamlet's long-suffering lover, is one of the play's most mysterious characters. We don't hear many of her inner thoughts; we don't know what she sees in Hamlet, why she suffers a mental breakdown, or even whether her death is an accident or a suicide.
This white eyelet dress appears to be transparent, but, like Ophelia, it's not so easy to see through. Pair lacy white socks and lug sole white sandals (Socks and sandals! Ophelia is a rebel.) to show her combination of delicacy and strength. A white flower headband references her Act IV speech, in which she sends messages through flower symbolism. Finally, add some movement to the outfit with a long sweater whose darker shade symbolizes her darker side.
Epilogue
Hamlet is a complicated play. (Somewhere in Act IV, Hamlet gets kidnapped by pirates, and it's not even an important part of the plot.) But despite — or perhaps because of — its complexity, it remains widely popular to this day.
Many of the famous lines from Hamlet have become cliches, but as we've shown today, there are always new ways to interpret this play. If you haven't yet read it, it's well worth your time.
Your Thoughts?
Have you seen a production of Hamlet? What's your favorite Shakespeare play? Are there any plays or musicals you would love to see covered in this column? Let us know what you think in the comments below!