From the costumes to the set, from the words of the script to the movements of the actors, everything on stage tells a story. Stage-Inspired Fashion explores ways to add a little dramatic flair to your style.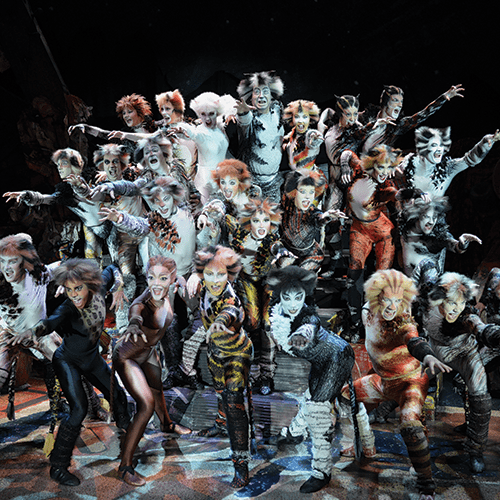 The costumes of Cats are iconic; they're a mix of animal imagery and 1980s dance-wear. With the help of unitards, leg warmers, wigs, and liberal amounts of greasepaint, the actors transform themselves into creatures that are not quite human and not quite cat.
Today, we'll take a look at how to transform some of these costumes into actual wearable outfits.
Behind the Scenes
Cats is a strangely polarizing musical — people either love it or hate it. Even so, it's the fourth-longest running show in Broadway history and was made into a movie in 1998. It sets the poetry of T.S. Eliot to the music of Andrew Lloyd Webber and features extensive dancing that combines jazz, ballet, and tumbling.
The plot is relatively simple: a tribe of cats called the Jellicles choose one of their members to be reborn. Much of the musical is spent telling the stories of different Jellicle cats. Productions of Cats are often remarkable for their attention to detail; each cat has a distinct appearance and personality, no matter how much or little they are featured.
I created outfits based on three of the most famous cats. It was difficult, but I did not include any leopard print! Keep reading to see all three outfits.
Munkustrap
Because waiting up there is the Heaviside Layer
With wonders one Jellicle only will see.
Jellicles ask because Jellicles dare:
Who will it be? Who will it be?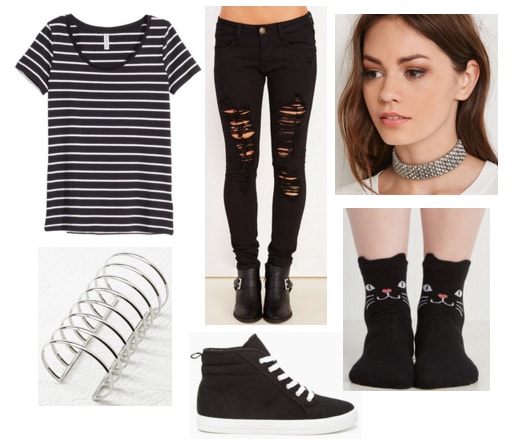 Products: Shirt, Jeans, Socks, Sneakers, Choker, Cuff
Munkustrap, a silver tabby cat, is the narrator of the show and the protector and second-in-command of the Jellicles.
To capture his cool, collected look, wear a black and white striped shirt that represents his striped costume. Add black ripped jeans for a touch of toughness, and replace his collar with a rhinestone-studded choker and a silver arm cuff. Put on black cat socks that show off the playful side that comes out in his dancing and black high-tops that show that he's always ready to move.
Victoria
Jellicle cats, come out tonight. Jellicle cats, come one, come all.
The Jellicle moon is shining bright. Jellicles come to the Jellicle ball.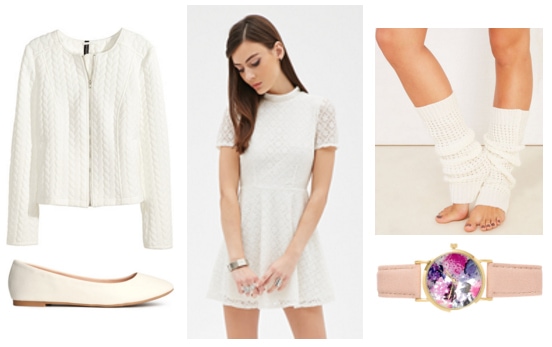 Products: Dress, Jacket, Leg Warmers, Shoes, Watch
Victoria, the principal ballerina, symbolizes the elegance and beauty of cats. Although she is the only all-white Jellicle cat, her costume isn't actually all-white; it needs some texture and light-colored markings to prevent it from looking washed-out under the stage lights.
For a Victoria-inspired outfit, play with texture in an all-white monochrome look. Start with a lace dress with a high neck and a skater skirt to bring in those feelings of elegance and delicacy. Put on chunky knit leg warmers and a quilted jacket to add different textures to the look. Finish the outfit with ballet flats and a pink watch that references Victoria's pink collar.
Grizabella
Memory
All alone in the moonlight.
I can smile at the old days.
I was beautiful then.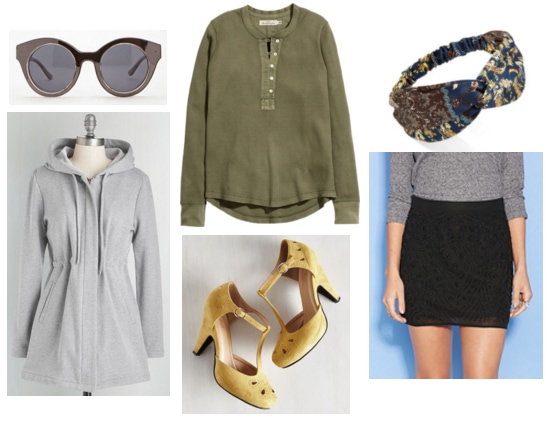 Products: Shirt, Skirt, Sweatshirt, Heels, Headband, Sunglasses
Grizabella, the Glamour Cat, had a falling-out with the Jellicles, and she returns to them old, tired, and disheveled, longing to be accepted again. She sings the famous song "Memory" in order to gain their sympathy, and Victoria is the first cat to touch her and welcome her back.
Grizabella typically wears a tattered grey-green coat over the remains of a black sequined dress. To transform her look from a costume to street clothing, we'll use the same strategy that we used for Victoria: mixing different textures. Start with an army green waffle-knit shirt and a black skirt with sequined details. In place of her coat, put on a sweatshirt with a feminine silhouette. Accessorize with a floral-patterned satin headband, metallic cat-eye sunglasses, and yellow t-strap heels that look just like the ones Grizabella wears.
Epilogue
Whether you love or hate Cats, you have to admit that the musical is a testament to the power of costumes and makeup. The clothes may not make the cat, but they certainly help.
Your Thoughts?
Were you obsessed with Cats as a kid? Which cat is your favorite? Are there any plays or musicals you would love to see covered in this column? Let us know what you think in the comments below!