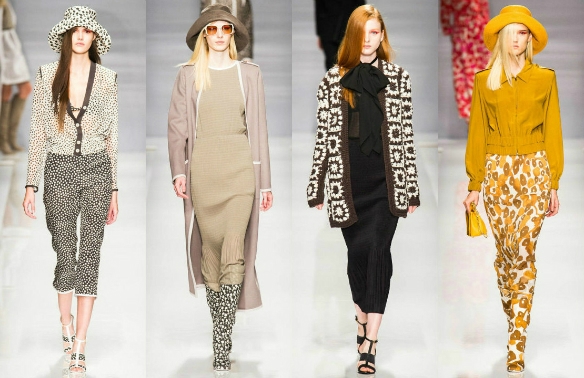 Max Mara Spring 2015 RTW | ELLE
As a college student with early mornings, I still struggle with achieving the perfect balance between looking stylish but a bit relaxed for my 9AM ancient Greece history class. When I set my eyes on Max Mara's Spring 2015 RTW collection, I knew I had to cover it not only for its fabulousness, but for its impeccable laid-back silhouettes. Mara nailed that relaxed yet stylish look I aim for.
All of the different aspects of the collection, including jackets, blouses, and long skirts, were sophisticated and graceful, but also ideal for casual days. Though the collection is mostly neutral, there were pops of yellow, pink, and red. The addition of both tiny and big floral prints means this collection is perfect for the upcoming season.
There's no doubt about it: Max Mara created enviable looks that we would love to have in our closet this spring.
Are you as in love with Mara's collection but aren't ready to commit to that price tag? Keep reading for three budget-friendly alternatives inspired by outfits straight from the runway:
1. Sheer Florals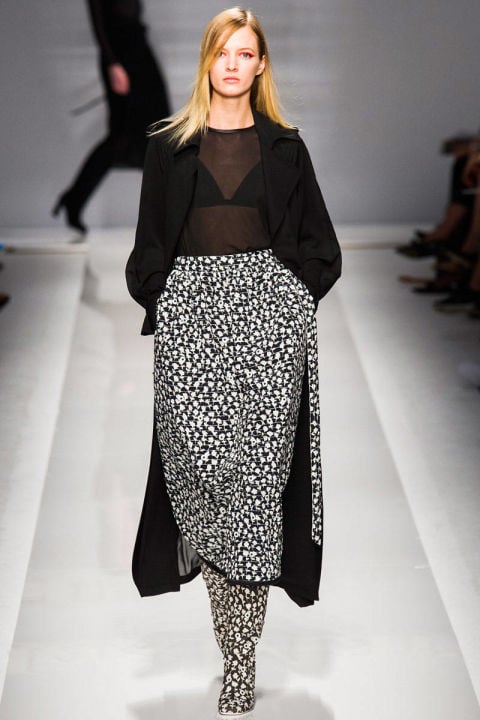 Photo: ELLE
This first outfit is my personal favorite from the whole collection. The sheer shirt adds a bit of edge to the girly, tiny floral print skirt. Though the skirt and coat are long and flowy, they fit well against the model's body. To be honest, if this outfit was in my closet, I would never want anything ever again (or at least for a couple of months).
Get the Look:
Product Info: Top- Forever 21, Bralette- Urban Outfitters, Skirt- River Island, Coat- Missguided, Shoes- H&M, Nail Polish (in "A Good Man-darin is Hard to Find")- ULTA
Channel my fave look by pairing a black bralette with a sheer black blouse. Tuck the blouse into a midi or maxi length black-and-white floral skirt and slip on a black duster coat. Choose a pair of black booties for some extra height, then finalize your outfit with a nail polish that's the same orange hue as the model's eye makeup.
2. Slouchy Sophisticated Separates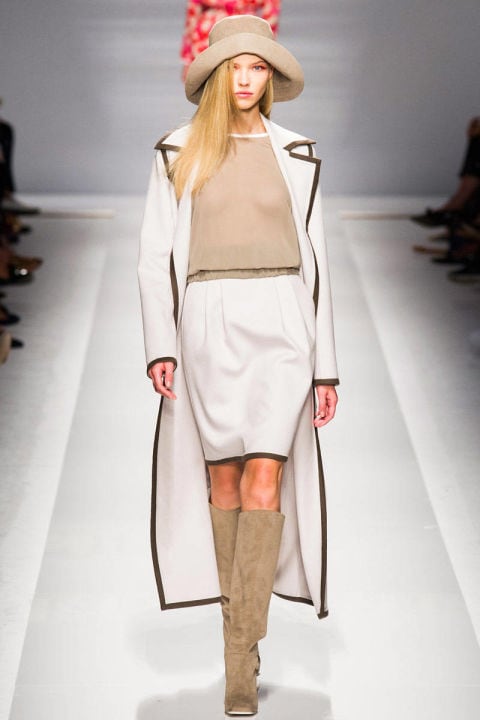 Photo: ELLE
Separates seem to be a trend that isn't going away any time soon and Max Mara has jumped on that. We love the neutrality of this outfit; it's pumped up by that orange eye makeup all the models on Mara's spring runway wore. Also, the bucket/rain hat makes it perfect for spring showers!
Get the Look: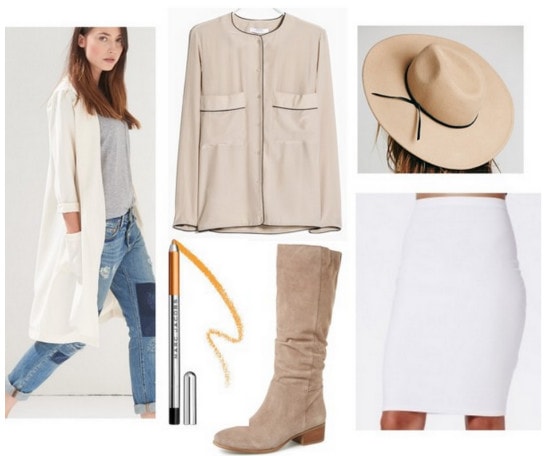 Product Info: Top- Mango, Skirt- Missguided, Coat- Atterley Road, Shoes- Nordstrom, Hat- Free People, Eyeliner (in "Mari(Gold)")- Sephora
Start by choosing a camel-hued blouse with some contrast detailing. Pick a white duster coat to go over your top, as well as a white pencil skirt. Suede knee high boots are a fab footwear choice and, if bucket hats aren't your thing, choose a camel-hued matador hat for a fun vibe. Complete your look with a burnt-orange eyeliner.
3. Spring Awakening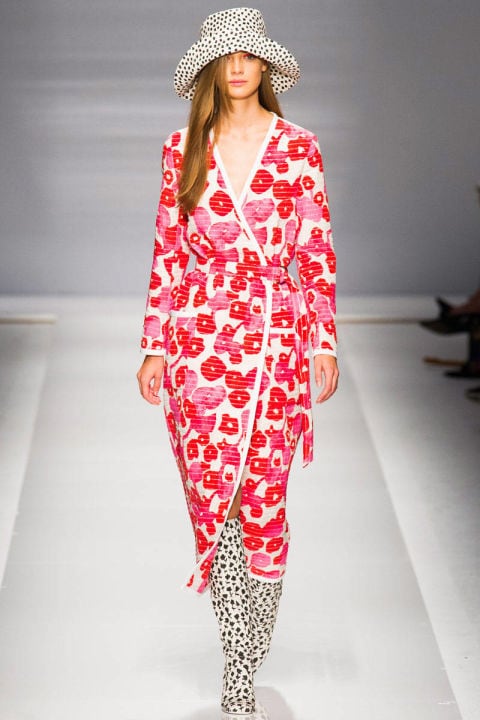 Photo: ELLE
This is one of the few looks that has a punch of color, and this dress would be fabulous for those soon-to-come days of spring. The red and pink floral print is fun and perfect for a lunch date or girls' day!
Get the Look: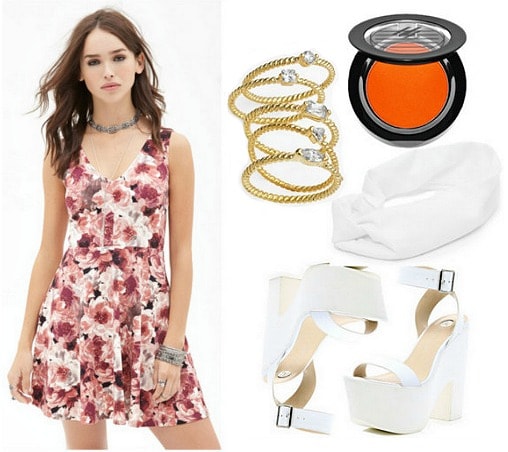 Product Info: Dress- Forever 21, Shoes- River Island, Headwrap- Claire's, Rings- Nordstrom, Eyeshadow (in "Tangerine")- Sephora
For this outfit, we went with a more flirty vibe. Pair platform sandals with a fit-and-flare dress that has red and pink florals that are just as fab as the original print. Instead of a hat, we went with a more boho-inspired white headwrap. Finally, accessorize with dainty gold rings and swipe on a bit of orange eyeshadow.
Your Thoughts?
What did you think of this collection? Are you as into it as we are? Which of these looks is your favorite? Would you wear any of them? Remember to let me know your thoughts in the comments below, along with any designers you'd like to see featured in the near future.