The fashion-conscious college girl loves PFW more than most people. It's hard not to follow all the coverage of the collections, the models, the street style, and of course, the newest trends.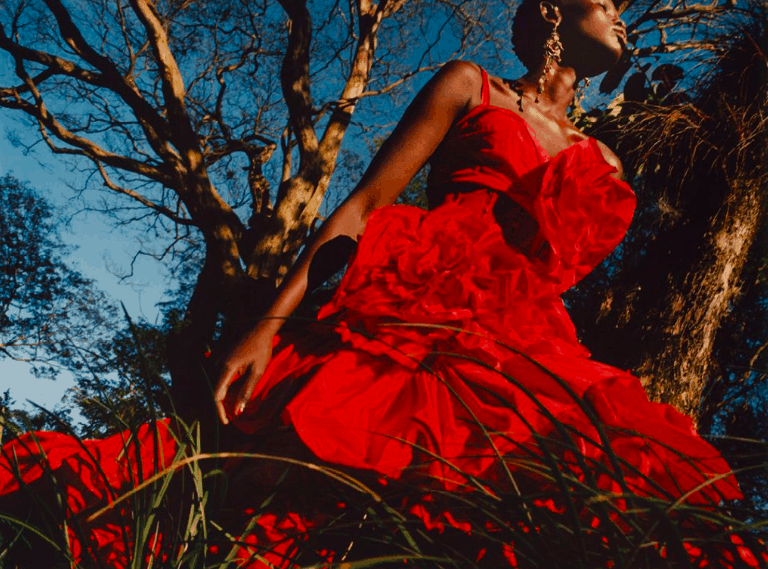 Part of what makes PFW so dreamy is its unattainability. Most of us will probably never wear the pieces that we're salivating over, though of course we'll be taking inspiration from them.
This season, rather than going out and buying a bunch of trendy pieces, we're going to recreate three runway trends using pieces you already own.
Let's get started!
Trend #1: Fringe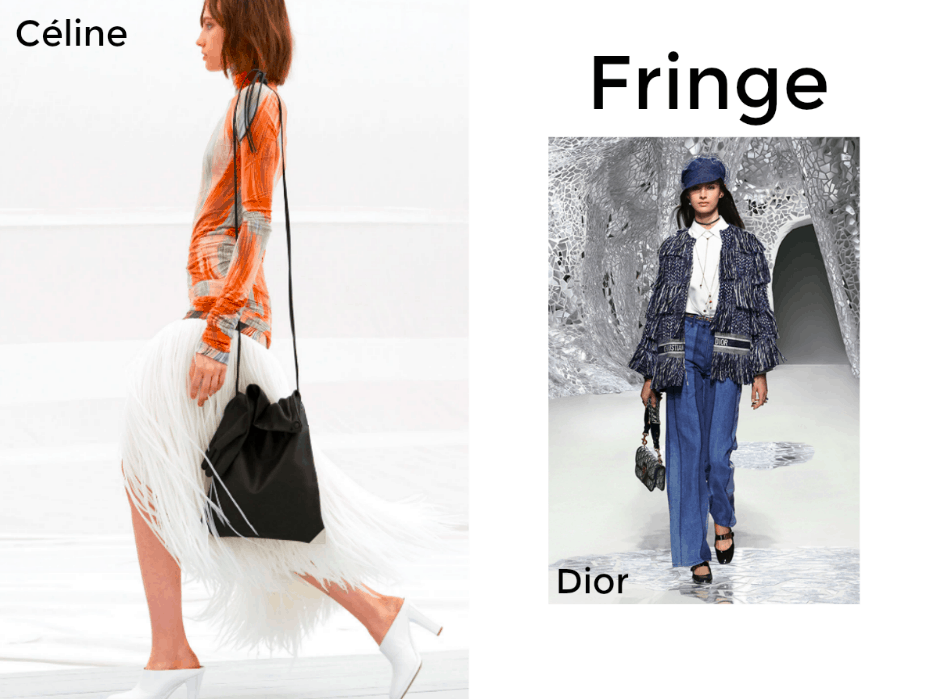 It seems like designers can't get enough of fringe, so if you haven't picked up a fringe piece yet, consider doing so because this trend isn't going anywhere!
Wear It with Your: Denim Jacket + Brown Riding Boots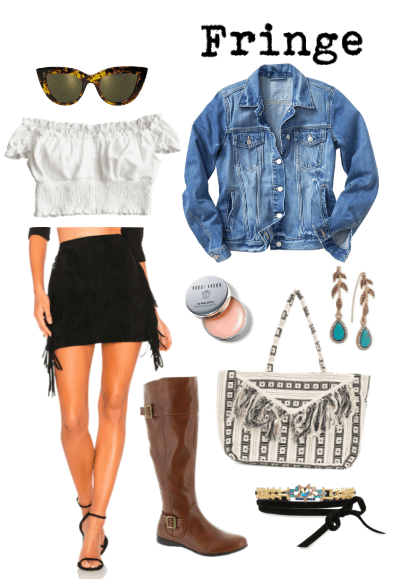 Products: Sunglasses – Eloquii, Blouse – Zaful, Fringe Skirt – Revolve, Denim Jacket – Gap, Lip Balm – Bobbi Brown, Earrings – Macy's, Brown Boots – Shoemall, Fringe Tote – TJ Maxx, Choker – Betsey Johnson
This fringe skirt gives off major western vibes- so it would work perfectly with your denim jacket and brown riding boots! A loose white blouse is cute without taking attention away from the trendy fringe skirt. If you can't get enough fringe, add a fringe tote in a geometric print.
Because the look is mostly monochromatic, I added earrings and a choker made with colorful stones and playful cat-eye glasses. Finish with a touch of lip balm to keep your lips hydrated and protected against all that spring sunshine.
Trend #2: Sheer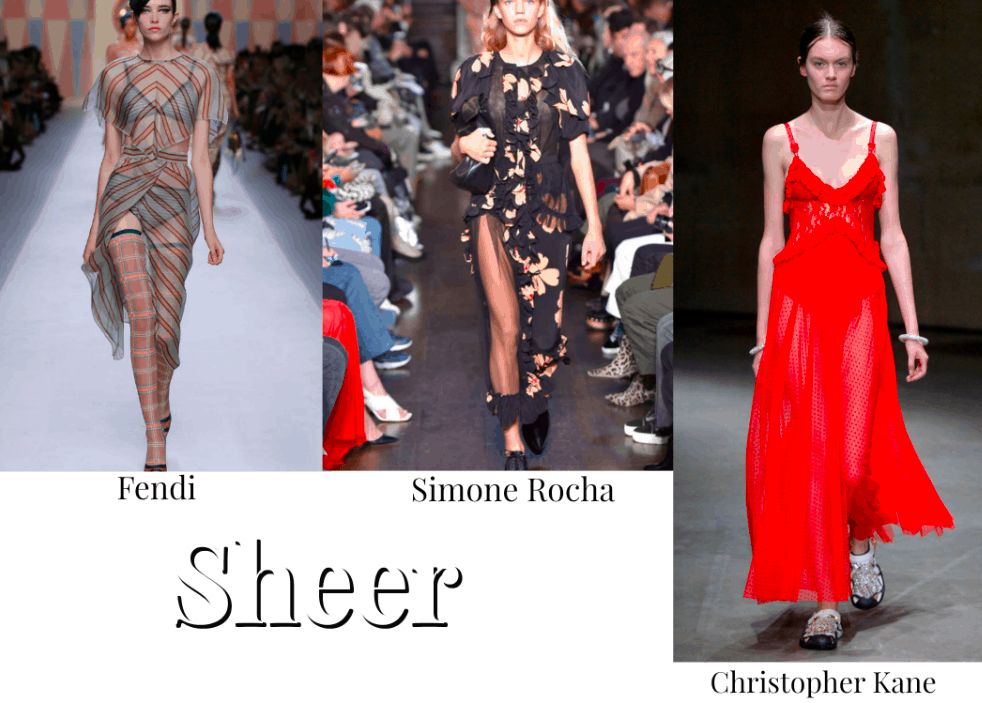 Sheer is another trend that's not exactly new, but it was in full force at PFW. While this trend looks beautiful on the runway, see-through dresses aren't exactly suited for the classroom. Instead, try a sheer blouse.
Wear It with Your: Bralette + Boyfriend Jeans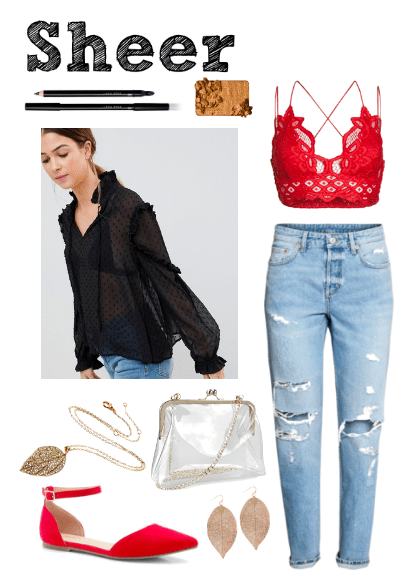 Products: Black Eyeliner – Bloomingdale's, Gold Eyeshadow – Too Faced, Sheer Blouse – Asos, Gold Pendant – Gilt, Red Flats – Boohoo, Clear Bag – Amazon, Gold Earrings – Humble Chic, Red Bralette – Free People, Boyfriend Jeans – H&M
Sheer is such a versatile trend- this look can be easily dressed up or down. Add a sweater for class, or throw on heels instead of the flats for a cute night out look.
To create this look, start with a sheer blouse and your favorite eye-catching bralette underneath – we love this red-hot one from Free People! Add matching flats for another pop of color. Your boyfriend jeans will keep the look from becoming too dressy.
Depending on how much jewelry you normally wear, a choker AND earrings might seem like overkill, but would be perfect for date night. Similarly, gold eyeshadow (part of a cute everyday palette) and black liner can be too much for class, but make for a standout party look.
Last, check out this cute clear mini bag that checks off two 2018 runway trends – sheer and plastic!
Trend #3: Lavender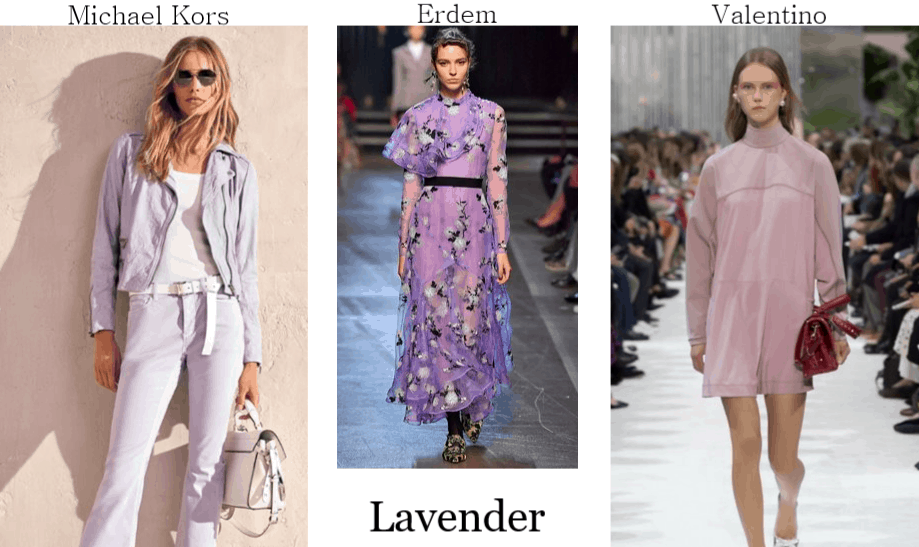 Even though violet is the Pantone Color of the Year, this season designers went crazy for lavender. And who can blame them? It's an under-appreciated pastel that's feminine without being saccharine.
Wear It with Your: Black Leggings and Sneakers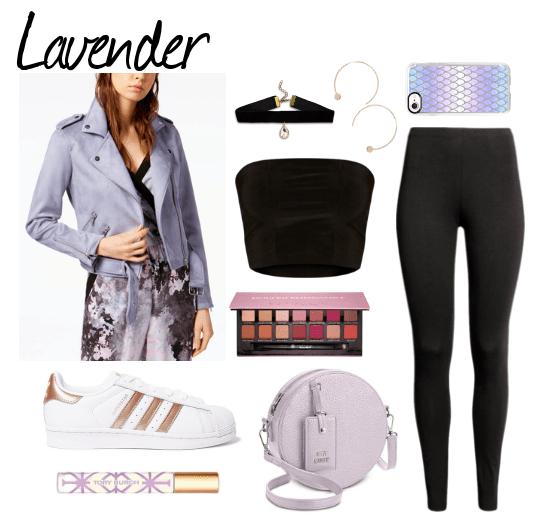 Products: Moto Jacket – Macy's, Sneakers – Adidas, Fragrance – Tory Burch, Choker – Amazon, Hoop Earrings – Humble Chic, Bandeau – Pretty Little Thing, Palette – Sephora, Mini Bag – Steve Madden, Phone Case – Casetify, Leggings – H&M
Just because it's a pastel doesn't mean lavender has to be sweet and flirty. Because lavender is so versatile, we can incorporate it into this sporty-glam look in the form of a moto jacket!
Pair it with your favorite black leggings and some white sneakers. A bandeau top makes this look ready for a night out – just add a choker, hoop earrings, and a smoky eye!
If you can't get enough lavender, grab this cute leather cross-body bag, add an ombré phone case, and swipe on some lavender fragrance.
What Do You Think?
Are you a fan of this season's spring fashion trends? Do you have a favorite? Would you wear any of these outfits?Let us know in the comments!