This post may contain affiliate links, which means we may receive a commission if you purchase through our links. Please
read our full disclosure here
.
Fashion inspiration can come from just about anywhere. Our last fashion quiz was inspired by nature's wonders. This time, we were inspired by history — specifically different decades of the twentieth century.
As you may have already seen, our Style Challenge columnist, Ashley, found inspiration in the fashions of the past to complete her decade-inspired challenge a few weeks ago. This got me thinking, which decade best represents my style? For those of you asking yourself the same question, we've designed a quiz to help you find out.
Just take this fun quiz below to find out which 20th century decade you are. Once you get your answer, find your letter and corresponding result below for a sample outfit based on your personality type.
Quiz: Which Decade Best Represents Your Style?
Quiz Results – No peeking!
Below are the results of the quiz. Don't look if you haven't taken it yet! I've created one outfit for each result to help give you some ideas for what to wear. Enjoy!
Mostly A's: 1920s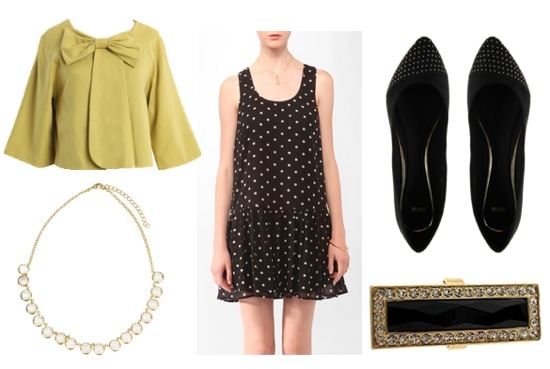 Product Information: Jacket, Dress, Shoes, Ring, Necklace
The fashions of the 1920s were all about breaking traditional style rules — hemlines got shorter, and hair was chopped off, but the women of the '20s still captured grace and femininity with their clothes. For an outfit inspired by the 1920s, I chose this polka-dot, drop-waist dress. To jazz it up, add on a pretty necklace and a funky, geometric ring. Finish the look with a cropped swing jacket and some studded ballet flats.
Mostly B's: 1950s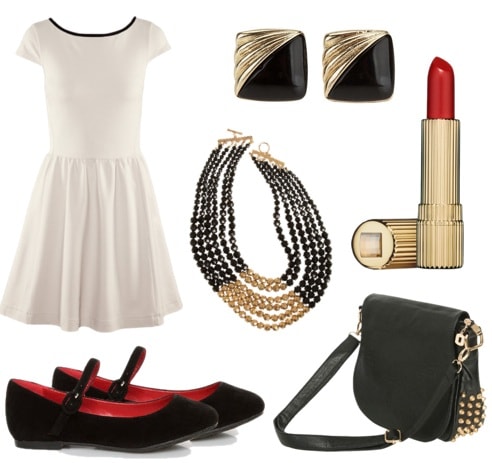 Product Information: Dress, Earrings, Necklace, Lipstick, Bag, Shoes
Many of the fashions from the 1950s revolved around clean lines and simplicity. For a modern day outfit inspired by this decade, I chose this A-line dress, and paired it with some simple black flats. Next, I added some vintage-inspired touches like these post earrings and bright red lipstick. Lastly, bring the look to the 21st century with a statement necklace and a studded cross-body bag.
Mostly C's: 1970s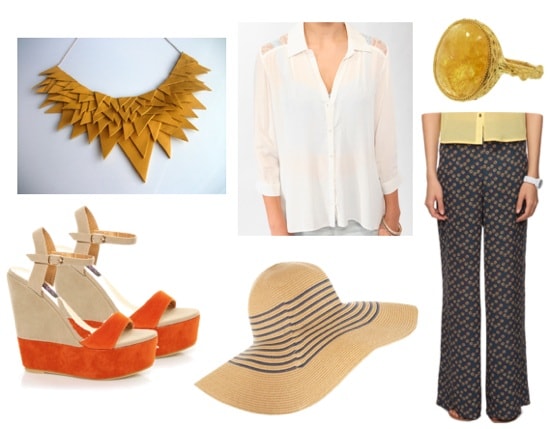 Product Information: Necklace, Top, Ring, Pants, Hat, Shoes
As we all know, the 1970s were the age of boho chic, disco queens, and glam rock — but that doesn't mean everyone walked around in psychedelic prints every day. (Okay, some people probably did.)
For a modern look inspired by this decade, tuck a white button-up shirt into a pair of subtly printed palazzo pants. Next, add on some accessories that pick up the colors of the pants, like this mustard statement necklace and ring, and a blue striped straw hat. Lastly, what 1970s look would be complete without a pair of platform sandals? I especially love these ones in a two-toned beige and burnt orange palette.
Mostly D's: 1980s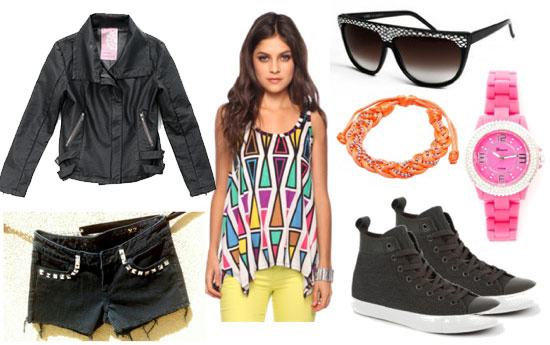 Product Information: Jacket, Top, Sunnies, Bracelet, Watch, Shoes, Shorts
When we think of the 1980s today, we often picture the image of Jane Fonda in her brightly colored workout gear. However, the '80s also represent a time of fashion experimentation, from the popularity of the punk look to the bold neon colors that were worn by pop stars like Madonna and Debbie Gibson.
For this look, I started things off with this geometric print top. To pick up on the '80s rock look, I added a black leather jacket and studded shorts. I finished the look with some quintessential '80s accessories like black high-top Converse sneakers, rhinestone sunglasses, and, of course, a pop of neon with an orange bracelet and pink watch.
What do you think?
What was your result? Do you think it matches your personal style? Which outfit is your favorite? Do you ever take fashion inspiration from the past? What other things inspire your style? Please let us know what you think by leaving a comment below!