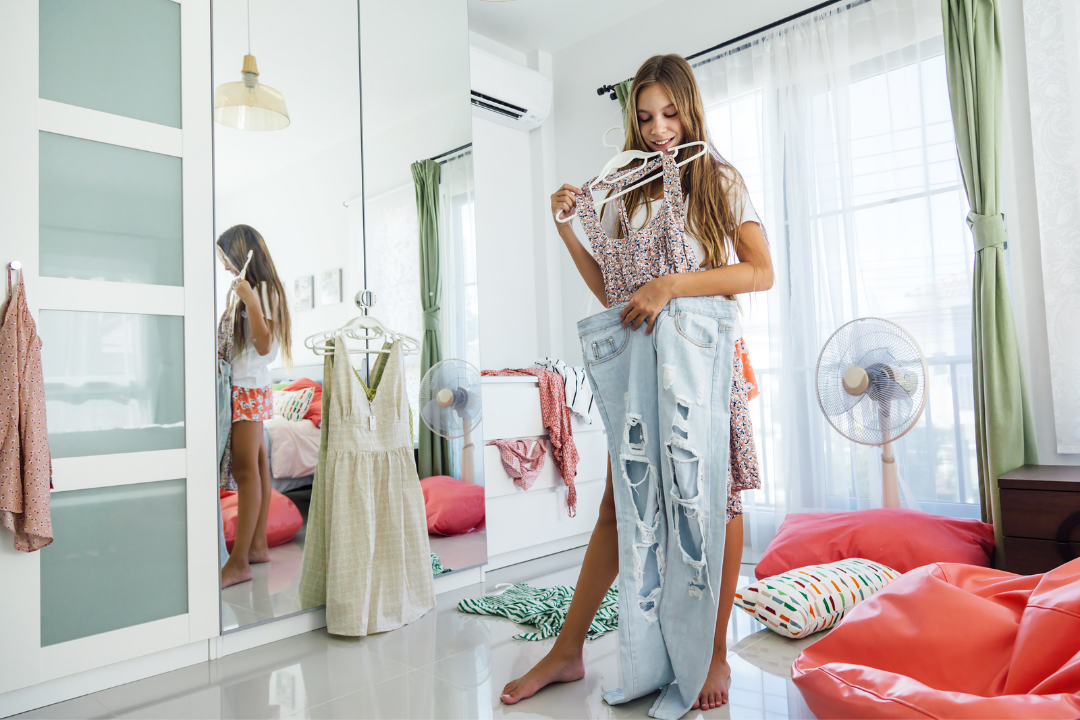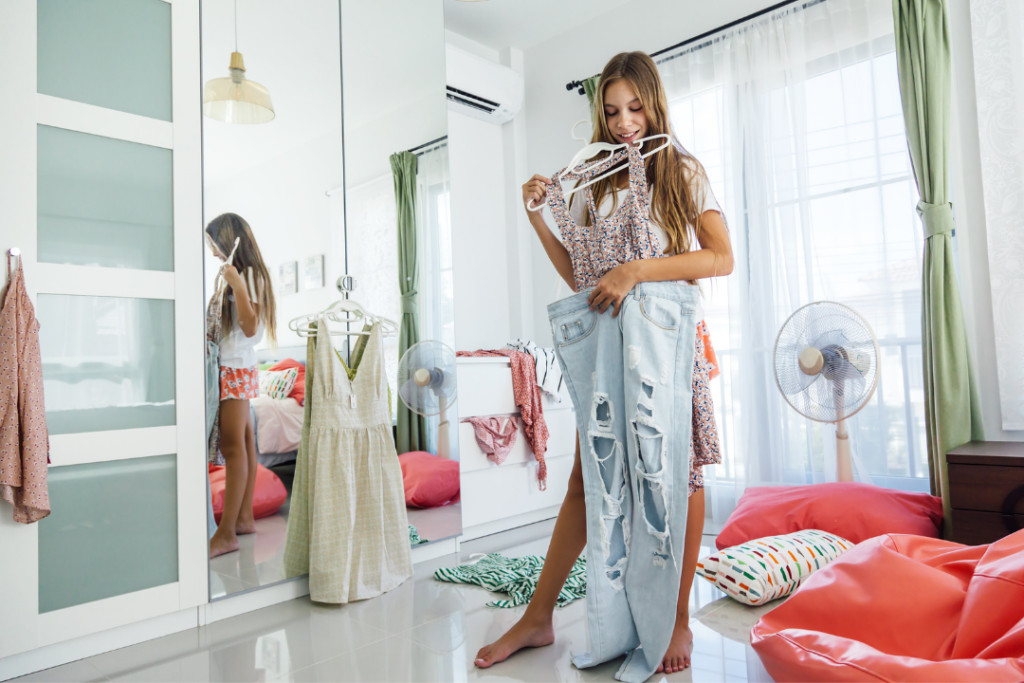 We all have those days when we wake up in the morning and stare blankly into our closets and think, "What should I wear today?"
Well guys, have no fear because CF is here to help!
We often get fashion inspiration from popular culture icons such as Gossip Girl characters, Disney princesses, and most recently from the Harry Potter Hogwarts Houses and Nintendo characters. But now it's time to find outfit inspiration in your current mood for the day.
Just take this quiz below to find out what color matches your mood.
Once you get your answer, find your letter and corresponding result below for a sample outfit based on your mood.
The best part: You can take this quiz every day if you want! Voila! Your morning dilemma of what to wear is solved.
Quiz: What Color Should You Wear Today?
1. Do you feel tired?
A. A little – a quick nap would be nice.
B. I'm a bit tired but I can't let it stop me.
C. Totally exhausted! Can I go back to bed?
D. Not at all.
E. Tired? I always wake up ready for the day!
2. What's first on your agenda today?
A. Um, there's a Keeping Up With The Kardashians marathon on…
B. A million things – my day is booked, but I know it'll be worth it in the end.
C. 3 classes, work, starting on the 5-page paper that's due tomorrow.
D. Choosing the perfect outfit and getting my hair just right! It takes effort to look this good.
E. Getting outside to enjoy the sunshine before my first class.
3. What's the weather like outside?
A. It's raining/snowing! I LOVE IT!
B. It's a little chilly but I'll just bundle up. I've got places to go!
C. It's so gloomy out – I wish I could just stay inside.
D. It's sunny – perfect weather to go out and do something fun!
E. Warm and sunny – PERFECT!
4. How do you plan to wear your makeup today?
A. Au Naturale.
B. Pressed powder, liquid liner, mascara, and lip balm. Pretty and polished!
C. Simple: Mascara, lip balm, maybe some eyeliner if I have time.
D. I'm in the mood to try something new – maybe some bright liner or a bold lip!
E. Foundation, powder, lip gloss, mascara, eyeshadow, liner, blush – the usual routine.
5. What do you feel like wearing today?
A. Something comfy and relaxed.
B. Something professional and sophisticated.
C. Something simple, unfussy, and classic.
D. Something unique that will command attention.
E. Something trendy and fun.
6. Which of these activities do you most feel like doing today?
A. Curling up on the couch with a book and a coffee.
B. Working – even though it isn't fun now, it'll pay off for me later.
C. Hanging out at my place with some friends or family. Keeping it low-key.
D. Doing something active by myself – maybe exploring the city or hitting the gym!
E. Going out with friends – maybe going shopping or dancing!
7. What kind of music do you feel like listening to right now?
A. Something relaxing and mellow.
B. Classical – it helps me focus.
C. Old-school music that brings me back to a different era.
D. Any and everything – I'm putting my iPod on shuffle.
E. Anything I can dance to!
Now total up your results to see which one you got and find out
Quiz Results – No peeking!
Below are the results of the quiz. Don't look if you haven't taken it yet! I've created one outfit for each result to help give you some ideas to answer the question, "what should I wear today?" Enjoy!
Mostly A's: Cool Tones – Soft Blues and Greens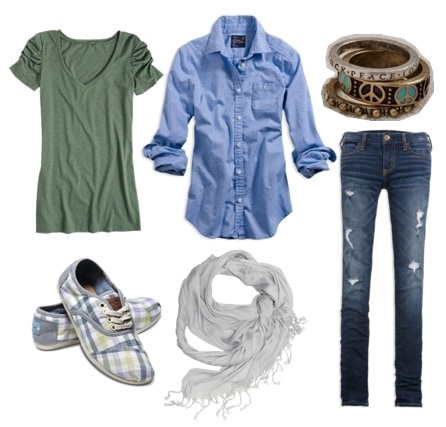 Product Information: Top – Delias, Shirt, Rings, and Jeggings – American Eagle, Scarf – Modcloth, Shoes – TOMS
This outfit would be perfect for a comfy day spent lounging around the house or relaxing with friends. The simple tee, unbuttoned shirt, and jeggings are comfortable, and the soft greens, blues, and grays give off a tranquil vibe. Add on a scarf, a simple ring set, and comfy sneakers and you're ready for the day.
Mostly B's: Jewel Tones – Emerald, Ruby, Amethyst, Sapphire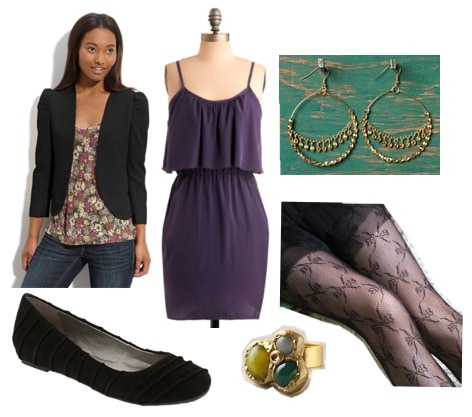 Product Information: Blazer & Shoes – Nordstrom, Dress – ModCloth, Earrings – Free People, Tights – Yes Style, Ring – Anthropologie
Today you feel ambitious and inspired to reach your goals. You know the day will involve a lot of hard work so dressing the part of your future accomplished self will help motivate you through it all. This purple dress and black blazer will start you off on the right foot. Patterned tights, simple gold earrings, and this beautiful ring add the finishing touches to your ensemble. Now, go get 'em, girl!
Mostly C's: Neutral Tones – Black, Brown, Gray, Navy, White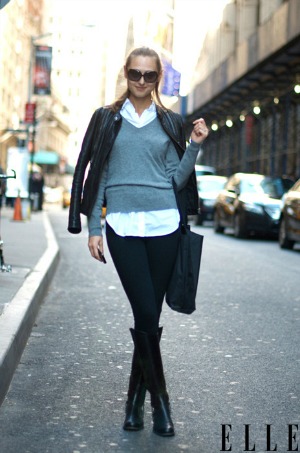 Product Information: Blazer – Nordstrom, Top – Fossil, Jeggings – American Eagle, Watch – Fossil, Shoes – Forever 21
Neutrals evoke simple elegance and this is exactly what this outfit provides. This outfit is classic, yet it also brings in elements relevant to today's fashionista – it's totally perfect for days when you want to look polished but don't have lots of time to spend getting ready. The lace tee and black jeggings provide an effortless and timeless base to the outfit, while the shrunken blazer, boyfriend watch, and oxfords add a menswear-inspired touch. Combined, each element of the outfit reflects the simplicity and sophistication of timeless style.
Mostly D's: Bold Colors – Red, Orange, Lime Green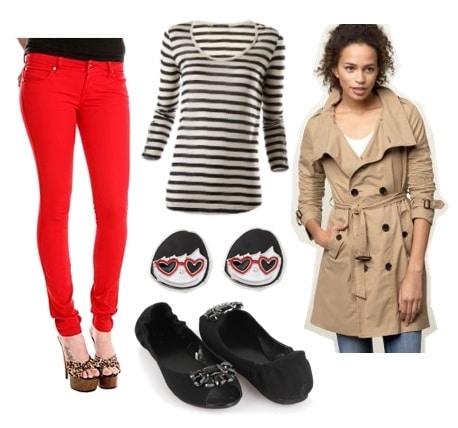 Product Information: Pants – Hot Topic, Tee – Amazon, Coat – GAP, Shoes – Forever 21, Earrings – Nordstrom
Today you're feeling bold, so what better way to embrace that mood than by wearing these bright red pants? Since the pants are a standout piece, it's best to keep the rest of your outfit neutral with a classic striped tee and an essential trench coat. Slip into some black flats for comfort, and add a bit of fun with these adorable MARC by Marc Jacobs earrings.
Mostly E's: Bright Colors – Hot Pink, Bright Blue, Yellow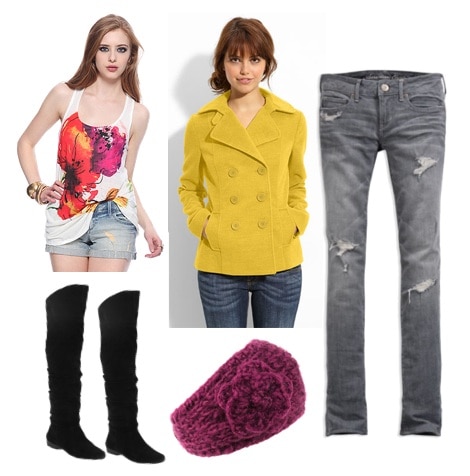 Product Information: Top – Forever 21, Coat – Nordstrom, Jeans – American Eagle, Head warmer – Amazon, Shoes – Zappos
Who says winter clothes have to be dark and dreary? Today your upbeat spirit will brighten the days of everyone around you, so make sure to wear an outfit to match your joyous vibe. This bright yellow peacoat will stand out amongst the sea of black and gray coats on campus, while the gray jeans provide a blank canvas for this colorful top. Add these black knee-high boots and pink head warmer to help keep out the cold. With this outfit, you'll brighten even the most dreary day.
What do you think?
Which result did you get? Which outfit is your favorite? Did you like the quiz? Do you think this post will help you to get ready in the morning? Be sure to leave a comment and let us know what you think!