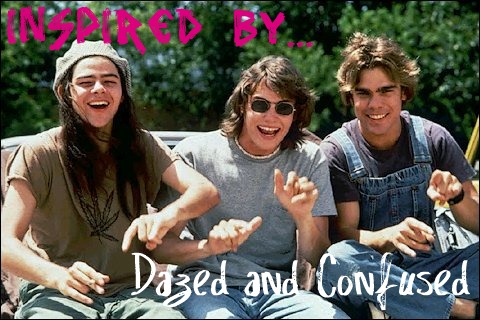 One of the best films to watch on a summer night with your girlfriends is Dazed and Confused. The movie follows an ensemble of high schoolers on their first night of summer break. The teens embark on a crazy adventure full of pranks, love interests, new beginnings, and, well… let's just say "herbal remedies". It's got memorable one liners, an amazing cast, a nostalgic feel — what more could you want in a film? Oh wait, that's right — GREAT FASHION!
Luckily for us, Dazed and Confused is brimming with style inspiration that can work today, despite the fact that the film is set in the seventies. In fact, with this season's seventies comeback, many of outfits featured in the film are positively on-trend. Want to steal some of the movie's best style? Read on!
Look 1: Senior Girls Rule the School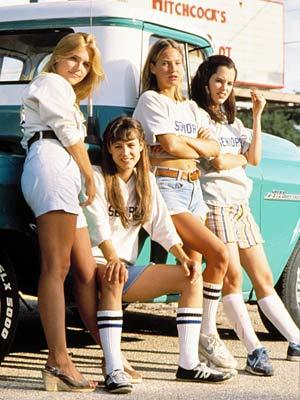 On the last day of school, the new senior class welcomes the incoming freshman by — what else? — HAZING them! While we certainly don't condone rituals like this, it sure is fun to watch in a film! What impressed me most about this scene was not the ruthlessness of the girls or Joey Lauren Adams' extremely high-pitched voice, but the way they all styled their basic sweatshirts.
The girls took their uniform sweatshirts and rolled the sleeves, cut them into cropped tops, and paired them with cute shorts and skirts. You can do this yourself: on your next day off, dig out the old sweatshirt in the back of your closet and indulge in a little DIY project. Experiment until you find something you like!
Outfit Inspiration: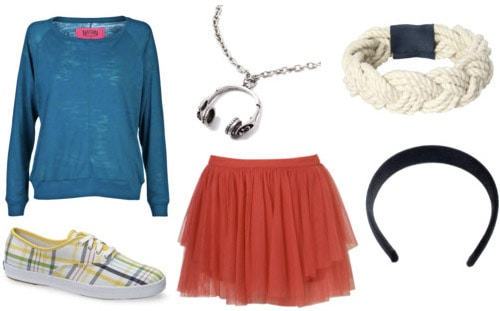 Sweatshirt, Skirt, Shoes, Headband, Necklace, Bracelet
Find a worn-in sweater and roll up the sleeves. Add an unexpected skirt, like this tulle one for a fun vibe. Give it a preppy edge with a pair of Keds, a rope bracelet, and a headband. Finish with a charm necklace. Now fry like bacon, you little freshman piggies — FRY!!
Look 2: Hippie Chic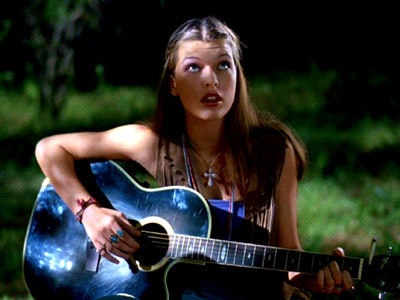 Milla Jovovich has always had great style, and her look in Dazed and Confused did not disappoint! Milla played the flower child of the group — throughout the movie, she is seen playing guitar, singing, working on strange art projects, and lounging around on the grass. You know, typical hippie activities. I love the way she pulls off a middle part — it makes a statement in an effortless way. If you ever want to spruce up your look, consider giving it a shot!
Outfit Inspiration: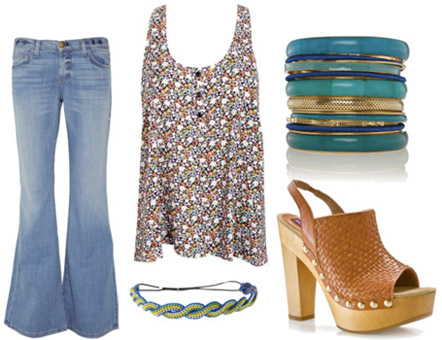 Jeans, Tank, Hippie Headband, Clogs, Bangles
Flared jeans are making a comeback in a big way this season. Add a floral tank top and a pair of platform clogs to enhance the seventies-esque look. Finish with a hippie headband and a stack of bangles.
Look 3: Blue Jean Baby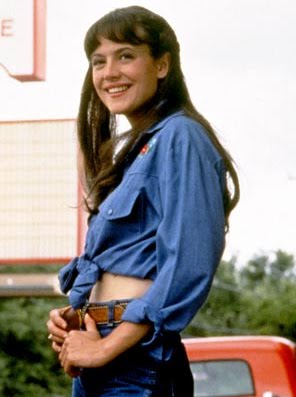 Jody's signature look in Dazed and Confused was definitely denim. At school, she rocked this chambray shirt and denim shorts combo, and at night she wore a denim jumpsuit (which actually looked really cute – unfortunately, I couldn't find a photo of it online!). If you want to pull off double denim, take a tip from Jody and wear two different shades of blue for the best look.
Outfit Inspiration: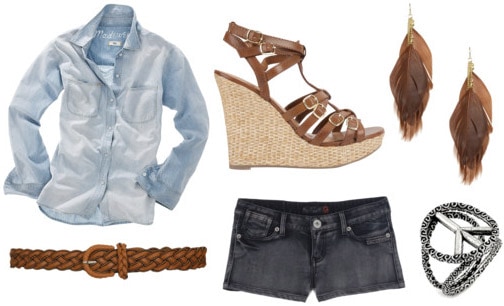 Shirt, Shorts, Belt, Sandals, Ring, Earrings
Start with a light chambray button-down, and add a pair of dark denim shorts. Throw on a brown belt to help break up the denim and some girly sandals to step up the style. Finish with a peace sign ring and a pair of feather earrings. This is the perfect outfit to just live in, L-I-V-I-N!
What Do You Think?
Have you seen Dazed and Confused? What are you favorite quotes from the film? What other movies do you look to for fashion inspiration? How do you feel about this season's seventies comeback? Leave a comment and let us know your thoughts!