Welcome to the latest edition of Looks from Books, which aims to prove that you can look smart, while still being book-smart, too. Fashion inspiration can be found between the pages of your favorite stories, on well-designed book covers, and in your favorite characters… if you read closely enough.
Well, it's my last-ever "Looks from Books" column, and this post serves as the culmination of two full years of hard work. So, it's only fitting that the last book I cover is one of the first ones I was ever read as a child. Here's Norton Juster's The Phantom Tollbooth!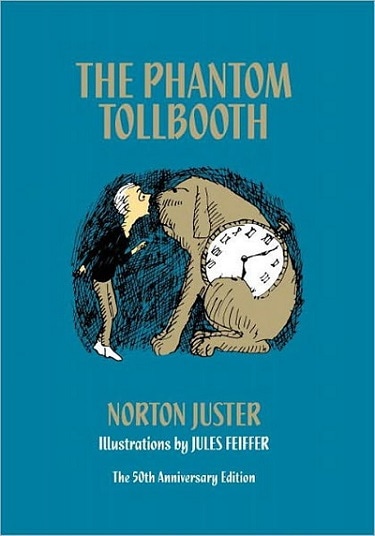 The 50th Anniversary book cover, courtesy of Amazon
Inside Cover
Published in 1961, The Phantom Tollbooth is a work of children's fiction written by Norton Juster and illustrated by Jules Feiffer.
The story follows a young boy named Milo who finds a mysterious tollbooth set up in his room one boring afternoon. With nothing better to do, he sets out in his electric toy car, and journeys through a land of wonders and whimsy in the Kingdom of Wisdom, including excursions to such places as Dictionopolis and Digitopolis, jumping to Conclusions, and navigating the treacherous Mountains of Ignorance. He also meets many peculiar people, like the Whether Man and the Spelling Bee. Soon enough, he finds himself on a quest to rescue the beautiful princesses, Rhyme and Reason, from the Castle in the Air, and learns a lot about how amazing the world really is along the way.
Full of puns and plays on both the English language and numbers, the novel recently celebrated its 50th Anniversary in print in 2011, and has earned many comparisons to Lewis Carroll's Alice in Wonderland books.
A Fashionable Literacy
The novel has been notably adapted into a 1970 film, which incorporated both live action and animation; however, plans for an adaptation by director Gary Ross have been in the works since 2010 without any large-scale payoff. Stage productions of the novel have been more widespread, with several versions – both in play and musical versions – circulated around the world.
Recently, a Kickstarter was launched – and completed! – to commemorate the 50th Anniversary of The Phantom Tollbooth by making a documentary recounting the lives of Norton Juster and Jules Feiffer, and how they came together to write the novel. Called The Phantom Tollbooth: Beyond Expectations, the documentary features actor David Hyde Pierce, who also provides the vocals for the audiobook, as well as children's book author Eric Carle and New Yorker staff writer Adam Gopnik.
How to Add the Lands Beyond the Tollbooth to Your Wardrobe
By integrating key elements of the novel into your own wardrobe, you, too, can sport the perfect look for traveling beyond Expectations.
Breaking Out of the Doldrums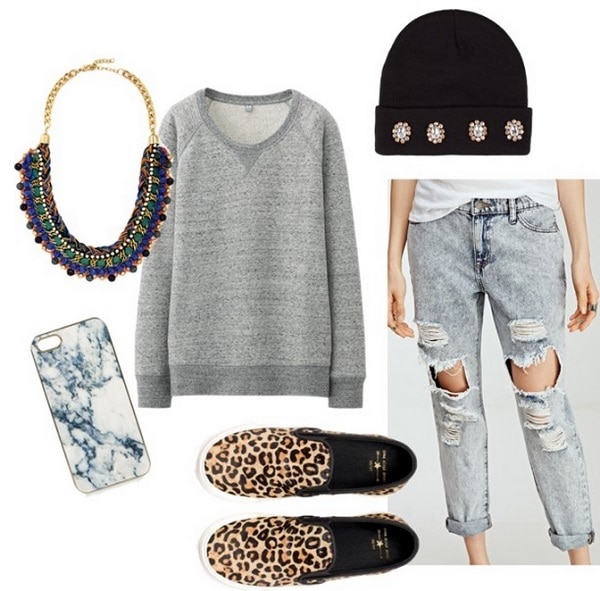 Product Information: Necklace – Modcloth, Sweatshirt – Uniqlo, Beanie – Nelly, Jeans – Forever 21, Sneakers – Zara, Phone Case – Nelly.
One of the very first experiences Milo encounters after passing through the Tollbooth is getting lost in the drab, droll, and dreary land of The Doldrums. Populated by the Lethargarians, whose primary objective in life is to successfully accomplish absolutely nothing, Milo finds himself sinking quickly into complacency without even making it to his intended destination. However, with the arrival of Tock, the (literal) Watchdog, Milo is shaken from his stupor and finds that the easiest way out of The Doldrums is to think his way out.
Make your break from the doldrums by waking up lazy gray sweats and denim with exciting statement pieces for a look that's perfect for shaking up your regular outfit routine. A gray sweatshirt top and destroyed boyfriend jeans get amped up with an embellished beanie, a statement necklace, a marbled iPhone case, and leopard print sneakers.
Meeting of the Minds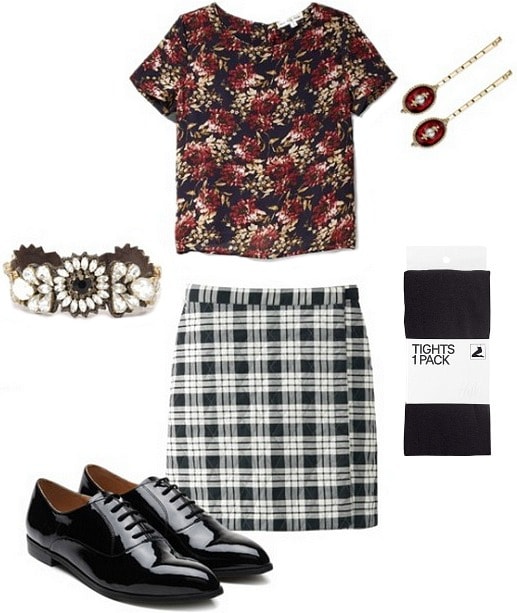 Product Information: Bracelet – LOFT, Shirt – Piperlime, Hair Pins – Macy's, Skirt – Uniqlo, Tights – H&M, Shoes – Forever 21.
The reason for the topsy-turvy chaos reigning through the lands Milo visits is because of the two factions constantly at war: King Azaz of Dictionopolis – the city that lauds words above all else – and his brother, the Mathemagician of Digitopolis – the city that builds its foundation on numbers. Because of the two brothers' inability to agree on anything, their sisters – the Princesses of Sweet Rhyme and Pure Reason – were banished to the far away Castle in the Air, and Milo must go on a perilous quest to bring them back if the land is to ever lie in harmony again.
Bring together the warring lands of Dictionopolis and Digitopolis with a mix of the free-formed and flowy versus the rigid and regulated with contrasting prints and textures. A floral top, antique-looking hair pins, and an ornate cuff juxtapose a quilted check skirt, opaque black tights, and patent black oxfords.
Rhyme and Reason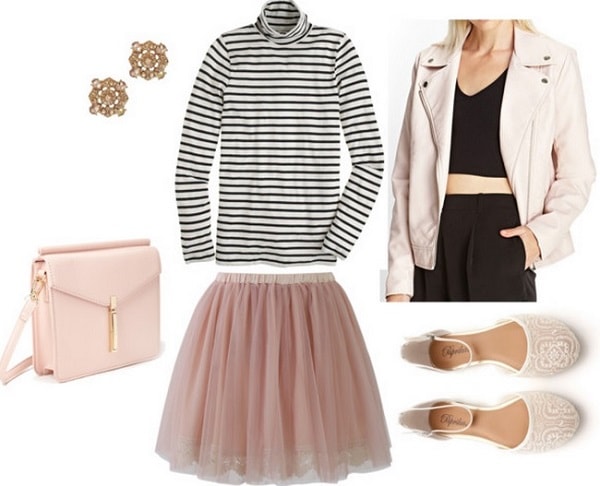 Product Information: Earrings – Charlotte Russe, Shirt – J. Crew, Jacket – Forever 21, Flats – PinkIce, Skirt – Chicwish, Bag – Forever 21.
To return order to the kingdom, free the Which from her Dictionopolis dungeon, restore the even distribution of lost sounds to a silent valley, and, of course, mend the ties between their two brothers, Milo must bring back the two princesses. After all, without Rhyme or Reason, how will anything ever make sense (or cents) in the Kingdom of Wisdom?
Bring the balance of Rhyme and Reason into your own life with a blissful mix of structured silhouettes and romantic embellishments, inspired by the princesses themselves. A lace-trimmed tulle skirt, embroidered silk flats, and cluster earrings bring out only the most ornate and beautiful in Rhyme, while the structure of a prim crossbody bag, a striped turtleneck, and a sturdy biker jacket rely on Reason.
What Do You Think?
Have you ever read The Phantom Tollbooth? Have you ever seen any of its movie adaptations or stage productions? What do you think of the outfits and styling tips? Let me know in the comments below!
(The Last Word)
It has been an absolute honor serving as the contributing writer for the "Looks from Books" column for College Fashion for the past two (!!!) years, but yes, this is my very last post.
By the way, that makes for FIFTY-THREE articles! From steadfast classics, like Tolstoy's Anna Karenina – my very first piece! – to childhood favorites, like Diana Wynne Jones' Howl's Moving Castle, to science fiction, like Frank Herbert's Dune, and even contemporary young adult novels, like Rainbow Rowell's Fangirl (plus many more odds and ends in-between), the process of writing for this website has been something I've held in great esteem.
Over the years, it has inspired me to try new things, whether it was reading a new book I thought you all would like to see, or trying on a new statement piece I'd always wanted. It has allowed me to marry two of my very favorite hobbies – my voracious appetite for the written word and a deep and abiding passion for fashion – and through it, I have learned a lot about the writing process, communications, and, yes, even myself.
Thank you for being so kind to me for such a long time. To my many dedicated readers, I wish you a very fond farewell and happy reading!