Welcome to the latest edition of Looks from Books, which aims to prove that you can look smart, while still being book-smart, too. Fashion inspiration can be found between the pages of your favorite stories, on well-designed book covers, and in your favorite characters… if you read closely enough.
This week, we picked something a little light and fun to brighten up the frosty gloom of the current weather systems hitting the US. We're searching through the pages of a classic young adult high fantasy novel – Diana Wynne Jones' Howl's Moving Castle: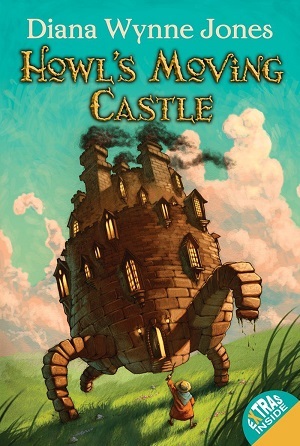 Howl's Moving Castle cover via Amazon
Inside Cover
Howl's Moving Castle is a well-known high fantasy novel written by British author Diana Wynne Jones, and was first published in 1986.
The novel follows the story of Sophie Hatter, eldest of three siblings, and thus most likely to fail should she and her younger sisters set out to seek their fortunes. After a chance encounter with a witch in her hat shop, Sophie is transformed into an old woman, and in her journey to find a reversal for the curse, she finds a cantankerous fire demon named Calcifer, an eager apprentice named Micheal, an intimidating hopping scarecrow, a dog that's not quite who he seems, and, of course, the titular Wizard Howl.
The novel was not necessarily an immediate success, but grew to earn the Phoenix award twenty years later from the Children's Literature Association for its strong rise from a relative lack of popularity. It has since spawned two accompanying novels, called Castle in the Air and House of Many Ways, and found renewed popularity through its 2004 movie adaptation.
A Fashionable Literacy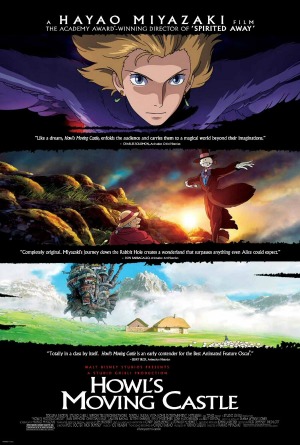 Movie poster via IMDB
Howl's Moving Castle was adapted into a feature film in 2004 by the acclaimed animation studio, Studio Ghibli, helmed by director Hayao Miyazaki. The visually stunning and impressive film actually broke box office records in Japan, and even went on to be nominated for an Academy Award in 2006 (after having been released in the US, Britain, and Canada in 2005).
The film is markedly different from the novel in many ways, including in the motivations and attitudes of some of the main characters, as well as the dramatic ending. However, despite these changes, and the fact that the author had no input in the use of her story, Diana Wynne Jones absolutely loved the studio's take on it, and called the film "fantastic." She was especially fond of the castle, which she never imagined really having feet, and confessed to having several models of it around her home, as well as many of Calcifer the fire demon, one of which sat in her fireplace.
How to Add Sophie to Your Wardrobe
By integrating key elements from the story into your own looks, you, too, can add some of Jones' fantasy and whimsy into your every day life! (Dashing wizard companion not included.) Also, because Sophie's job is to decorate hats, we decided to include one in every look.
Once Upon a Time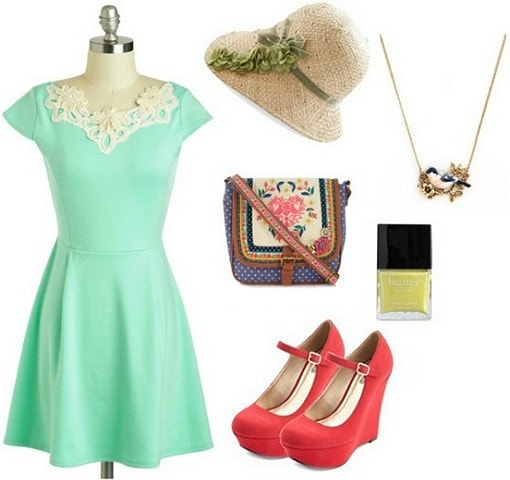 Product Information: Dress – Modcloth, Hat – Modcloth, Bag – Accessorize, Shoes – Charlotte Russe, Nail Polish – Butter London, Necklace – Modcloth.
Howl's Moving Castle is a well-known work of high fantasy that touches on and hints at many tropes and stereotypes from classic fairy tales, like wicked stepmothers and the futility of an eldest of three siblings setting out to seek their fortune. Even the opening sentence admits that, in the land of Ingary, things like "seven-league boots and cloaks of invisibility really exist" and our character's own sister goes to study magic at the home of a practicing witch.
Throughout the novel, Sophie juggles these kinds of fantastic perceptions while battling the truths of her fanciful world, and, as such, nothing is quite like what you've read in fantasy stories before.
Integrate this whimsical realm of Ingary into your own look with bright colors, fanciful detailing, and retro silhouettes. A striking teal dress, bright coral shoes, and sunny yellow nail polish lend the outfit some light, while a faux embroidered bag, a cute bird's nest necklace, and a flower-decorated cloche hat add some old-school sentimentality and sweetness.
Something's Witchy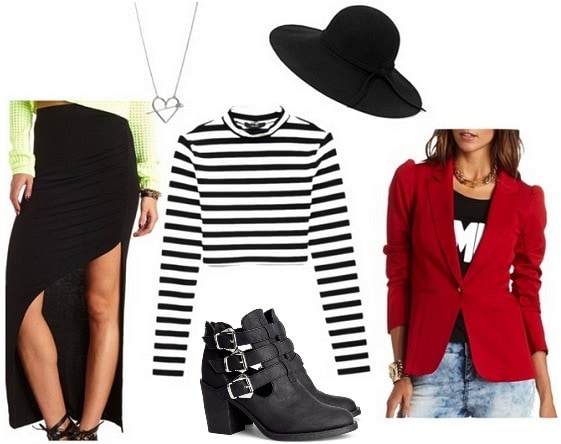 Product Information: Skirt – Charlotte Russe, Necklace – Forever 21, Top – Forever 21, Shoes – H&M, Hat – Nasty Gal, Jacket – Charlotte Russe.
Sophie's fanciful world is rife with both good and evil powers. The king has his own appointed wizard, the mysterious Wizard Howl's behemoth of a castle wanders the countryside, and everyone lives in fear of the ruthless Witch of the Waste. Whether it's good or bad, Sophie knows it's best to look out for magic, but despite her care, our heroine still finds herself on the receiving end of one of the Witch of the Waste's infamous curses.
Integrate a little something wicked into your own ensemble via daring cuts, unexpected details, and dark shades. An asymmetrical cut skirt, cutout booties, and puffed shoulders on a blazer make for bold design choices, while a striped crop top and a wide-brimmed hat bring some edge to classic pieces. A heart necklace brings the look together, just like the powers of both the Witch of the Waste and the Wizard Howl depend largely on their hearts.
Gets Better With Age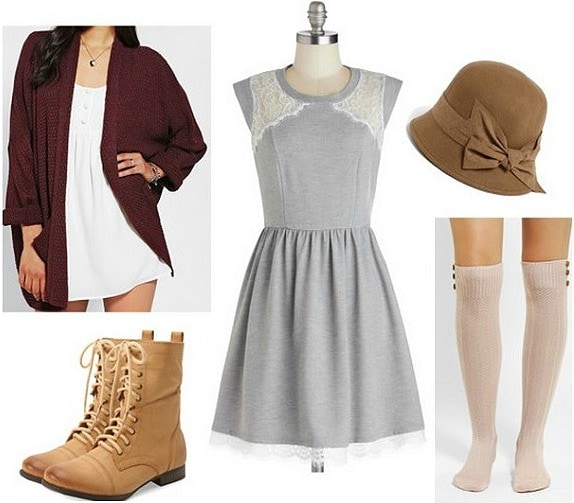 Product Information: Cardigan – Urban Outfitters, Boots – Aeropostale, Dress – Modcloth, Hat – Nordstrom, Socks – Urban Outfitters.
The main catalyst for Sophie's adventures turns out to be – as in many other fairy tales – the curse of a jealous witch. Sophie – ever the level-headed one – simply thinks that being an old woman is probably more suitable for her than being young was, anyway! Even with her new age and difficulties, Sophie sets off immediately to find the witch to turn her back, which is where the real fun begins. Sophie, mostly unencumbered by the aging curse, is a force to be reckoned with, even for an accomplished wizard.
Channel Sophie's aging curse into your own getup by pairing simple, comfortable pieces with throwback flair, inspired by Sophie's own look, as detailed in the book. A gray dress with lace accenting bring to mind Sophie's gray dress and lace shawl, while lace-up brown boots stand in for her own. Knee-high socks and an oversized sweater lend some warmth, while a classy cloche hat tops the outfit off perfectly, just like Sophie's own hats.
What Do You Think?
What do you think of Howl's Moving Castle? Have you ever read any of Diana Wynne Jones' other books, like Castle in the Air, or the House of Many Ways? Have you sees Miyazaki's take on the story? What do you think of the outfits and styling tips? Let me know, in the comments below!