Welcome to the latest edition of Looks from Books, which aims to prove that you can look smart, while still being book-smart, too. Fashion inspiration can be found between the pages of your favorite stories, on well-designed book covers, and in your favorite characters… if you read closely enough.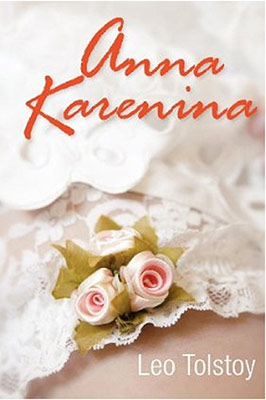 Anna Karenina book cover via Amazon.com
Inside Cover: A Little Bit of Background
Anna Kareninais a popular 19th-century novel by Leo Tolstoy. The story details the tragic and tumultuous love life of society woman and aristocrat Anna Karenina, and her affair with the charming Count Vronsky.
The novel also follows Levin, an idealistic, depressed landowner modeled after Tolstoy himself, whose constant ideas for improving his life are shadowed by thoughts of suicide; Kitty Scherbatsky, the young, pure, and beautiful woman Levin loves; and Karenin, Anna's stoic, loyal, easily-influenced, and indecisive husband.
Well-received since its debut, the novel has earned a permanent place among the literary classics. A favorite of English instructors with hefty appetites (the book is close to 1,000 pages in length), Anna Karenina has also garnered praise from famous Russian authors such as Fyodor Dostoevsky and Vladimir Nabokov.
A Fashionable Literacy
The most recent Anna Karenina film was released in November of last year, starring Keira Knightley as the unhappy socialite, and Jude Law as her imposing husband. The head costume designer for the production was none other than Jacqueline Durran, whose previous work earned Oscar nods for Atonement and Pride and Prejudice, and whose anachronistic and "off-kilter" approach to this classic Russian work is already generating awards season buzz.
Prompted, perhaps, by the film, many designers found inspiration in the 1800s this season, as the luxurious design elements and trends from the time – complete with brocade, fur, and lace motifs – popped up on rivaling Fall 2013 RTW runways, from Dolce & Gabbana to Balmain, Gucci, and Lanvin.
Even commercial retailers got in on the action, as well, as Banana Republic launched an Anna-inspired line this fall coinciding with the film's release, featuring designs inspired by the classic silhouettes seen in the movie.
How to Add Anna to Your Wardrobe
By integrating key thematic elements from the novel into your daily outfits, you can also achieve this luxurious look, without looking like you're wearing a period costume. (However, if you want to wear ball gowns to class, that's your prerogative!)
The Contrast of High Vs. Low Society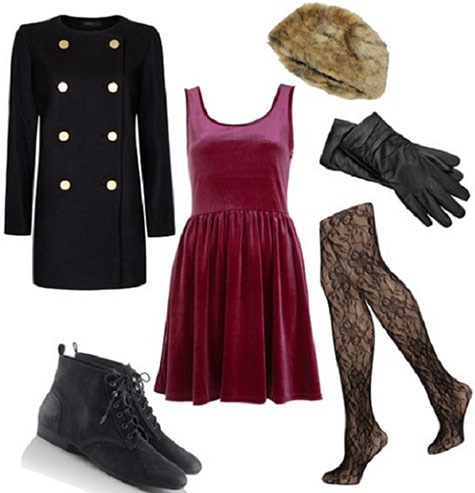 Product Information: Velvet Skater Dress – Miss Selfridge, Wool Coat – House of Fraser, Lace Tights – New Look, Brogue Boots – H&M, Leather Gloves – Target, Fur Hat – The Hut.
One of the novel's recurring themes is the juxtaposition of high (aristocratic) and low (provincial) societies. Of historic importance – as the coming century would bring the dawn of Communism for Russia – the ties between the two classes were never so relevant as in this time period. This ideology is often referenced in Levin's personal musings over his land and his relationships with those who work under him, and is demonstrated in his uneasiness with the glittering galas and operas of the upper class.
This outfit channels this great divide, by contrasting the two classes via "high society" fabrics, like velvet, fur, and lace, against "low society" worked materials, like wool, felt, and leather. The wool, military-style coat mirrors the military presence in Russia at the time, while also alluding to the peasantry. The leather gloves and lace-up brogues are a nod to this as well, as the peasants made and used the material most. The lace tights, velvet skater dress, and fur Cossack-style hat, however, are direct ties to the opulence and magnificence of the 19th-century Russian aristocracy, and their extravagance.
Mortality and Morality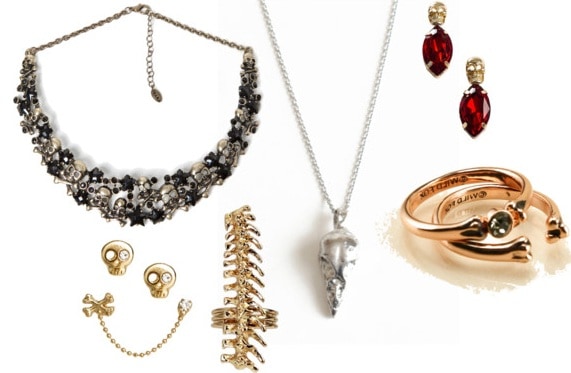 Product Information: Skulls and Stars Necklace – Zara, Bird Skull Necklace – Threadsence, Skull Drop Earrings – Nelly, Bone Rings – Wildfox, Fishbone Ring – Romwe, Skull Earrings – Asos.
Anna Karenina examines the effects of passion, love, hatred, and betrayal, and the heated temperaments at play within the novel contrast sharply against the cold, strict religious and societal norms of the time.
The friction created by the need for love, coupled with the denial of that which the world deems scandalous, often results in dangerous actions. Suicide, violence, broken hearts, illness, and death are heavy topics within the novel, and are vital to the dynamics of Anna and Vronsky's relationship.
You can reference this ideological break in your look with skull and bone motifs. However, to incorporate this thematic element into your wardrobe without looking like the harbinger of death yourself, constrain it to your jewelry. Skull accents in a necklace, or on your earrings, can nonchalantly pay homage, or simple bone rings or animal-based pendants make a bit more of an edgy statement.
Contrast of Movement vs. Restriction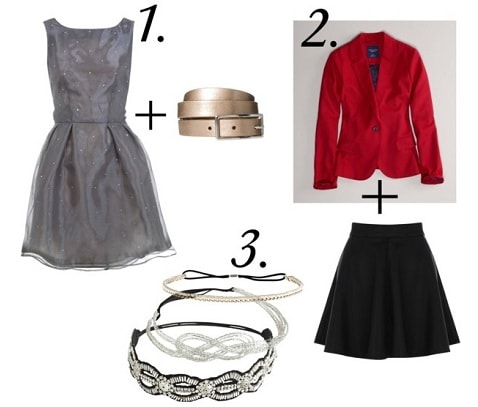 Product Information: Dress – Miss Selfridge, Belt – Asos, Blazer – American Eagle, Skirt – House of Fraser, Headband (top) – Dorothy Perkins, Headband (middle) – Pier 1, Headband (bottom) – Pier 1.
The societal expectations and limited freedoms for women in 19th-century Russia cause most of the tragedy and drama within Anna Karenina, and no one feels the confinement as strongly as Anna herself. Trapped in a loveless marriage, with the threat of losing everything if she chooses to pursue her dreams, Anna's world is severely restricted. Adultery is permissable – even expected – for men, while Anna's love is deemed scandalous and makes her a social outcast.
You can juxtapose the sweeping romance and rigid Russian society within your outfit. For instance, restrain a skater skirt by looping a belt around the waist, creating a contrast between the sleekness of the top and the looseness of the bottom. Or, try layering a fitted blazer over a full skirt, creating the same effect. Finally, pull your locks back with sparkling headbands, and let the rest of your hair flow freely, in reference to the extravagant lifestyle that keeps Anna from freedom.
What do you think?
Have you ever read Anna Karenina, or any similarly-minded Russian novels? Have you had it assigned for an English or Literature class, or a lecture? What did you think of the novel, and the elements at play? Did you see the movie? What did you think of the outfits and styling tips? Let me know, in the comments below!