Welcome to the latest edition of Looks from Books, which aims to prove that you can look smart, while still being book-smart, too. Fashion inspiration can be found between the pages of your favorite stories, on well-designed book covers, and in your favorite characters… if you read closely enough.
Well, CF Readers, you asked, and I'm answering! After the overwhelmingly positive reaction to my last post, detailing fashion inspired by Howl's Moving Castle, I'm bringing back the book for another go-around, with more fashion, more fun, and more of your favorite characters.
Here's part two of my post on fashion inspired by Diana Wynne Jones' Howl's Moving Castle: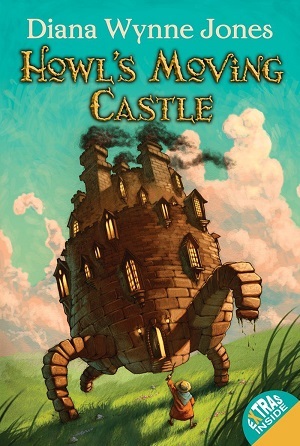 Howl's Moving Castle book cover via Amazon
Where We Left Our Bookmark…
Howl's Moving Castle is a well-known high fantasy novel written by British author Diana Wynne Jones, and follows the story of Sophie Hatter, a young girl transformed into an old woman after an encounter with a wicked witch, and her journey to find a reversal for the curse. In her search, she finds a cantankerous fire demon named Calcifer, an eager apprentice named Micheal, an intimidating hopping scarecrow, a dog that's not quite who he seems, and, of course, the titular Wizard Howl.
Howl's Moving Castle was adapted into a feature film in 2004 by the acclaimed animation studio, Studio Ghibli, which is helmed by director Hayao Miyazaki. The visually stunning and impressive film actually broke box office records in Japan, but is markedly different from the novel in many ways, including the motivations and attitudes of some of the main characters, as well as the dramatic ending. However, despite these changes, and the fact that the author had no input in the use of her novel, Diana Wynne Jones absolutely loved the studio's take on her story.
More Ways to Add Howl's Moving Castle to Your Wardrobe
Last time, the spotlight was on Sophie, our stalwart heroine, but more than one comment clamored for a deeper look at the many other leading characters in her adventures. So now, we're taking inspiration from Calcifer, Howl, the Castle itself, and more of the characters from Ingary and beyond, to find even more looks that channel the magic of this fanciful fantasy!
What a Wonderful Wizard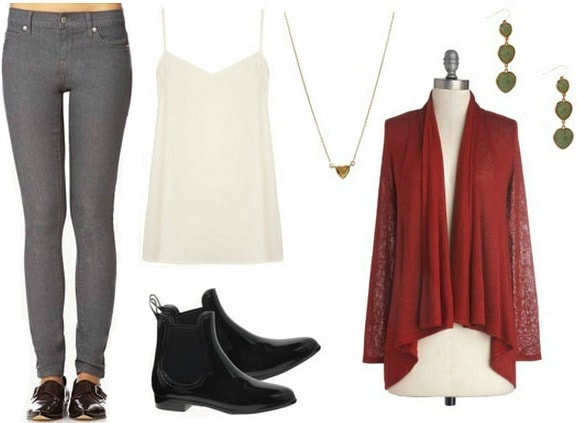 Product Information: Jeans – Forever 21, Cami – Topshop, Boots – Asos, Necklace – Zappos, Cardigan – Modcloth, Earrings – Forever 21.
Howl, the Wizard at the heart of Sophie's fairy tale, is condemned by the countryside to be a powerful, dangerous being who eats the hearts of young girls. But when Sophie encounters him herself, she finds that these terrible and foreboding tales are actually just rumors, circulated by the wizard as a means of escaping responsibility. This is a fair indicator of Howl himself: powerful and intelligent, yet moody, lazy, incredibly vain and egotistic, Howl avoids real commitment in his professional and romantic relationships. However, Sophie finds that there's more to the man than just the story he tells himself.
Channel Howl's personality and preferences into your own look, by wearing variations on his favorite pieces, while also channeling his flightiness and vain nature with chic silhouettes and signature color choices. Black Chelsea boots and a cream-colored cami provide some sleek and chic basics for the vain hero, while a scarlet draped cardigan and gray skinny jeans are a riff on the colors of one of his favorite suits. Green drop earrings call to mind his accessories of choice, while a gold heart necklace hints that maybe this powerful wizard has one of his own, if Sophie just knew where to look for it…
We've Got the Fire
Product Information: Dress – Kohls, Necklace – Humble Chic, Bracelet – Asos, Nail Polish – Butter London, Bag – NastyGal, Shoes – Zappos.
Calcifer, the fire demon who controls Howl's castle, and is inherently tied to the wizard himself, is Sophie's best chance at breaking the curse… if only she could break the curse that binds him to Howl first!
The powerful and humorous, but tricky and deceptive demon quickly becomes one of Sophie's supporters, even though all he wants is to be free of the castle itself. However (spoiler alert!), once Calcifer does attain his freedom, his loyalty gets the better of him, and he chooses to stay with Sophie, Howl, and his friends anyways – just on his own terms this time.
Channel Calcifer's spark into your own wardrobe by integrating his origins and his own flaming coloring into a fun and fanciful look. A star dress hints at Calcifer's celestial beginnings, while flaming red nail polish, bright yellow flats, a lemon statement necklace, and an orange bag call to mind his fiery spirit. A gold heart bracelet finishes the outfit and brings to mind how he and Howl got so close anyways.
Build Me Up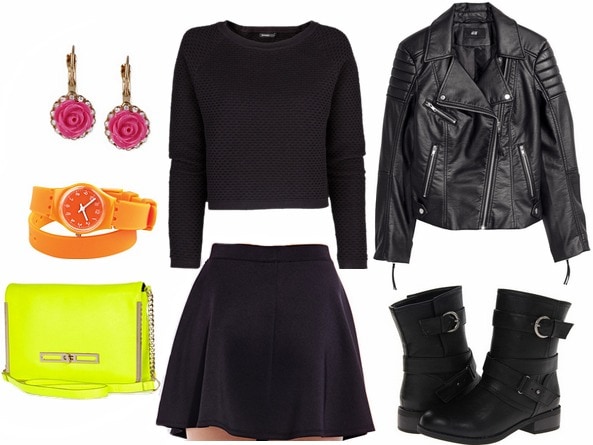 Product Information: Earrings – Macys, Watch – Delias, Bag – River Island, Sweater – Mango, Skirt – Forever 21, Jacket – H&M, Boots – Zappos.
The castle, though not really definable as a figure in the novel's action, definitely has a lot of character. Built up of black brick, the shambling behemoth rambles across the countryside, propelled by Calcifer's fire. Its insides are even more intriguing: the front door of the castle actually has several exits that change by a colored wheel above the door, with dials shaded in many hues – like pink, orange, yellow, and black – all with different home locations, including modern-day Wales!
(Fun Fact: While the castle depicted in the book is much different than that in the movie, Diana Wynne Jones herself loved the look of it, and has several statuettes of Howl's home scattered around her own abode!)
Channel the behemoth of a castle and its many magical secrets, via black basics with structurally interesting silhouettes, and colorful accessories in the hues painted on the wheel above the front door. A quilted jacket, buckled boots, a textured sweater, and a scuba skater skirt, all in the hue of the castle's black brick, ground the look in rough-and-ready basics, while the bright interjections of a yellow bag, rose earrings, and an orange watch call to mind the many places that Howl's castle can go.
Bewitched, Bothered and Bewildered
Product Information: Necklace – Forever 21, Bag – John Lewis, Shirt – Modcloth, Shoes – Keds, Hat – Urban Outfitters, Khakis – Delias.
Prince Justin and Wizard Suliman are notable figures in the novel, despite the fact that the main action involving them both is the fact that they've disappeared!
In actuality, the two characters are on the same side as Sophie, having faced the brunt of more powerful curses from the Witch of the Waste. The evil sorceress is looking for the perfect beau, and seems to be finding them in Justin, Suliman… and Howl! While the latter is looking for the missing noblemen himself, Sophie ends up finding them first, though they're looking a bit worse for wear, since they're trapped in the forms of a dog and scarecrow.
Channel the two magical forms of the missing nobles by integrating elements of each of their curses into your look! The straw bag, straw boater hat, and khaki pants all call to mind the man behind the turnip-headed scarecrow, while a shirt decorated with furry friends, russet red shoes, and a sweet bow necklace are reminiscent of the furry friendship of the shape-shifting dog.
What Do You Think?
Have you read Howl's Moving Castle, or any of Diana Wynne Jones' other books? Have you seen the animated film? Have you read Part One of this "Looks from Books" post? What do you think of the outfits and styling tips? What other books would you like to see? Let me know, in the comments below!