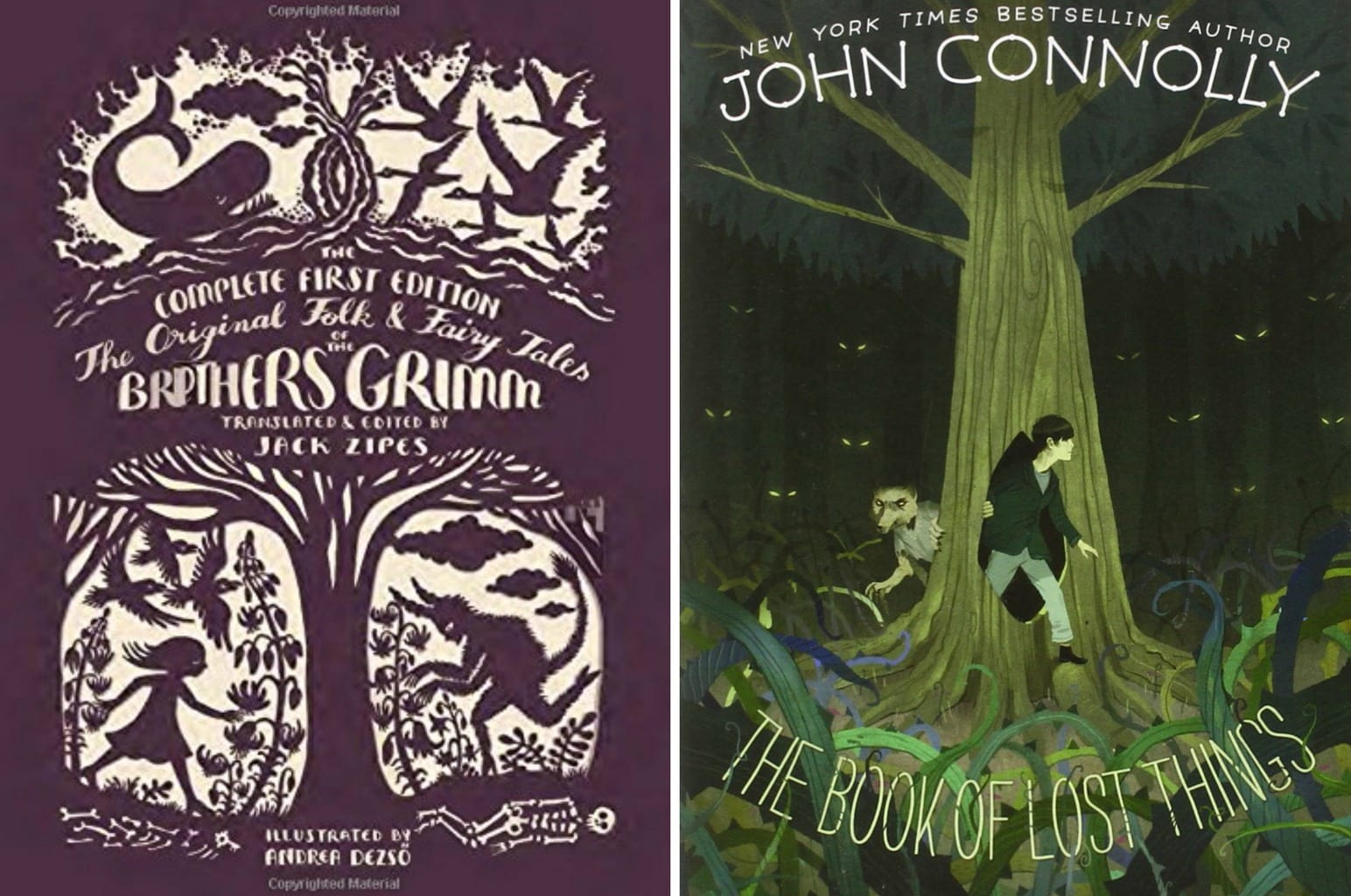 If there's one element of our childhood that we never really grow out of, it's the fairy tales. Whether it's an obsession with all things magical or just addiction to nostalgia, pretty much everyone retains a fascination with these fantastical stories.
I recently read a book called "The Book of Lost Things" that instantly became my favorite version of "twisted fairy tales" since ABC's Once Upon a Time.
In the book, a boy crawls through a hole in a tree to escape the despair of his life (war-torn home in England, his father's remarriage after the death of his mother, jealousy of his new half-brother, etc.) and ends up falling Alice in Wonderland-style into a magical world inhabited by the characters in his books. However, these characters have been transformed to be twisted and frightening to reflect both the boy's fears and the fears of anyone who has entered the world before him, and things are very quickly found to be not as they seem.
I loved this book because I got the same sense of wonder out of it that I used to get reading fairytales as a kid- it was nice to see all the stories I was already familiar with updated and woven together in a dark, creepy, super-compelling way. I would definitely recommend this book to anyone who likes to read, no matter what genre you normally prefer.
Below, I've created three looks inspired by The Book of Lost Things:
Judging by the Cover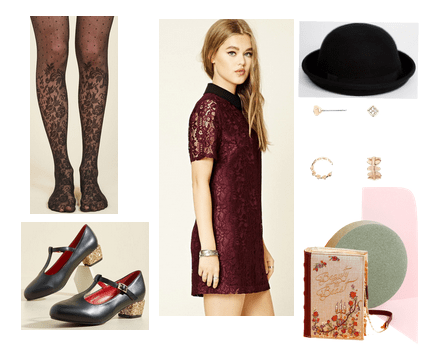 Products: Tights- Modcloth, Shoes- Modcloth, Dress- Forever 21, Hat- ASOS, Earrings- Forever 21, Purse- Danielle Nicole
This first look is based on the cover of The Book of Lost Things. I know that "don't judge a book by the cover" has always been a big lesson, but honestly, what else am I supposed to judge it on if I haven't read it yet? Fortunately, the inside of this book lives up to the gorgeously illustrated cover, which is a lovely shade of red and depicts a boy reading, surrounded by black, ominously twisting vines.
I centered this look around these tights, which resemble the vines, then paired them with a burgundy lace dress and some black Mary Janes with a pop of glitter on the heel for a "magical" touch. To make the outfit a little more edgy, to represent the dark versions of the fairy tales, accessorize with a black bowler hat and some gold ear cuffs. Finally, tote a purse shaped like a book like this gorgeous color-palette-appropriate "Beauty and the Beast" crossbody.
Lost in the Woods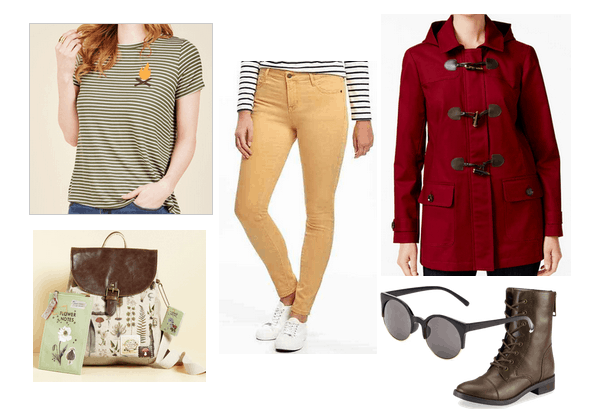 Products: Shirt- Modcloth, Backpack- Modcloth, Jeans- Old Navy, Coat- Macy's, Sunglasses- Forever 21, Boots- Sears
The main protagonist of this book, David, spends most of the story journeying from one twisted adventure to the next in the woods he has inexplicably fallen into.
If you're going to be lost in the woods (aka me when I try to go camping), you may as well look cute doing it, so layer a striped graphic tee and some comfy jeans (bonus points for a fun pop of color, like these mustard yellow ones) under a cozy red toggle coat (inspired by Little Red Riding Hood, of course). Proper footwear and eye protection are a must, so include some chocolate brown combat boots and fierce sunglasses. Finally, keep all of your belongings in a backpack – I love this one for its forest-inspired foliage pattern!
Forest Princess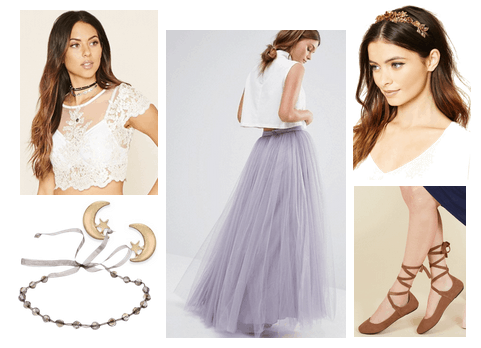 Products: Shirt- Forever 21, Earrings- Macy's, Necklace- Chan Luu, Skirt- ASOS, Headband- Forever 21, Flats- ModCloth
This final look is a modern take on the "princess" look. There are quite a few princesses in this book, but they can be deceptive and treacherous and not at all like the princesses most of us grew up reading about. Because of that, I chose to make this look a little more mysterious than just a stereotypical poufy pink dress.
To get this look, pair a lavender-grey long tulle skirt with a sheer lace crop top and some light brown lace-up ballet flats. For accessories, I love the idea of astral-inspired pieces: look for dark colors, moons-and-stars motifs, and intricate beading, like this necklace or these moon earrings. Instead of a crown, use a gold woodland-flower headband (or a flower crown! Whatever makes you happy!).
What do you think?
Will you be reading this book? What was your favorite fairytale growing up? Which of these looks do you like best? Let me know in the comments!