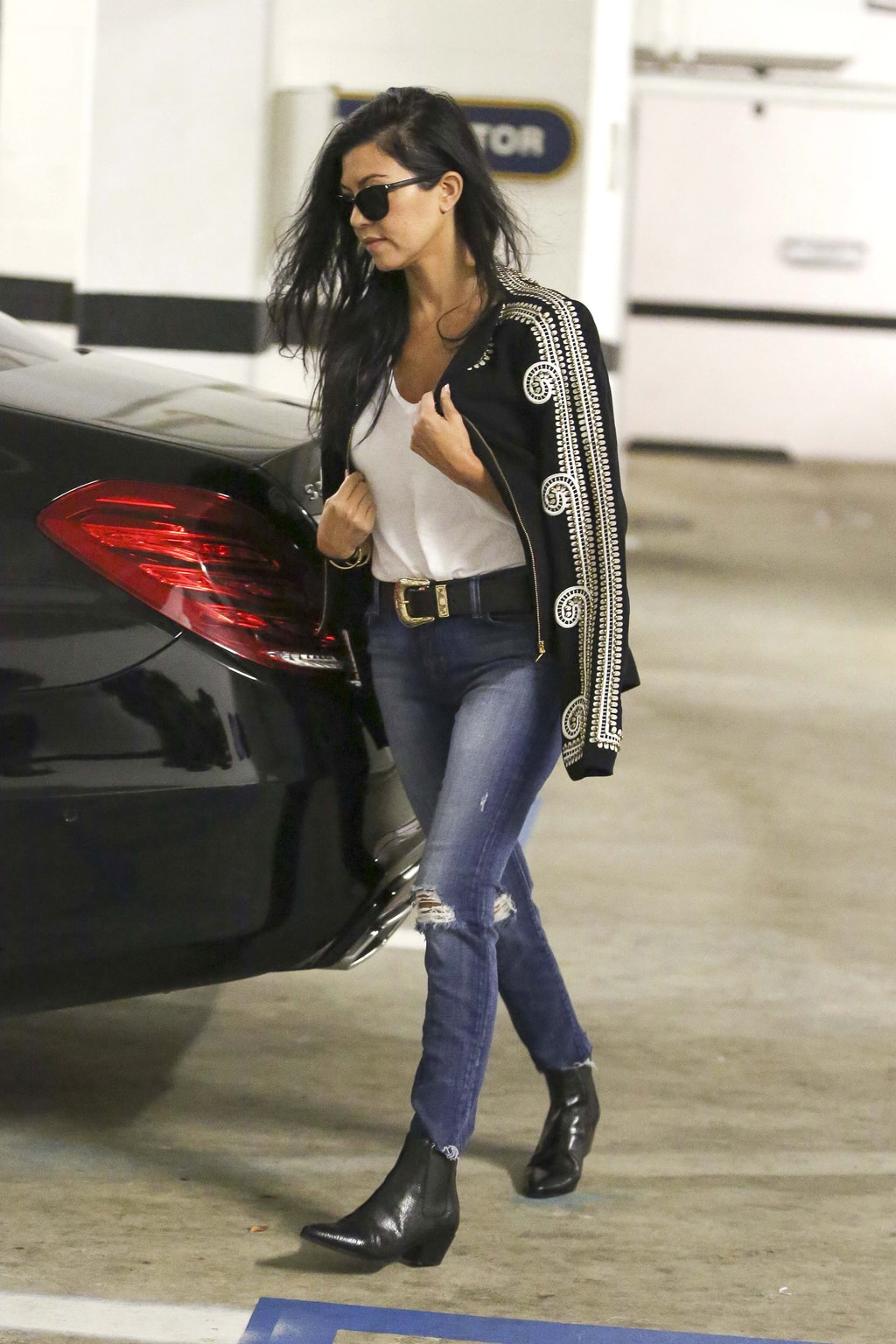 There is no doubt that the Kardashian/Jenner family is one of the most fashionable families in the business. We've covered Kendall and Kylie Jenner's style in this column, and now we're featuring another stylish sister, Kourtney!
We have seen Kourtney Kardashian's style transform over the years on Keeping Up With the Kardashians. She has gone from a preppy New York look, to a boho-chic look, to a more edgy, sophisticated look, all in a few short years.
With every style that she takes on, it is clear that this woman loves fashion and loves mixing it up and trying new trends. And it's no wonder she's so fashion-forward: Kourtney is the head of the family's retail store, DASH, so she is always surrounded by new looks for inspiration.
Below is a week's worth of outfits inspired by Kourtney's street style!
Monday:
The Kardashians are known for taking a super simple piece, like this fitted black top, and transforming it into a trendy outfit. To recreate this look, pair a long-sleeved black top with a pair of distressed jeans.
For an of-the-moment look, go for a top with a higher neckline like Kourtney's. Keep the outfit simple and finish it off with a pair of peep-toe booties.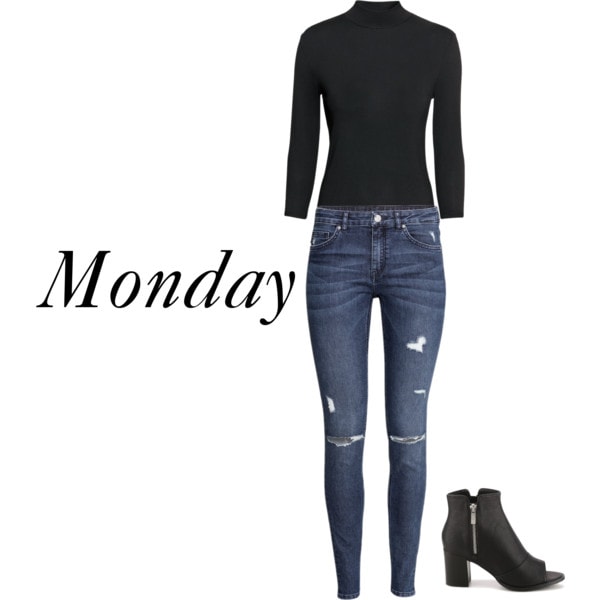 Tuesday: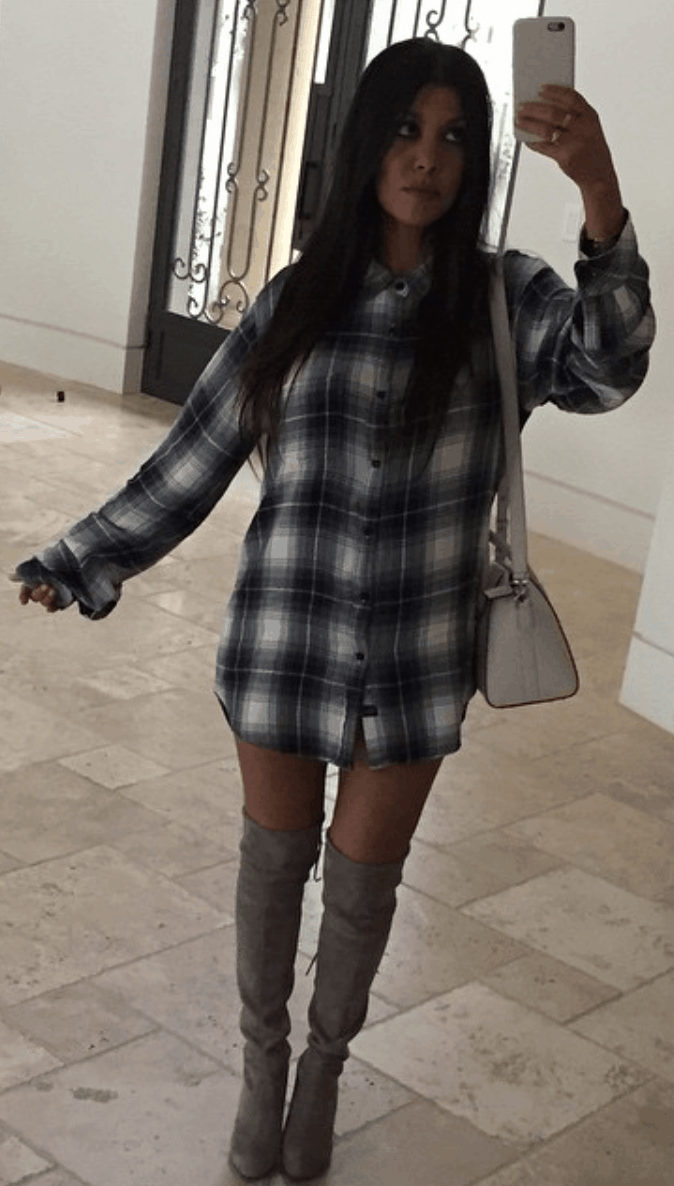 Flannels are one of the longest lasting fall trends ever, and they aren't going away anytime soon. The next time you are shopping for a flannel, grab it in a larger size. Pair it with boots for this cute oversized shirt dress look.
Kourtney shows that the short girls can rock the over-the-knee boot trend, too – hers look amazing!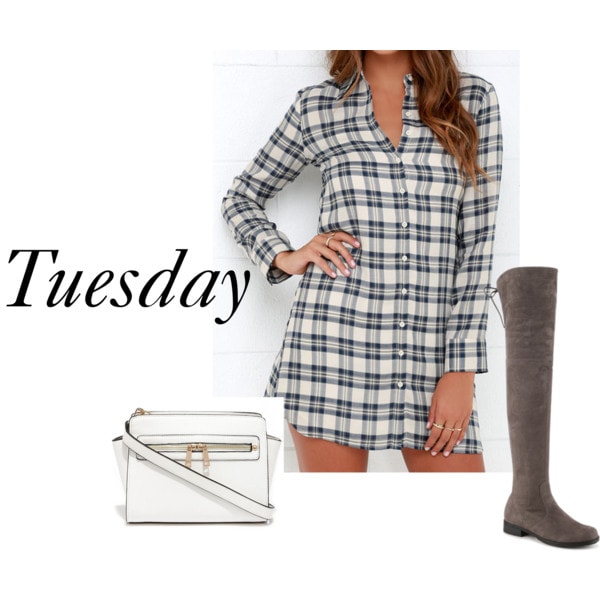 Wednesday:
Make all of your dresses fall-appropriate by throwing a nice long jacket on over them. Finish the look off with sneakers for an outfit that's perfect for walking to class.
Quick tip for all the short girls out there: Pairing a long-line jacket with a shorter dress like Kourtney does gives the illusion of longer legs.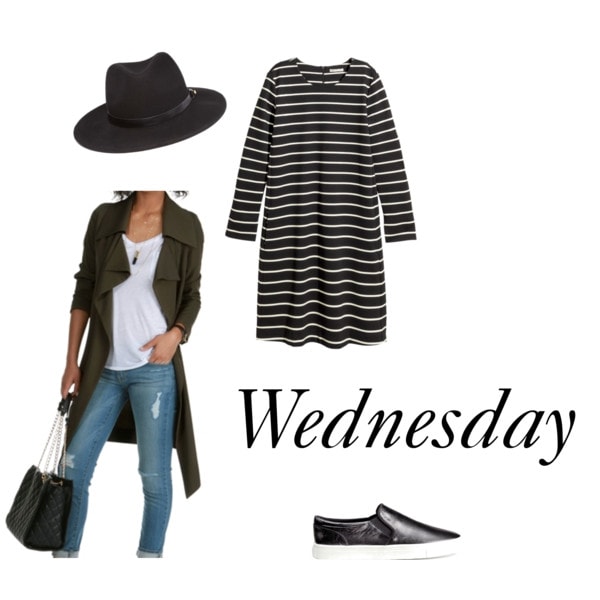 Products: Dress, Jacket, Hat, Sneakers
Thursday: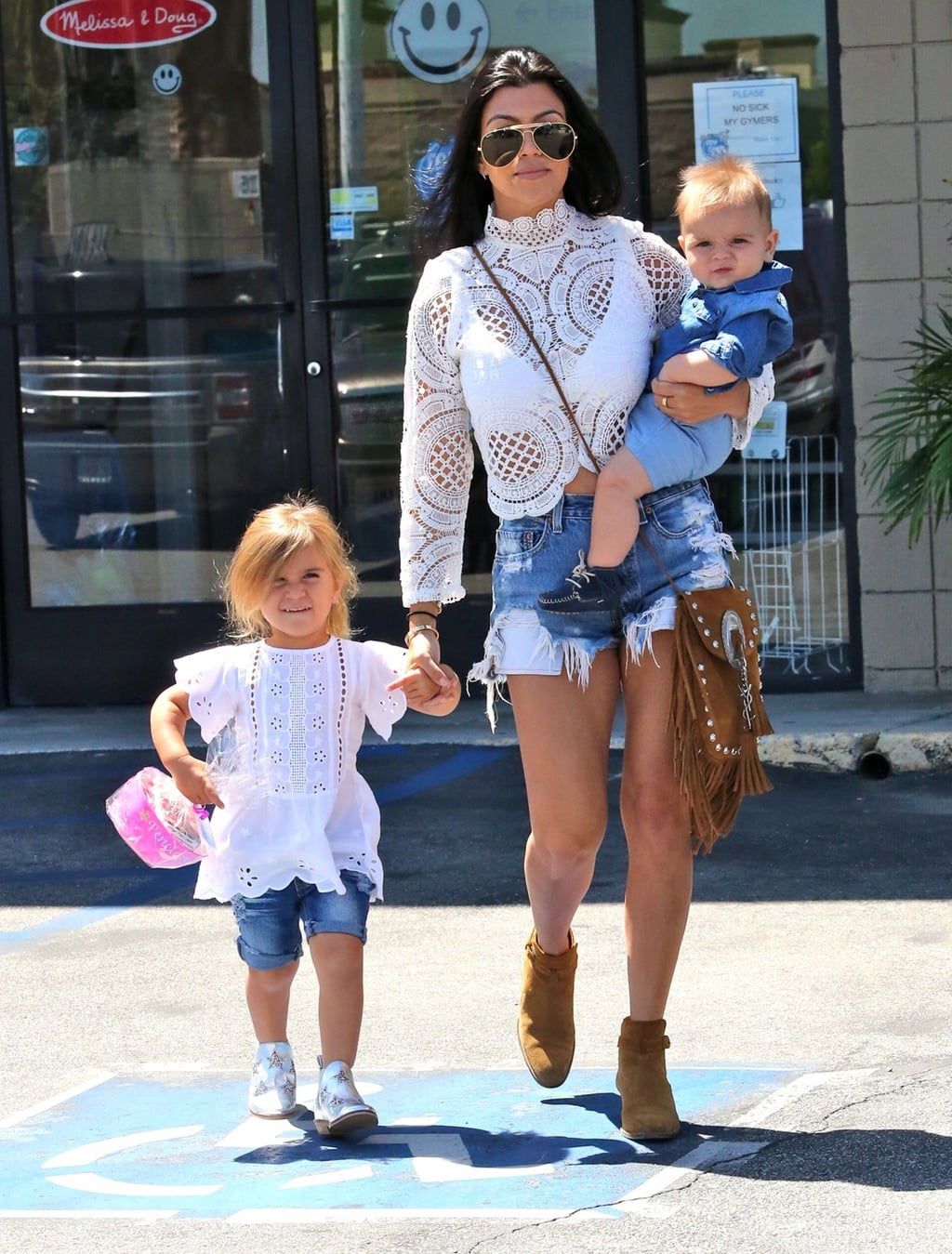 This look is perfect for a sunny Cali day, but can be easily adapted into the perfect fall ensemble. Just change out the shorts for a pair of lightwash jeans. Add suede accessories for a more fall-appropriate vibe and you're good to go.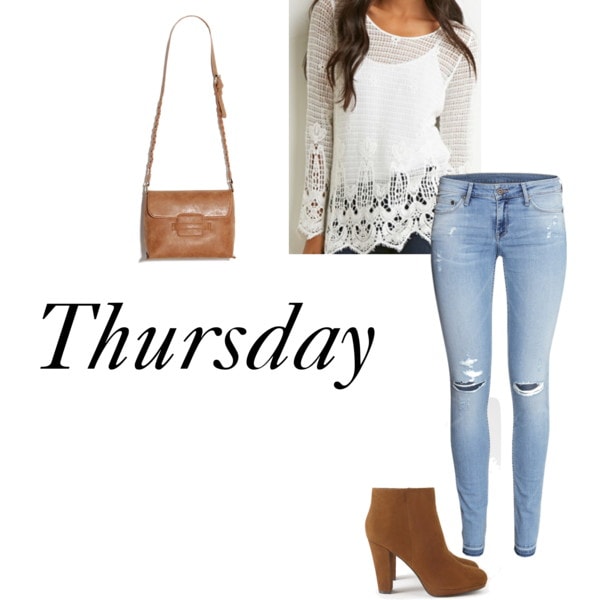 Products: Top, Jeans, Bag, Boots
Friday: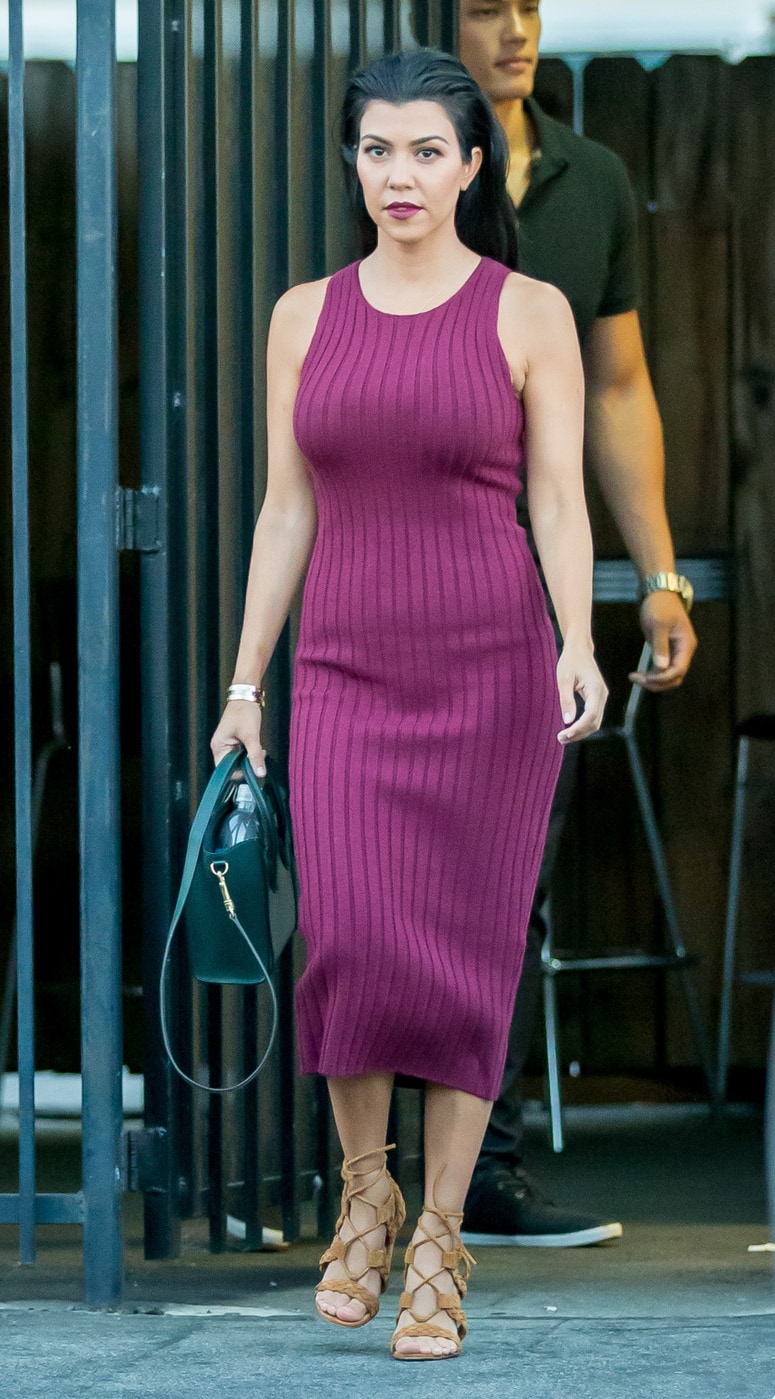 Unlike her sisters, Kourtney doesn't shy away from incorporating a little color into her wardrobe. For a perfect fall look, choose a dress in a moody shade like the eggplant color Kourtney is rocking!
Pair the dress with strappy heels for a look that screams trendy sophistication. If it's a little chillier where you live, add a neutral coat/jacket with this look. Don't forget a killer dark lip.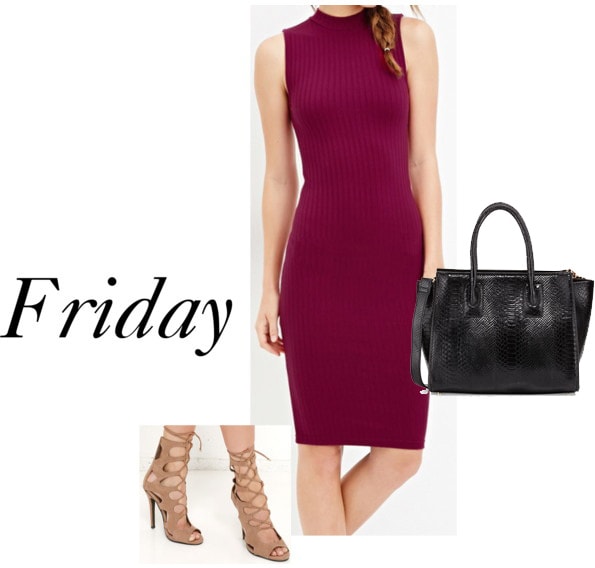 Saturday: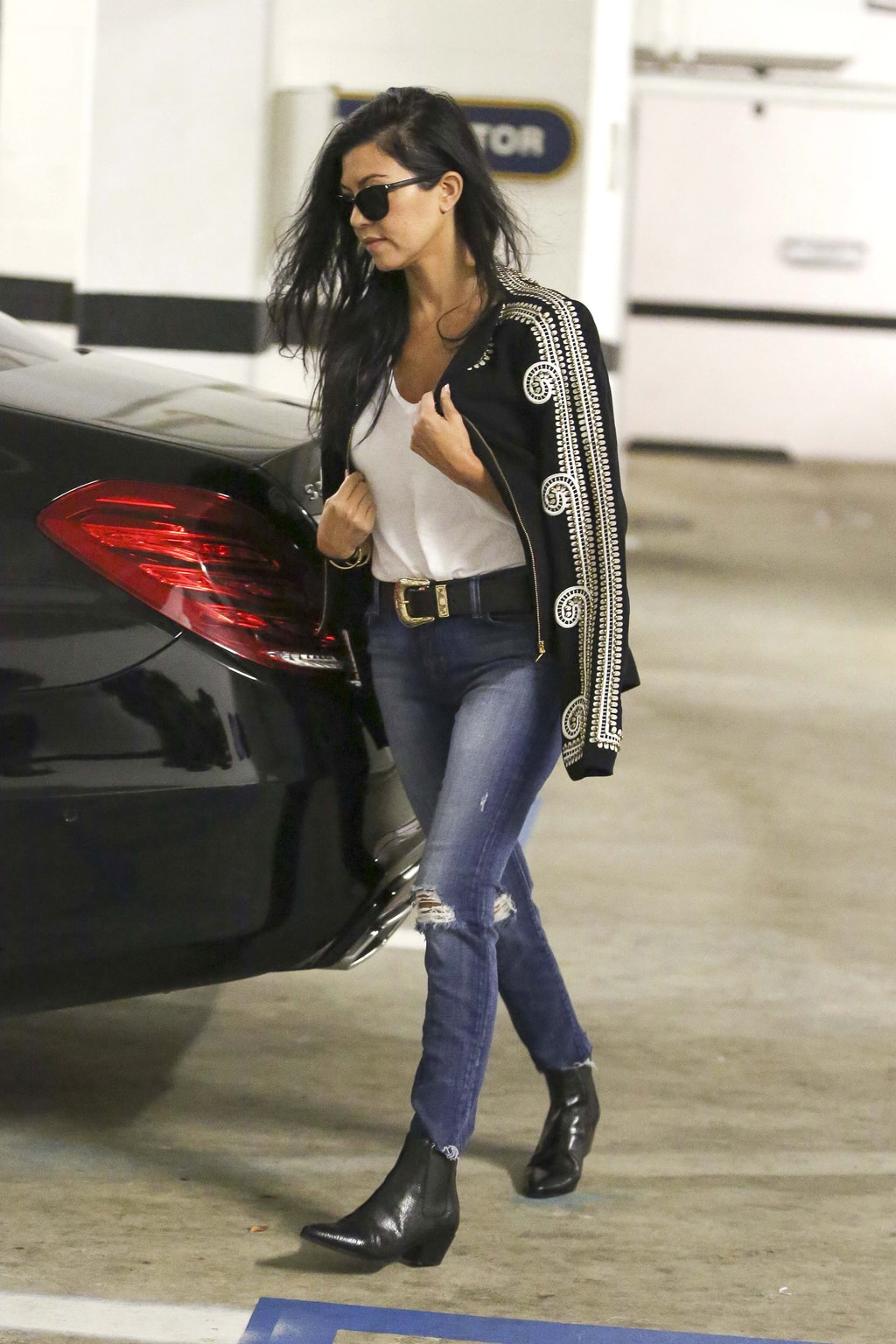 I have said it before and I will say it again: If you are going to splurge on one item for fall/winter, make it a statement jacket.
A statement jacket is the perfect addition to your wardrobe. There are so many ways to wear them and they make such a difference in every outfit. Dress yours up for a night out or use it to add flare to a casual outfit like Kourtney!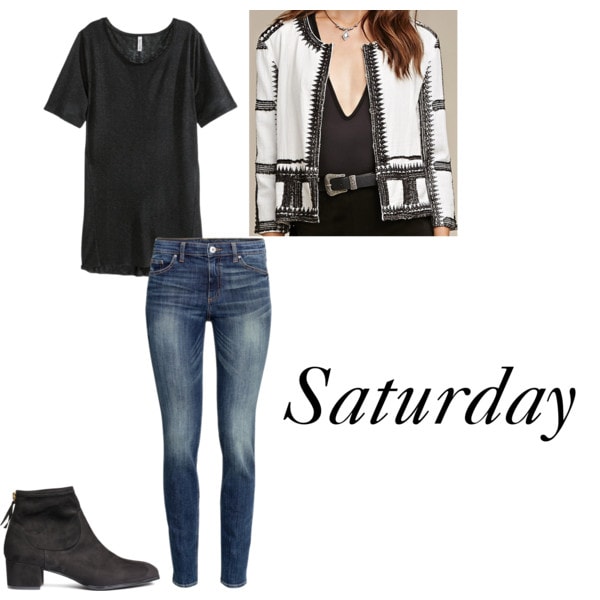 Products: Top, Jacket, Jeans, Boots
Sunday: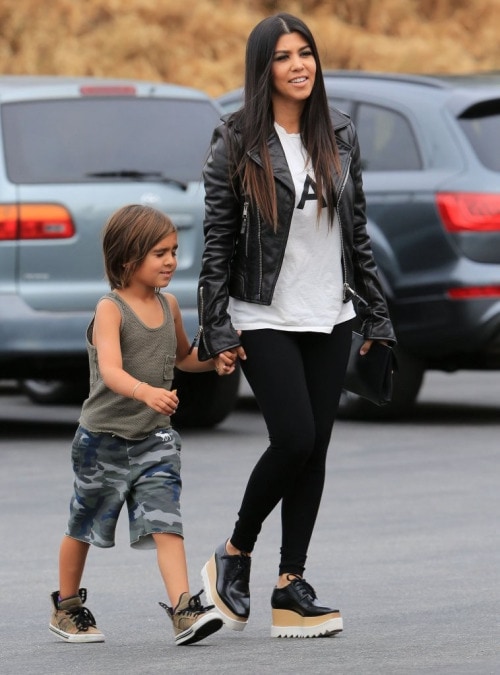 Kourtney always likes to add at least one quirky piece to a simple outfit. In this outfit she took a basic t-shirt and black skinnies, added a little edge with a leather jacket, and finished off the look with these unique platform creeper shoes.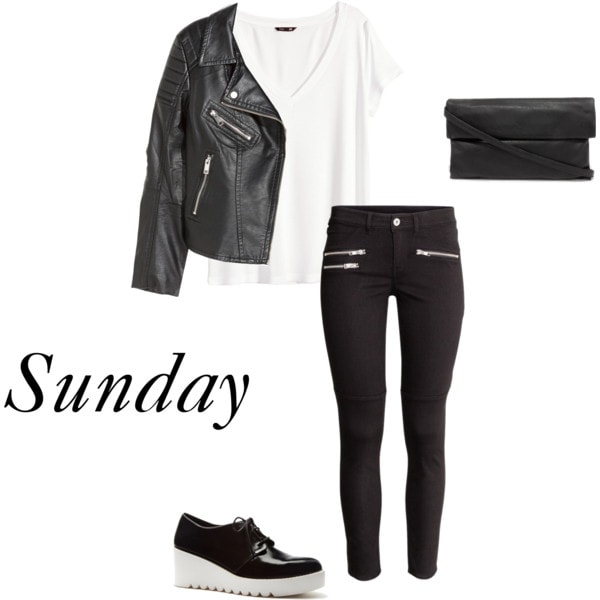 Products: Top, Jacket, Jeans, Shoes, Clutch 
Thoughts?
What do you think of Kourtney Kardashian's street style? Which outfit was your fave? Who would you like to see featured next?