Note: This guide focuses on Kylie's style circa 2015. We recently published a new guide on Kylie Jenner's style after giving birth to Stormi, and a guide to Kylie's best outfits in 2020 – – check those out for current Kylie inspiration! 
However, if you want a throwback to Kylie's old look, keep reading below.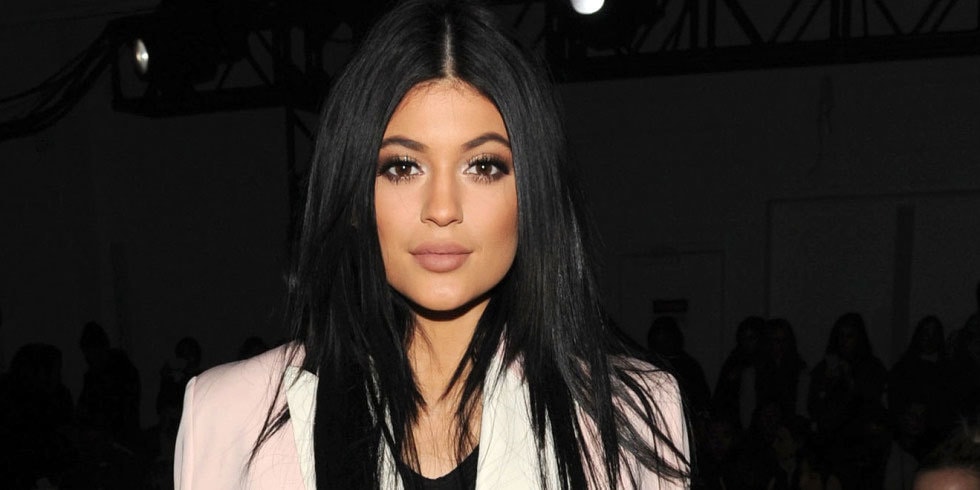 Kylie Jenner has grown up quite a bit over the last few years, and has now cemented herself as a fashion and beauty icon (those lips seem to make headlines every other week!).
Though sister Kendall may be a model, she's not the only one with good style; 17-year-old Kylie has an edgy and chic look that's all her own.
In this A Week in Her Style post, we're taking inspiration from Kylie's best street style looks and giving you a week's worth of outfit ideas. Scroll down to see them all:
Monday: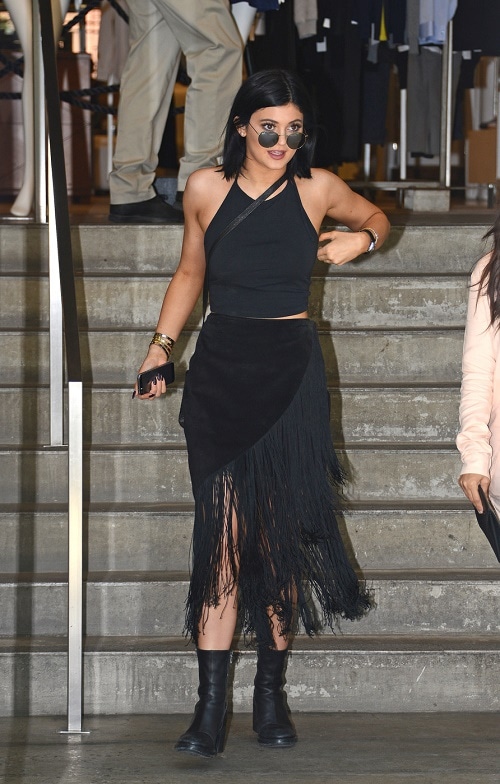 This first look is a chic yet edgy way to spice up an all-back outfit. A fringe skirt is right on-trend this spring (double points if it's suede) and adds plenty of texture and interest to the look. A black crop top continues the trendy vibe, but doesn't clash with the skirt. Combat boots make the fringe more edgy than boho, and are ideal for walking through the puddles left by spring showers.
Tuesday: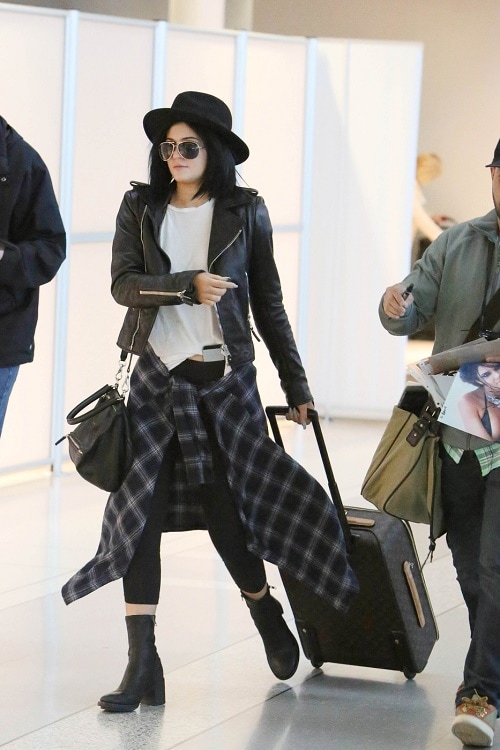 Flannel is a grunge wardrobe staple, so it's no surprise that Kylie incorporates it into her edgy style. In this outfit, she updates the casual combo of a white top and black leggings by tying a flannel shirt around her waist. It looks effortlessly cool and adds a dash of pattern to the look.
A leather jacket adds more edge to the ensemble and pulls everything together. Accessorize with a structured bag, oversized shades, and a wide-brim fedora if you want to truly channel Kylie's look. Chunky heeled boots pair perfectly with these casual yet edgy pieces and are a comfy choice for walking to class on a Tuesday.
Wednesday: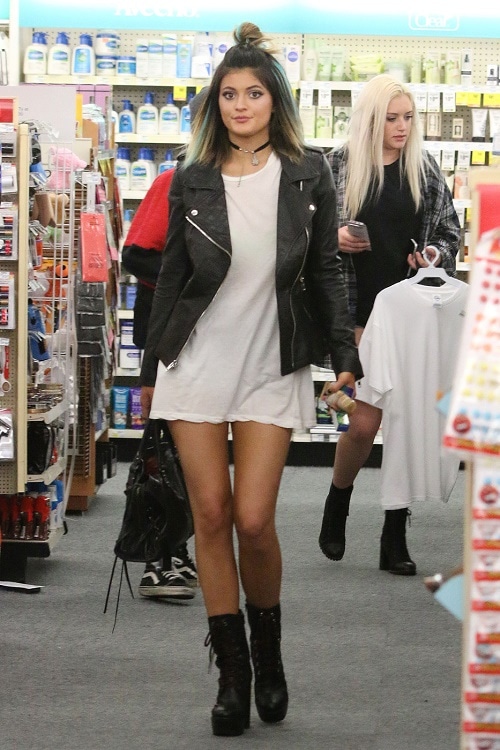 Here's another "no-effort-needed" look. All you need is an oversized white t-shirt to wear as a dress, a leather jacket, and edgy platform combat boots. So easy. You could even use an oversized white pajama t-shirt for a "woke up like this" vibe. (Though I wouldn't recommend sleeping in the leather jacket – you might get a bit uncomfortable.)
If it's still a bit chilly outside, throw on a pair of tights. Finally, bring a little '90s-inspired style into your ensemble with an edgy choker necklace. You could even take inspiration from Kylie's hair for a no-fuss look.
Thursday: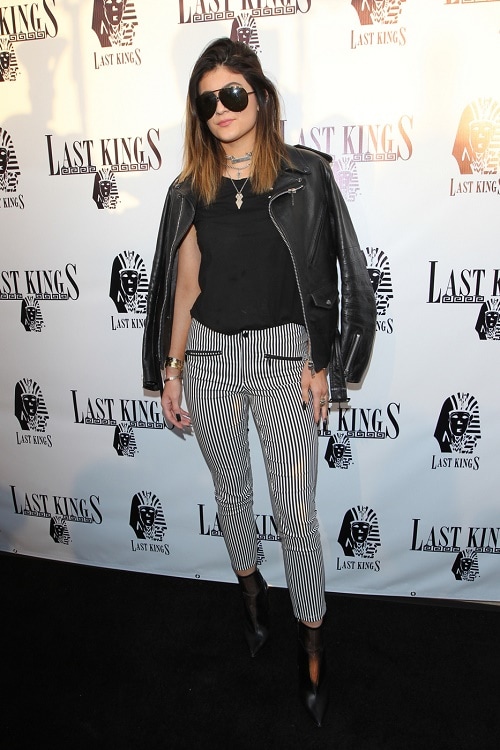 While a plain tee, jeans, and a leather jacket look great for almost any occasion, it can get a bit boring after a while. A pair of black-and-white striped jeans are an edgy way to elevate your look. These pants are ultra-bold, plus vertical stripes will make your legs look miles long. Pointed-toe booties add to the fierce vibe.
Since the pants make such a huge statement, you don't need much jewelry. I recommend accessorizing with a few gold bangles and a small necklace or two, like Kylie.
Friday: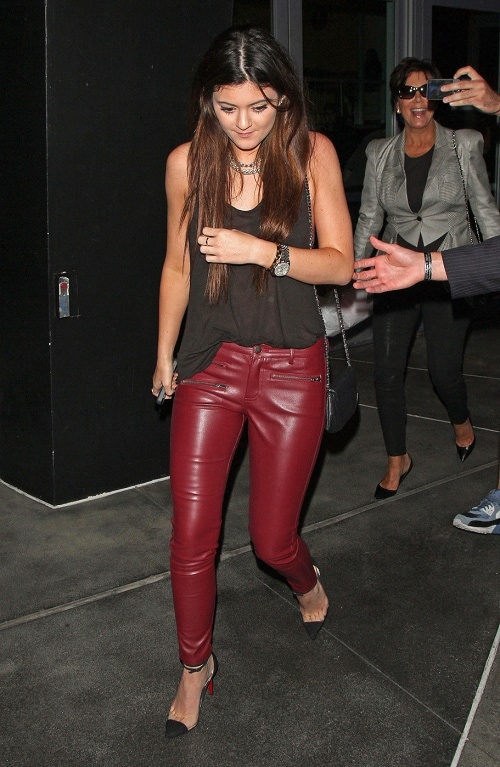 On a Friday, rock an easygoing yet bold going out look. You probably already own a black tank and heels, so all you need are red faux leather skinny jeans, or even just a pair of regular red skinnies.
The red hue provides a nice pop of color that is fun and sultry, while the leather texture adds plenty of edge. The black tank top keeps you cool and lets the pants take center stage. Layer on your favorite jewelry and grab a crossbody bag to complete the look.
Saturday: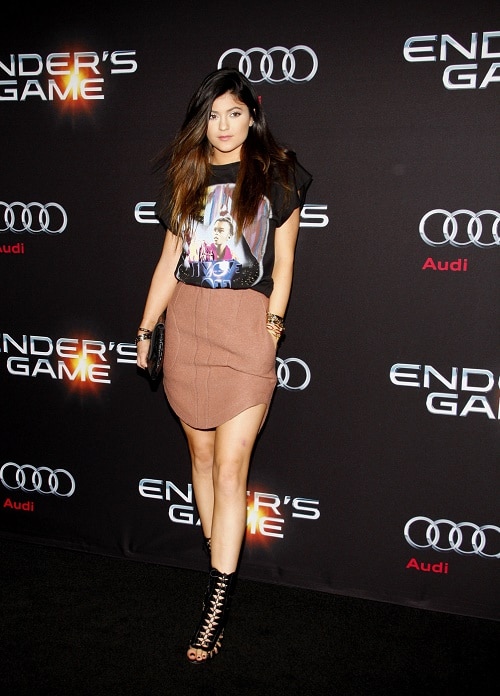 Graphic/band tees aren't just for daytime. This Saturday, try dressing up your favorite tee with a leather mini skirt for a cool nighttime ensemble. The key here is to forgo the typical black leather skirt for a neutral-colored one. It will look fresh and chic for spring.
Continue the bold and fashion-forward look with your footwear. We went with a pair of black caged heels, like Kylie. We like how the heels create contrast with the skirt and add lots of visual interest.
Sunday: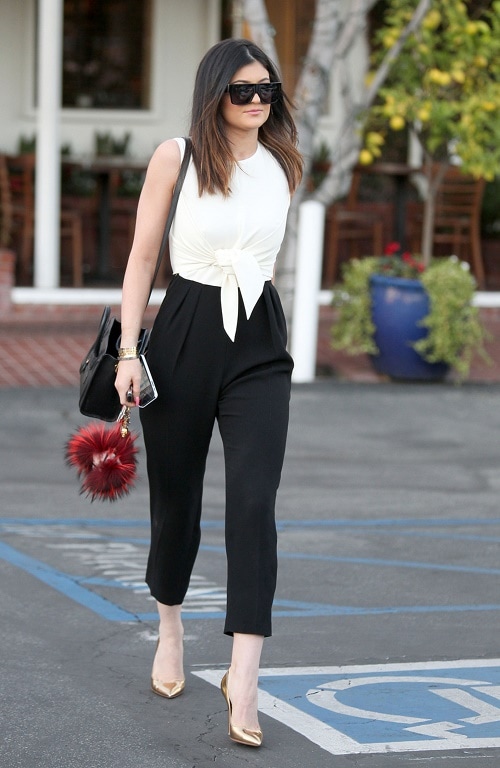 Kylie's black-and-white outfit makes for a sleek and tailored Sunday look. A crop top is a versatile piece to invest in, and it looks so chic when paired with tailored black trousers.
The color combo here is classic yet modern, and metallic pumps are the perfect finishing touch. These eye-catching heels add a bit of fun to this super-sophisticated ensemble.
Thoughts?
What did you think of this post? Do you like Kylie's style? Would you try any of these outfits? Which one was your favorite? Do you like Kylie's or Kendall's style better? Who would you like to see next? Let me know in the comments!