I meant to get a lot of stuff done over winter break. But the first few days I spent back home were not in fact devoted to starting a new fitness regimen, cleaning out my closet, or hanging out with my high school friends. Instead, I stayed in bed for two days binge-watching Jessica Jones and cramming cake into my mouth.
While that might sound like more of a testament to my personal habits than anything else, Jessica Jones is really good! This dark, gritty Netflix show is Marvel's first and only production with a female superhero lead. If you're a fan of Daredevil or Angel, you should definitely check out Jessica Jones. (A word of warning though: the show delves into tough topics like misogyny, rape, sexual assault, and PTSD and does contain many graphic scenes depicting violence and rape.)
Let's get right into the fashion inspiration.
Know Your Geek: About Jessica Jones
Jessica Jones, played by Krysten Ritter, is a hardened private investigator who has no interest in engaging with the rest of the world. She's sarcastic, rough around the edges, and does not want to be a superhero, despite her super-strength and limited flying abilities. Throughout the show, we learn that she's suffering from PTSD after enduring horrific mental and physical abuse from Kilgrave.
Jessica Jones is directed by Melissa Rosenberg and stars Ritter, Mike Colter, Rachael Taylor, Will Traval, Erin Moriarty, Eka Darville, Carrie-Anne Moss, and David Tennant.
The show is based on the Marvel Comics character of the same name, who was created by Brian Michael Bendis and Michael Gaydos. In the comics, Jessica also goes by the aliases of Jewel, Knightress, and Power Woman.
Jessica Jones
From what we see of Jessica's apartment, she's much more likely to put on whatever clean clothing she encounters in the morning than to put much thought into her outfit. Nevertheless, since her closet is full of similarly neutral and grungy pieces, she usually looks good while she's out and about on PI cases. (Being played by Krysten Ritter also helps.)
For a casual Jessica Jones-inspired outfit, start with a dusty purple flannel and a pair of faded jeans (girl is a big fan of light-wash denim!). Next, slip on a cozy gray scarf and parka. For extra warmth, add a wool coat with cool zipper and leather trim details. Practical boots and a sturdy messenger bag round out the look, while a pair of bright gemstone earrings allude to Jessica's comic-book alter ego, Jewel.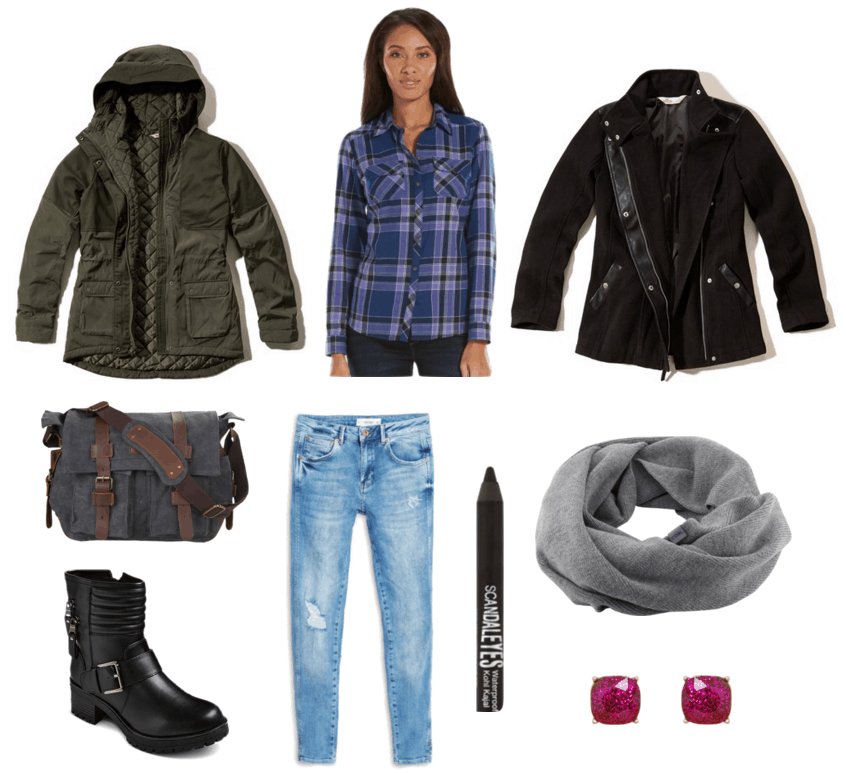 Products: Coat, Jacket, Top, Jeans, Boots, Scarf, Bag, Earrings, Eyeliner
Trish Walker
Patricia "Trish" Walker, played by Rachael Taylor, is Jessica's childhood best friend and adoptive sister.  After growing up as a child star with a domineering stage mother, she's found her own niche as a popular radio show host. Fashion-forward and soft-spoken Trish might seem diametrically opposed to the sullen and hard-drinking Jessica, but don't underestimate her! Her soft, feminine appearance belies a steely resolve, ass-kicking martial arts training, and a fierce loyalty to her best friend.
Trish is partial to jewel tones, cozy knits, and structured outerwear. To try out her style, tuck a soft V-neck sweater into a floral pencil skirt. Next, add a billowy scarf and a sleek trench coat in a pretty powder blue. Accessorize with polished satchel and classic nude pumps perfect for any professional situation. Last but not least, add a delicate cat-shaped ring as a reference to Trish's alter-ego in the comics, Hellcat.
Also Read: Jess Day Outfits: How to Dress Like Jess from New Girl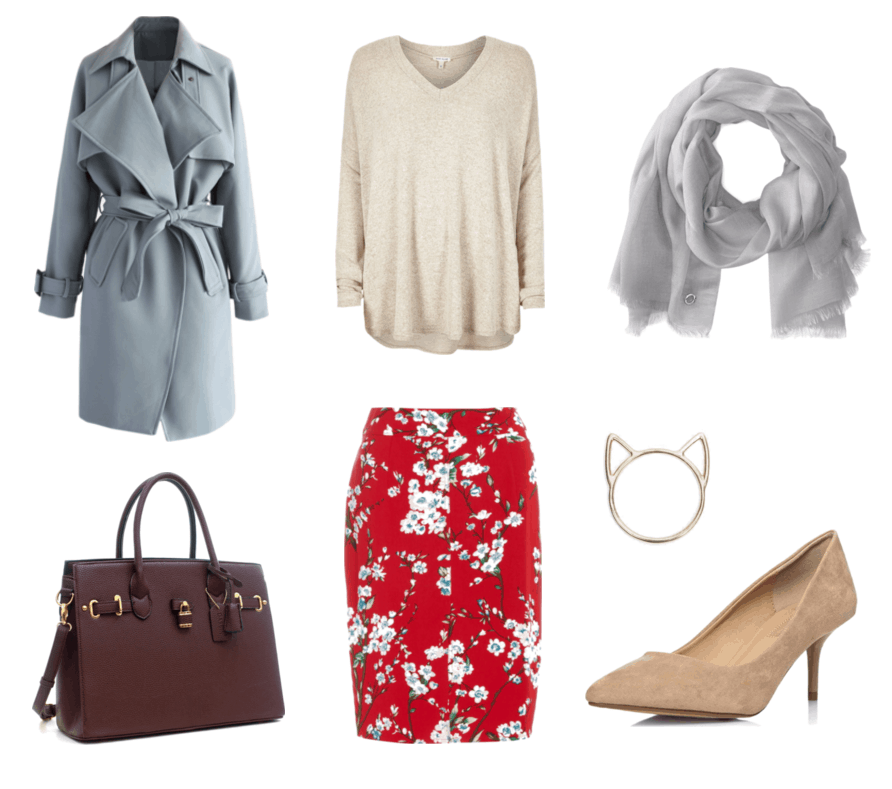 Products: Coat, Sweater, Skirt, Heels, Ring, Satchel, Scarf
Kilgrave
Kilgrave, played by David Tennant, might be one of the creepiest and most twisted villains I've ever seen on screen. (Between episodes, I had to go watch goofy clips of the Tenth Doctor to prevent myself from hating David Tennant!) He has the terrifying power of mind control: with a single spoken command, he can make anyone do whatever he likes, whether it's abandoning your child to chauffeur him around town, splashing hot coffee into your own face, or murdering your loved ones in cold blood.
While his powers and self-entitlement are absolutely demented, I'll give Kilgrave this: he's a pretty sharp dresser. Known as "the Purple Man" in the comics, he's always sporting some form of the shade.
For an outfit inspired by Kilgrave's signature style, pair a lavender button-down with violet trousers, then top it off with a sleek blazer. Tie an indigo scarf around your neck, then slip on teal flats to provide a nice contrast to all that purple. Last but not least, lip-shaped earrings allude to Kilgrave's ability to control those around him with just his words.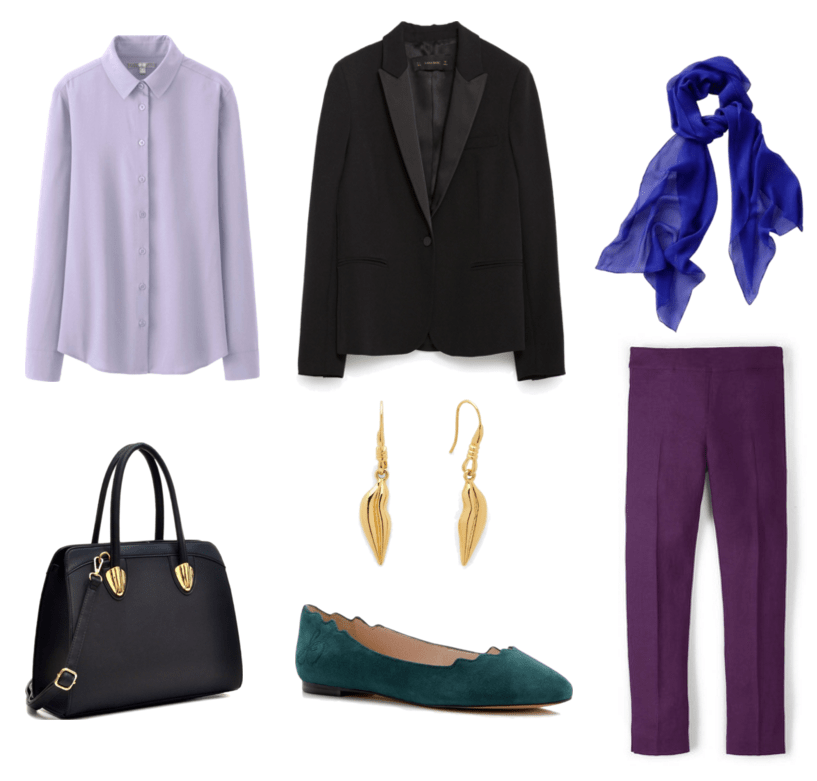 Products: Blazer, Top, Pants, Shoes, Satchel, Scarf, Earrings
Jeri Hogarth
Jeri Hogarth, played by Carrie-Anne Moss, is a highly successful attorney and occasional employer of Jessica. While she sometimes shows a sentimental streak, she never shies away from manipulating those around her if it serves her interests.
I liked that Hogarth is a lesbian and a ruthless female lawyer (both of which are often depicted in Hollywood as devoid of any femininity) that dresses in sharp, sophisticated silhouettes that emphasize her figure. Take this as an opportunity to examine your work wardrobe! Make smart investments in utterly timeless pieces like a classic camel coat, perfectly-fitted LBD, a smart black handbag, and corporate-friendly earrings and timepieces.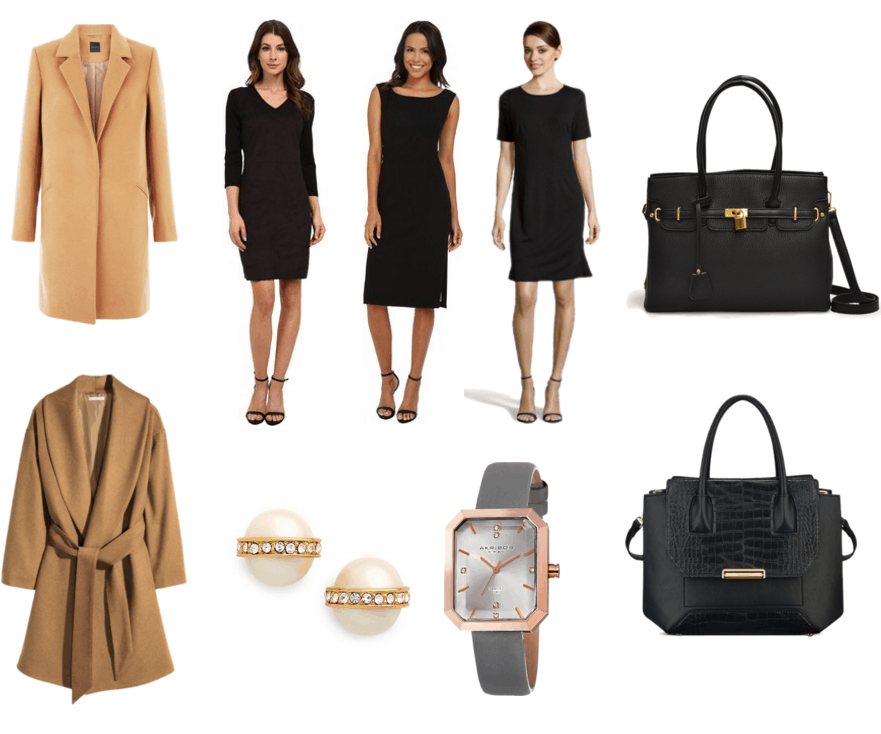 Products: Coat (Top), Coat (Bottom), Dress (Left), Dress (Middle), Dress (Right), Handbag (Top), Handbag (Bottom), Earrings, Watch
What did you think?
Have you watched Jessica Jones? Would you wear these outfits? Are you as terrified of Kilgrave as I am? What other geeky inspirations would you like to see? Let me know in the comments!