We've done it again and again, but with the newest addition to the Broadway hit's legacy, we just can't stop singing Hamilton's praises!
This time around though, we're mixing it up and making it fresh–mixtape style! That's right, this week we're covering The Hamilton Mixtape.
What's All This Noise About?
Seeing that Hamilton itself was inspired by hip-hop, R&B, pop and a few other genres between, it's not surprising that Lin-Manuel Miranda and the Roots' Questlove teamed up to produce an album with some of music's–and pop culture's– best and brightest stars to cover the show's tunes, popular and unheard alike. (You can listen to it on Spotify here!)
Instead of focusing on the characters, as previous articles have done, I focused on the songs for my outfit inspiration. Keep reading to see my chosen three songs from the mixtape:
"Satisfied"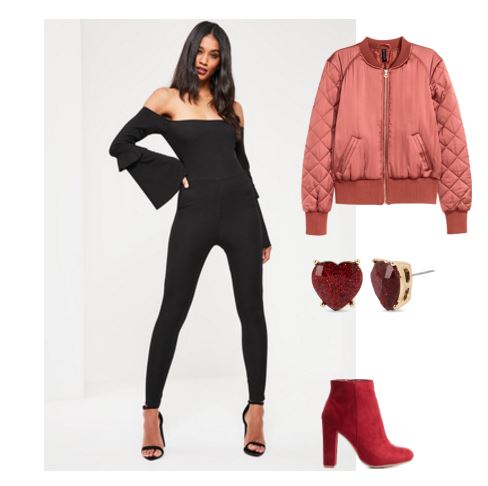 Products: Jumpsuit – Missguided, Jacket – H&M, Booties – Charlotte Russe, Earrings – Lord & Taylor
And I know she'll be happy as his bride

And I know he will never be satisfied

I will never be satisfied.
Covered by Sia (featuring Miguel and Queen Latifah), the song is half power ballad, half party track. With that in mind, I created a look befitting a night out on the town.
Because the song is about unrequited–but powerful– love (poor Angelica), I was sure to include a few hearts (seen here with the earrings) to match the jumpsuit's somber darkness. I couldn't resist the bursts of red in the booties and the jacket because, aside from being sexy pieces, they pay homage to both Angelica's costume and the happy, hypnotic beat covering up the more serious emotions.
"Burn"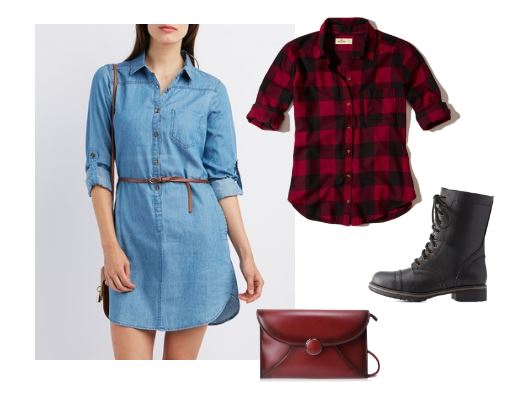 Products: Shirtdress – Charlotte Russe, Shirt – Hollister, Boots – Charlotte Russe, Clutch – Zaful
I'm burning the memories

Burning the letters that might have redeemed you

You forfeit all rights to my heart
Soulful and at times gritty and rough, Andra Day's rendition of "Burn" masterfully captures the grief and anger Eliza wrestles with after Alexander betrays her heart. It also captures Eliza's "can-do, let's get down to business" attitude, which makes it the perfect song to inspire a busy day/class outfit.
For this look, I wanted to emphasize the toughness portrayed in this version of the song. I used thick materials like chambray, flannel, and leather to create this effect, while still retaining the sweet and put-together feel that we'd expect from Mrs. Hamilton. The envelope clutch is a simple reminder of the thing that brought both joy and pain to the marriage.
You'll Be Back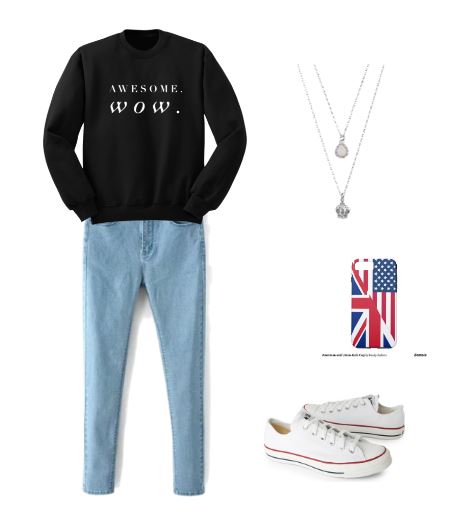 Products: Sweatshirt – Etsy, Jeans – Zaful, Shoes – Converse, Phone Case – Zazzle, Necklace – Kohl's
You'll be back, time will tell

You'll remember that I served you well

Oceans rise, empires fall

We have seen each other through it all

And when push comes to shove

I will send a fully armed battalion to remind you of my love!
Silly and exuberant, much like its cover artist, Jimmy Fallon (yes, the late night host), "You'll Be Back" is different from the more R&B-influenced tracks, recalling both modern and '60s pop music. Even with the somewhat sinister lyrics, the beat is so cheerful that you can't help but hum along.
I definitely had fun with this outfit (I would wear this while running errands or if running late to class!), and when I saw the sweatshirt with King George's most quoted lines from the musical, I couldn't resist paying tribute to the royal.
The jeans and black sweatshirt are fairly simple, and they let the Union Jack-colored pieces shine. From the white sneakers (with blue and red detailing!), the cute phone case and necklace to crown it all, the song's quirkiness and personality shines right through.
Bring The Beat Back!
What do you think? Will you be listening to The Hamilton Mixtape on repeat, too? What songs, albums, or artists (Hamilton-related and not) do you want covered next?
Thanks so much for reading!