From the costumes to the set, from the words of the script to the movements of the actors, everything on stage tells a story. Stage-Inspired Fashion explores ways to add a little dramatic flair to your style.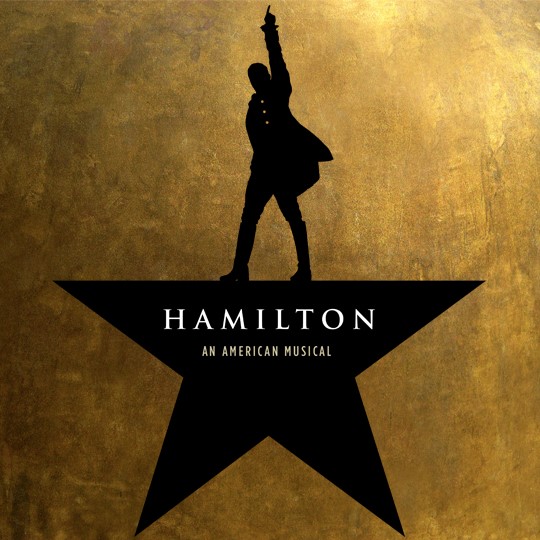 Here by popular demand: the first of two Hamilton articles! This historical musical has been taking the theatre world by storm.
Behind the Scenes
Lin-Manuel Miranda, writer and star of In the Heights, turned Ron Chernow's 900-page biography of Alexander Hamilton into a musical. The musical follows Hamilton from his difficult childhood to his service in the American Revolution to his time in the political arena of early America to the infamous duel that ended his life.
Miranda returns to the Broadway stage as Hamilton himself, supported by an extremely talented cast. Although the majority of these historical figures were white, the majority of the cast is not. In an interview with The New York Times, Miranda said, "Our cast looks like America looks now, and that's certainly intentional." To reflect this idea of transforming the characters, Miranda drew on a variety of African American musical styles, including blues, ragtime, jazz, R&B, hip hop, and rap, as well as traditional Broadway showtunes.
Interested in learning more about how Hamilton came to be? Joanne B. Freeman, a history professor at Yale, analyzed how Miranda used historical facts while creating the musical. LiveDesign has a series of articles about the costume, sound, lighting, and scenic design of the Broadway production. Genius has done a fantastic job compiling and annotating the lyrics, and Miranda himself has added some commentary on his process and sources of inspiration. Following Miranda on twitter is definitely worthwhile — he's informative and entertaining.
I've created looks inspired by three of the founding fathers. Keep reading to see them all!
Alexander Hamilton
Hey yo, I'm just like my country,
I'm young, scrappy, and hungry,
And I'm not throwing away my shot!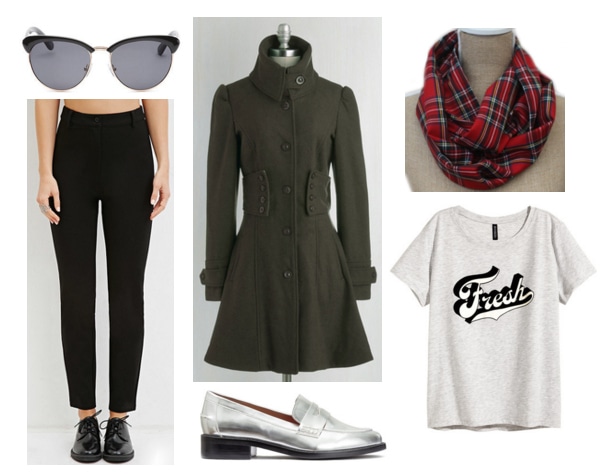 Products: Shirt, Pants, Coat, Loafers, Scarf, Sunglasses
For a look inspired by A. Ham himself, start with a pair of black knit pants. (I think these pants look hot!) Add some pieces that have multiple meanings, just like Miranda's lyrics. The graphic on the t-shirt references Hamilton's hip hop sensibilities and the color plays the classic image of gray morality. The plaid of the scarf is a nod to his Scottish background and the bright red symbolizes his romantic relationships. The coat has a military feel to it, representing his military service in Act I, and its green color is a direct reference to his distinctive Act II costume. For some street style coolness, finish the look with sunglasses and flashy silver loafers.
Aaron Burr
We dream of a brand new start,
But we dream in the dark for the most part–
Dark as a tomb where it happens.
I've got to be in the room where it happens.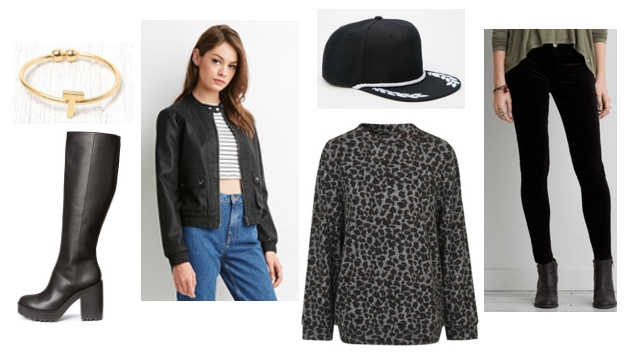 Products: Sweatshirt, Jeggings, Jacket, Boots, Hat, Ring
Aaron Burr, sir, is Hamilton's foil and frenemy. His costumes are darker than most of the other characters', representing his status as a dark horse. Get his look with a dark leopard-print sweatshirt, a play on the image of the leopard not being able to change its spots — Burr constantly changes his political affiliations, but he's always trying to get ahead.
Give the look some edge (we are all about edge here at Stage-Inspired Fashion) with sleek black jeggings, a black leather bomber jacket, and heeled black riding boots. Accessorize with a ring featuring the initial "T," for his daughter Theodosia, and a snapback with a laurel-leaf pattern that symbolizes his high intelligence and classical education.
George Washington
Now I'm the model of the modern major general,
The venerated Virginian veteran whose men are all
Lining up, to put me on a pedestal.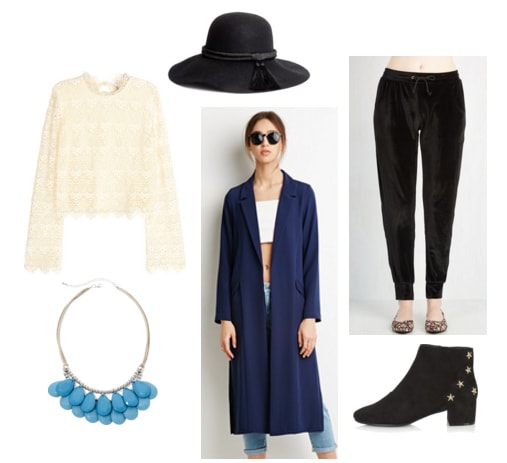 Products: Shirt, Joggers, Jacket, Boots, Hat, Necklace
General George Washington, Hamilton's mentor, sports a fancier version of the Continental Army uniform that the other soldiers wear. Get his look with a beige lace shirt and and black velvet joggers, and add a navy blue longline jacket. Replace his satin sash with a light blue statement necklace and his iconic tricorn with a wide-brimmed wool hat. Finally, put on black ankle boots with stars on the heels that look like the flag of the emerging nation.
Epilogue
Hamilton shows us how we can combine seemingly disparate elements like history and hip hop into amazing new pieces of art. Let's bring that attitude into our wardrobes!
Stay tuned for another Hamilton-inspired article! Next time, we'll take a look at some revolutionary ladies.
Your Thoughts?
Have you gotten a chance to see Hamilton? Have you been listening to the cast recording non-stop like I have? Are there any plays or musicals you would love to see covered in this column? Let us know what you think in the comments below!