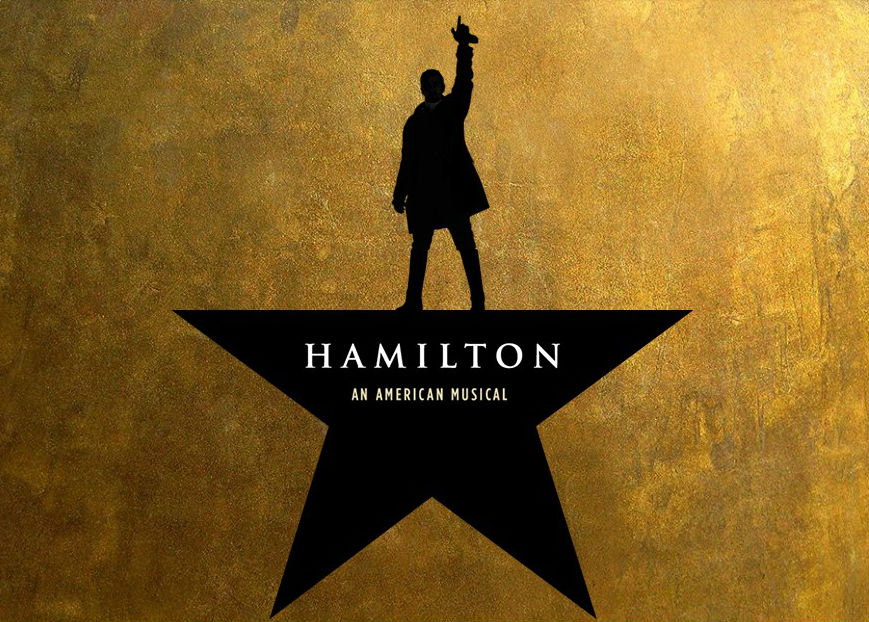 This week (and the next), we're covering Hamilton, the Broadway musical hip-hop sensation that's stirring the American nation.
You may remember that we've covered Hamilton on CF before but since the show has such a huge following (and so many amazing characters) AND just crushed it at the Tony Awards, we thought it deserved at least another article or two. We just can't get enough of this one, and we've heard you guys can't either.
"What's your name, man?"
Chances are, you've heard of this show by now.
After all, Hamilton, the winner of eleven (that's right, ELEVEN) Tony's, including the award for Best Musical, has been recognized and praised from the likes of collegiate students to President Obama himself for smashin' every expectation in the world of theater.
It turns out that the recipe for sold-out performances and worldwide acclaim is easy enough to remember: a dash of mad beats, a pinch of lyrical genius (fun fact: the titular song of the show took a whole year to perfect), and a brick load of raw, diverse talent.
On top of that, Hamilton is educational in an effortlessly cool kind of way. Behind the top-notch acting and insane vocal skills of its (nearly) all-minority cast lies the incredible story of one of our lesser-known founding fathers, Alexander Hamilton, and his meteoric and controversial rise to the top. And it's certainly no industry secret that Hamilton creator/star/precious cinnamon roll Lin-Manuel Miranda took his inspiration for the musical from a full-length Hamilton biography by Ron Chernow, currently available on Amazon.
So if you haven't already done so, I highly encourage you all to listen to the Original Broadway Cast Recording album, watch the Ham4Ham shows, read about the fascinating transition from book to musical, follow Lin-Manuel Miranda on Twitter, and, of course, join the rest of us while we grow old waiting for Hamilton tickets (#thestruggleisreal).
Also, keep reading for looks inspired by five of Hamilton's revolutionary contemporaries!
Alexander Hamilton
"I'm 'a get a scholarship to King's College / I prob'ly shouldn't brag, but dag, I amaze and astonish / The problem is I got a lot of brains but no polish / I gotta holler just to be heard / With every word, I drop knowledge!" (My Shot)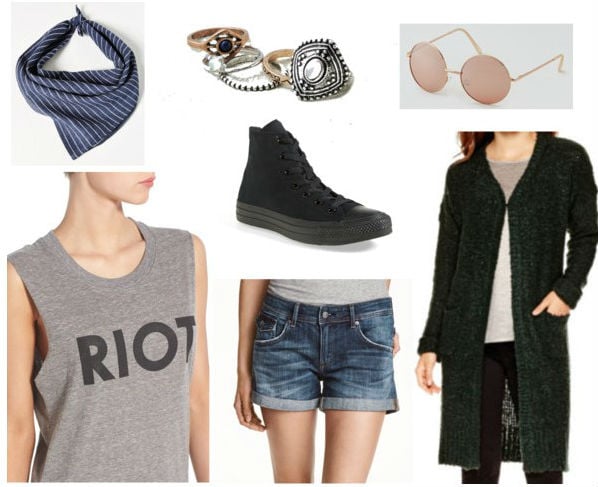 Products: Top, Shorts, Cardigan, Sneakers, Neck Scarf, Sunglasses, Rings
Alexander Hamilton is your old classmate who called front row on the first day, raised his hand up for every single question (even if he didn't know the answer), and ruined the class learning curve by getting 100% on all of his papers. Yup, he's your everyday, bookish Hermione Granger.
More than that, however, Hamilton came from nothing ("bastard, orphan, son of a wh***") and he'll never let you forget it. Despite some terrible ethical decisions—two words: Maria Reynolds—you find yourself rooting for the guy because he's just so darn optimistic and eager to get ahead.
For a look inspired by Alexander Hamilton's casual-meets-urban ensemble, grab some pieces that are equal parts edgy and sleek. Remember, this is Hamilton circa his revolutionary days, where he's looking to impress others with his dazzling wit and razor-sharp intellect instead of shiny new clothes, so use vintage if you can. Start off with a cute tongue-in-cheek tee and pair it up with comfy shorts and an olive cardigan referencing Hamilton's outrageously all-green outfit in Act II. After that, pile on sturdy, black sneakers (for stealing British cannons downtown, of course), a cotton scarf, cool sunglasses, and offbeat, metallic rings. End result: you've got an outfit that screams out "I'm young, scrappy, and hungry"!
Aaron Burr
"I am the one thing in life I can control / I am inimitable / I am an original / I'm not falling behind or running late / I'm not standing still / I am lying in wait." (Wait For It)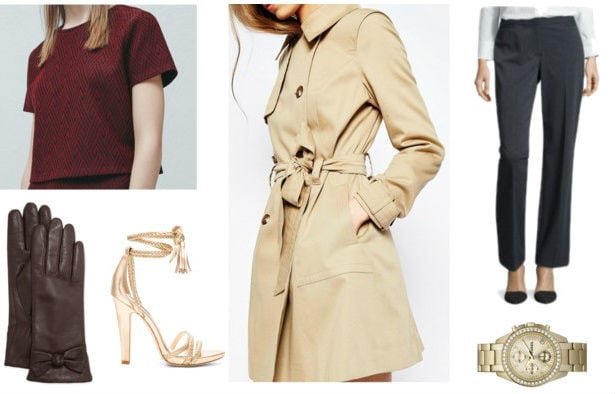 Products: Top, Pants, Trench Coat, Gloves, Heels, Watch
Aaron Burr is Hamilton's first friend and eventual (caution: 200-year-old spoiler coming up ahead) killer. Moreover, he's also Hamilton's foil. Whereas Hamilton is bold and inattentive to the dangers of political rivalries, Burr is cautious and unwilling to risk his reputation by betraying his true feelings. You see, as the orphaned son to rich and "genius" parents, Burr's got a huge family legacy to protect. Though his ambitions take a decidedly active and deadly turn nearing the end of the show, Burr's role for the majority of Hamilton is that of a detached and easygoing narrator.
For a look inspired by Aaron Burr's sophisticated and polished style, you might need to shop around the higher-end boutiques and department stores (pro tip: if you're strapped for cash, upscale consignment stores work too). Also, don't forget: Burr's a certified trust fund baby! He flaunts around because he knows he's got the cash to back himself up, so master his look with a cool girl persona. Wear a classic shirt-and-trousers combo with slinky, gold heels (snake motif optional) and gloves perfectly fit for a concealed mind at work. Finally, top it all off with a reliable watch and you've got an outfit good enough to interview in!
Hercules Mulligan
"Yo, I'm a tailor's apprentice / And I got y'all knuckleheads in loco parentis / I'm joining the rebellion cuz I know it's my chance / To socially advance, instead of sewin' some pants! / I'm gonna take a— / Shot!" (My Shot)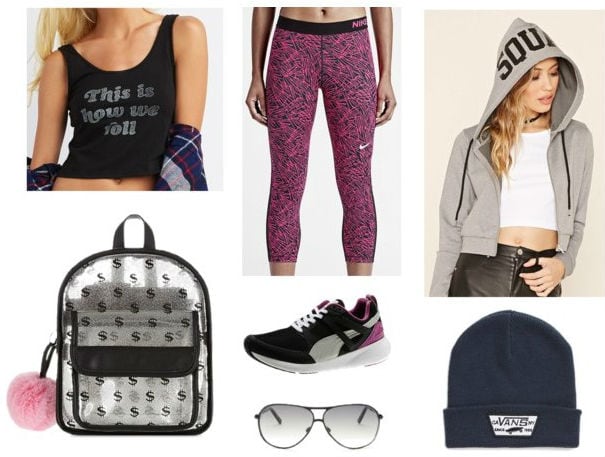 Products: Top, Capri, Hoodie, Sneakers, Backpack, Beanie, Sunglasses
Hercules Mulligan is one of Hamilton's revolutionary manumission abolitionist friends, alongside buddies John Laurens and the Marquise de Lafayette. Together, they make up #squadgoals. Like Hamilton, Hercules Mulligan is poor and actively looking to switch up his role in society, using the American Revolution as an opportunity to rise above his station as a tailor's apprentice. He's completely fearless ("spying on the British government"), confident, and all-up-in-your-face brilliant. Also, Hamilton thinks that his pants look hot, which is probably the best compliment you'll ever hear. Sorry about that.
For a look inspired by Hercules Mulligan's rough and ready attitude, think of clothes you'd put on to go the gym and then wear them. No frills, no fuss. This is easily one of the more practical, no-brainer outfits of the Hamilton set, and that's because Hercules Mulligan is as straightforward as they come. So match a pair of hot-pink capris with a dope crop top and layer it up with a snug, grey hoodie. For spy duty, rehearse your quick getaway with some handy running shoes, a backpack, and undercover sunglasses. And don't forget about your signature beanie! Keep it up and soon you'll need no introduction either.
George Washington
"Can I be real a second? / For just a millisecond? / Let down my guard and tell the people how I feel a second? / Now I'm the model of a modern major general / The venerated Virginian whose men are all / Lining up to put me up on a pedestal" (Right Hand Man)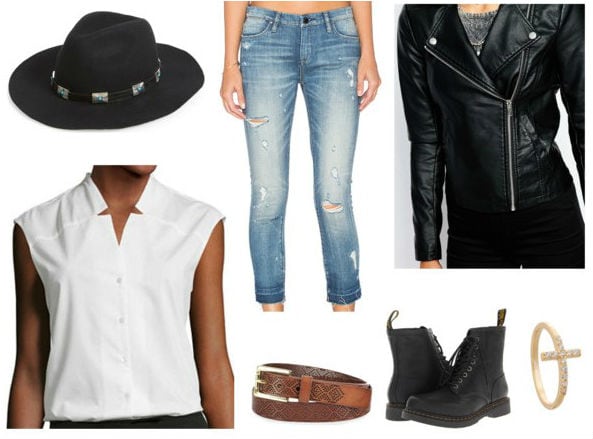 Products: Top, Jeans, Biker Jacket, Boots, Fedora, Belt, Ring
George Washington is the greatest commander you'll ever know and a hero to pretty much everyone he meets. This is one calm, cool, and collected dude who manages to bring the disorganized American troops to victory through cerebral strategy and guerrilla war tactics. Guided by reason and experience rather than emotion—another foil to his protegee, Hamilton—Washington quickly becomes the first president of the United States. In the first tearjerker song of the show, Washington announces his decision to step down, wanting to set a two-term precedent and enjoy "a moment alone in the shade". He also quotes scripture, because that's just how classy and well-read Washington is.
For a look inspired by George Washington's military prowess, you'll need to find a cool uncle and scavenge their wardrobe. No, but in all seriousness, Washington's attire is as heavy-duty and tough as he is, so you might need to lug around some band-aids or a backup outfit in case of chafing or blisters. Got it? Alright. Now all that's left to do is find a plain white shirt (Washington's pretty down-to-earth), distressed jeans, and combat boots so dark you'll get lost in them. Next, step it up with a trusty fedora, buckle belt, and a crisp biker jacket. The last statement piece, a gold cross ring, represents Washington's concrete faith, but you can opt out of wearing it if you're not spiritually inclined. Put it all together and you've got a solid and dependable look that'll put your other outfits to shame!
Thomas Jefferson
"'Life, liberty and the pursuit of happiness.' / We fought for these ideals; we shouldn't settle for less / These are wise words, enterprising men quote 'em / Don't act surprised, you guys, cuz I wrote 'em," (Cabinet Battle #1)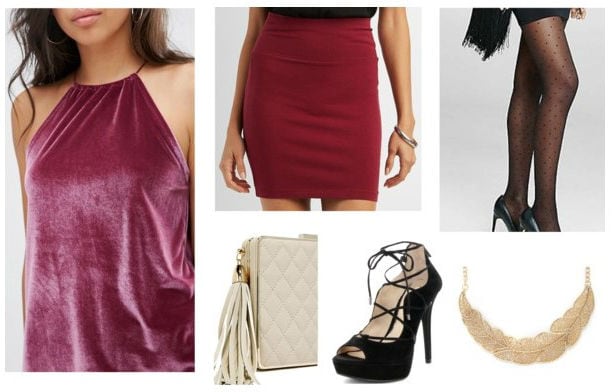 Products: Top, Skirt, Pumps, Tights, Clutch, Necklace
Thomas Jefferson is Hamilton's biggest political rival and a constant thorn in his side. Though he's quick to undercut Hamilton's logical arguments, he fails to realize his own: supporting slavery while advocating for American liberty. Despite this, Jefferson's flamboyant temperament and ridiculously ostentatious clothes make him endearingly fun to watch. He's the flawed villain you love to love, but, more than that, he's a real human being with noticeable contradictions and a guileless charm. Also, in the show, Jefferson walks around dressed like an old-timed dandy, complete with a pimp cane. How cool is that?!
For a look inspired by Thomas Jefferson's extravagantly funky costume, dig around your closet for items you've worn, or have planned on wearing, to the club. After all, with Jefferson's larger-than-life rock star status and foppish behavior, you just know he'd be settled right in the middle of that dance floor "meeting lots of different ladies"! Recreate his iconic purple outfit by investing in a flashy, attention-grabbing purple top and a maroon mini skirt paired off with tall, black pumps so you'll have #legsfordays. Since a cravat's out of the question, wear some cute polka-dot tights to keep it classy, pile on gold jewelry, and don't forget to bring a clutch for the essentials. Finally, enter into that club with a confident smile on your face and you know Jefferson'd be proud!
"You ready for more yet?"
Sorry, that's all for today, folks! Guess you'll just have to wait for it to see the upcoming installation. In the meanwhile, feel free to get prepped up by jamming to the Hamilton soundtrack, sharing this article with your friends, and leaving your comments in the box below!
Finally, stay tuned for another Hamilton style post coming next week! We'll re-examine the ruggedly chic street style of our favorite Hamilton ladies—Angeeeelica! Eliiiiza! And Peggy—as well as two mystery guests (hint: they're are on opposite ends of the "half-dressed, apologetic, a mess" spectrum). Care to wager a guess?