From the costumes to the set, from the words of the script to the movements of the actors, everything on stage tells a story. Stage-Inspired Fashion explores ways to add a little dramatic flair to your style.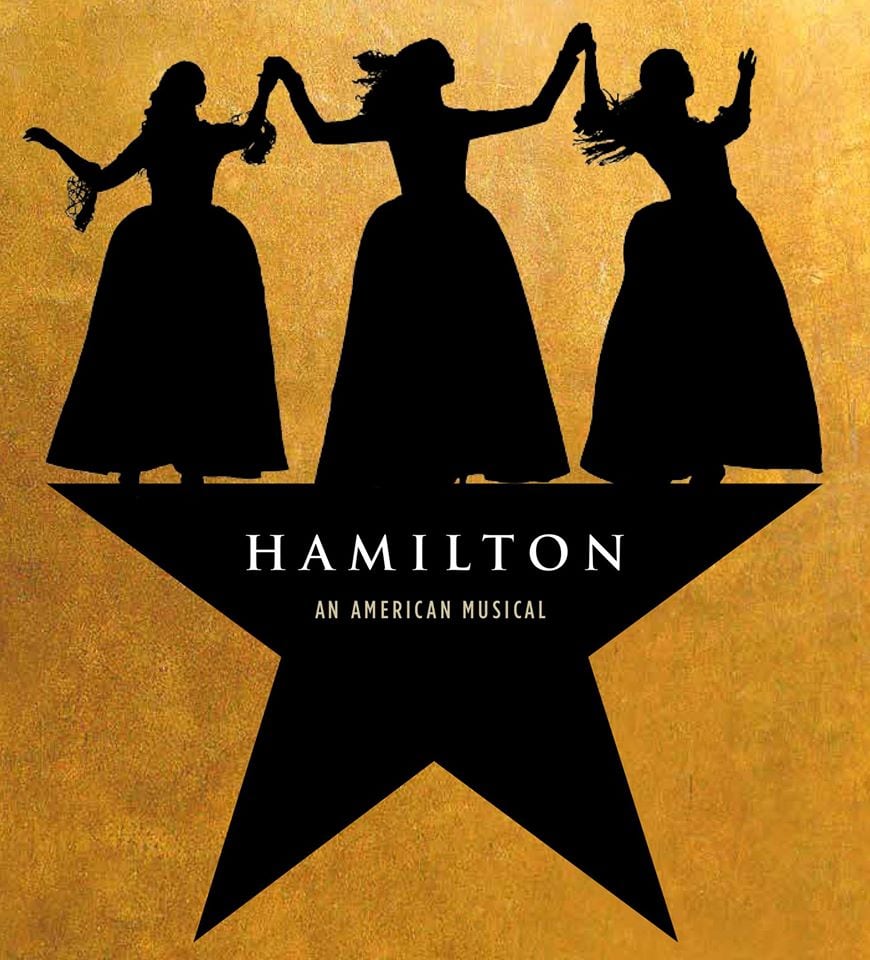 In my last Hamilton-inspired fashion article, we explored fashion inspired by Founding Fathers Alexander Hamilton, Aaron Burr, and George Washington. Today, we'll look at the women in Hamilton's life: the Schuyler sisters.
Behind the Scenes
The daughters of Senator Philip Schuyler, these women are just as knowledgeable and passionate about the Revolution as the male soldiers and politicians. They introduce themselves with incredible belting and clever wordplay — Lin-Manuel Miranda describes their first number as the Destiny's Child song in Hamilton.
Angelica, Eliza, and Hamilton are in a weird kind of love triangle, but they all remain complex, interesting characters rather than romantic stereotypes. Angelica meets Hamilton first and quickly falls in love with him, but introduces him to Eliza. Eliza marries him, and Angelica stays a close friend to both of them. Eliza and Angelica's relationship stays strong even when Hamilton messes things up with both women. The Mary Sue thinks that Eliza is the real hero of Hamilton — it's definitely worth a read.
I've created outfits based on all three sisters. Keep reading to see them all!
Angelica
"We hold these truths to be self-evident,
That all men are created equal."
And when I meet Thomas Jefferson,
I'm 'a compel him to include women in the sequel!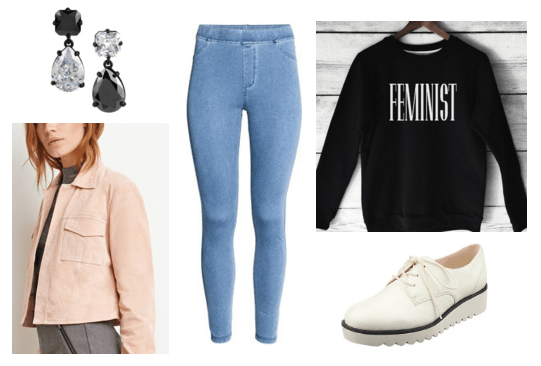 Products: Sweatshirt, Jeans, Coat, Shoes, Earrings
Angelica is looking for a mind at work — she's excited by the intellectual revolution that comes along with the political one. This sweatshirt is perfect for her. It shows off her feminist cred and pays tribute to black feminists Beyoncé and Chimamanda Ngozi Adichie (Beyoncé sampled Adichie's TEDx Talk about feminism in her song "Flawless.")
For a casual look, put on light high-waisted jeans and a coat that matches the peach color of Angelica's costume. Keep your feet comfortable while you explore the greatest city in the world with heavy-soled white oxfords. Finally, mismatched black and white earrings allude to the idea behind Angelica's song "Satisfied" — the same event can look different depending on whose perspective you look at it from.
Eliza
I put myself back in the narrative.
I stop wasting time on tears.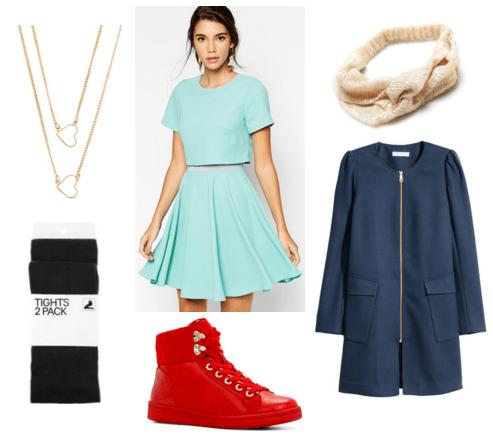 Products: Dress, Coat, Tights, Sneakers, Necklace, Headband
Channel Eliza in a mint-colored skater dress that modernizes her costume. To keep warm, add black tights and a blue coat that looks like the army uniform coat — as shown by her parts in "The Schuyler Sisters," Eliza is excited by the possibility of revolution.
These flashy red high top sneakers represent Eliza's powerhouse song "Burn" (they're actually named Elza — it's a sign). Accessorize with a gold heart necklace that symbolizes Eliza's loving, generous nature, and a gold headwrap to keep your hair out of your way while you get stuff done, just like her.
Peggy
And Peggy!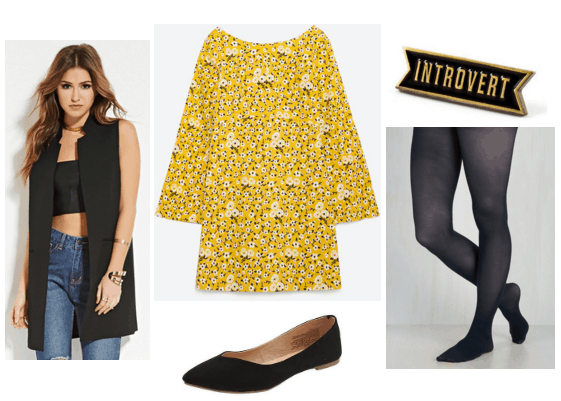 Products: Dress, Vest, Flats, Tights, Pin
Peggy may have a much smaller role than her sisters, but she's still important! To dress like her, wear a patterned yellow dress that mimics the yellow of her costume.
Balance the brightness of the dress with some darker pieces — a long black vest, navy blue tights, and practical black flats. For the final touch, add a pin that says "introvert" — although her sisters get her out of the house, she's certainly the most reserved of the three.
Epilogue
These women are great fashion models and role models. Hamilton modernizes them in a way that seems perfectly in line with our values as women today, and allows them to have their voices be heard in a way that the historical documents might not. Here's to well-written female characters!
Your thoughts?
If you listened to the Hamilton cast recording after the last article, have you gotten it out of your head yet? Are there any plays or musicals you would love to see covered in this column? Let us know what you think in the comments below!