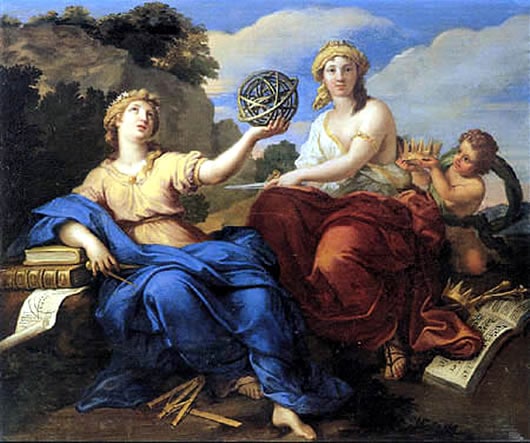 Hello, hello and welcome back to Greek Myth Fashion, your fortnightly dose of Greek mythology-inspired style. This is the final installment of fashion inspired by the Muses (see previous articles here and here).
Ever wondered what the Muses would be like as college girls? In this article I will show you three outfits inspired by Erato, Polyhymnia, and Urania.
Erato – Muse of Love Poetry
Erato is the Muse of erotic and lyric poetry. Her symbols include myrtle, roses, turtle doves, and the lyre.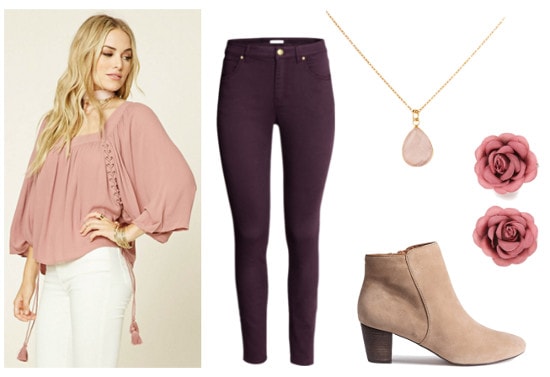 Products: Blouse, Pants, Necklace, Hair Clips, Ankle Boots
I picture college girl Erato as being a Poetry or Creative Writing major. She would be a true romantic, a lover of all things vintage, and an overall sweetheart. Erato would be the matchmaker in her group of friends and the best person to answer questions like 'Okay, he texted me, what should I reply?'
Erato would be a big fan of pink and purple shades, and her style would best be described as romantic. A flowy blouse with draped sleeves and lace-up sides and tassels would be perfect for her. Add plum-colored pants, beige ankle boots, a delicate necklace, and rose hair clips for a lovely Erato-inspired outfit.
Polyhymnia – Muse of Sacred Poetry
Polyhymnia is the Muse of sacred poetry, religious hymns, and pantomime. She is also credited as being the Muse of geometry and meditation. She is depicted as being a serious and pensive woman, wearing a long cloak and veil.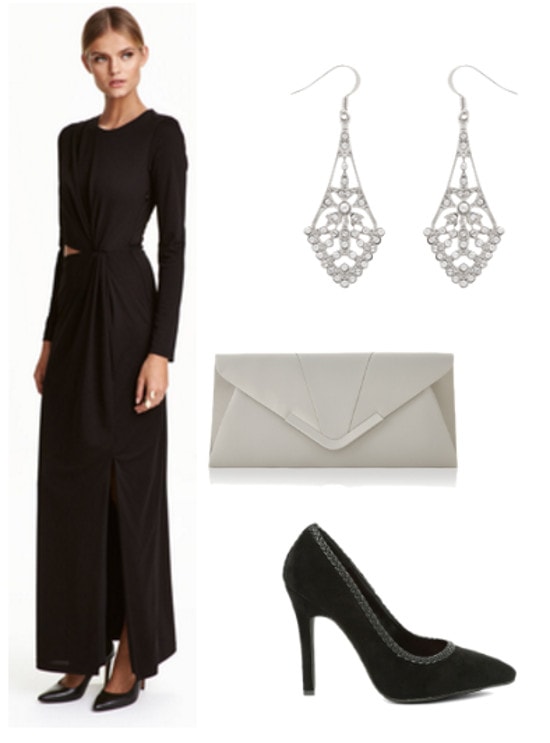 Products: Dress, Earrings, Clutch, Heels
Polyhymnia would be a spiritual person – a major in Religious Studies would be fitting. Although she would come across as serious and often broody, her friends would describe her as a friendly confidant who offers great advice. Apart from being the voice of reason in her social circles, she would also be renowned for being the best Heads up! player.
I imagine Polyhymnia rocking darker colors and maxi dresses. Combine a long-sleeved black maxi dress with black heels, chandelier earrings, and a silver clutch, and you will have an outfit suitable for any black-tie event.
Urania – Muse of Astronomy
Urania is the Muse of astronomy. She is usually depicted as wearing a starry cloak, and keeping her eyes turned towards the sky. Her symbols are the globe and the compass, and it is said that she can predict the future from the positions of the stars.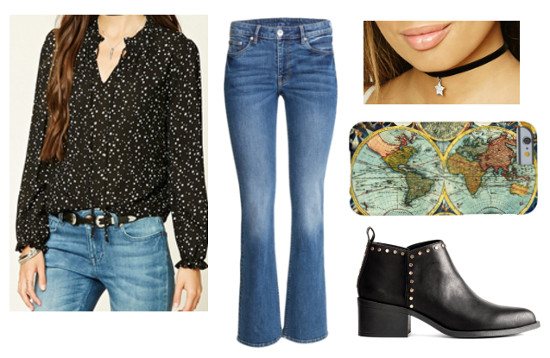 Products: Blouse, Jeans, Choker, Phone Case, Ankle Boots
Urania would be a science nerd determined to discover the secrets of the Universe. She would work hard for her Astronomy degree, but also play hard by attending social events on campus and going on road trips with her besties. She could spend hours explaining the physics and chemistry of planets, and within the first week of befriending her she would definitely take you out stargazing.
Bring the starry night sky into your wardrobe and pay tribute to Urania's cloak with a star print blouse. Add a pair of bootcut jeans and ankle boots with studs. Finally, accessorize with a star pendant choker and a phone case with a vintage world map. Now who wants to go identify some constellations after a study session?
What do you think?
Who is your favourite muse? Would you wear any of these outfits? Which muses would you like to see next? Let us know in the comments below!