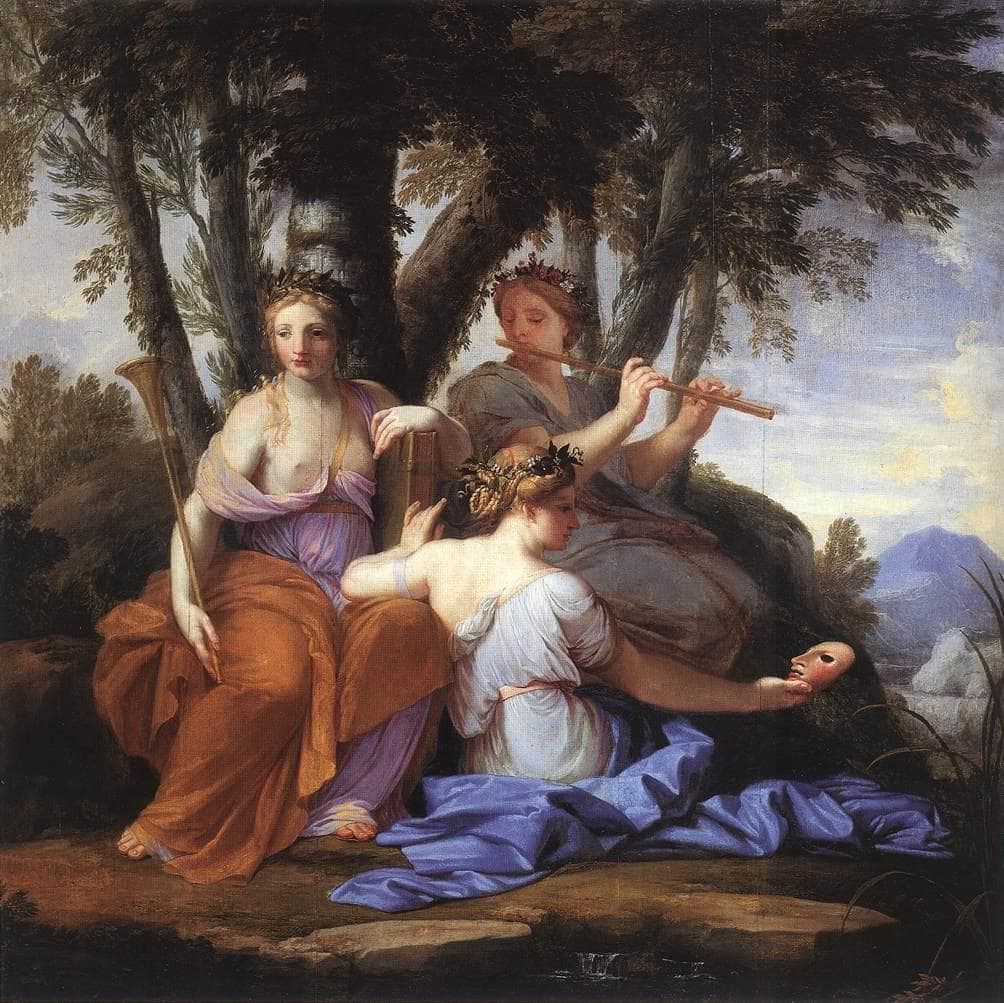 Hello and welcome back to Greek Myth Fashion, the column that turns Greek mythology into style inspiration. Last time, I started breaking down fashion inspired by the Muses, so now I will continue by showing you three outfits inspired by Clio, Euterpe, and Thalia, and discussing what I think the Muses would be like as college girls.
Clio – Muse of History
Clio is the Muse of history, and the proclaimer and celebrator of great deeds and accomplishments (for example, when somebody goes from zero to hero). She is depicted with either an open scroll of parchment or a set of tablets. The laurel wreath is also one of her symbols.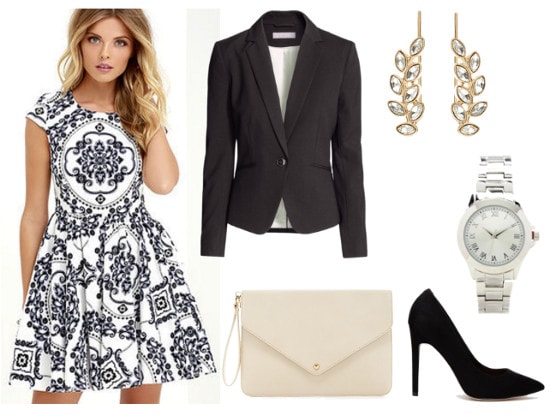 Products: Dress, Blazer, Earrings, Clutch, Heels, Watch
As a college girl, Clio would definitely be a History major. She would be a hard-working student, and a firm believer that you get what you give. She would be passionate about volunteering, so she would intern for various charities. And I think she would organize an event to celebrate students' outstanding contributions to campus life and the community.
This outfit inspired by the Muse of history is an elegant and professional one, perfect for a networking event or conference. The dress' royal print reminds me of something you'd admire in a museum, so pick a similar design and you'll definitely catch people's attention. Combine with a black blazer and heels and you'll have an outfit worthy of a young professional. Accessorize with a silver watch, a pair of ear crawlers, and a clutch reminiscent of Clio's tablet.
Euterpe – Muse of Music
Euterpe is the Muse of music, song, and lyric poetry. Her symbol is the aulos, the ancient Greek double flute.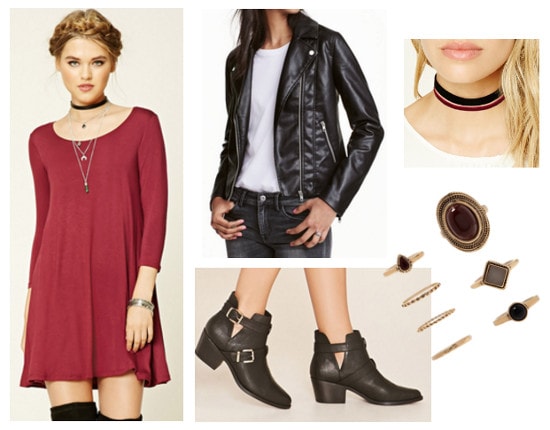 Products: Dress, Jacket, Choker Set, Booties, Ring Set
Euterpe would definitely be a musical genius. After mastering at least two instruments during her childhood, she would start bands with her friends in high school, dabbling in various genres. In college she would focus more on songwriting, while also rocking at parties with her all-female band.
Out of all the Muses as college girls, I believe Euterpe would have the greatest fashion flexibility, by adapting her style to her current musical preferences. The outfit above reflects her time in a badass girl band, combining feminine and grungy elements. The central piece is a burgundy trapeze dress. Add a black biker jacket, a pair of buckled ankle booties, a set of velvet chokers, and a set of rings, and you're ready to rock!
Thalia – Muse of Comedy
Thalia is the Muse of comedy and idyllic poetry. Her symbols are the comic mask, the ivy wreath, and the shepherd's staff. Fun fact: in vaudeville acts, when they pull actors from the stage using a hook, that's meant to be Thalia's crook.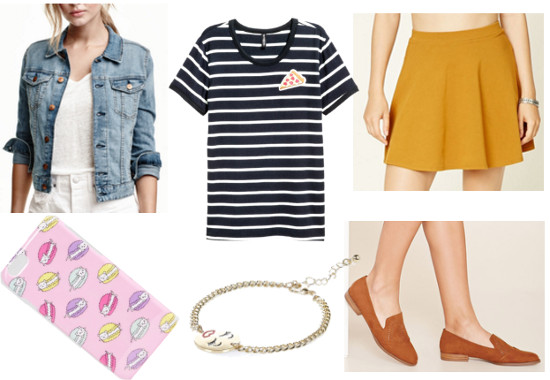 Products: Jacket, Top, Skirt, Phone case, Bracelet, Loafers
One word to describe college girl Thalia? Fun. She would bring pizza to study sessions to boost everyone's morale before finals week, and start impromptu '80s sing-alongs on campus. Always positive and upbeat, she'd be the best at cheering her friends up and making them laugh. Her favorite event at the student union would be open-mic night, the perfect place to showcase her new standup act.
I think Thalia's style would be effortlessly cute, with fun accessories and details. Combine a striped t-shirt with a pizza patch (because pizza = happiness), a yellow skirt, a denim jacket, and brown loafers. Add a smiley face chain bracelet (in honor of Thalia's comic mask), and a fun phone case (I chose macaroon cats, but the possibilities are endless). The take-home message here is to wear accessories or clothing items guaranteed to brighten up any stressful or gloomy day of lectures.
What do you think?
Who is your favourite muse? Would you wear any of these outfits? What do you think Euterpe's band should be called?Which muses would you like to see next? Let us know in the comments below!