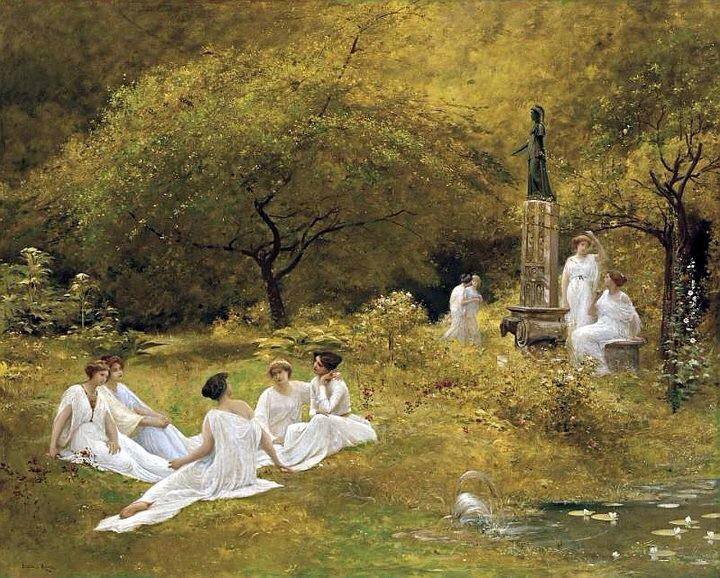 Hello, and welcome to another edition of our Greek Myth Fashion series! We have previously drawn fashion inspiration from Olympian gods, and now it's time to turn our attention to the Muses.
The Muses are inspirational goddesses of the arts, literature, and science. They are the daughters of Zeus and Mnemosyne, the goddess of memory. There are nine Muses, so I'm going to split them into three articles. For each article, I will write what I think the Muses would be like as college girls, and what fashion choices they would inspire.
So listen to this Disney gem and keep reading to see three outfits inspired by Calliope, Terpsichore, and Melpomene.
Calliope – Muse of Epic Poetry
Calliope is the muse of eloquence and epic poetry. She is considered the chief of the muses, and her symbol is a writing tablet. In paintings she is sometimes depicted holding a book, or wearing a gold crown. She is the mother of Orpheus, the lyre-playing hero who travelled to the Underworld to retrieve his wife Eurydice.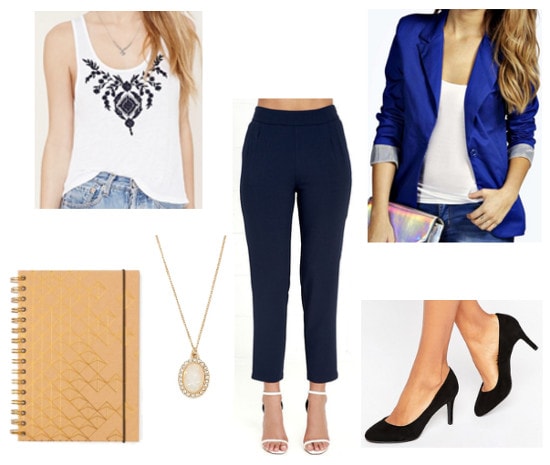 Products: Top, Pants, Blazer, Heels, Necklace, Notebook
If Calliope were a college girl, I think she would be the hardworking type who successfully balances coursework and extracurricular activities. Apart from earning top grades in her Humanities degree, she'd also be editor-in-chief of the college newspaper, a member of the debate team, and she'd likely score a great editorial internship. And in her free evenings, Calliope would make herself chamomile tea, put on a cozy sweater, and work on her adventure novel.
Because I imagine Calliope as an overachiever, I put together a professional outfit that's ideal for internships, or simply for feeling like a boss. Combine an embroidered white tank top with a pair of navy trousers and a cobalt blue blazer (roll the sleeves up for extra style points). Add elegance with a pair of black heels and a delicate faux stone pendant necklace. You can adapt Calliope's symbols through a notebook with gold geometric print. Remember to carry it in your bag at all times to record your brilliant ideas.
Terpsichore – Muse of Dance
Terpsichore is the muse of dance, and the goddess of the Greek chorus. She is the mother of the sirens, and has the lyre as her symbol.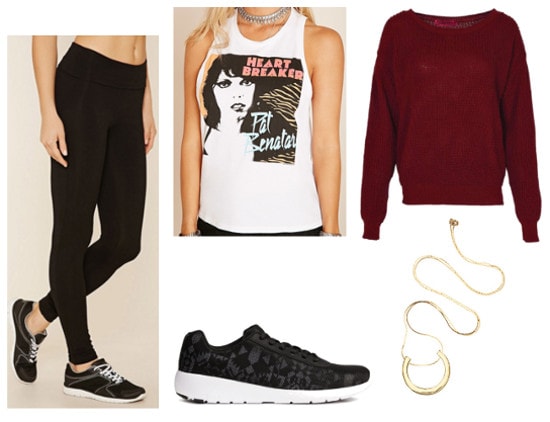 Products: Leggings, Top, Sweater, Sneakers, Necklace
Terpsichore would be the girl who dedicates all of her free time to dance. She would attend every single party and club night, having the time of her life on the dance floor. She would also volunteer to choreograph all the musicals and dance showcases taking place on campus, absolutely killing it every time.
If dance is your passion too and you want an easy way to change between classes and practice, try a transition outfit like the Terpsichore-inspired one above. Wear leggings, a graphic tee, sneakers, an oversized sweater, and a necklace (this one resembles the lyre shape). Once you're done with classes you can take off the sweater and necklace and there you have it: an easy-peasy transition to activewear. Now go bust a move!
Melpomene – Muse of Tragedy
Melpomene is the Muse of Tragedy. She is often represented by artists as carrying a tragic mask, a blade, and wearing kothornos, boots typically worn by Athenian actors in ancient Greece.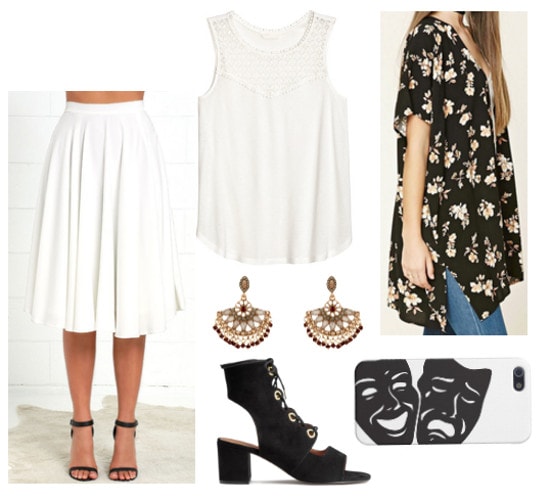 Products: Skirt, Top, Kimono, Earrings, Shoes, Phone Case
Melpomene would definitely be a drama girl. She would major in Visual and Performing Arts and be part of her college's drama club. She would also be fascinated by Greek tragedies (so meta).
As a modern tribute to the chitons worn by ancient Greeks, pair a white flowy skirt and a white tank top. For your footwear to resemble the kothornos, wear laced sandals to get the 'half-boot' effect. Greek tragic actors would sometimes wear capes to play certain roles, so layer a kimono over your outfit. Accessorize with a pair of statement earrings and a phone case with theatrical masks.
What do you think?
Who is your favourite muse? Would you wear any of these outfits? Which muses would you like to see next? Let us know in the comments below!