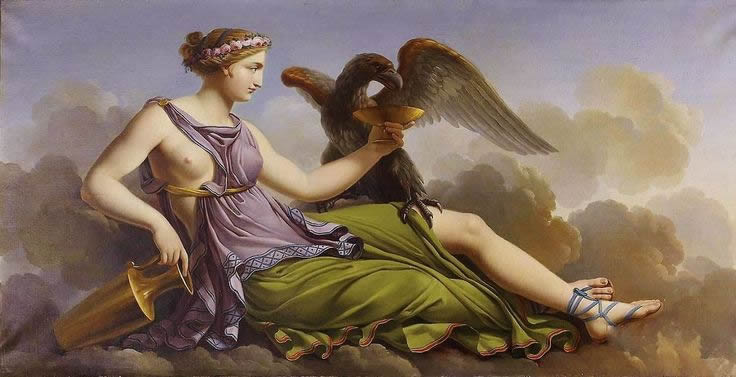 Hello, and welcome to another installment of Greek Myth Fashion, where we draw fashion inspiration from Greek mythology.
In this article, I will complete the series of outfits inspired by the twelve Olympian gods by showing you three outfits inspired by Hestia, Hebe, and Demeter.
Hestia – Goddess of the Hearth
Hestia is the goddess of the hearth, home, domesticity, and architecture. She is a virgin goddess like Athena and Artemis, and she is known for her chastity, kindness, and non-confrontational nature.
Hestia's duty in Olympus is maintaining the fires of the Olympian hearth using the animal sacrifices made by mortals. She traditionally received the first offering during each sacrifice in the household. Failure to maintain the domestic hearth or the temple fires was considered a failure of domestic and religious care.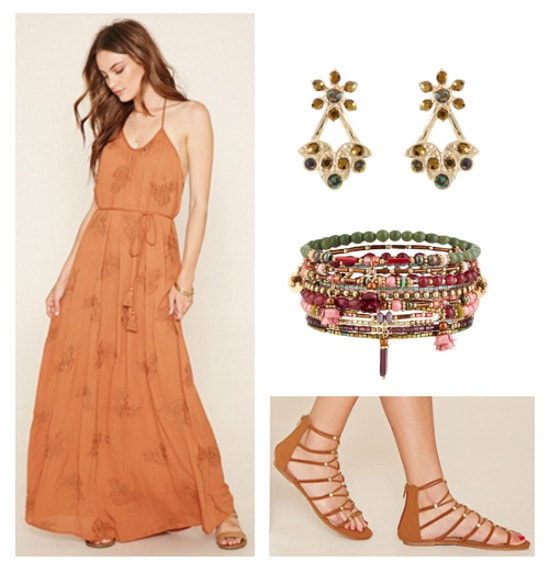 Products: Dress, Earrings, Bracelets, Sandals
For a Hestia-inspired look, simplicity is key. And that can be achieved by pairing an orange maxi dress (reminiscent of the hearth) with a pair of gladiator sandals. Additional colors are introduced in the outfit through the set of bracelets and the earrings.
Hebe – Goddess of Youth
Hebe is the goddess of eternal youth and the cupbearer of Olympus. She served nectar and ambrosia to the gods and goddesses, until she married Heracles after he gained immortality. (Sorry, Disney fans: The movie is very different from the original myths.)
Hebe was a popular art subject between the 18th and 19th centuries, as many royal ladies were portrayed as the goddess. In paintings, Hebe was often depicted alongside an eagle which was thought to either represent her father Zeus, or have the ability to rejuvenate like a phoenix.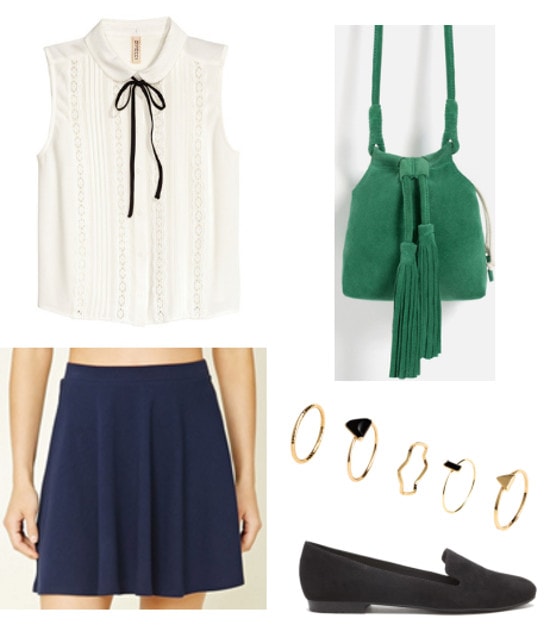 Products: Top, Skirt, Bag, Ring Set, Loafers
To capture the youthfulness representative of Hebe, I put together a schoolgirl-with-a-twist outfit. A white blouse with a Peter Pan collar, pleated navy skirt, and black loafers might bring back memories if you had a school uniform. Now add a green crossbody bag with tassels (because green is the color of rejuvenation) and a set of rings, and you have a preppy look perfect for going to lectures.
Demeter – Goddess of Agriculture
Demeter is the goddess of the harvest, agriculture, and fertility of the earth. She also presides over religious law and the cycle of life and death. And she is the mother of Persephone.
Demeter taught mortals the secrets of agriculture, and is the one who determines how bountiful the annual harvest is. Her wrath would immediately lead to famine due to death of the crops.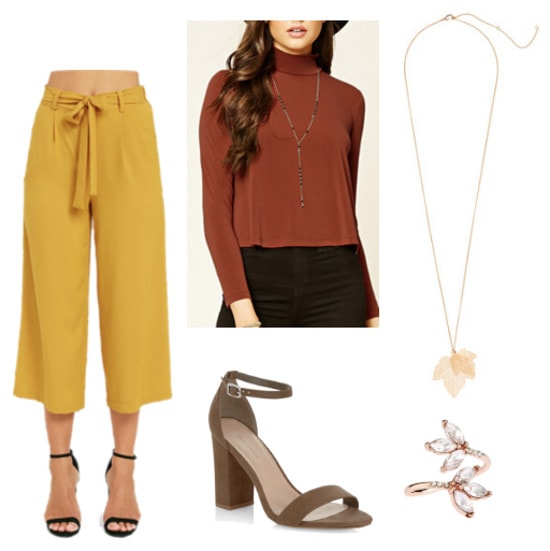 Products: Pants, Top, Heels, Necklace, Ring
Demeter's patronage over the harvest is best translated into an autumnal outfit. Transition from summer to fall by wearing a pair of yellow culottes and a rust-colored long-sleeved top. Add khaki block heels and accessorize with a leaf pendant necklace and a floral ring. Now you're ready to greet the end of August in style!
What do you think?
Who is your favorite goddess? Would you wear any of these outfits? Which deity would you like to see next? Let us know in the comments below!