We have previously drawn style inspiration from the Big Three Greek gods, and now it's time to turn our attention to their wives. So welcome to Greek Myth Fashion: the Queens edition!
In this article I will show you three outfits inspired by Hera, Amphitrite, and Persephone.
Hera – Queen of Olympus
Hera is the goddess of marriage, women, childbirth, and family. And as Zeus' wife, she is also the queen of Olympus. But despite her patronage over marriage and family life, her own union is not exactly the happiest and most peaceful.
While Zeus is infamous for his adulterous affairs, Hera is renowned for her vengeance against her husband's lovers, or against anybody who crosses her. And oftentimes her actions are pretty violent.
As I side note, I think Hera's favorite album of 2016 would be Beyoncé's Lemonade.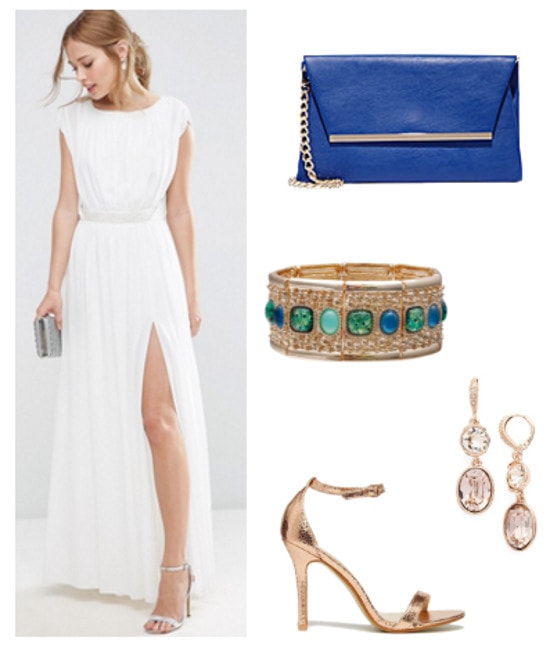 Products: Dress, Clutch, Bracelet, Earrings, Sandals
The central element of this Hera-inspired outfit is a white maxi dress, ideal for formal events. Combine it with gold high-heeled sandals and drop earrings for a sophisticated look that's worthy of a queen. Hera's sacred animal is the peacock, which is represented through the bracelet and the envelope clutch.
Amphitrite – Queen of the Sea
Amphitrite is a sea nymph, the wife of Poseidon, and the goddess-queen of the sea. In poems she is also the female personification of the sea.
Poseidon and Amphitrite are often depicted together in paintings and sculptures. Decorations featuring the two were commonly found in Poseidon's temples, possibly indicating a combined worship. I like to think that they were the power couple of the sea.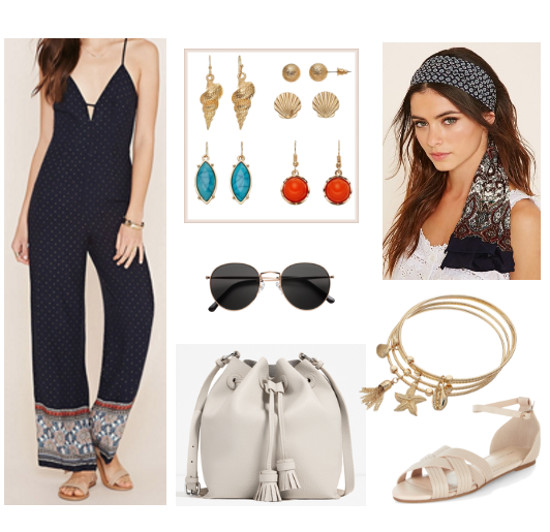 Products: Jumpsuit, Earring Set, Sunglasses, Bag, Headwrap, Bracelet, Sandals
For a look inspired by Amphitrite, I chose a navy patterned jumpsuit. And why settle for just a pair of nautical earrings when you can buy a whole set to mix things up? Add sunglasses, a charm bracelet, a pair of comfortable sandals and a bucket bag, and you're ready for your next summer adventure! For a final boho touch, wear a patterned headwrap- it's both practical and chic.
Persephone – Queen of the Underworld
Persephone is the goddess of spring and, as Hades' wife, the queen of the Underworld. As a goddess of vegetation she was worshipped alongside her mother Demeter, the goddess of harvest.
The abduction of Persephone is a famous Greek myth closely linked to the change of seasons. Hades fell in love with Persephone, but knew that Demeter wouldn't allow her to move to the Underworld. So Hades abducted Persephone, (yup, not creepy at all, Hades…) and Demeter stopped the earth's crops from growing until her daughter's return.
To solve the conflict, Zeus convinced Hades to return Persephone to her mother. The Underworld ruler accepted, but first he offered his bride a handful of pomegranate seeds to eat. So Persephone was allowed to return to Demeter (in spring), but because she had tasted food in the Underworld she had to forever spend part of the year (the winter months) in the Underworld with her husband.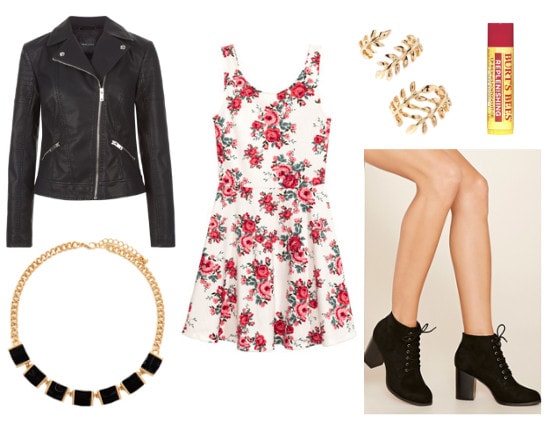 Products: Biker Jacket, Dress, Necklace, Ring Set, Lip Balm, Ankle Booties
When picturing Persephone's style, I think 'cute as hell, but also the queen of hell'. To represent this duality, combine a feminine floral dress with a black biker jacket and black heeled ankle booties. Accessorize with a choker/statement-necklace hybrid, and a set of leaf rings to reflect how Persephone brings spring every year. Lastly, prevent chapped lips by using pomegranate lip balm, a subtle nod to her well-known myth.
What do you think?
Who is your favorite goddess-queen? Would you wear any of these outfits? Which deity would you like to see next? Let us know in the comments below!