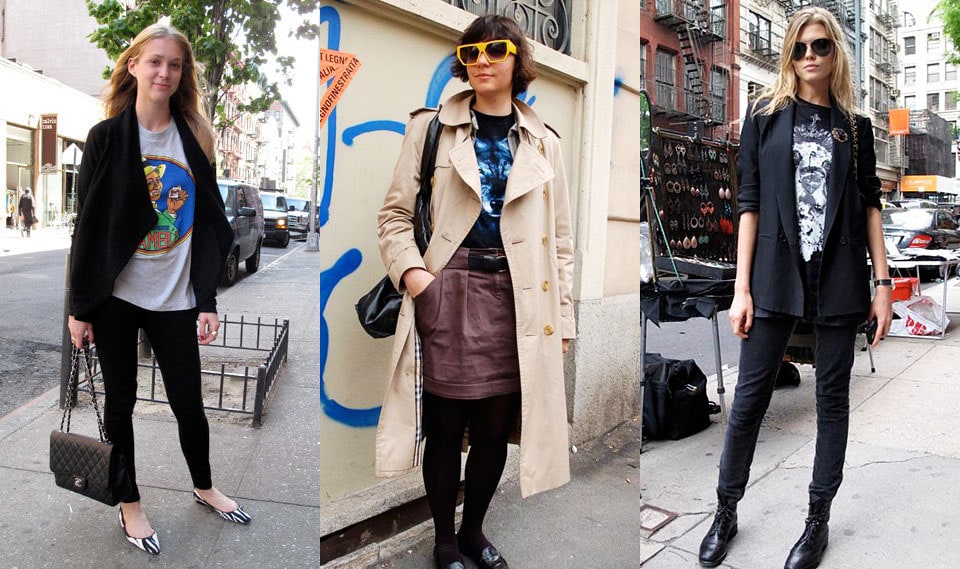 The summer music festival circuit can only mean one thing– band tees! They've seen a resurgence with the fashion world's move towards normcore in recent years, and when paired with denim cutoffs, are the most ubiquitous summer style uniform.
However, there are only so many times I can style my band tees with denim shorts and overalls before I get tired of looking like a Coachella runaway. If you, like me, are looking for new ways to style your band tees, I've come up with five outfit ideas that do just that.
Bonus: I've named each look after a song from each featured band, so comment with lyrics if you know any of them!
1. God of Thunder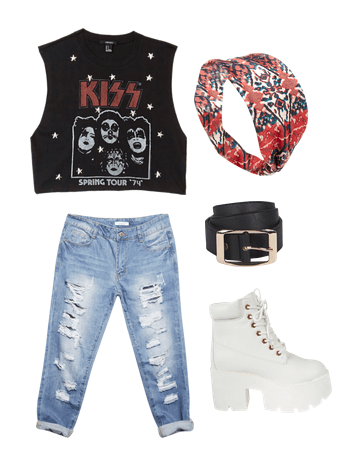 Product Information: Shirt – Forever 21, Jeans – Wet Seal, Headwrap – Wet Seal, Belt – Boohoo, Shoes – NYLONStore
If your comfort zone is boyfriend jeans and a band tee, try adding a headwrap. This one comes in an unexpected print, and adds interest to an otherwise standard music festival ensemble.
When styling boyfriend jeans, I like to go two routes: a) pairing it with everything sleek and slinky, like ankle-strap heels and long necklaces, or b) with chunky everything. I've gone the chunky route here, with this large-buckle belt and super-clunky white boots.
2. Blank Space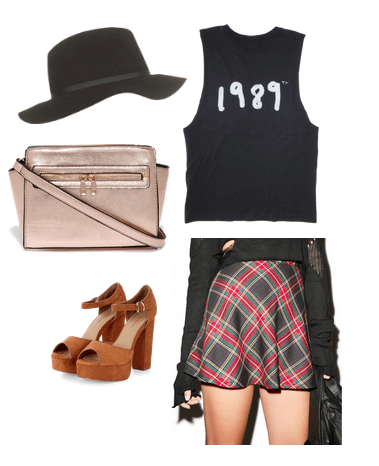 Product Information: Tee – Taylor Swift Official, Skirt – Doll's Kill, Heels – New Look, Bag – Lulu's, Fedora – Topshop
I will admit to stealing this styling idea from Taylor Swift– but what's not to love about T. Swift's style? This skirt, like the 1989 muscle tee, is the perfect blend of edgy and girly. A skater skirt goes with everything, and is a great way to add a fresh twist to your band tee if you're just looking to dip your toes in the water.
A fedora and platform heels take this outfit to the next level– if your outfit is made of style basics, use statement accessories to amp up your look. This adorable crossbody has the structure and shape of Michael Kors' versatile Selma bag, but for half the price. It's also available in rose gold, which adds interest to the classic silhouette of this bag.
3. It's a Long Way to the Top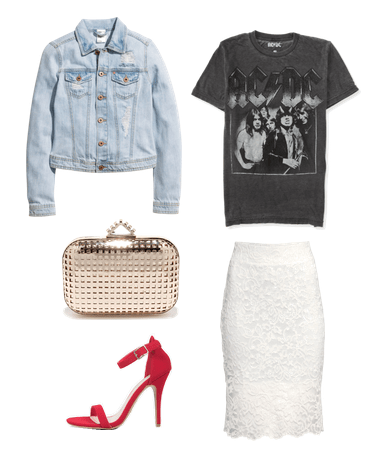 Product Information: Tee – Aeropostale, Skirt – H&M, Jacket – H&M, Clutch – Lulu's, Heels – 2020Ave
One of my fail-proof ways to style a band tee is by maximizing contrast. Since these kinds of tees tend to have a more relaxed fit, I've juxtaposed this AC/DC shirt with a lace pencil skirt. Knee-length pencil skirts also tend to look a lot dressier than their mid-thigh counterparts, and when paired with the baggier tee, creates an unusual silhouette.
It's not quite jacket weather, but I love throwing on a denim jacket on chilly nights. Since we've already got lace and AC/DC, denim adds an interesting dimension to the look, but you could also go with a great moto jacket.
4. Ice Cream Man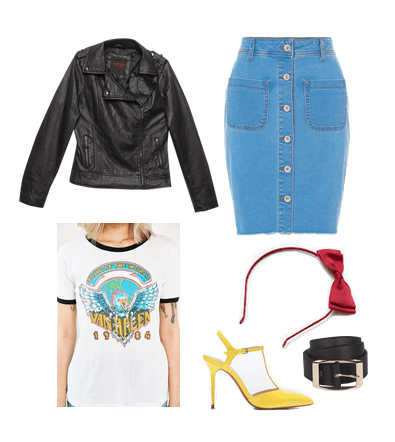 Product Information: Tee – Urban Outfitters, Skirt – New Look, Jacket – Wet Seal, Bow – Zara, Heels – Zara, Belt – Boohoo
There's something so incredibly '70s about this particular band tee, so I've capitalized on that and paired it with this denim pencil skirt. If you've always paired your band tees with denim, a denim skirt is an easy way to experiment style-wise without going the whole hog.
Since the skirt, chunky belt, and tee scream "retro!" from the rooftops, I added a modern vibe to the look with a moto jacket and ankle-strap heels. Because I love bows, I went with this bow hairband for an additional touch of kitsch– but you can just as easily opt for a bright red lip.
5. She's a Rainbow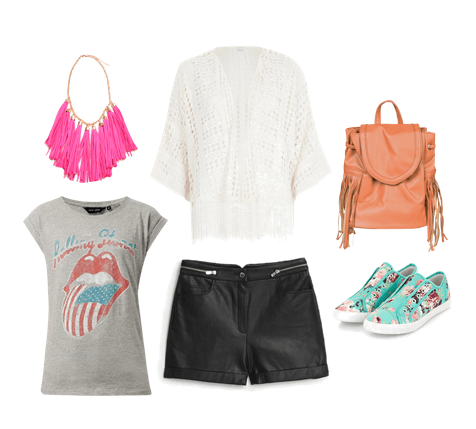 Product Information: Tee – New Look, Kimono Cardigan – River Island, Shorts – Mango, Sneakers – New Look, Backpack – 2020Ave, Necklace – Purple Peridot
If you're still not sure you could ever wear a band tee with anything except shorts, this one's for you. Try swapping out your denim shorts for leather-look ones. Add a crochet kimono cardigan if you want to take your look to the next level– again, the juxtaposition of lace and leather adds interest.
Because the look so far is fairly monochromatic, I added fun pops of color with this statement tassel necklace and these floral sneakers. Since red and pink are analogous, and both are complementary to green (which is then analogous to the blue on the shirt), the colors in this look all come together really nicely.
What do you think?
How do you usually style your band tees? What are your favorite ways to add interest to a piece that's already been worn so many different ways? Would you wear any of the looks above? Let me know in the comments!