A basic white t-shirt is a staple in my closet, as it is in everyone else's closet. However, sometimes finding the right way to style a white tee shirt can be overwhelming. There are so many ways to do it!
Spring is officially here (even if it doesn't feel like it just yet) and summer is right around the corner so I made up five different looks you can throw together with any white t-shirt you might have.
White T-Shirt Outfit 1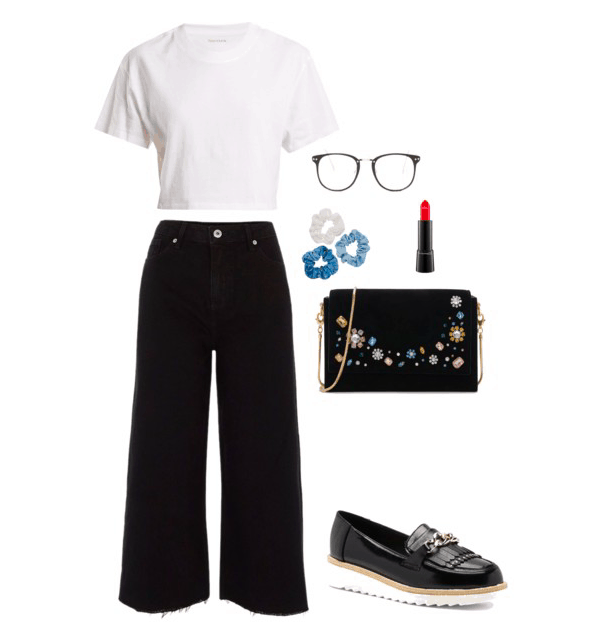 Products: T-shirt – Matches, Jeans – River Island, Loafers – Boohoo, Bag – Charles & Keith, Glasses – Nasty Gal, Scrunchies – Kohl's, Lipstick – Nordstrom Rack
I used to be all over skinny jeans, but no longer. I've been broadening my horizons over the past few years and have tried out different styles of jeans. I'm excited to try this cropped wide leg jean with my favorite white tee — jeans like these are perfect for the warmer weather we're supposed to (hopefully) get soon. Finish with platform loafers and quirky extras.
White T-Shirt Outfit 2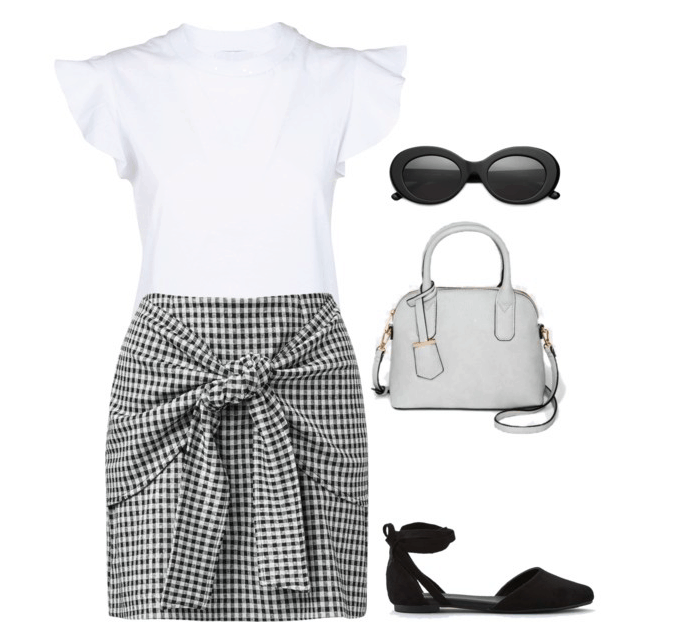 Products: T-shirt – Italist, Skirt – Sports Girl, Purse – Target, Sunglasses – The Love Tempo, Shoes – American Eagle
This second look gives me some serious Blair Waldorf vibes. Is my subconscious trying to tell me something because I'm re-watching Gossip Girl on Netflix? Now that I'm thinking about it, a headband would have completed the look…
This white t-shirt is a little dressier than the typical style you'd buy, but it's an amazing investment for those of you with girlier, more preppy and put-together styles. Rock it with a trendy gingham skirt and flats for the perfect springtime outfit.
White T-Shirt Outfit 3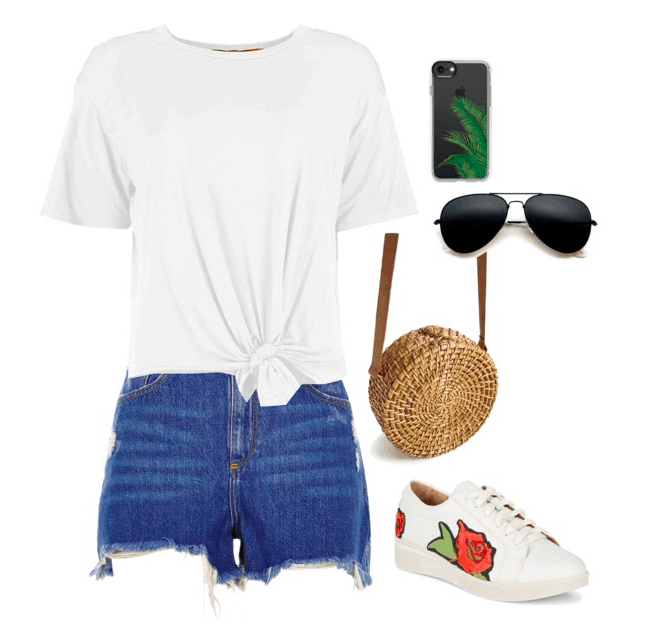 Products: T-shirt – Boohoo, Shorts – River Island, Shoes – Saks off Fifth, Phone case – Casetify, Purse – Forever 21, Sunglasses – Popmap
So many summer vibes from this third outfit! A white t-shirt and denim shorts is a never-fail outfit combination. Sneakers make the look comfortable, but you're more than welcome to swap them out for some ankle booties, sandals, or whatever floats your boat.
White T-Shirt Outfit 4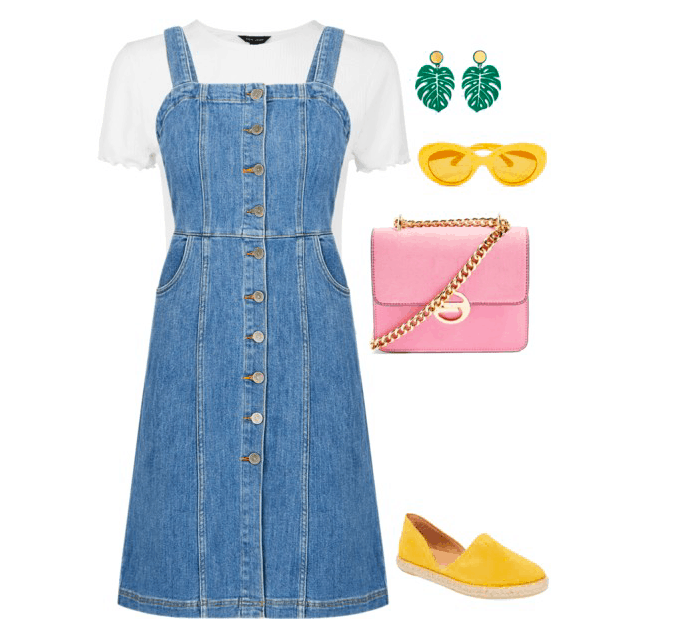 Products: T-shirt – New Look, Dress – Brand Outlet, Shoes – Gilt, Purse – Nordstrom, Sunglasses – Ban.Do, Earrings – Ban.Do
I added so much color to this one and I'm loving it! I imagine myself wearing this on beach or tropical vacation for an easy everyday outfit. A denim dress and a white t-shirt is one of my favorite go-to outfits; it makes me feel like Belle.
White T-Shirt Outfit 5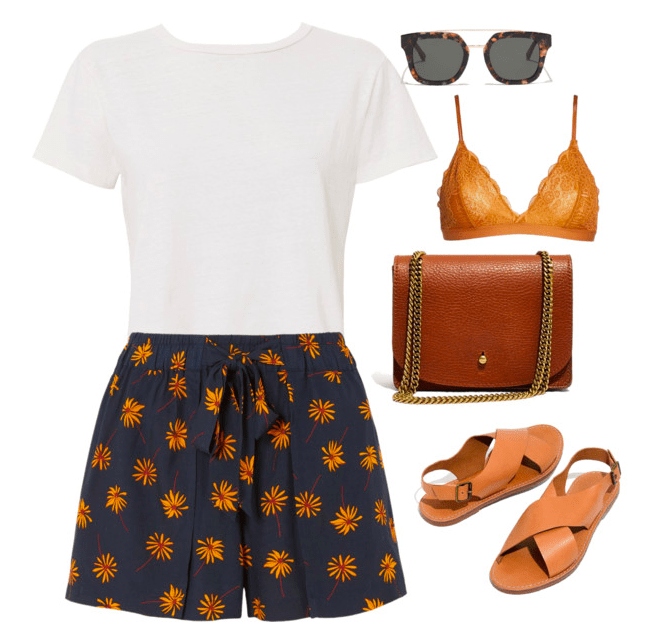 Products: T-shirt – Intermix, Shorts – Madewell, Shoes – Madewell, Purse – Madewell, Bralette – Madewell, Sunglasses – Madewell
This fifth outfit is a Madewell-centered ensemble. I found the shorts on Madewell and it kind of spiraled out of control from there. (Did you know we're obsessed with Madewell around here? Not sponsored, we just truly love them.)
I really love the look of a bralette under a white t-shirt, so I mixed that combo with cool-girl printed shorts, comfy sandals, and cat-eye shades.
How do you wear your favorite white tees?
Do you have any other ways you like to wear a white t-shirt? Perhaps a more casual way that I didn't include or maybe you know how to really dress it up? Let us know in the comments below.