If you've been keeping up with the Geek Chic column or if you read the post featuring fashion inspired by The Lord of the Rings, you may have noticed that I have a serious love for fantasy films and novels. So it shouldn't come as a surprise that I'm practically foaming at the mouth to see the first installment of Peter Jackson's long-awaited adaptation of The Hobbit.
The Hobbit: An Unexpected Journey premieres December 14th and stars Martin Freeman, Ian McKellen, Richard Armitage, Andy Serkis, Hugo Weaving, Cate Blanchett, Christopher Lee, and Benedict Cumberbatch.Ian Holmes and Elijah Wood also briefly reprise their roles as older Bilbo and Frodo Baggins. (And yes, ye Legolas lovers, Orlando Bloom will also be making an appearance.)
Below, I'll break down some fashion inspired by the film. But first, let's get a little background info so we're all up to speed.
Know Your Geek: About The Hobbit
J.R.R. Tolkien's The Hobbit, Or There and Back Again, was first published in 1937. Due to its success as a children's and fantasy novel, his publishers requested a sequel.  It took Tolkien twelve years to complete, but you might have heard of a little something called The Lord of the Rings.
The Hobbit is set 77 years before The Fellowship of the Ringand tells the tale of Bilbo Baggins, a Shire resident who enjoys his peaceful life in Bag End. His sense of serenity is completely upended when the wizard Gandalf arrives at his door with thirteen dwarves in tow. Gandalf persuades Bilbo to join in the dwarves on their quest to reclaim dwarven treasure from the dragon Smaug.
Along the way, Bilbo discovers internal courage and conviction. He develops a taste for adventure and proves himself as a bona fide hero.
On his journey, he also encounters the mysterious creature Gollum deep in the Misty Mountains. After an exchange of riddles in the dark, skirmishes with monstrous trolls, and a bit of burglary, Bilbo returns home with a strange souvenir: a magic golden ring.
Outfits Inspired by The Hobbit
Can't wait to dive back into the fantastic world of Middle-earth? Read on for four outfits inspired by The Hobbit: An Unexpected Journey!
In A Hole In The Ground…
…lived a hobbit.  And so begins "An Unexpected Party," the first chapter of the book that would launch a million Tolkien enthusiasts.
Bag End, Bilbo's hobbit-hole, represents the life of pastoral comfort that Bilbo leaves behind for a brave new world of adventure. Later, the cozy home goes on to house more heroes of the Shire: future Ring-bearer Frodo grows up there and Samwise Gamgee eventually inherits the home. The film set is straight out of the text: "It had a perfectly round door like a porthole, painted green, with a shiny yellow brass knob in the exact middle."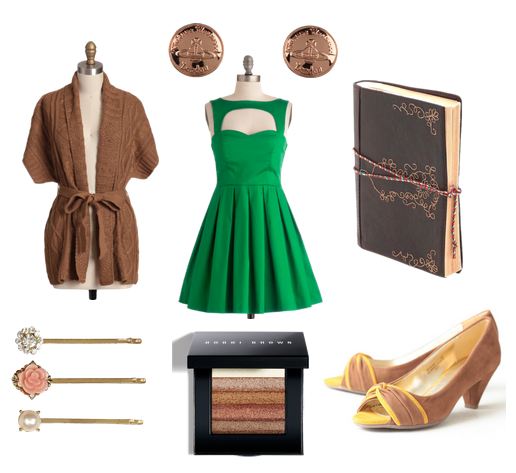 Product Information: Dress, Cardigan, Shoes, Hairpins, Earrings, Makeup, Journal
It makes sense that the Sackville-Bagginses want the house so badly: Bag End is gorgeous! Get inspired by the cheerful yellow and green exterior with a pretty outfit perfect for a party — unexpected or not, your choice! Pair an emerald cutout frock with chestnut-colored kitten heels for a demure but eye-catching look.
Should it get chilly, slip on a cozy cardigan and belt it to accentuate your waist. Add a bit of flair with floral hairpins and a sweep of rosy blush. Round stud earrings recall the unique shape of hobbit-hole doors, while an embossed leather journal is perfect for recording accounts of your adventures!
The Bravest Little Hobbit of Them All
Bilbo Baggins, played by Martin Freeman of recent Sherlock fame, would proudly say that he's a perfectly predictable hobbit, thank you very much. He eats seven meals a day, shuns adventure, and deems cake and tea essential food groups. But behind his oh-so-proper visage is a spark of wanderlust — a touch of destiny, if you will — and it's not long before he gives in to this secret craving for adventure.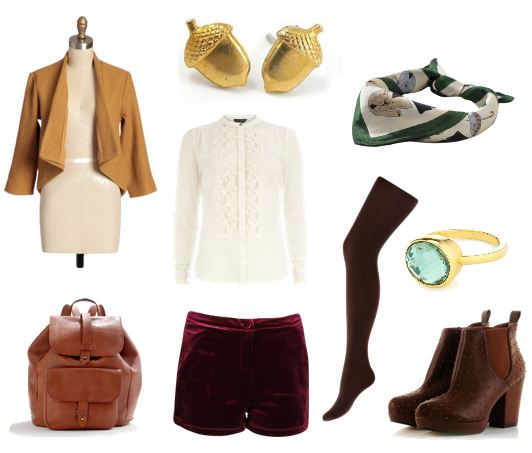 Product Information: Jacket, Top, Shorts, Tights, Boots, Earrings, Scarf, Ring, Backpack
We previously discussed hobbit clothing in the Lord of the Rings post: despite a change in costume designers between the film series, Bilbo is no exception to the warm harvest hue theme. He's a well-to-do hobbit, so his clothes feature rich fabrics and impeccable tailoring.
Burgle Bilbo's style with a pair of burgundy velvet dress shorts. A lacy ivory blouse and mustard-hued jacket provide a slightly aristocratic feel without appearing costume-y. Tie on a silk neckerchief and slip on deep brown tights and ankle boots to complete the outfit. A golden gem ring alludes to Bilbo's fateful discovery of the One Ring, while acorn stud earrings resemble the buttons on his waistcoat. Finally, stash all your treasures in a roomy leather knapsack, and you're ready to embark on a journey!
Thirteen Dwarves
The band of dwarves, led by Thorin Oakenshield, consists of Fili, Kili, Oin, Gloin, Dwalin, Balin, Bifur, Bofur, Bombur, Dori, Nori, and Ori. (Got all that? There'll be a quiz on this at the end of this post.) Dwarves are a hardy, ancient race: although they can sometimes seem a bit arrogant, they place a premium on honor and heritage.
In seeming opposition to their warlike nature, dwarves are known as master artisans who make well-crafted, beautiful things, like the mithril shirt Frodo inherits from Bilbo.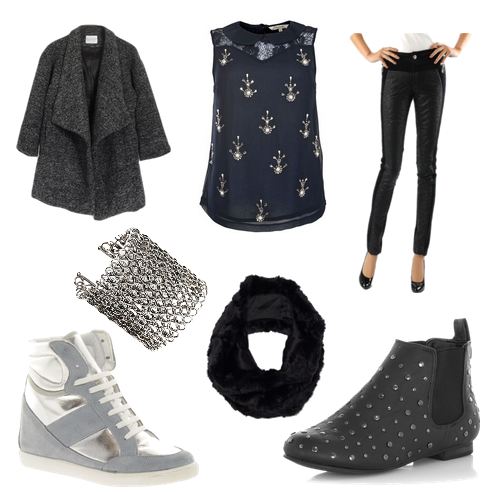 Product Information: Jacket, Top, Pants, Sneakers, Boots, Bracelet, Snood
The dwarves in The Hobbit are on a mission..quest…thing, so they're ready to hop into action at any moment. Their attire consists of heavy velvet, sumptuous furs, and thick leathers and suedes, along with chainmail that serves as testament to their metalworking skills.
Convert the dwarven military gear into an outfit that will serve you well in your own classroom battlefield, aka finals. Faux leather pants provide an unexpected contrast to an embellished chiffon top. Add more textural interest with a tweedy cardigan and faux-fur stole.
Opt for comfortable footwear: if you're into the sneaker wedge trend, try out a flashy pair of silver kicks, or go for subtle shine with studded flat boots. Finally, slip on a chain mail-inspired cuff.
Yer A Wizard!
Three of the five Wizards of Middle Earth, who are known collectively as the Istari, make an appearance in The Hobbit.
Gandalf the Grey, played by Sir Ian McKellen, is the wizard you probably know best. He roams Middle-earth on foot, disguised as an ancient traveler, but is young and playful at heart. Gandalf has great wisdom and does not seek power or glory. He wears grey robes.
Radagast the Brown, played by Seventh Doctor Sylvester McCoy, revels in nature: he is happiest in the company of the flora and fauna of Middle-earth. He wears brown robes. (Are you noticing a naming trend here?)
Saruman the White, played by Sir Christopher Lee, is the leader of the Istari, and has a deep thirst for knowledge and control. He wears (surprise!) white robes.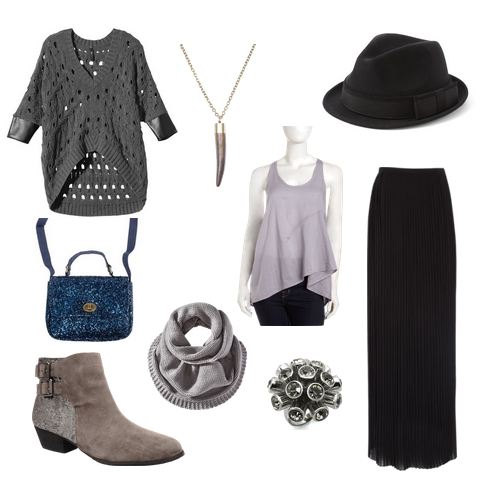 Product Information: Sweater, Tank, Skirt, Boots, Scarf, Ring, Bag, Necklace, Fedora
Gandalf, Radagast, and Saruman all wear long robes in their respective color titles. The wandering Gandalf and the nature-loving Radagast wear robes that are homely and worn compared to Saruman's intricately embroidered attire. (But Saruman doesn't get a cool hat, so let's call it a tie.)
Although all the wizards have snazzy senses of style, I chose to go with a Gandalf-inspired outfit featuring several (definitely less than fifty) shades of gray. To start, pair a pale heather tank with a slim black maxi skirt, then layer on a charcoal sweater. Keep your neck warm with a dove-gray cowl scarf and your noggin toasty with a sleek fedora. Gandalf, the constant traveler, would surely approve of a pair of low-heeled ankle boots ideal for long treks.
All that's left is to don a few accessories. Add some sparkle with a glittery sapphire cross-body bag as well as a starburst pave ring that recalls Gandalf's famous fireworks. Finally, a wooden pendant alludes to his oak staff.
What did you think?
Would you wear these looks? Are you excited to see The Hobbit? (I'm pulling my Arwen gown out of storage for the midnight premiere!) Can you name all the dwarves? Told you there would be a quiz! Do you think the new trilogy will live up to LOTR's legacy?
Also, what other geeky inspirations would you like to see? (Next time, we'll be hitching a ride to Jaynestown on a shiny Firefly class ship…and no power in the 'verse can stop us!) As always, let me know in the comments!