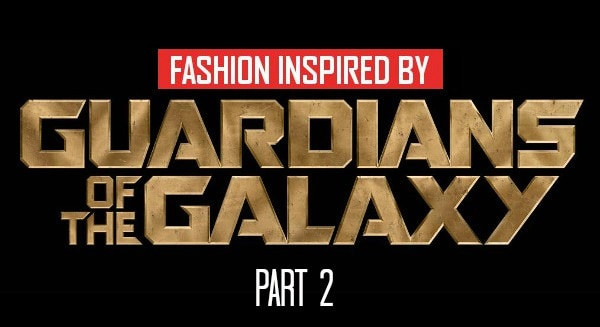 All movie images courtesy of the Walt Disney Company 
Have you all gone to see Guardians of the Galaxy yet? It definitely seems to be the movie of the summer. (Frankly, I'm too creeped out by the CGI turtles to see TMNT!)
I didn't realize until I saw the response to the first Guardians of the Galaxy Geek Chic article just how much you all loved Ronan, Drax, and Nebula. But ask and ye shall receive: read on for outfits inspired by your favorite metaphor-challenged warrior and blue villains.
Also, let's be real, guys… epic space battles are cool and all, but this was definitely the best part of the movie!
Know Your Geek: About the Guardians of the Galaxy
In Guardians of the Galaxy, a ragtag team of outlaws must band together to save the planet Xandar when Ronan the Accuser goes on a crazed genocidal spree. He's backed by Thanos and his adopted assassin daughter duo, Gamora and Nebula (There are a whole lot of names to keep track of in this movie!)
The Guardian team consists of Peter Quill, Gamora, Rocket Raccoon, Drax the Destroyer, and of course, the incredibly lovable Groot. Together, they save the day by utilizing the unstoppable powers of friendship, loyalty, and, of course, dance.
A Guardians of the Galaxysequel has already been announced for 2017. I know I can't be the only one hoping for the Guardians and the Avengers to team up!
Outfits Inspired by Guardians of the Galaxy
We're rounding up the rest of the Guardians crew, plus a few not-so-friendly faces!
Drax the Destroyer
Drax, played by Dave Bautista, is the final member of the Guardians. He's a hulking warrior determined to avenge the deaths of his family at Ronan's hands.
Despite his gruff demeanor, he turns out to be an unlikely source of comedy due to his extremely literal interpretations of innocuous comments. Although Drax starts out as a lone wolf, he eventually learns to embrace friendship through his adventures with the Guardians.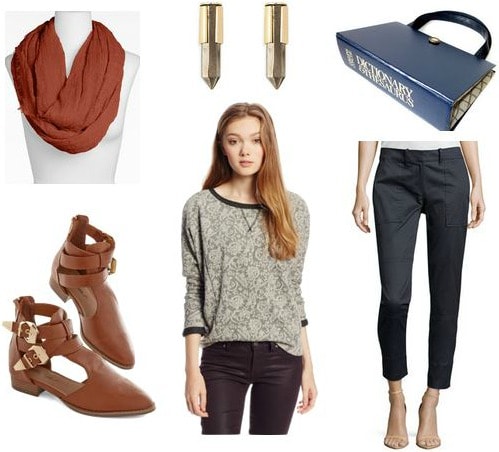 Product Information: Top, Pants, Purse, Earrings, Scarf, Boots
Get inspired by Drax "Never call me a thesaurus" the Destroyer with a wearable take on his gray, scar-mottled body. (Apparently, it took over four hours to do Bautista's makeup every day. Plus, he had to stand with his arms out for the entire application time!)
A floral-patterned sweatshirt and comfy twill pants make a great base for fun accessories: add a rust-colored scarf similar to the shade of Drax's scars, as well as a pair of trendy cutout boots. Dagger earrings reference the Destroyer's weapon of choice. Finally, add a quirky clutch and you'll be all set to break out of space prison! Or, you know, go to class.
Ronan and Nebula
Ronan (Lee Pace) and Nebula (Karen Gillan) are a tough bunch of blue baddies! Ronan is a fanatical despot determined to destroy the entire Xandarian race, while Nebula is a robotic assassin-for-hire whose services have been lent out by her father, Thanos. She has a rocky, jealous relationship with her adoptive sister, Gamora.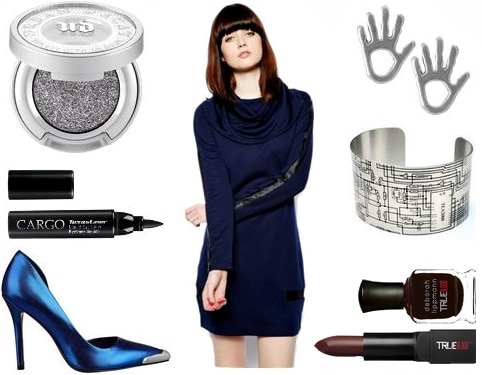 Product Information: Dress, Heels, Cuff, Earrings, Eyeshadow, Eyeliner, Lipstick/Nail Polish
It's not easy being green, but blue? Much more attainable. Emulate the villainous pair with a sleek navy dress that has leather accents and a cowl neck reminiscent of Ronan's headdress. Add a robotic touch with a circuit cuff and a pair of metallic blue heels.
While you don't have to undergo hours of prosthetics applications and airbrushing, makeup is definitely a key part of getting the Ronan and Nebula look down. Gleaming silver eyeshadow and a thick cat-eye create a futuristic look, while a vampy dark lipstick and polish duo glam it up.
The Collector and his Assistant
The Collector (Benicio Del Toro), accompanied by his assistant, Carina (Ophelia Lovibond), is a prolific, well, collector of rare and precious artifacts from around the Universe. His collection also includes a menagerie of alien creatures kept in glass cages. The Collector sets the movie's plot in motion by hiring Gamora to retrieve a mysterious orb to add to his treasure trove.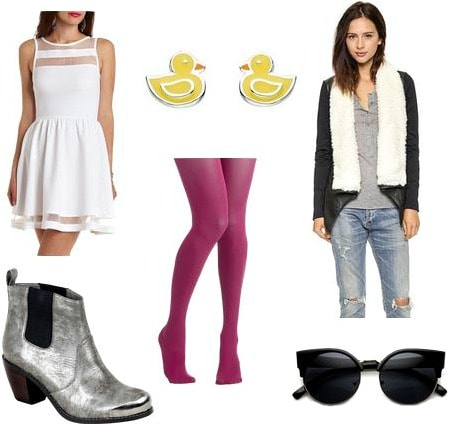 Product Information: Jacket, Dress, Tights, Boots, Sunglasses, Earrings
Director James Gunn has described the Collector as "Outer-Space Liberace." While I'd say a more contemporary comparison is "Outer-Space Mugatu," I can't help but like his over-the-top ensembles. (His pigtailed pink assistant is pretty darn cute in that halter dress, too!)
Get their crazy space outfits for yourself by pairing a white skater dress that's similar to Carina's with a fuzzy shearling jacket. Pink tights add a pop of color (sub in black or brown if you'd rather keep it neutral), while metallic boots add to the futuristic vibe. Slip on a pair of dramatic sunglasses and duck-shaped earrings as a fun reference to the Marvel movie's mid-credits scene.
What did you think?
Have you seen Guardians of the Galaxy? Would you wear these outfits? What other geeky inspirations would you like to see? As always, let me know in the comments!