For the past nine years, Game of Thrones has given us an amazing story and some of the most memorable characters in TV history. To go along with those characters, we've been blessed with the impeccable costumes designed by Michele Clapton.
Each character has their own distinct style and has had their own standout costume moments throughout the show's run. (We covered these in depth in our Game of Thrones Countdown post series.) Today we will be focusing on the iconic costumes worn by the show's five leading ladies (only some of whom remain as of this writing — but we won't say any more than that!).
Whether or not you're a fan of how Season 8 has gone so far, you have to admit that tonight's final episode ends an overall incredible era of TV. So let's toast to the end of Game of Thrones with these looks!
Sansa Stark
Out of all of the characters, Sansa has changed the most from seasons 1-8. She started off as a little girl who only wished to become queen; now she is now a fierce politician and a great player of the Game of Thrones. Sansa's style has naturally changed, too.
Today, let's get inspired by the iconic armored look she wears in the final season. This look embodies who her character has become. The garment consists of a structured leather bodice with plain black sleeves, attached to a plain black skirt. Copy it with an LBD, black purse, and killer heeled boots.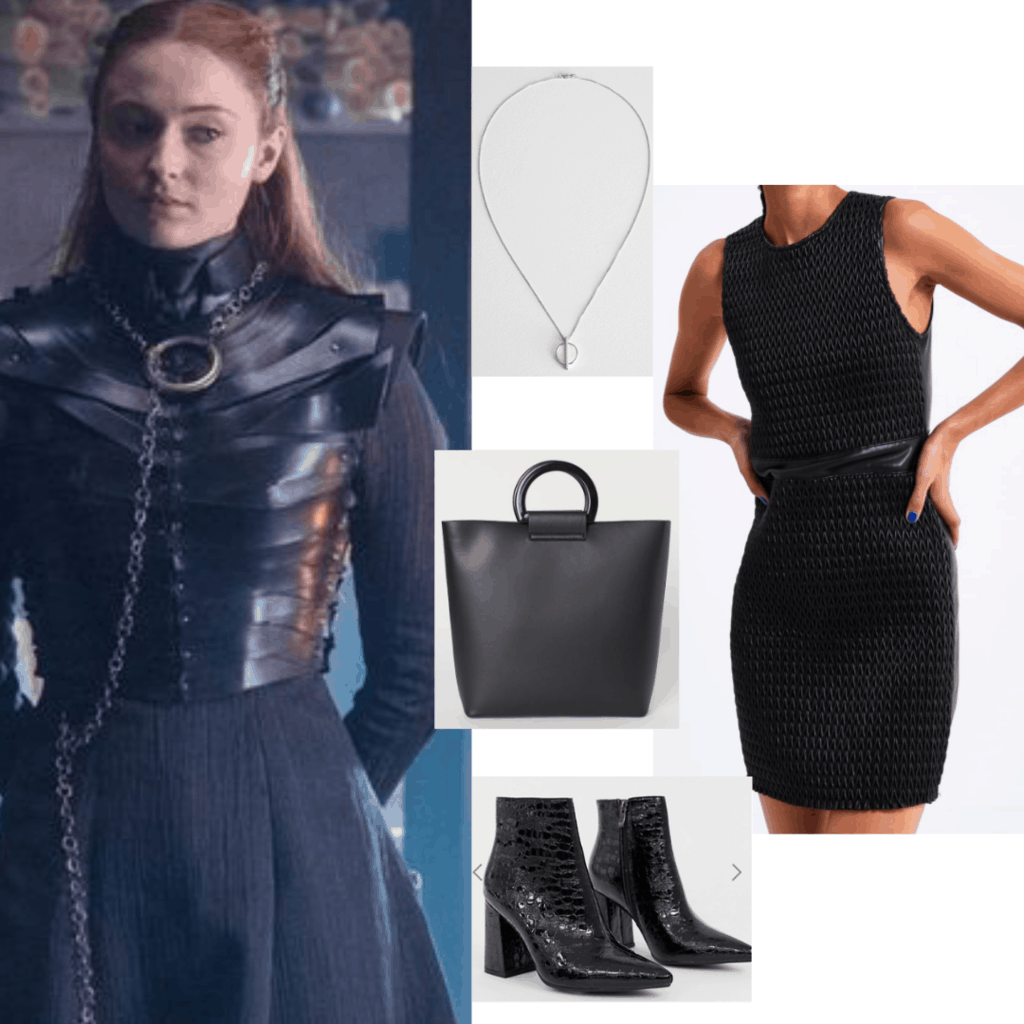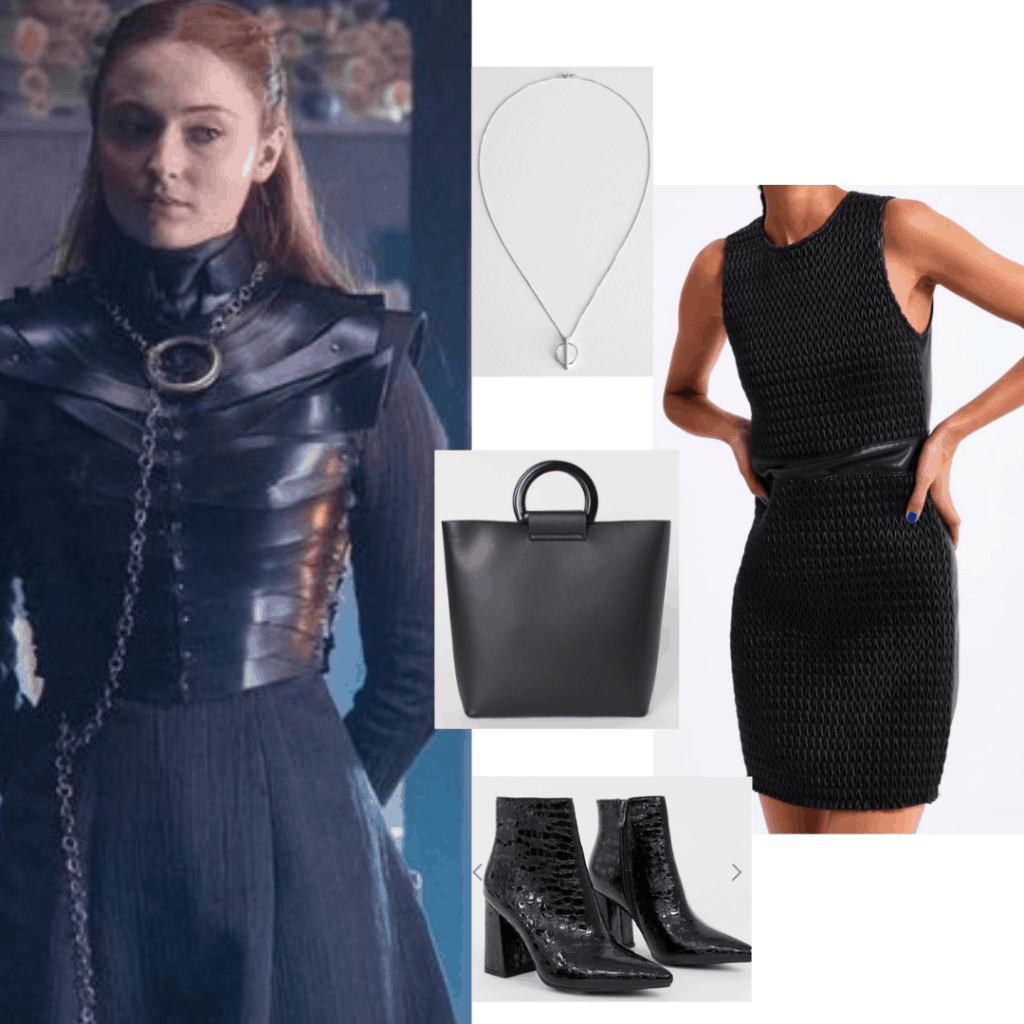 Products: Dress – ZARA, Boots – ASOS, Bag – H&M, Necklace – & Other Stories
Cersei Lannister
Cersei, in the more recent seasons of the show, has taken on a hardened persona. As she no longer has her children to bring out the good in her, she has become a fearsome woman to behold.
Around season seven, Cersei's style morphed into full-on black ensembles with metalwork along the shoulders and collars.
You can channel Cersei's look with this easy outfit. Mix a black cami with an oversized blazer for a sexy, of-the-moment look, then add black trousers to show you mean business. A spiked choker adds the edge you need for Cersei's vibe. Finish with spike heels.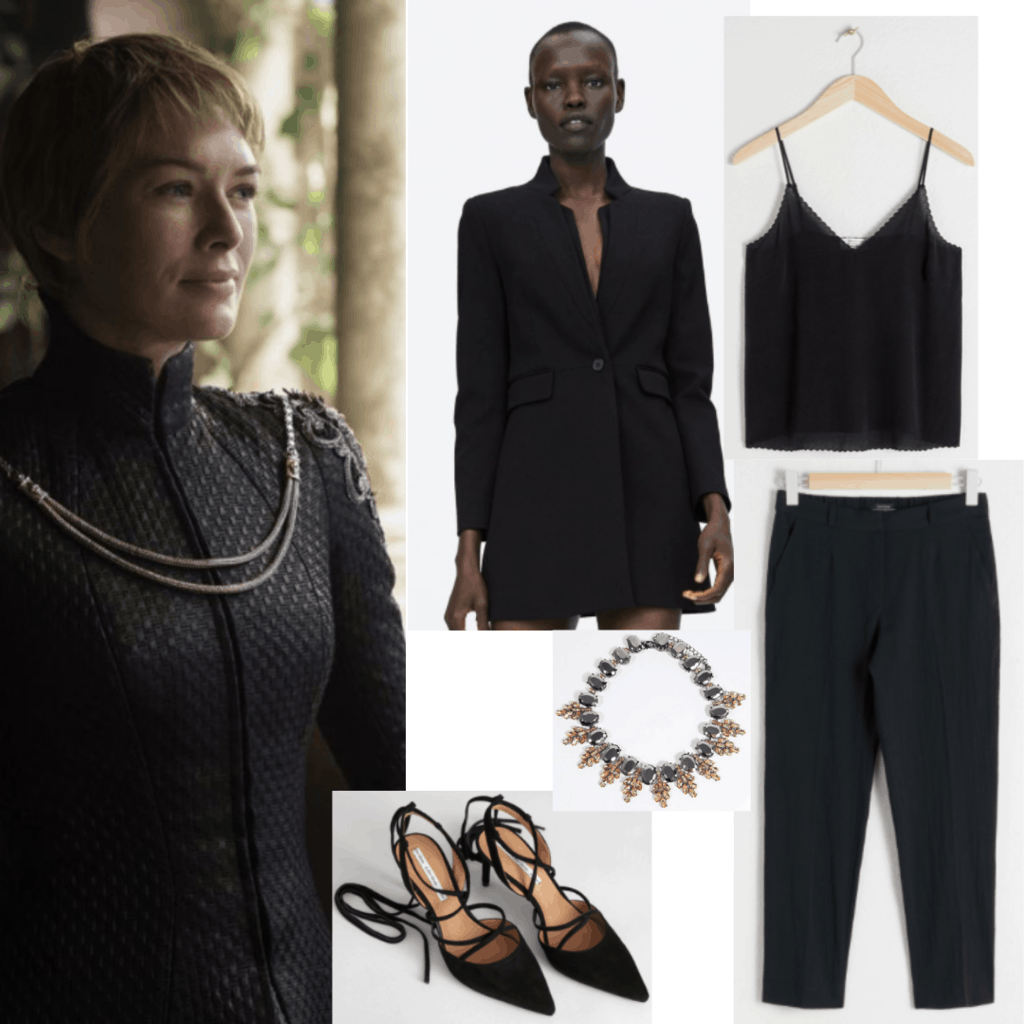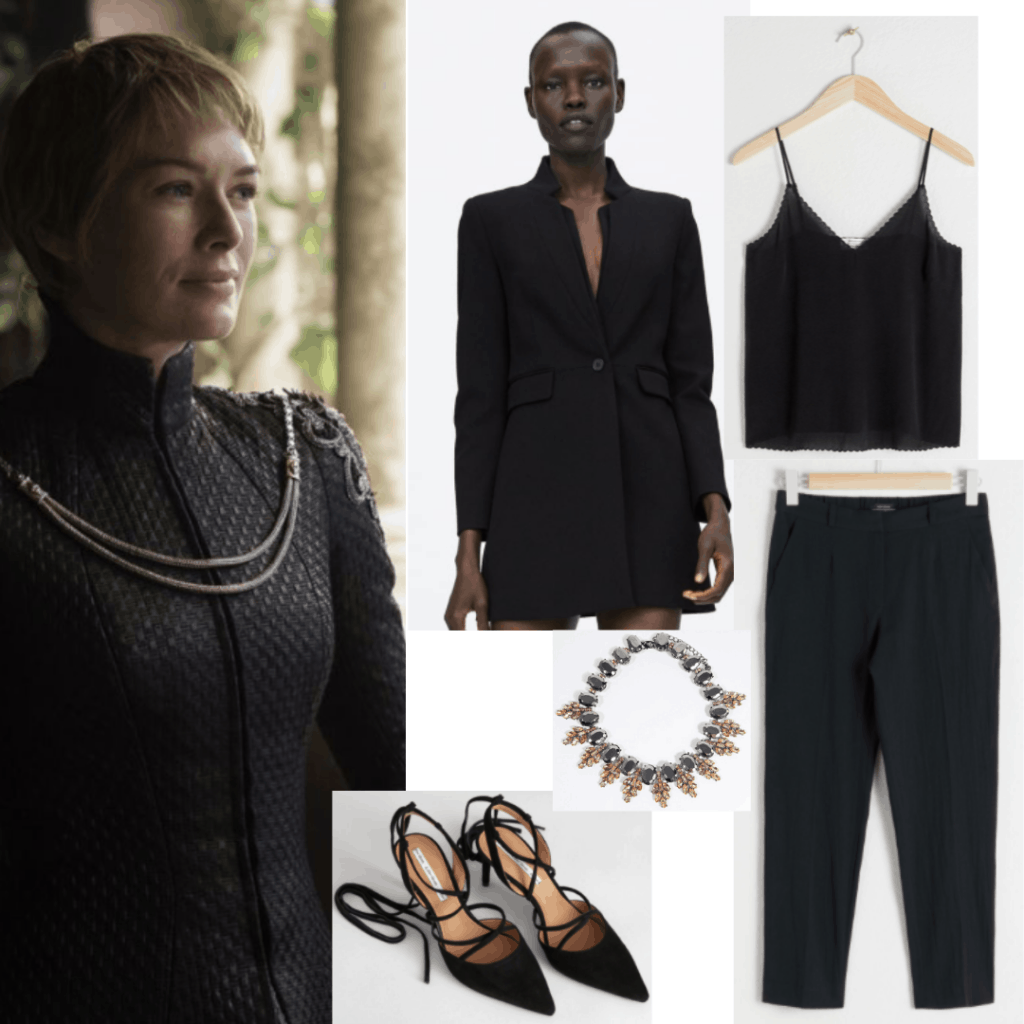 Products: Blazer – ZARA, Pants – & Other Stories, Top – & Other Stories, Necklace – Unique Vintage, Shoes – & Other Stories
Daenerys Targaryen
Daenerys has gone through many style transformations throughout the show. But, her most memorable costumes come from the time when she was at the top of her game as a conqueror.
During this time she wore many blue garments that were appropriate for the hot tropical climates she was living in. One that sticks out to me is this blue traveling dress that she wore with a blue and white cape.
Copy Dany's look in a modern way with this beautiful blue maxi dress and white blazer. Add earthy brown boots and jeweled earrings fit for a queen. A snakeskin bag has a dragon-y vibe.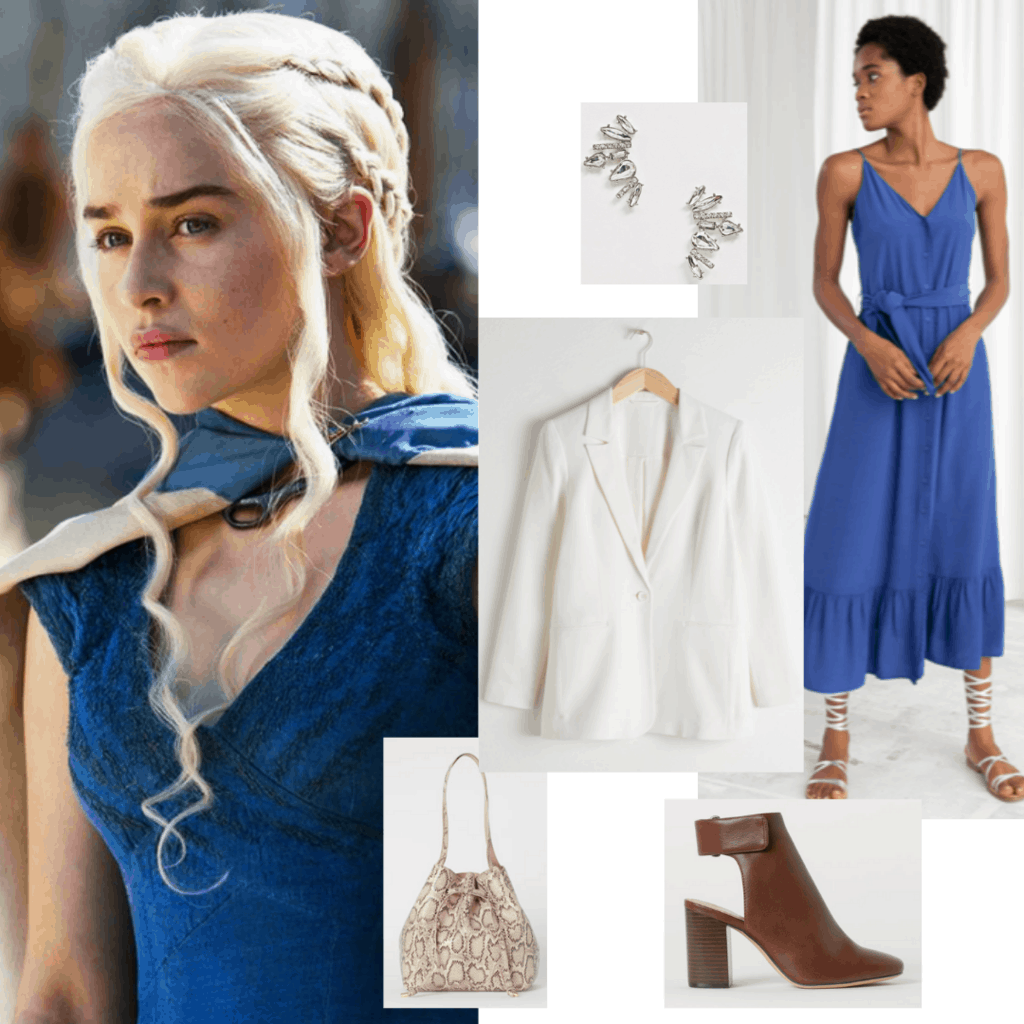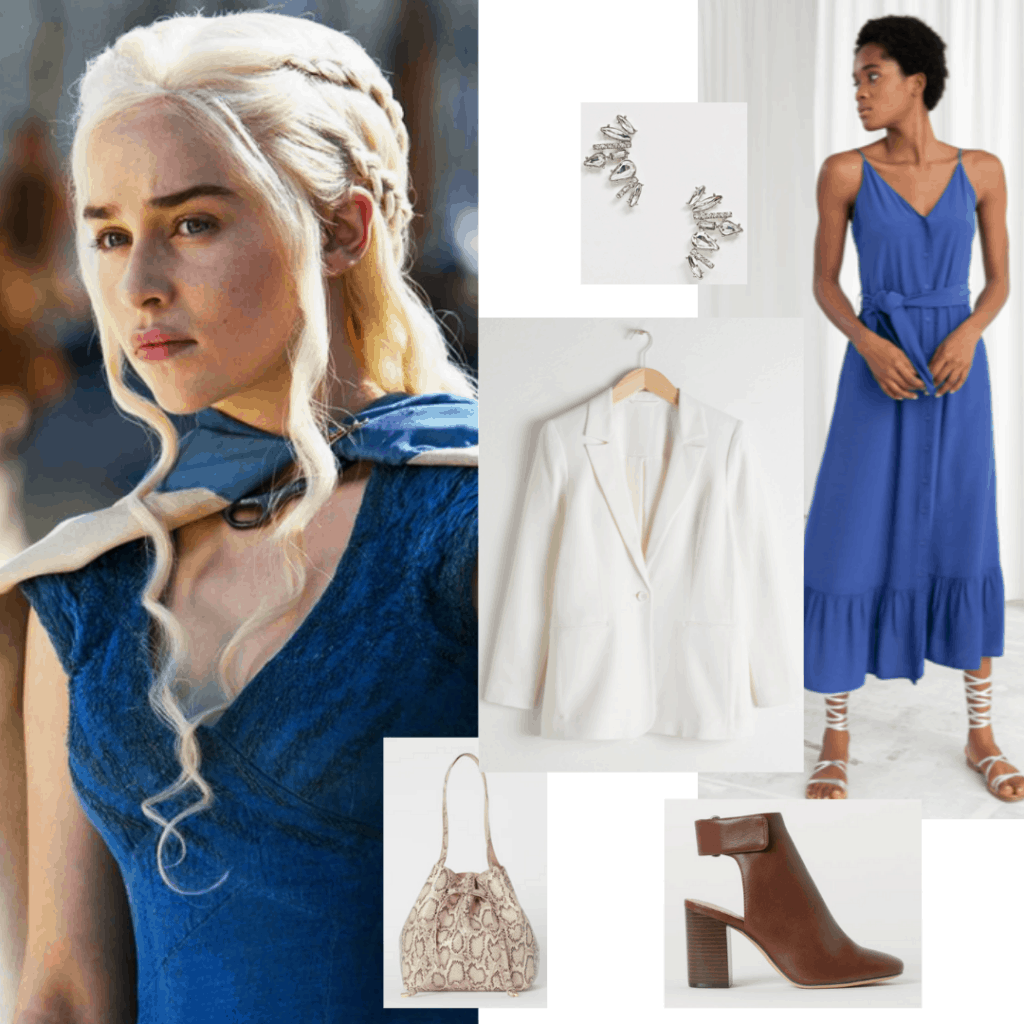 Products: Dress – & Other Stories, Shoes – H&M, Blazer – & Other Stories, Earrings – ASOS, Bag – H&M
Arya Stark
Arya Stark has always been a fan favorite. She is young assassin who doesn't let anyone get in her way. Though she is one of the most memorable characters, Arya's wardrobe doesn't follow suit. She wears the same costumes over multiple seasons.
In season 7 she does get a wardrobe revamp when she returns home and takes on the look over her father. Her most noticeable fashion choice is her asymmetric cape that is lined with fur.
Get Arya's vibe by borrowing from the boys a little — boyfriend jeans and an oversized barn jacket are trendy, comfortable pieces. Mix in a simple tee and rock comfortable shoes and a fanny pack for your on-the-go essentials.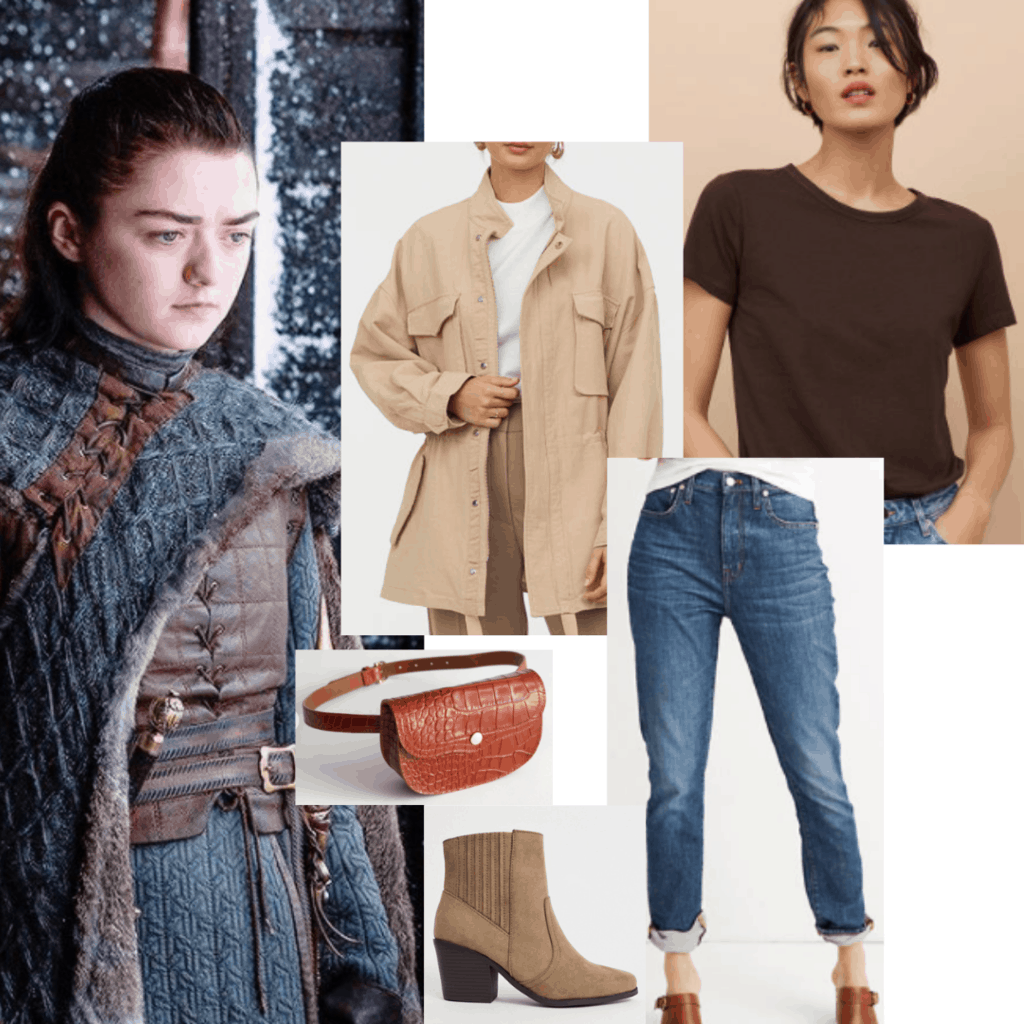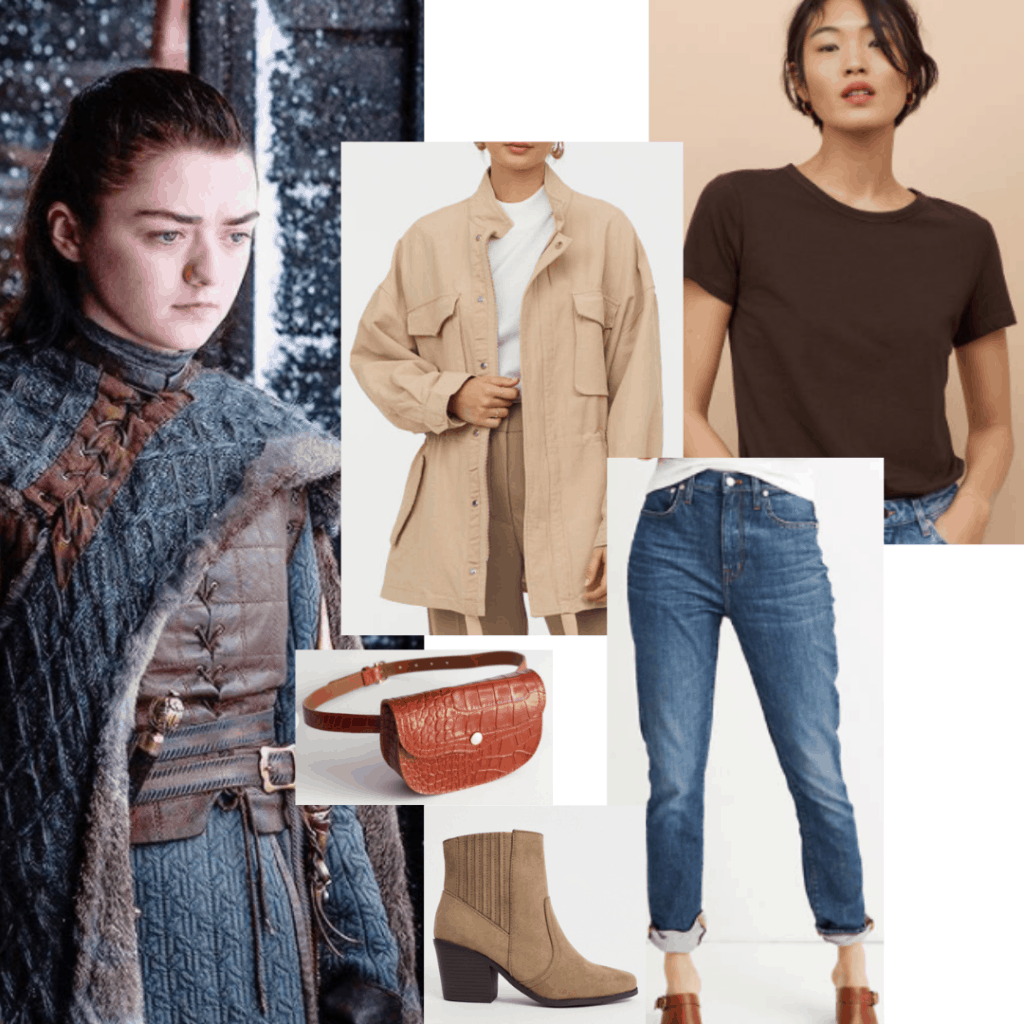 Products: Jeans – Madewell, Top – H&M, Boots – ASOS, Jacket – H&M, Belt – & Other Stories
Margaery Tyrell
The last costume — and the most extravagant — comes from Margaery Tyrell. Margaery, for most of the show, is a princess in waiting. When she finally marries a king, she goes all out on her wedding dress.
The wedding dress Margaery wears when she marries King Joffrey is a true embodiment of her character. The dress is very feminine with the low cut neckline and the rose details. But it also shows her more manipulative side with small spikes sticking up amongst the roses of the dress.
Mix innocent, glamorous, and smart all at once with this look. A white jumpsuit has a wedding-y feel in a decidedly modern look (plus, it incorporates side cutouts, a Margaery style staple). Finish with a serious gemstone necklace and metallic shoes.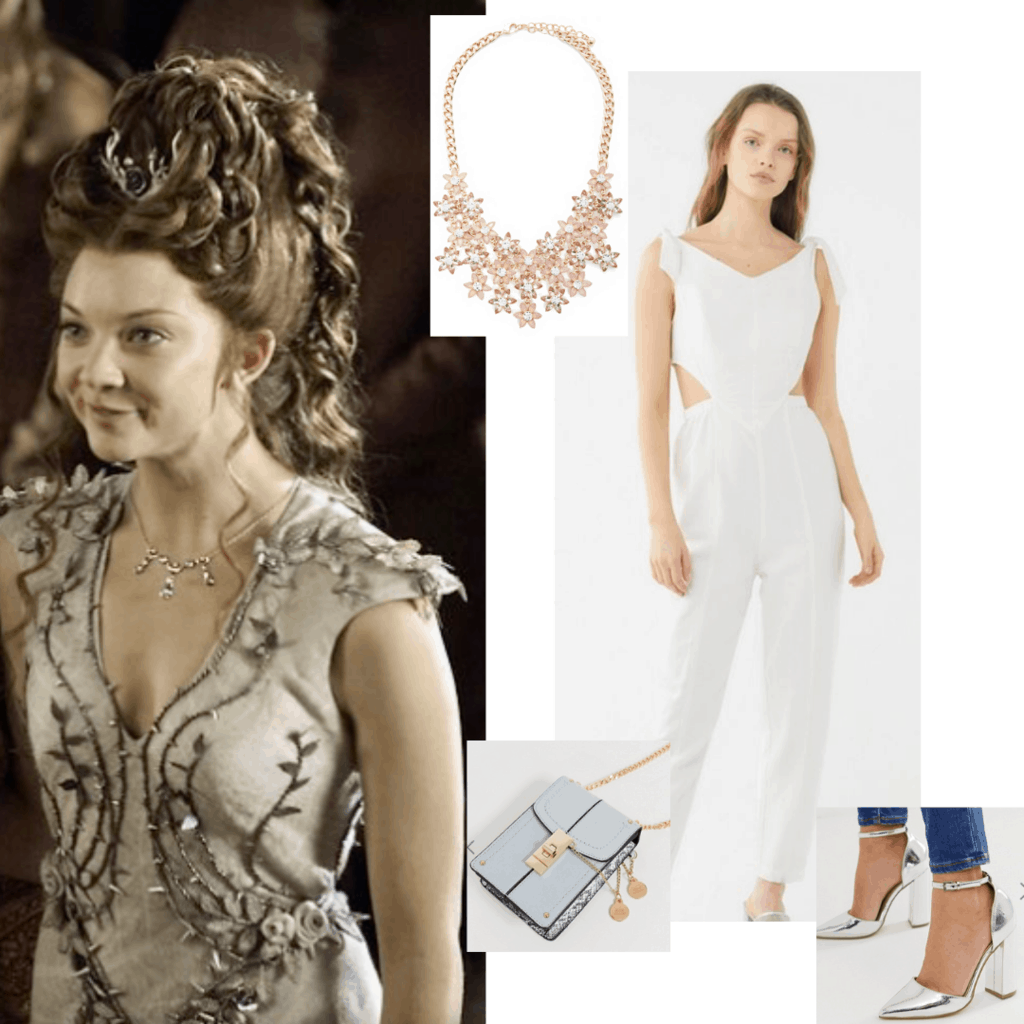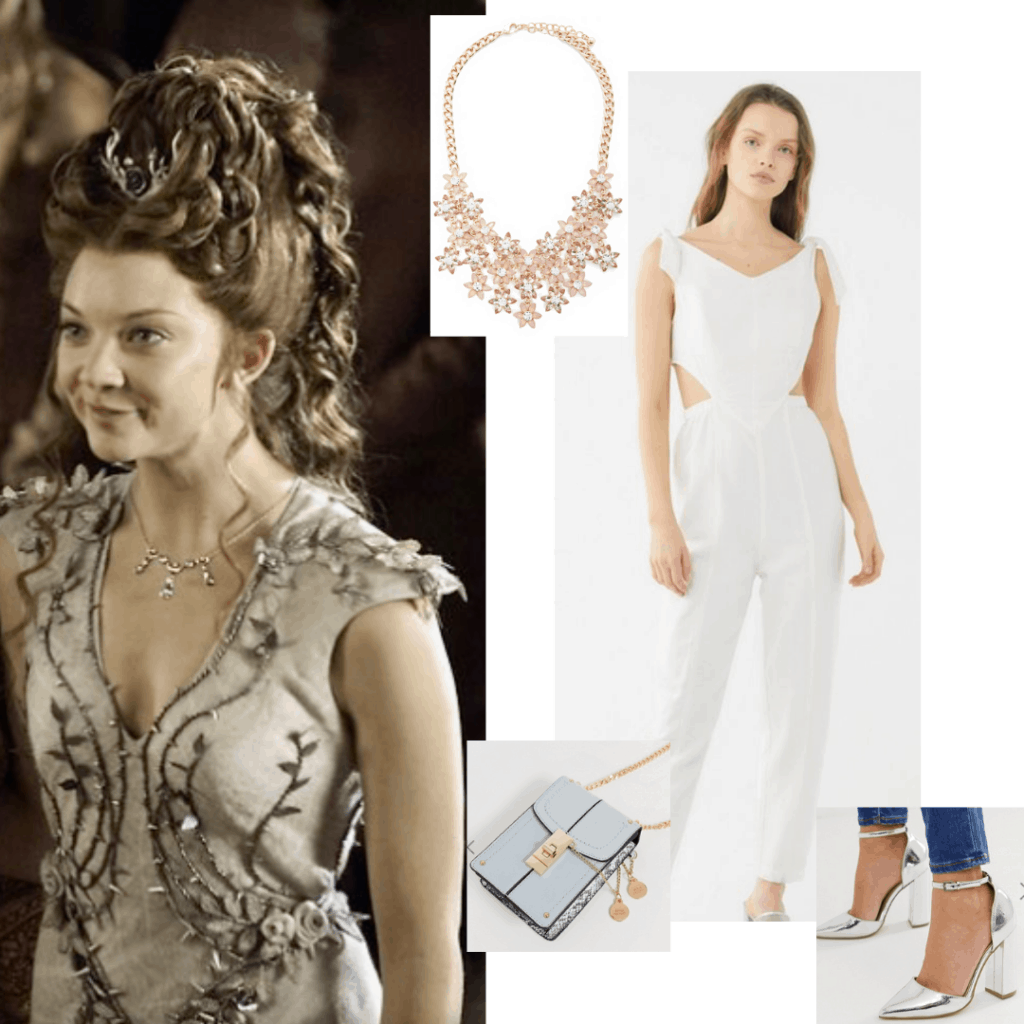 Products: Jumpsuit – Urban Outfitters, Heels – ASOS, Necklace – Forever 21, Bag – ASOS
We hope these looks have given you inspiration to take on your own Game of Thrones look. Though the show is coming to an end, you can still be inspired by its fantastical fashion every day.