Welcome to the fifth post in our series on "Game of Thrones" fashion. If you haven't read them already, be sure to check out our previous articles on fashion inspired by House Stark, House Lannister, House Targaryen, House Baratheon and House Tyrell.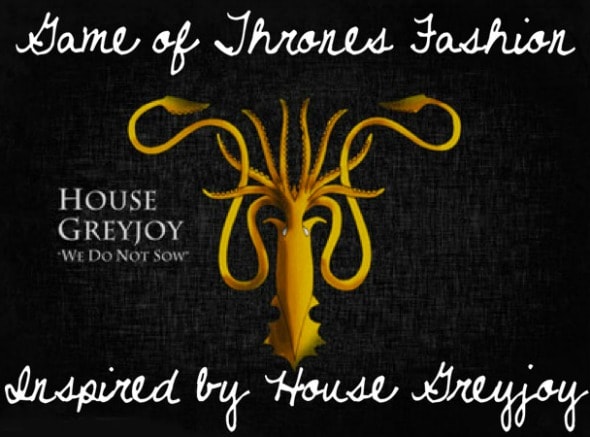 Photo: HBO official promo wallpapers
Now that season three is really heating up, it's time for more "Game of Thrones"-inspired fashion. (See the full Game of Thrones Fashion archive for past posts in this series!) I'm so thrilled you guys have been enjoying this series – reading your comments is even more fun than making the outfits!
Next up is House Greyjoy, birth family of Theon Turncloak (sorry guys, I had to) and his incredibly badass sister Yara (or Asha in the novels). The Greyjoys are a deadly serious bunch who are deeply committed to tradition. They prize their conquests in battle far more than gold (the iron price) and can't tolerate anyone who doesn't have the strength or willpower to take what they want. Greyjoys don't rely on others for anything, hence they motto, "we do not sow."
They are Ironborn, or natives of the Iron Islands, a seafaring people with a pirate-like culture and the only remaining worshippers of the Drowned God. Their sigil is the fearsome kraken, a sea monster you definitely don't want to mess with.
Sound terrifying? Yeah, they kind of are. But strong personalities make for fierce fashion. If you want to incorporate the Greyjoy aesthetic into your signature style, read on!
Paying the Iron Price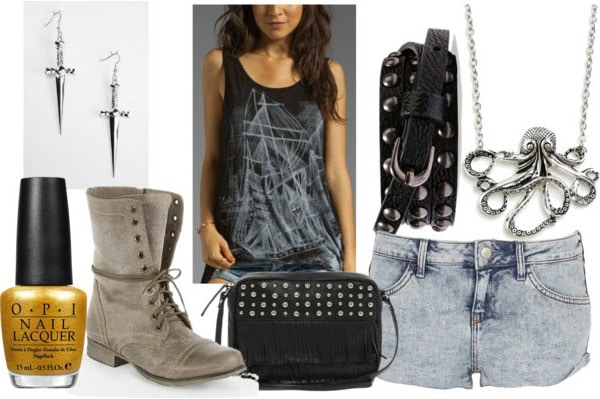 Tank, Shorts, Belt, Boots, Bag, Necklace, Earrings, Nail Polish
The Greyjoys are one hardcore family, which is good news if you want to channel their fiercer qualities into your personal style. Grab a high-low tank with a shipwreck graphic (perfect, right?) and pair it with some acid-washed denim shorts. Next, add a black studded belt and a matching fringed cross-body bag. This creates a grunge-inspired, edgy look that's still chic and on-trend.
Accessorize with a pair of rugged gray combat boots and dagger-shaped earrings to amp up the ensemble, then add an octopus charm necklace to unleash your inner sea demon. Paint your nails a Greyjoy gold to complete the look.
Son of the Sea Wind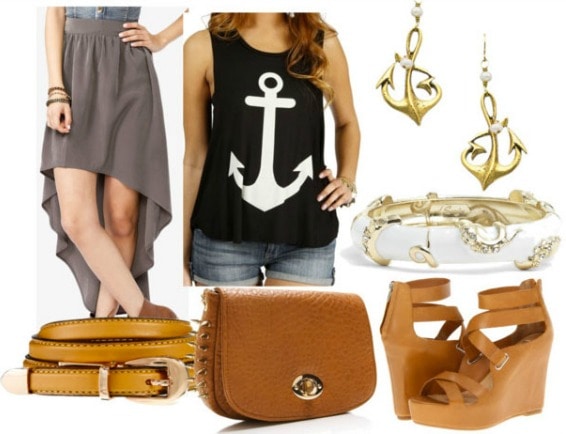 Tank, Skirt, Belt, Wedges, Bag, Bangle, Earrings
For a more feminine take on the Greyjoys' rugged maritime look, try pairing a graphic anchor tank with a an ultra-girly high-low skirt, belting it at the waist with a neutral brown belt. The flowy and flirty skirt creates gorgeous contrast with the stark, masculine tank that's as stylishly mismatched as poor Theon's personality.
Next, add a simple chestnut satchel with unexpectedly wild spike detailing and matching strappy wedges. Complete the look with nautical accessories (you are captain of a ship, after all) like a tentacle-detailed bangle and anchor-shaped drop earrings.
We Do Not Sow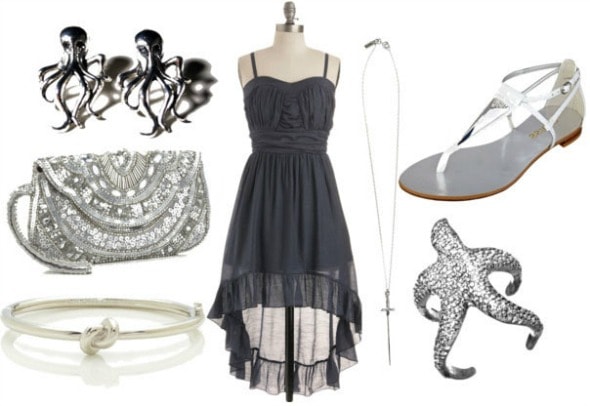 Dress, Sandals, Clutch, Necklace, Bangle, Ring, Earrings
For a signature Greyjoy look, add a little darkness to nautical-inspired pieces. A flowy yet structured grey high-low dress encapsulates the rough and rocky seas surrounding the Iron Islands. Next, modernize the ensemble with a pair of silver-detailed white sandals and a super sparkly embellished clutch.
The accessories in this look are all about symbolism. Add nautical pieces like a starfish ring and a sailor's knot bangle, pairing them with edgy pieces like a sword charm necklace and kraken-shaped studs to capture the contrast of House Greyjoy.
Your thoughts?
What are your predictions for the rest of season three? What do you think will happen to Theon? (No spoilers, book fans!) Be sure to let me know what you think of the outfits in the comments – I love hearing your thoughts!